The only thing worse than a loss is a loss to the Dallas Cowboys.
Sitting 1.5 games back from the division-leading Philadelphia Eagles and Cowboys, the Washington Redskins chances of winning the division and making the playoffs look bleak. Let's take a closer look at what it will take for them to climb back into the playoff hunt.
In Week 7, the Redskins have the New York Giants, who are looking like one of the worst teams in the NFL this year at 0-6. The road ahead for the Redskins is challenging, with a first-place schedule putting them at a disadvantage in regards to matchups.
For those unfamiliar with how the NFL schedules which opponents a team will face, there is a very specific formula. Chris Trapasso details the method behind the madness here.
Intraconference Games for the NFC East

| | | | | |
| --- | --- | --- | --- | --- |
| NFC East | Redskins | Cowboys | Eagles | Giants |
| NFC South Opponent | Falcons | Saints | Buccaneers | Panthers |
| NFC West Opponent | 49ers | Rams | Cardinals | Seahawks |
NFL.com
As you can see, the Redskins certainly aren't done any favors this year for winning the NFC East in 2012. The Cowboys and Giants both have challenging matchups as well, as the New Orleans Saints and Seattle Seahawks look to be the class of the conference.
The Eagles schedule is a different story in terms of unique opponents. They just beat the lowly Tampa Bay Buccaneers, and they will face Arizona Cardinals later this year.
The Redskins have a very tough remaining schedule.
Washington Redskins' Remaining Schedule

| | | |
| --- | --- | --- |
| Date | Opponent | Opponent Record |
| Week 7 | Bears | 4-2 |
| Week 8 | @ Broncos | 6-0 |
| Week 9 | Chargers | 3-3 |
| Week 10 | @ Vikings | 1-4 |
| Week 11 | @ Eagles | 3-3 |
| Week 12 | 49ers | 4-2 |
| Week 13 | Giants | 0-6 |
| Week 14 | Chiefs | 6-0 |
| Week 15 | @ Falcons | 1-4 |
| Week 16 | Cowboys | 3-3 |
| Week 17 | @ Giants | 0-6 |
NFL.com
With a trip to Denver looming two weeks away, this week's game against the Chicago Bears looks critical if Washington hopes to have any chance of remaining relevant in the league's worst division.
If you like to indulge in fantastic hypothetical scenarios, try this one on for size.
The Redskins win every remaining division game, giving them a 4-2 division record. They win at home against the San Diego Chargers and at the Minnesota Vikings, boosting their win total to seven.
If Dallas and Philadelphia continue on their mediocre trend, they could both end at 8-8, and with a little help from the Giants, finish 3-3 in the division. The Redskins would then need one win against either Atlanta, Chicago, San Francisco, Kansas City, or Denver to climb to 8-8 and hold the division-record tiebreaker.
No problem right?
Atlanta looks vulnerable. The games against the Chiefs, Bears and 49ers are at home, so there is some hope of winning one or more of those games. And playing at Denver? Well, you can't win them all.
Alright, it's a bit of an uphill climb. Sitting at 1-4, the Redskins need a lot of things to go right for them to win the NFC East. Regardless of the scenario you create to give the Redskins the division title, they won't win more games if they don't improve on the field.
So, what needs to change for them to start winning?
For starters, the interior of the offensive line has to block somebody. A depleted Cowboys pass rush dominated starting guards Chris Chester and Kory Lichtensteiger Sunday night.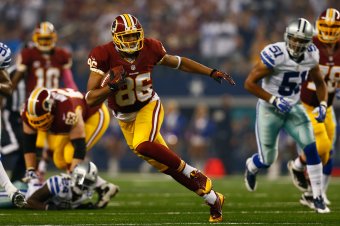 Tom Pennington/Getty Images
Griffin's health looks to be improving, and he does have weapons around him, such as Alfred Morris, Pierre Garcon and the talented rookie tight end Jordan Reed. The O-line must improve dramatically for the offense to get back to putting up the gaudy numbers it did in 2012.
Special teams have been nothing short of dreadful so far this year. First-year special teams coach Keith Burns is practically under the hot seat after being embarrassed by Cowboys' returner Dwayne Harris. If the Redskins had trouble with Harris, the thought of them containing Devin Hester or Trindon Holliday seems almost laughable.
Big improvements are needed in all aspects of special teams. Special teams don't have to be the reason the Redskins win games, but at the same time, they can't be the reason Washington loses games.
The defense has actually improved every week, so if you believe in trends, here is something to feel good about.
Brandon Meriweather looks like he may be living up to the hype. Although Brian Orakpo hasn't had the impact many had hoped for, the Redskins still have an imposing front seven that was recently bolstered by the return of Rob Jackson and Jarvis Jenkins from a pair of four-game suspensions.
There was probably a similar article to this one during the Redskins' bye week last year, when they were staring at a 3-6 record. No one saw them reeling off seven straight wins to make the playoffs.
Still, there's a sense of doom and gloom this week after losing to the rival Cowboys. Just remember that this is the NFL, where every week offers a chance to rewrite the narrative of what type of character a team has.
If the Redskins want to turn their season around, it starts with one win.