With Week 6 wrapping up on Monday, it's time to start looking at the full schedule for Week 7 of the NFL season.
There were some really exciting games to watch on Sunday. The New England Patriots came up with an incredible game-winning drive to hand the New Orleans Saints their first loss of the season. Earlier in the day, the Green Bay Packers squeaked out a 19-17 win over the Baltimore Ravens thanks to an impressive defensive performance.
There are bound to be some more exciting games next week, so let's take an early look at the full schedule for Week 7, followed by a breakdown of some of the biggest games.
Week 7 NFL Schedule

| | | | |
| --- | --- | --- | --- |
| Date | Game | Time (ET) | TV |
| Thursday, Oct. 17 | Seattle at Arizona | 8:25 p.m. | NFLN |
| Sunday, Oct. 20 | Tampa Bay at Atlanta | 1 p.m. | Fox |
| Sunday, Oct. 20 | Cincinnati at Detroit | 1 p.m. | CBS |
| Sunday, Oct. 20 | Chicago at Washington | 1 p.m. | Fox |
| Sunday, Oct. 20 | St. Louis at Carolina | 1 p.m. | Fox |
| Sunday, Oct. 20 | San Diego at Jacksonville | 1 p.m. | CBS |
| Sunday, Oct. 20 | Buffalo at Miami | 1 p.m. | CBS |
| Sunday, Oct. 20 | New England at New York Jets | 1 p.m. | CBS |
| Sunday, Oct. 20 | Dallas at Philadelphia | 1 p.m. | Fox |
| Sunday, Oct. 20 | San Francisco at Tennessee | 4:05 p.m. | Fox |
| Sunday, Oct. 20 | Cleveland at Green Bay | 4:25 p.m. | CBS |
| Sunday, Oct. 20 | Baltimore at Pittsburgh | 4:25 p.m. | CBS |
| Sunday, Oct. 20 | Houston at Kansas City | 4:25 p.m. | CBS |
| Sunday, Oct. 20 | Denver at Indianapolis | 8:30 p.m. | NBC |
| Monday, Oct. 21 | Minnesota at New York Giants | 8:30 p.m. | ESPN |
Bye: Oakland, New Orleans
Cincinnati Bengals (4-2) at Detroit Lions (4-2)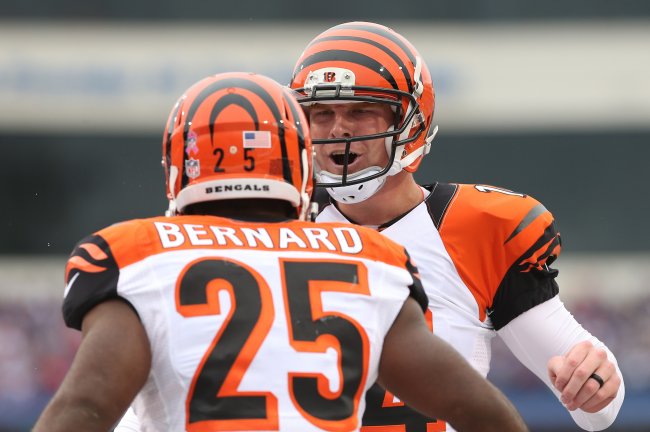 Tom Szczerbowski/Getty Images
Date: Sunday, Oct. 20
Time: 1 p.m. ET
TV: CBS
Two teams off to really nice starts this season will be going head-to-head and looking to stay on top of their respective divisions next week.
The Cincinnati Bengals look like a legitimate contender right now in a weak AFC North division. They're coming off of a thrilling 27-24 win over the Buffalo Bills in overtime, and they've already had big wins over the Green Bay Packers and New England Patriots.
Giovani Bernard has quickly become one of the most exciting rookies in the NFL. He had 100 total yards in the win over the Bills, including this nifty 23-yard touchdown reception.
For the Lions, they're coming off of an easy 31-17 over the Cleveland Browns. Matthew Stafford had a big game through the air, throwing for 248 yards, four touchdowns and one interception.
The offense has been a lot more balanced this season thanks to Joique Bell and Reggie Bush in the backfield. The defense is still shaky, but all of the weapons on offense are helping the Lions win games.
Both teams are looking to keep their lead in their respective divisions, so look for both teams to stay aggressive and for this to be a tightly contested battle.
Dallas Cowboys (3-3) at Philadelphia Eagles (3-3)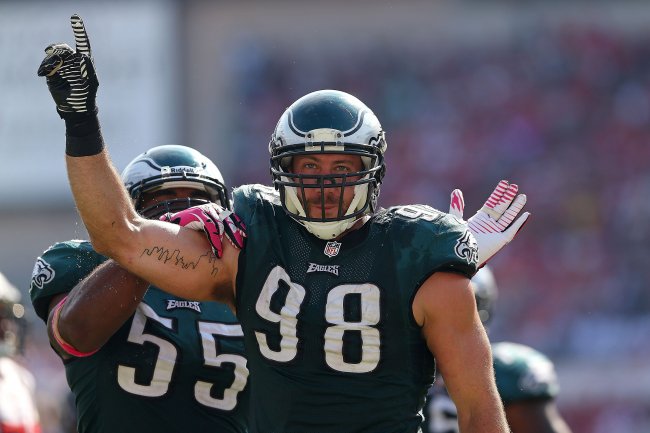 Mike Ehrmann/Getty Images
Date: Sunday, Oct. 20
Time: 1 p.m.
TV: Fox
The AFC North may be having their troubles this year, but the NFC East might just be the weakest division in the NFL this season.
Still, this game has the potential to have major playoff implications down the road. Both teams are tied at the top of the division, and the winner of this game would be in much better position to get a playoff berth at the end of the year.
Who will win the NFC East?
The Philadelphia Eagles have had their ups and downs this year, but they've won two straight games thanks to Nick Foles, who has done a nice job replacing Michael Vick while he heals from a hamstring injury. He's completed 67.2 percent of his passes for 542 yards, six touchdowns and zero interceptions.
The offense is still putting up nice numbers, but the defense is a big concern. They're giving up way too many points and yards, and that will cost them as the season continues.
The Dallas Cowboys kept up with the Eagles in the division with a big win over the Washington Redskins on Sunday Night Football. Dwayne Harris was the player of the game, putting up more than 200 total return yards with an impressive 86-yard punt return for a touchdown.
Despite all of the criticism, Tony Romo continues to have a strong season. He's thrown for almost 1,700 yards along with 14 touchdowns and just three interceptions.
The defense for the Cowboys has been struggling as well, giving up well over 300 passing yards per game. Things looked a bit better against the Redskins, as they allowed only 16 points in the win.
With these strong offenses and struggling defenses, get ready for a shootout in this division rivalry.
Denver Broncos (6-0) at Indianapolis Colts (4-1)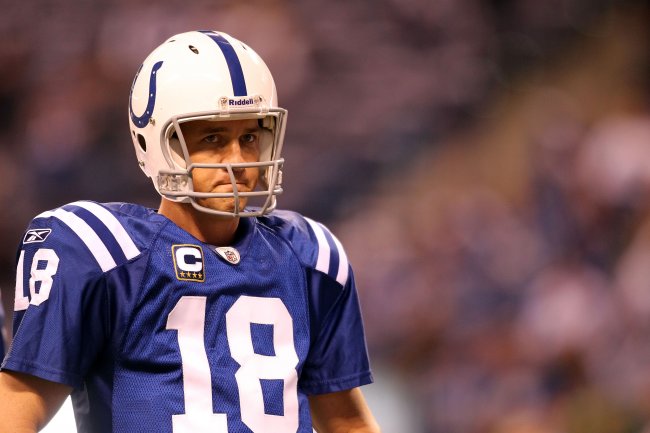 Andy Lyons/Getty Images
Date: Sunday, Oct. 20
When: 8:30 p.m.
TV: NBC
This is the game everyone is looking forward to in Week 7, and it might just be the biggest game of the year.
Peyton Manning will finally return to Indianapolis and bring the undefeated Denver Broncos along with him. He's arguably having the greatest season of his career, completing around 75 percent of his passes for almost 2,100 yards, 22 touchdowns and just two interceptions.
Meanwhile, the Indianapolis Colts seem to be doing just fine without Peyton, at least for now. They're 4-1 heading into their Monday Night Football matchup against the San Diego Chargers.
Andrew Luck is leading a balanced offensive attack. For a team that has been so focused on passing over the years, the Colts are fourth in the NFL in rushing, averaging 142 yards per game on the ground.
Despite all of the injuries for the Colts, they keep finding ways to win big games. They've beaten the San Francisco 49ers and Seattle Seahawks and look like the second- or third-best team in the AFC.
There will be plenty of mixed emotions for Colts fans in Lucas Oil Stadium on Sunday night, but you can bet that it will be loud and that the Colts will be doing whatever it takes to spoil Peyton's return to the place he turned into a football city rather than a basketball one.