10 Things We Learned About Cincinnati Reds This Past Season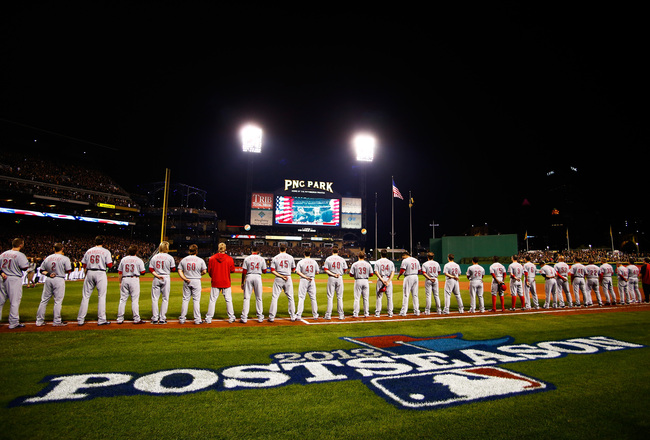 Justin K. Aller/Getty Images
It's been nearly two weeks since the Cincinnati Reds 2013 season came to an end, so let's take a look back at what we learned about the team.
For the third time in four years, the Reds failed to advance in the playoffs. There is a lot of talent on the roster, so ownership felt it was time for a change.
Dusty Baker is no longer the manager, which has many fans thrilled. Pitching coach Bryan Price appears to be the front-runner to be the next manager, but that decision may not come anytime soon.
Here is what we learned about the Cincinnati Reds this past season.
*All stats are courtesy of MLB.com unless otherwise noted
Johnny Cueto Hasn't Been Reliable
When he is healthy, Johnny Cueto has been an ace. However, he has had trouble avoiding injuries throughout his career.
The 27-year-old has made at least 30 starts in a season four times in his career, but he hasn't been able to take the ball consistently in recent years. He made every start in the 2012 regular season. In 2011 and 2013 combined, he made only 35 regular-season starts, including only 11 this past season.
Cincinnati needs its No. 1 pitcher to stay healthy. After last year's NLDS Game 1 against the San Francisco Giants, Cueto has been unreliable.
He made three different trips to the disabled list in 2013. He went only 5-2, but had a 2.82 ERA this year. When he pitched, he allowed more than three runs only once in the regular season. The right-hander was as good as advertised but couldn't stay healthy.
After going 19-9 in 2012, there couldn't be much of an argument against starting Cueto in the one-game playoff. Mat Latos was banged up, and Homer Bailey wasn't on regular rest.
However, Cueto hasn't lived up to expectations in the playoffs.
| | | | | | | | | | |
| --- | --- | --- | --- | --- | --- | --- | --- | --- | --- |
| Game | Opponent | IP | H | R | ER | HR | K | BB | Result |
| 2010 NLDS Game 3 | Philadelphia Phillies | 5 | 5 | 2 | 1 | 1 | 2 | 1 | L |
| 2012 NLDS Game 1 | San Francisco Giants | 0.1 | 0 | 0 | 0 | 0 | 1 | 0 | ND |
| 2013 Wild Card | Pittsburgh Pirates | 3.1 | 8 | 4 | 4 | 2 | 0 | 1 | L |
Cueto's first postseason start wasn't bad, but he was unable to match Cole Hamels. The last two starts he made in the playoffs have been disappointing. An oblique injury forced him out of the 2012 NLDS Game 1 after only eight pitches, which shouldn't be held against him.
It appeared that the situation was too much for him in Pittsburgh, and he was forced out of the game early.
The Reds needed Cueto this year, but he was unable to step up. Injuries kept him from leading the team, and he was thrown into a tough spot in the final game.
Mat Latos Is an Ace
Had he been healthy, Mat Latos would've taken the mound against the Pittsburgh Pirates in a winner-take-all game. Unfortunately, injuries caught up to him. The 25-year-old revealed late in the season that he had been pitching through an abdominal injury, and he was diagnosed with bone spurs in his pitching elbow at the end of the regular season.
Over the last two years, Latos has turned into an ace. He has shown why the Reds traded for him before the 2012 season.
Since joining the Reds, Latos is 28-11 with a 3.32 ERA and has thrown 420 innings. His record should be even better than that. He was the victim of five blown saves through early June this year and could've started the year 11-0 otherwise.
Latos allowed three runs or fewer in four of his losses this season. Wins and losses are often out of a pitcher's control, but Latos has done everything he can to put his team in position to win.
Cueto's injuries have forced Latos to step up. If Latos hadn't been so dominant this season, who knows where this team would have been.
The right-hander gives the Reds a legitimate No. 1 pitcher. When Cueto is fully healthy, not many teams can match up at the front of the rotation.
Homer Bailey and Mike Leake Have Silenced Their Critics
Heading into the 2013 season, everyone wanted to know how the back of the rotation would hold up. Those concerns were answered by Homer Bailey and Mike Leake.
Throw out the record when talking about Bailey. The 27-year-old put up some of the best numbers of his career this season. He struck out 199 hitters in 209 innings with a 3.49 ERA. The right-hander led the staff in strikeouts and ranked only behind Mat Latos (210.2) in innings pitched.
Bailey also threw the second no-hitter of his career in 2013. He has the filthiest stuff in the rotation, and he continues to improve. He won six consecutive decisions from the end of July to the middle of September.
According to ESPN.com, Bailey received only 3.88 runs in support per game, which was one of the worst marks in MLB. He ranked just ahead of Felix Hernandez and Clayton Kershaw.
Leake, on the other hand, was under incredible pressure from the beginning of the season. The right-hander had a disappointing 2012 season, but he bounced back in 2013.
The 25-year-old posted the best numbers of his career this past season. He tied for the most wins on the staff with 14, struck out 122 in 192.1 innings and posted a 3.37 ERA, which ranked 33rd in all of baseball. To put things in perspective, Leake had a lower ERA than Justin Verlander.
Leake was helped by his ability to get grounders. Opposing batters hit into 23 double plays against Leake, which were tied for the eighth-most in baseball.
He didn't get off to the best start—4.34 ERA in April—but turned it around quickly. Leake posted a 2.11 ERA and went 9-3 from the beginning of May through the end of July.
After much criticism, Leake silenced his critics this year.
Bullpen Can Overcome Injuries
Not many bullpens could overcome the injuries that Cincinnati suffered. However, the relievers in this bullpen stepped up in a big way.
Sean Marshall was a huge loss for much of the season. The southpaw has been a huge part of the bullpen, and his injury limited him this year. He pitched only seven innings through the middle of September, which meant the Reds needed another left-hander to step up.
Setup man Jonathan Broxton went down in early June, and he threw in only 3.2 innings the rest of the season before going back on the disabled list.
With their two best setup men on the shelf, the Reds' bullpen could have fallen apart. However, other relievers stepped up.
Right-hander J.J. Hoover went 26.1 innings over 23 appearances without allowing a run in the middle of the season.
Left-hander Manny Parra got off to a rough start but posted a 2.52 ERA over the final five months after he returned from the disabled list.
Sam LeCure posted a 2.66 ERA in 61 innings over 63 appearances. He allowed runs in three of four outings in early June, but that was the only stretch that he allowed runs in back-to-back games. He got it together to help the Reds overcome key injuries.
Closer Aroldis Chapman made the NL All-Star team for the second straight year. He had 38 saves with a 2.54 ERA and 112 strikeouts in 63.2 innings. When he mixes up his pitches, he is straight filthy (see above).
Those four relievers came up big when the team needed them. They helped Cincinnati's bullpen finish fourth in the NL, and seventh overall, with a 3.29 ERA. The relievers also ranked second in the NL in strikeouts.
Losing both Marshall and Broxton for much of the season could have been disastrous, but everyone in the bullpen adjusted to their new roles.
Billy Hamilton Can Steal Bases in the Majors
It was the time that everyone had been waiting for: September. That meant Billy Hamilton was going to arrive in Cincinnati.
After stealing 395 bases in five season in the minors, the speedster was finally going to get a chance to show what he could do in the majors.
All he did was steal on his first pitch in the majors against St. Louis Cardinals catcher Yadier Molina, who is arguably the toughest catcher to steal on. He wound up scoring the game-winning run as well in that game.
Hamilton stole a base in each of his first four appearances, and he stole four bases in his first career start. The speedster stole 13 straight bases to start his career before being thrown out on his final attempt of the season.
The 23-year-old ranked second on the team in stolen bases, despite being on the roster for only a month.
He hit .368 in limited action at the plate. It was an electrifying first month in the majors, and it may have been good enough to earn him an Opening Day roster spot in 2014.
Hamilton gave the Reds a huge boost in a pennant race with his speed.
Having a Legitimate Leadoff Hitter Sets the Tone
Cincinnati had been without a legitimate leadoff hitter for years, but it got what it needed thanks to a big offseason trade for Shin-Soo Choo.
With Joey Votto, Brandon Phillips and Jay Bruce in the middle of the lineup, Choo was expected to get on base. He exceeded expectations with his ability to get on base.
Choo reached base 300 times and ranked second behind only Votto in OBP in the NL, and fourth overall. He was one of only three players to draw 100 walks and again trailed only Votto. The left-handed hitter got hit by a pitch 26 times, which led the majors and set a franchise record.
On the season, Choo hit .285/.423/.462 with 21 home runs. His .294 average out of the leadoff spot ranked fourth in the majors, and his 21 homers were only one behind the leader.
Thanks to Choo, the Reds ranked fourth in the NL in runs scored. Both Phillips and Bruce drove in more than 100 runs, which was the first time either player reached that mark.
Choo also led the team with 20 stolen bases.
Now that the leadoff hitter is a free agent, Cincinnati must decide how much he is worth.
Ryan Ludwick Gives Away Too Many ABs
Left fielder Ryan Ludwick played in only 38 games after suffering a torn labrum on Opening Day. Once he came back, he wasn't very productive at the plate.
He hit .240/.293/.326 on the season with two home runs, five doubles and 12 RBI. The right-handed hitter had nearly as many strikeouts (29) as hits (31).
Ludwick failed to come through when the Reds needed him. He hit .258 with the bases empty, but his average dropped dramatically when the situation got bigger. The left fielder hit .224 with runners on, .209 with runners in scoring position and failed to get a hit in six at-bats with the bases loaded.
Most of those failures can be tied to swinging early in the count. Of his 129 at-bats, 51 of them were over by the second pitch. With his tendency to swing early in the count, manager Dusty Baker was forced to move him to second in the lineup at the end of the season. He had only three hits in 57 at-bats with two strikes on him.
The 35-year-old failed to hit a home run in his final 81 at-bats of the regular season.
Ludwick grounded into seven double plays, which was tied for the seventh-most on the team. Shin-Soo Choo hit into only three, and Jay Bruce hit into nine.
Cincinnati needs more out of him next year if the Reds are going to be legitimate contenders.
Brandon Phillips Is the Most Versatile Hitter in Baseball
No hitter has been asked to do as much as Brandon Phillips. He has anywhere from leadoff to cleanup over the past few years, and he has excelled in every spot.
Although he was expected to hit second in 2013, Ryan Ludwick's injury forced him into the cleanup spot. It's a tough adjustment that most hitters would struggle with, but Phillips wound up driving in 96 runs from the fourth spot. He ended the season with 103 RBI.
Phillips found a way to get runners home in tough spots. He finished tied for sixth in the NL with a .253 average and tied for second with 43 RBI with two strikes.
The 32-year-old had incredible splits. Phillips hit .213 with nobody on, but his average jumped to .307 with runners on and .338 with runners in scoring position. He went an incredible 11-for-18 with the bases loaded.
His .261 average and .310 on-base percentage aren't great, but that can be traced back to getting hit by a pitch on June 1 against the Pittsburgh Pirates. He was hitting .296 at the time, but he played the rest of the season with an injured forearm. The All-Star hit .241 with only 10 homers—after hitting nine through two months—over the final four months.
Phillips still had a productive season and continues to hit wherever asked. No other hitter could adjust his approach as much as Phillips, and he may have been the team's most valuable player in 2013.
Jay Bruce Has Become Most Underrated Player in MLB
How a player hits 30 home runs, 43 doubles, 74 extra-base hits, knocks in 109 runs and plays great defense doesn't make the All-Star team is simply laughable. However, Bruce Bochy didn't think Jay Bruce was good to make the NL All-Star team this year, which ended up getting shut out.
Check out how Bruce's numbers stack up to the rest of the NL.
| | | | |
| --- | --- | --- | --- |
| Stat | Bruce | NL Leader | Bruce's NL Rank |
| HR | 30 | 36 | 3rd |
| RBI | 109 | 125 | T-2nd |
| 2B | 43 | 55 | 3rd |
| XBH | 74 | 75 | 2nd |
| BB | 63 | 135 | 15th |
| Outfield Assists | 13 | 17 | T-3rd |
| Defensive Double Plays | 3 | 4 | T-3rd |
Bruce trailed only Arizona's Paul Goldschmidt in RBI and extra-base hits, and Pittsburgh's Pedro Alvarez tied Goldschmidt for the league lead in homers.
Once Phillips moved back up to second, teams stopped pitching to Bruce. He still managed to drive in 22 runs in the final month of the season.
The 26-year-old has hit at least 20 home runs in every season, but failed to increase his total for the first time in his career. He became only the sixth Red to hit 30 home runs in three straight seasons, and he has increased his RBI total each year.
Bruce cut out the 0-for-19 slumps this year and saw his average rise. As he continues to work on his approach, his average should continue to climb.
He was arguably the Reds' best all-around player this year.
Teams have learned not to run on him, and yet Bruce still recorded 13 outfield assists. The right fielder plays great defense, which can't be denied.
The left-handed slugger will receive NL Most Valuable Player votes. He should also walk away with his second Silver Slugger and his first Gold Glove.
Bruce continues to get overlooked, but Reds fans know that he is a great player.
Joey Votto Is Very Good at What He Does
For those fans who say Joey Votto had a bad season, just stop. He may not have been great in the field, but he was incredible at the plate.
Don't buy it? Check out his numbers in comparison to Pittsburgh Pirates star Andrew McCutchen:
| | | |
| --- | --- | --- |
| Stat | Votto | McCutchen |
| AVG | .305 | .317 |
| OBP | .435 | .404 |
| SLG | .491 | .508 |
| OPS | .926 | .911 |
| R | 101 | 97 |
| 2B | 30 | 38 |
| 3B | 3 | 5 |
| HR | 24 | 21 |
| RBI | 73 | 84 |
| BB | 135 | 78 |
Bold indicates that it led NL
Many believe that McCutchen will run away with the 2013 NL MVP award, but the numbers don't back it up. The two players had very similar numbers this past season, and some could argue that Votto had a better season given that he didn't get much to hit.
Votto isn't going to hit 35 home runs every year. He is going to be around 25 to 30 most years, which is acceptable. He gets on base at an incredible rate, and he set the franchise record by getting on base 316 times this season.
As long as he is not making outs, he is doing his job. Votto had a great season after missing time in 2012 with a knee injury.
Fans need to accept that Votto is looking to get on base any way possible. Getting on base leads to runs. He gets on base, and Jay Bruce drives him in.
Despite popular belief, Votto was very good at the plate in 2013.
Keep Reading

Cincinnati Reds: Like this team?