David Ortiz spoiled a marvelous outing on the mound from Max Scherzer, and the Boston Red Sox scored an improbable 6-5 win over the Detroit Tigers on Sunday night, evening the ALCS at one game apiece.
With the Sox struggling to do much of anything and hopes dwindling, Big Papi delivered a game-tying grand slam in the bottom of the eighth and Jarrod Saltalamacchia hit the game-winning single in the ninth, providing the Red Sox with a legendary postseason win that may never be forgotten.
Unbelievable! Boston wins it with walk off single in the 9th! pic.twitter.com/ik7D4pcgzp

— Bleacher Report (@BleacherReport) October 14, 2013
A night after Anibal Sanchez and four relievers came within two outs of no-hitting the Sox, Scherzer took his own shot at postseason lore. He was electric on the night, as he took a no-hitter of his own into the sixth inning, putting both teams into the record books in the process:
#Tigers are 1st team in #postseason history to take a no-hitter through at least 5 innings in 3 straight games.

— MLB (@MLB) October 14, 2013
The Red Sox are the first team in MLB history to be held hitless through 5 innings in consecutive games in the postseason. @EliasSports

— ESPN Stats & Info (@ESPNStatsInfo) October 14, 2013
Scherzer eventually gave up a hit in the sixth, but he finished with a punishing 13 strikeouts in seven innings, as he gave up just two hits, two walks and one run.
It seemed as though he had plenty of insurance for the win.
Alex Avila provided an RBI single in the third inning off starter Clay Buchholz. After Miguel Cabrera homered over the monster and Prince Fielder and Victor Martinez hit back-to-back doubles in the sixth, the 26-year-old catcher stepped to the plate looking to do more damage.
And he did just that, smashing a two-run homer to give the Tigers a five-run buffer:
Alex Avila provides some cushion in the 6th. @tmobile #unleash pic.twitter.com/p3xF7852w9

— MLB (@MLB) October 14, 2013
As ESPN Stats & Info pointed out, the game was as good as over at that point:
Max Scherzer has been staked to a 5-run lead 24 times in his career (including postseason). His teams are 24-0 in those games.

— ESPN Stats & Info (@ESPNStatsInfo) October 14, 2013
Well, not so fast.
With the Red Sox trailing 5-1 in the bottom of the eighth, they loaded the bases for Ortiz, who crushed a clutch, game-tying grand slam to improbably and unbelievably tie the game in dramatic fashion off Joaquin Benoit.
Ho-hum, just another day in October for Big Papi:
David Ortiz: 3rd game-tying grand slam in postseason history

— ESPN Stats & Info (@ESPNStatsInfo) October 14, 2013
In the bottom of the ninth, after a Jose Iglesias throwing error and a Rick Porcello wild pitch moved Jonny Gomes to third, Saltalamacchia provided the game-winning single to send Fenway into a frenzy.
Torii Hunter talked about his status after the plunge over the wall and his thoughts on a crushing loss via Jeff Passan of Yahoo! Sports:
Torii Hunter: "I'm pissed. It's the one guy you don't want to beat you, and he beat us."

— Jeff Passan (@JeffPassan) October 14, 2013
Torii Hunter on pain in his hip: "I'll put some ice on it, some Robitussin on it." #chrisrock

— Jeff Passan (@JeffPassan) October 14, 2013
Hunter also updated fans on his status Monday morning on his Twitter account:
Tough lost last night. I feel like I played a Sunday night football game. I'm sore right now but I'll be ready to go on Tuesday.

— Torii Hunter (@toriihunter48) October 14, 2013
Player Grades
Max Scherzer, Tigers: A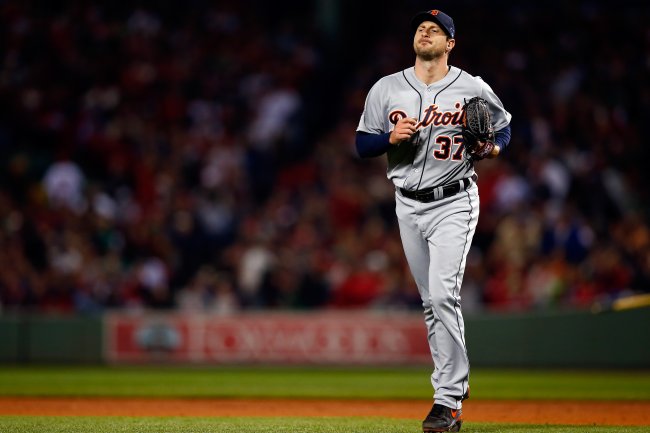 Jared Wickerham/Getty Images
So you carried a no-hitter into the sixth. Big whoop. It's not like almost every other Tigers starter in the rotation hasn't done that over the past week.
In all seriousness, Scherzer was nasty on Sunday night, mixing up his speeds well and keeping the Red Sox hitters off balance.
Not only did he strike out a season-high 13 in the biggest game of the year thus far, but he gave up just one fly ball through the first five innings and turned in arguably his most dominant performance of season.
Max Scherzer is 3rd pitcher in postseason history with back-to-back starts of at least 11 K. The others? Justin Verlander & Cliff Lee.

— ESPN Stats & Info (@ESPNStatsInfo) October 14, 2013
It's just a shame he doesn't have a win to show for it.
Clay Buchholz, Red Sox: C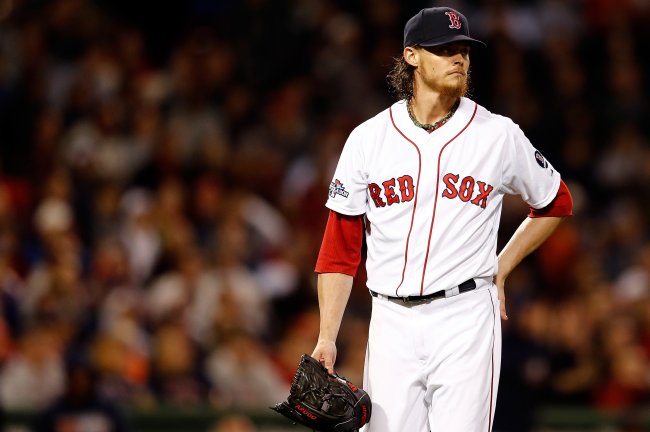 Jim Rogash/Getty Images
Although he got hit pretty hard in the third inning, Buchholz escaped the jam, limited damage and settled down nicely through the first five frames.
The third time through the lineup, though, was difficult. He got pounded for two home runs, two doubles and four more runs, letting the game get completely out of hand.
Buchholz finished with a pretty ugly line (5.2 innings, eight hits, five earned runs, six strikeouts), and while he may been left in for a little too long, he just wasn't nearly as sharp as usual.
Alex Avila, Tigers: A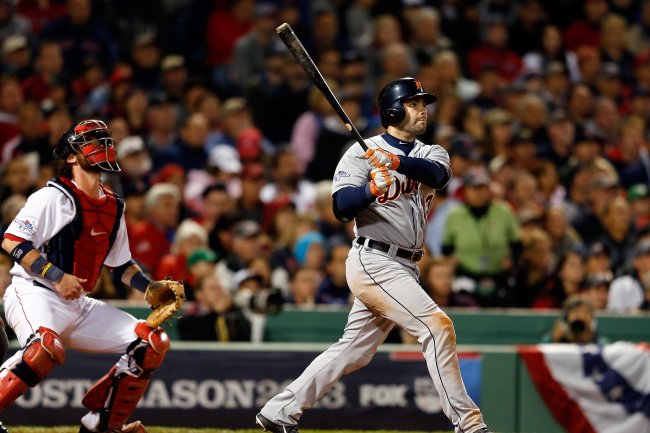 Jim Rogash/Getty Images
Avila had the RBI single in the third to put the Tigers ahead, and then he had the big two-run homer in the sixth to put the exclamation mark on his night. He also added a walk later in the game.
Avila hit .073 during the 2011 postseason and .207 during the 2012 playoffs, so Sunday's outburst had to be a breath of fresh air for Tigers fans.
Dustin Pedroia, Red Sox: A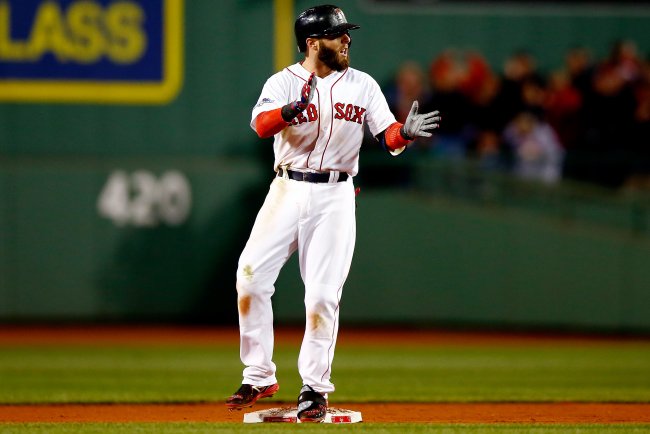 Jared Wickerham/Getty Images
David Ortiz would have gotten an "A+" here for one of the most clutch grand slams you'll ever see (and a moment that will live in Boston sports fame forever), but I felt Pedroia deserved to be mentioned and Papi was probably way too easy.
He may have struck out twice, but he made a Gold Glove-caliber play at second base (and that might be under-selling it), drove in the Red Sox' first run with a double in the sixth when everyone else was struggling and extended that amazing eighth inning with a two-out single to load the bases for Ortiz.
The comeback and win doesn't happen without him.
What's Next
The series shifts to Detroit for Game 3 on Tuesday at 4 p.m. ET. The Tigers will look to regain momentum by sending Justin Verlander, while the Red Sox will counter with John Lackey.