7 ALCS, NLCS Stars Who Need to Step Up Before It's Too Late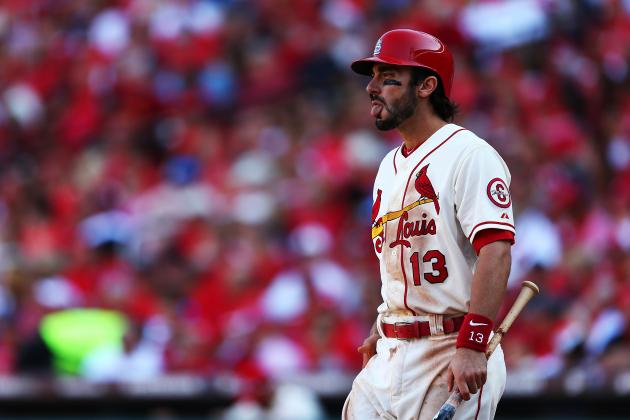 Elsa/Getty Images

Both of the MLB league championship series are through their first two games and baseball fans are getting everything they wanted.
All four games have come down to one run, as the Cardinals have taken both of their first two NLCS games from the Dodgers while the Red Sox and Tigers have split their first two ALCS contests.
Each team has had its stars and they've also had their duds. These are the players who need to get things together to help their teams win their series.
Here's a look at seven ALCS, NLCS stars who need to step up before it's too late.
Note: All stats taken from Baseball-Reference.com unless otherwise noted.
Begin Slideshow

»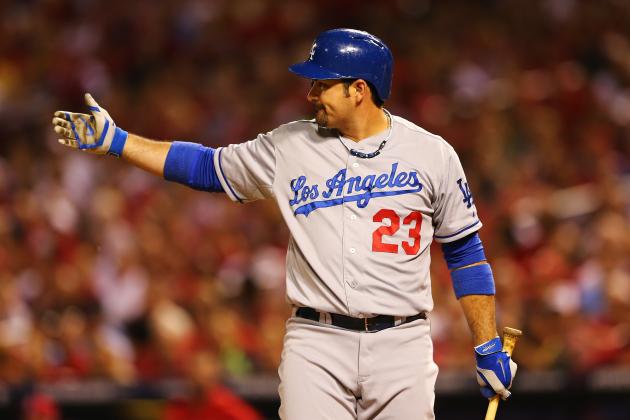 Elsa/Getty Images

Adrian Gonzalez has been on base four times in the NLCS, but three of those appearances have been walks. He's batting No. 4 and the Dodgers need him to put the ball in play.
When runners are on base, Gonzalez has to do what he gets paid to do—drive in runs.
It started in the first inning of Game 1. With runners on second and third base with one out, Gonzalez struck out against Joe Kelly. Gonzalez had previously gone 5-for-9 with one home run and three RBI against Kelly.
In Game 2, the Dodgers had another runner on first with one out in the first inning, but again, Gonzalez struck out.
Those opportunities may have come early in the game, but Gonzalez has to take advantage of them when they are there.
Elsa/Getty Images

For all the talk about Yasiel Puig in the NL divisional series, the National League Championship Series has seen Puig struggle enormously.
Through two games, Puig is 0-for-10 with six strikeouts, including strikeouts in all four plate appearances in Game 2.
But the Dodgers deserve to take some of the blame for his struggles. Having him bat in the middle of the order isn't the best spot for Puig, as he's better suited for the top of the lineup.
Here are his numbers based on the spots he batted in:
| | | | | | |
| --- | --- | --- | --- | --- | --- |
| Spot in the Order | AB | Avg. | HR | RBI | Runs |
| Batting 1-2 | 313 | .310 | 17 | 35 | 52 |
| Batting 4-6 | 63 | .354 | 1 | 6 | 11 |
The numbers are obviously higher with Puig batting in one of the top two spots because he has more at-bats. And while his average is higher in the middle of the order, he's not able to put up the same power numbers.
The fact remains that Puig is more valuable as a player getting on base at the top of the order than driving in runners. He puts pressure on the defense with his speed on the basepaths and the fact that he's always looking to take the extra base.
When he can hit at the top of the order, Puig's focus can be getting on base and letting others behind him drive him in. When Puig bats leadoff with Carl Crawford behind him, the Dodgers were 9-5 in the regular season. When Crawford led off and Puig hit second, the Dodgers were 20-8.
Puig may have been 8-for-17 in the NLDS, but he's clearly not succeeding in the NLCS. It's time for Don Mattingly to move him up in the order, where the Dodgers can take advantage of his skills.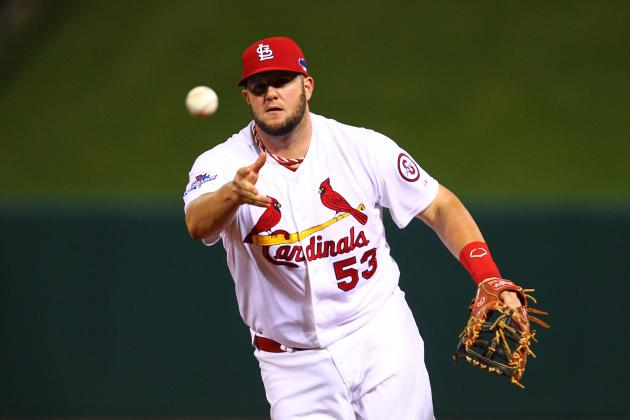 Dilip Vishwanat/Getty Images

The first two NLCS games have seen Matt Adams go 0-for-7 with three strikeouts.
He batted fourth in Game 1 and batted sixth in Game 2, but still struggled. He was good in the NLDS, going 6-for-19, but that was a different postseason series.
Part of his struggles could be due to the fact that he's had to face the Cardinals' Zack Greinke and Clayton Kershaw, two pitchers he had never faced before.
If Adams is going to be in the middle of the order, he has to be able to hit the ball. His power is important to the Cardinals and helps set up those behind him.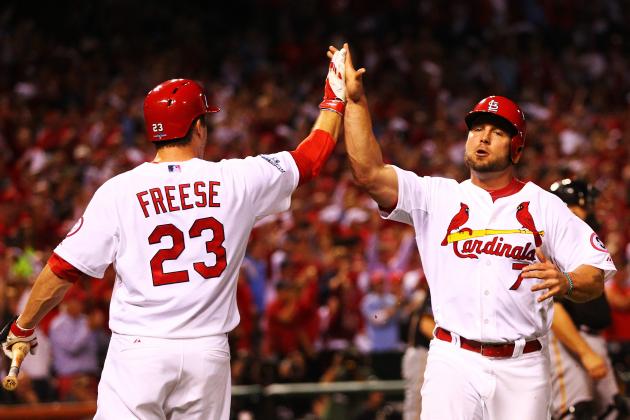 Dilip Vishwanat/Getty Images

The Cardinals may have gotten two wins already, but Matt Holliday is 0-for-8 in the series from the No. 3 spot.
The most noticeable mistake came in the first inning of Game 2. With Matt Carpenter on third base and one out, Holliday struck out. In that situation with Clayton Kershaw pitching, Holliday has to do everything he can to get that run in, even if that means hitting the ball to the outfield early in the count.
St. Louis ended up not scoring, as Yadier Molina grounded out to end the inning.
Luckily for the Cardinals, they were able to score an unearned run later in the game. If not, the series might be at 1-1, instead of 2-0 for St. Louis.
Holliday is batting third for a reason. He has to take care of business when he has the opportunities.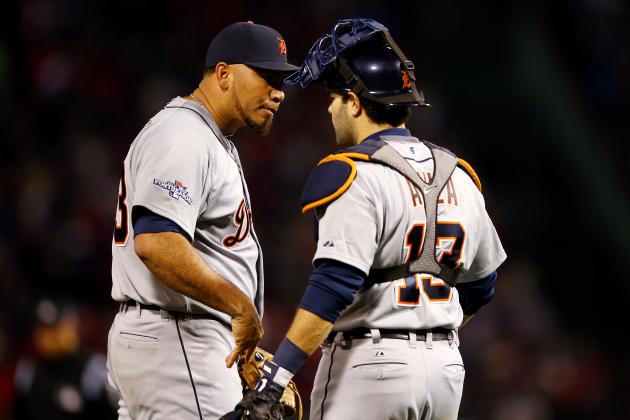 Al Bello/Getty Images

Why Joaquin Benoit threw David Ortiz a first-pitch fastball in the eighth inning of Game 2 in the ALCS, we'll never know. However, what we do know is that one pitch turned all the momentum of the series in favor of the Red Sox.
To see how bad of a move it was on Benoit's part, all you have to do is look at the numbers according to Brooksbaseball.net.
Here's a look at Benoit's numbers:
| | | | |
| --- | --- | --- | --- |
| Pitch Type | BAA | SO | HR |
| Fastball | .227 | 31 | 3 |
| Slider | .083 | 8 | 1 |
| Split | .192 | 42 | 2 |
Now, let's look at Ortiz's numbers against those same pitches:
| | | | |
| --- | --- | --- | --- |
| Pitch Type | BA | SO | HR |
| Fastball | .329 | 35 | 13 |
| Slider | .208 | 21 | 3 |
| Split | .118 | 7 | 1 |
The numbers clearly show the fastball is not what you want to go with against Ortiz. Benoit made a mistake there and it cost the Tigers dearly.
Benoit will get a chance to redeem himself, but he's going to have to go with his off-speed stuff to get the Red Sox off balance. If he makes another mistake like he did Sunday, the Tigers will be watching the World Series from home.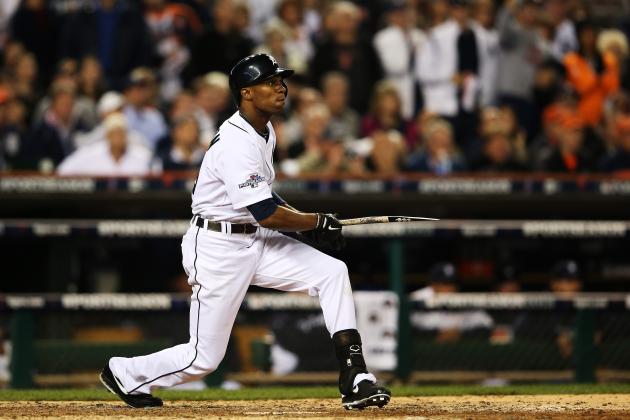 Leon Halip/Getty Images

Austin Jackson may be the fastest player on the Tigers, but he is absolutely killing them at the top of the lineup. When he comes up, you can pretty much mark down an out nine times out of 10.
Jackson struggled in the division series, going 2-for-20 with 13 strikeouts. It hasn't gotten any better in the ALCS, as he's gone 1-for-10 with three strikeouts.
He's simply not getting the job done and the Tigers need to do something so that guys like Torii Hunter, Miguel Cabrera and Prince Fielder can have something to work with on base ahead of them.
Seeing how Jim Leyland likely won't be making a change, Jackson has to get things going at the top of the order.
Granted, Hunter isn't doing any better behind him (1-for-10), but Jackson is supposed to be the table-setter. If he's not getting on base, teams can start game-planning for the three hitters behind him.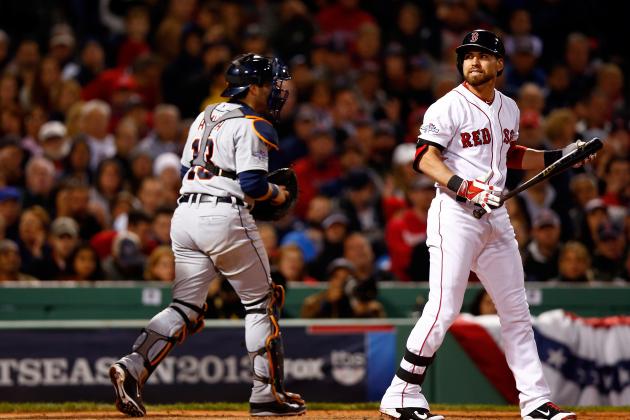 Jared Wickerham/Getty Images

Like Austin Jackson, Jacoby Ellsbury's Red Sox team depends on him to set the tone for the rest of the order. Thus far, he's 0-for-6 against the Tigers.
Game 2 was the biggest example of how key Ellsbury is to Boston. After Will Middlebrooks doubled with one out in the eighth inning, Ellsbury drew a walk to put runners on first and second. A single by Dustin Pedroia two batters later set the stage for David Ortiz to hit his game-tying grand slam.
That's how important Ellsbury is to the Red Sox. When he gets on base, the lineup after him is much more dangerous.
If Pedroia has at least one man on base, he's batting .306 with six home runs and 81 RBI compared to a .296 average with nobody on. If Red Sox runners are in scoring position, Ellsbury is batting .312. That may not be much of a difference, but it's still 10 points higher with runners aboard.
When at least one man is on base for Ortiz, he's batting .330 with 15 home runs and 88 RBI compared to hitting .287 with 15 home runs with no men on. Ortiz is still going to hit his home runs, but he can do a lot more damage with men on.
It just goes to show you how important Ellsbury (and Shane Victorino) are at the top of the Red Sox lineup.