30 Premier League Matches to Watch Again Before You Die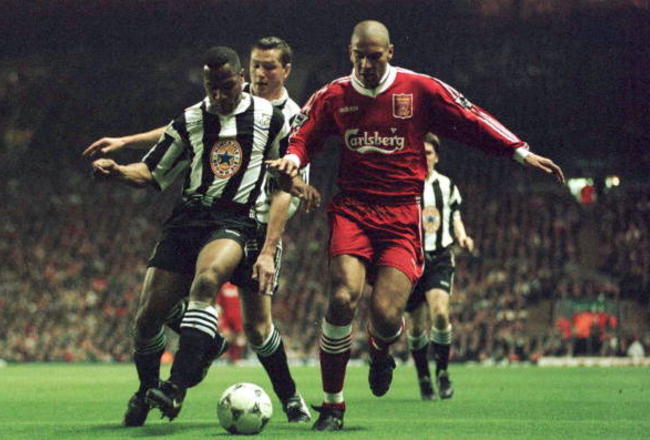 Getty Images

Since the first ball was kicked in the Premier League on August 15, 1992, the English top-flight game has grown from reasonably humble origins to a global behemoth.
Millions of fans from all over the world now love the league for its high standard of football and its uncanny ability to deliver regular bouts of excitement and drama.
But if aliens landed on earth tomorrow, how would we explain the majesty of the Premier League to them?
A great start would be to show them the following 30 games, which encapsulate the very finest moments from the past 22 seasons.
Not only should the theoretical aliens hunt these classics out, but you should, too...
Southampton 6-3 Manchester United, October 1996
During their mid-1990s pomp, Manchester United went through a spell when they just couldn't get a result at The Dell.
Southampton embarrassed them with a 3-1 win in 1995/96, when Sir Alex Ferguson blamed his side's "invisible" grey shirts for the defeat. Then, the following season, the Saints pulled off a memorable 6-3 victory.
The sweetest moment was surely Matt Le Tissier's ingenious chip on the edge of the box to beat Peter Schmeichel.
It was a bitter pill to swallow for United, who had been beaten 5-0 by Newcastle the previous week.
Portsmouth 7-4 Reading, September 2007
There have been plenty of high-scoring matches in the past two decades of Premier League history, but the highest-scoring match of all occurred on September 29, 2007 at Fratton Park—between two of the league's less celebrated sides.
Reading probably felt aggrieved to score four goals away from home and not earn a win—particularly as three points might have saved them from eventual relegation on the last day of the 2007/08 campaign.
Arsenal 4-4 Tottenham, October 2008
When Juande Ramos failed to put any wins on the board in his first eight attempts of the 2008/09 season, Tottenham replaced him with Harry Redknapp.
The current QPR boss won his first match in charge and presided over one of the best North London derbies in recent history in his second.
The highlight of the match was David Bentley's superb long-range opener, which caught Manual Almunia unaware from around 40 yards. It might have been the last useful thing David Bentley did.
Manchester United 8-2 Arsenal, August 2011
Having watched Manchester City climb to the top of the Premiership table with an emphatic 5-1 win over Tottenham the previous day, United responded with an utter humiliation of Arsenal at Old Trafford that put them back on top of the pile.
A Robin van Persie missed penalty when the Gunners were 1-0 down set the tone for a miserable afternoon, in which Nani, Danny Welbeck, Ashley Young, Park Ji Sung and Wayne Rooney all found the net.
That season, the title race between City and United would go all the way to the wire...
Manchester City 3-2 QPR, May 2012
The final day of the 2011/12 season had all the ingredients of a dramatic classic—and it didn't disappoint.
Manchester City needed to beat Queens Park Rangers to win their first Premier League title, but the Londoners needed a result—or Bolton to lose or draw at Stoke—to stay up.
After a thrilling 90 minutes—in which Joey Barton was sent off for some of his trademark idiocy—City were losing 2-1 to the Hoops.
However, Edin Dzeko equalised in the second of five minutes of stoppage time before Sergio Aguero netted the goal that ripped the Premier League trophy from Manchester United's grasp.
It was an astounding end to an astounding season.
Tottenham 4-5 Arsenal, November 2004
Four years before the 4-4 North London derby thriller, White Hart Lane hosted a similarly prolific tie between the two local rivals.
Spurs went into the match having suffered a string of defeats and their hapless defence ensured another one in what turned out to be a captivating 4-5 loss.
Jose Mourinho later sneered at the standard of defending in the game, saying: "Five-four is a hockey score, not a football score."
Everton 3-2 Wimbledon, May 1994
On the final day of the 1993/94 campaign, six teams were fighting to avoid relegation, one of whom was Everton.
When the Toffees went down 2-0 thanks to goals from Wimbledon's Dean Holdsworth and Andy Clarke, things looked bleak for the Merseyside club.
But they fought back and managed a spirited 3-2 escape, condemning Sheffield United to join Oldham and Swindon in the second tier.
Manchester United 1-6 Manchester City, October 2011
When Manchester United faced their nouveau riche noisy neighbours City in October 2011, the defending champions were looking to put the new pretenders in their place.
Mario Balotelli, however, opened the scoring, and when Jonny Evans was sent off for a foul on the fiery Italian, Fergie's masterplan fell to pieces.
A Darren Fletcher consolation wasn't enough to stop United's biggest home defeat since 1955—and one of the most surprising home losses in Premier League history.
Liverpool 4-3 Newcastle, April 1996
The clip above is titled "The Greatest Game Ever Played," and for Premier League fans, this isn't too much of an exaggeration.
In April 1996, both Liverpool and Newcastle were chasing Manchester United for the title, the latter having squandered a 12-point lead in January.
Robbie Fowler opened the scoring, only for Les Ferdinand and David Ginola to give the visitors the advantage. Fowler equalised in the second half, only for Faustino Asprilla to edge Newcastle in front again.
Then Stan Collymore became the hero of the day, scoring two goals to raise the roof and give Liverpool the win.
Everyone watching that day, myself included, needed to sit down and catch their breath for a good few minutes afterwards.
This game won the Premier League 20 Seasons award for Best Match.
Liverpool 4-3 Newcastle, March 1997
They say that lightning doesn't strike twice, but that's exactly what happened when Newcastle visited Anfield the season after their pulsating 4-3 loss.
Once again, both sides were attempting to stop Manchester United from winning the title, and both sides had their scoring boots on.
Liverpool went three goals ahead thanks to Steve McManaman, Patrik Berger and Robbie Fowler, but Newcastle brought it level to 3-3.

Robbie Fowler then delivered a dose of Magpies' heartache when he headed home from a Berger cross.
Tottenham 3-5 Manchester United, October 2001
Glenn Hoddle's return to Tottenham as manager was seen by many fans as a renaissance for the team, and this was quite evident during the first half of their home clash with Manchester United, which ended with a rousing 3-0 lead for the home side.
However, Alex Ferguson must have delivered some fairly choice words to his beleaguered team in the interval, as they reemerged and scored five goals to take hijack the three points from a Spurs side that clearly rested on its first-half laurels.
Charlton 4-4 West Ham, November 2001
There are a number of 4-4 draws on this list, but none quite as exciting as the Monday night clash between West Ham and Charlton in November 2001.
In his first start for West Ham in nearly two years, Paul Kitson bagged a remarkable hat-trick, but the best goal was saved until last: Swedish forward Jonatan Johansson found the net with a superb overhead bicycle kick to rouse the home crowd at the Valley and split the points.
Liverpool 4-4 Arsenal, April 2009
During the 2008-09 run-in, Liverpool found themselves in a familiar position: chasing down Manchester United for the right to lift the Premier League title.
A win against Arsenal would have put the Reds two points clear of their Manchester rivals with five games left to play.
Their plans to earn three points were thwarted by a young Russian named Andrei Arshavin, who found the net four times in an incredible 4-4 draw.
Leeds 4-3 Liverpool, November 2000
Andrei Arshavin wasn't the first player to knock four past Liverpool in a single day: That honour was also bestowed upon Leeds striker Mark Viduka.
Gerard Houlier's Reds were 2-0 up and led again at 3-2, but Viduka turned on the taps to score two more in a stunning individual performance.
That season, thanks in part to the Aussie's firepower, Leeds finished one point behind Liverpool in fourth place.
West Ham 3-4 Wimbledon, September 1998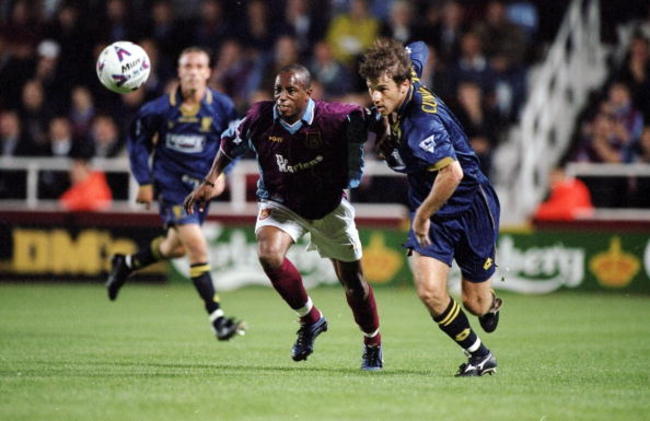 Getty Images

The best Premier League game this writer has personally attended was Wimbledon's trip to Upton Park on a cold September evening in September 1999.
By the time I found my seat, the Dons (my team) were already 1-0 down thanks to a John Hartson strike. The evening got more and more depressing when an Ian Wright brace made it 3-0 to the Hammers.
Marcus Gayle managed a consolation before the break, but manager Joe Kinnear must have given the half-time team talk of a lifetime as the Crazy Gang emerged and scored three goals, pulling victory from the jaws of defeat to finish the game 4-3.
"Extra! Extra! How to p*ss away a three-goal lead!" shouted a mildly annoyed fanzine seller as I left the stadium.
Manchester United 9-0 Ipswich, March 1995
This writer can vividly remember leaving a Wimbledon match on March 4, 1995 and tuning into the radio to hear that Manchester United had just beaten Ipswich 9-0.
The Dons were due to play United three days later.
Having been beaten 3-2 at Portman Road earlier in the season, the Red Devils had a point to prove when they hosted Ipswich for the return fixture. They proved it in emphatic fashion, recording the highest Premier League winning margin of all time.
United went even on points with Blackburn at the top of the table after the game and caught up with their goal difference, but this victory was not enough to deny Rovers the title a few months later.
Norwich 4-4 Middlesbrough, January 2005
Newly-promoted Norwich hosted a Middlesbrough side with European aspirations in January 2005 and the crowd at Carrow Road were treated to an eight-goal thriller.
The Canaries looked set to remain in the relegation zone when Middlesbrough pulled 4-1 ahead—the highlight of their efforts being a lovely Jimmy Floyd Hasslebaink free-kick—but they fought back and earned a draw in the 92nd minute through an Adam Drury header.
Unfortunately, the point wasn't enough to lift Norwich from the drop zone, where they ended up at the end of the campaign.
Burnley 1-0 Manchester United, August 2009
Burnley's first home game in the top flight in 33 years was a daunting match-up against champions Manchester United.
Despite having a fraction of the Red Devil's resources, a brilliant Robbie Blake volley in the 17th minute was enough to earn the Clarets a valiant three points.
Goalkeeper Brian Jensen kept Burnley in the game with a superb performance, which included a vital penalty save from Michael Carrick.
Newcastle 4-4 Arsenal, February 2011
Arsenal's visit to St James' Park in February 2011 might have been the dictionary definition of a game of two halves.
The Gunners cruised to a 4-0 lead in the first 45, thanks to Theo Walcott, Johan Djourou and a Robin van Persie brace.
But Alan Pardew must have given his players an extra Weetabix at the interval, as they came out swinging and scored four of their own.
St James' Park is a loud stadium, but the Toon Army almost deafened the entire north-east that day.
Manchester United 4-3 Manchester City, September 2009
This was a classic Manchester derby between a heavily-strengthened City side and a title-defending United.
When Craig Bellamy put away his second goal of the day from an acute angle to make it 3-3 in the 90th minute, a draw looked inevitable.
However, in the sixth minute of "Fergie Time", Michael Owen struck the winner with a typical poacher's goal.
Newcastle 5-0 Manchester United, October 1996
Premier League Super Sundays in the 1990s didn't get much more super than this.
As a means of announcing their intention to steal Manchester United's crown, Newcastle completely obliterated their visitors on October 20, 1996.
David Ginola's goal was sublime and Philippe Albert's 25-yard lob over Peter Schmeichel for the fifth must have made Sir Alex wish a hole would open up in the ground and swallow him up.
Of course, that same hole later swallowed up Kevin Keegan when his side rolled over in the title race.
Chelsea 5-0 Manchester United, October 1999
Prior to Manchester United's visit to Stamford Bridge in October 1999, the treble holders were undefeated in 29 league games—their last being a loss to Middlesbrough the previous December.
That record came to an abrupt end, thanks in no small part to goalkeeper Massimo Taibi, who crashed into Dennis Irwin to allow Gus Poyet to open the scoring.
"The Blind Venetian" only played a few more games before he was consigned to the scrapheap.
Arsenal 1-2 Hull, September 2008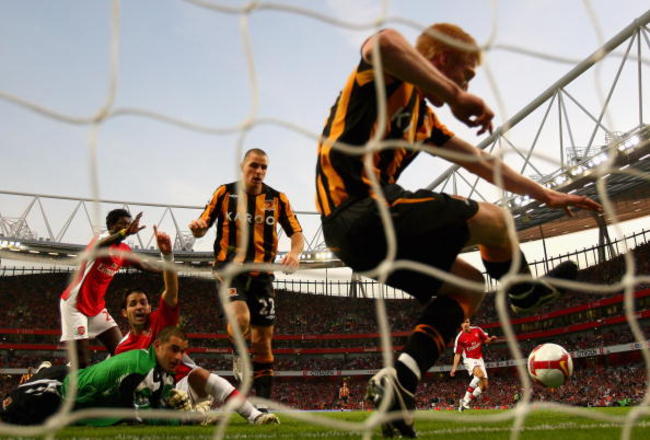 Mike Hewitt/Getty Images

Premier League new boys Hull had claimed eight points from their first five games before they met Arsenal at the Emirates in September 2008.
After a Paul McShane own goal, Giovanni netted a wonderful long-ranger for an equaliser and Daniel Cousin gave the Tigers the lead shortly afterwards.
This was a very surprising loss for the Gunners but a valuable three points for Hull that pit them in sixth position in the league table.
Hull survived that season by a single point, showing how vital this win was.
Charlton 3-2 Blackburn, February 2004
After a beguiling encounter with Charlton at the Valley in 2004, Blackburn Rovers were down 2-1 in injury time.
Sensing an opportunity to steal a point on a corner, goalkeeper Brad Friedel came up and actually managed to put the ball in the back of the net.
The American's elation was soon deflated, however, when Claus Jensen volleyed home for a 3-2 home win.
Addicks fans who left this one early would have been pretty disappointed.
West Ham 5-4 Bradford City, February 2000
West Ham goalkeeper Shaka Hislop broke his leg early in his side's 1999-00 encounter with Bradford at Upton Park, gifting a debut to 19-year-old Stephen Bywater.
The replacement goalie managed to let in four goals and the Hammers were trailing 4-2 with around 20 minutes remaining.
An incredible comeback started when Frank Lampard and Paolo Di Canio argued over who would take a penalty—Di Canio won—then Joe Cole scored his first Premiership goal to equalise.
Harry Redknapp's side came out 5-4 winners after young Frankie Lampard slotted home from the edge of the box.
Arsenal 2-3 Leeds, May 2003
Few games in Premier League history have had as much at stake as this one.
On the penultimate weekend of the season, Arsenal needed a win to have a chance of retaining their Premier League title. Leeds, on the other hand, desperately needed three points to avoid relegation.
Aussie striker Mark Viduka netted the winner, helping Leeds to stay afloat—and effectively gifting Manchester United their 15th English title.
Swansea 3-2 Arsenal, January 2012
Swansea's reputation as a stylish passing side was cemented when Arsenal visited the Liberty Stadium in January 2012.
Robin van Persie opened the scoring after five minutes, but the Londoners were outplayed for most of the enthralling match, which was clinched by Danny Graham in the 70th minute.
Arsene Wenger bemoaned the state of the pitch, but the well-earned victory—Swansea's first over the Gunners since February 1982—put the Welsh side in the top 10.
Wolves 4-3 Leicester, October 2003
Early in the 2003-04 season, newly-promoted sides Wolves and Leicester held an epic Midlands battle at Molineux.
A Les Ferdinand brace and a Riccardo Scimeca goal put the Foxes 3-0 up at half-time, but Wolves spoiled the Leicester fiesta in the second half by scoring four of their own.
Despite the spirit and fight shown on that day, both sides were sent back down to the Championship at the end of the season.
Swindon 2-2 Manchester United, March 1994
Swindon were a dreadful Premier League team. In 1993-94, they managed just five wins all season and conceded 100 goals.
They earned one of their 30 points, however, in a thrilling-end-to-end encounter with Manchester United at the County Ground.
Aside from the goals, this match was notable for Mark Hughes tangling with some Swindon fans, Luc Nijholt and Roy Keane fighting with one another and Eric Cantona seeing red for stamping on John Moncur.
Sheffield Wednesday 1-7 Nottingham Forest, April 1995
In the early years of the Premier League, Frank Clark's Nottingham Forest side were a force to be reckoned with, thanks in part to the talents of B/R's very own Stan Collymore.
The striker bagged a brilliant brace in Forest's rout of Sheffield Wednesday in April 1995, and several of the other goals were beautifully taken, too, including Bryan Roy's second and Stuart Pearce's free-kick.
Forest were a newly-promoted side in 1994-95, but they managed to finish in third place.
Leave your suggestions for classic games below and follow Ryan Bailey on Twitter
Keep Reading