Key Battles That Will Shape Uruguay vs. Argentina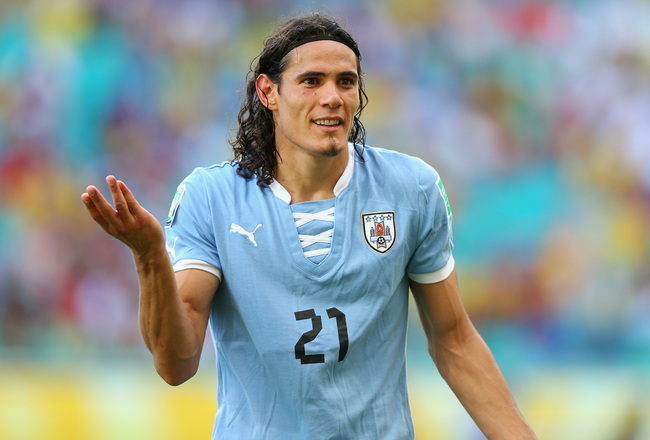 Clive Mason/Getty Images
In a game that means little for the visitors but could have major consequences for the hosts, Uruguay will take on Argentina in Montevideo on Tuesday in the final round of CONMEBOL World Cup Brazil 2014 qualifying.
The Albicelestes have already booked their spot at the big show next year and are guaranteed to finish first in the table. Oscar Tabarez's Celestes, meanwhile, will be hoping to avoid fifth spot and a two-legged play-off against Jordan.
In order to finish above fifth, Uruguay must defeat their neighbors from across the River Plate, preferably heavily, and hope that other results go their way.
There is little chance this match will fizzle out into a dull affair however, as there is always a high level of intensity when these local rivals meet.
Here are some key battles that could decide this encounter.
Di Maria vs. Gargano and Arevalo Rios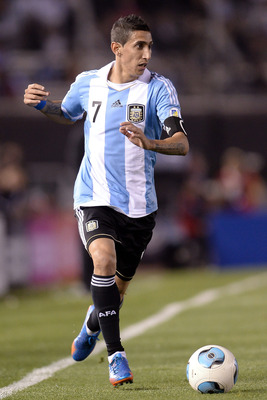 Buda Mendes/Getty Images
Real Madrid winger Angel di Maria is currently in brilliant form for both club and country, and was Argentina's standout player in their last outing against Peru.
Handed the captain's armband for the first time, the hardworking wide man gave his Albicelestes the forward thrust and creativity they needed in the absence of the injured Lionel Messi.
Uruguay's midfield heavies Walter Gargano and Egidio Arevalo Rios will most likely have to take it in turns attending to di Maria as he switches between the left and right flanks.
If they can blunt his influence, Argentina's deadly forwards will have to work much harder to end up with the ball at their feet in dangerous positions.
Federico Fernandez vs. Luis Suarez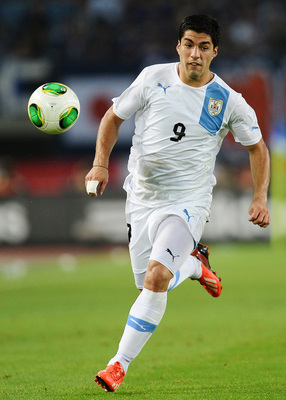 Atsushi Tomura/Getty Images
Alejandro Sabella has stubbornly persisted with his favored pairing of Ezequiel Garay and Federico Fernandez in the center of defense, in part due to a desire to build an understanding between the two and also because there is a dearth of other options.
In general, the pair has done quite well to give Argentina's back line a more solid feel about it. It would be a stretch, however, to call them a world-class defensive duo.
While Garay has developed into a reliable and classy center-back, Fernandez has not progressed at the same rate, perhaps due to his lack of regular playing time at Napoli (he is now on loan at Getafe).
Against Peru, the 24-year-old former Estudiantes man had a few hairy moments, especially when left exposed in the middle by Argentina's meandering full-backs.
If Fernandez is once again entrusted by Saballa to anchor the defense, he may struggle to deal with the wiles of the elusive Uruguayan frontman, Luis Suarez.
If the Liverpool forward senses a weak link, he will no doubt use every trick in his repertoire to exploit it.
Cavani vs. Romero
Suarez's partner in crime, Edinson Cavani, is another of those strikers who punishes any minor errors committed by the opposition defense.
The athletic forward will be looking to terrorize Argentina goalkeeper Sergio Romero at every opportunity on Tuesday.
The normally reliable No. 1 has looked somewhat shaky of late and was left exposed against Peru when he left his line to close down Claudio Pizarro, only to be embarrassingly lobbed by the veteran for the opening goal of the match.
The tall and powerful PSG player should aim to test Romero's confidence by pressurizing the goalkeeper, especially under high balls, from early on in the match.
Mauro Icardi vs. Diego Lugano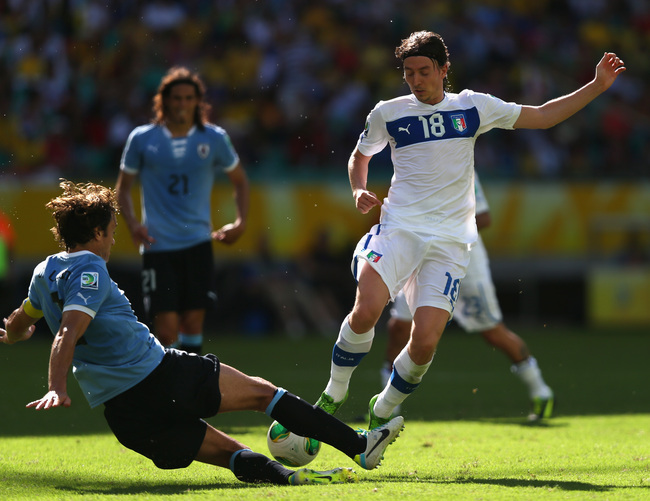 Clive Rose/Getty Images
Due to his boyish good looks, it is a little hard to describe Diego Lugano as a grizzled veteran, but he is certainly one of the most brutal and cynical defenders going around in world football.
It is always entertaining to watch a well-seasoned master of the dark arts take on a fresh-faced and talented youngster, and we may be presented with that scenario if Sabella decides to hand 20-year-old Mauro Icardi his first Argentina cap.
As James Horncastle explains on ESPNFC.com, Italy coach Cesare Prandelli has been hoping to take advantage of Icardi's Italian heritage and select him for the Azzurri:
An interview with Italy coach Cesare Prandelli by La Gazzetta dello Sport's Luigi Garlando gave a rather illuminating insight into how close the FIGC thought it was to getting Icardi.

When it was put to him that, "The player wants Argentina," Prandelli replied, "He told us otherwise. We've talked to him about it. There was an agreement. Then something happened."

That something was perhaps Sabella travelling to Genova to watch Icardi in person and reassuring him that Argentina were monitoring him closely.
The Argentina manager may want to eliminate any doubts about Icardi's nationality by giving him game time in what is essentially a dead rubber for the Albicelestes.
If that is indeed the case, it should be a baptism of fire for the Inter player when he comes up against the hard man at the heart of Uruguay's defense.
Keep Reading