NFL Power Rankings: How League Hierarchy Shakes out After Sunday's Action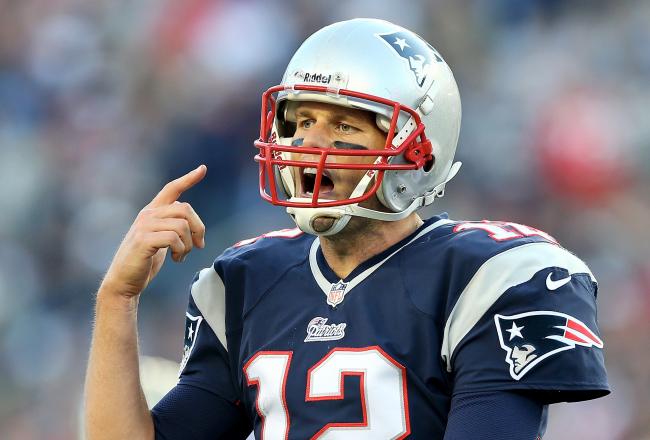 Elsa/Getty Images
Week 6 of NFL action is all but completed, and the NFL sure didn't hold back in shaking things up as we learned more about the league through a variety of exciting contests.
Not much changes at the top, as expected, and no, the teams hanging out near the bottom didn't pull off shocking upsets (sorry, Jaguars fans), but plenty of teams in the middle of the pack are on the move as they further distinguished themselves for better or worse on Sunday.
Here is how every team in the NFL stacks up after Sunday's impressive slate of Week 6 action.
1. Denver Broncos (6-0)
As much as it would have been the most ridiculous thing to happen all season, the Jacksonville Jaguars simply did not have enough to defeat Peyton Manning and the Broncos.
While the Broncos scored their lowest point total of the year and allowed the Jaguars to score their second highest, Denver is not going anywhere in the rankings.
The defense is a bit concerning, but Manning does not have the look of a guy who is going to let his team lose any time soon.
2. New Orleans Saints (5-1)
New Orleans lost its first game of the year on Sunday, but losing to Tom Brady and New England with just five seconds left is not exactly something that will send a team plummeting down the rankings.
Drew Brees was held in check, but 131 rushing yards is an encouraging sign. Better yet, rookie receiver Kenny Stills had a breakout game with 64 yards and a touchdown.
Nothing is wrong in the world of the Saints just yet, but lapses on defense need to be addressed.
3. Seattle Seahawks (5-1)
After sputtering against the Indianapolis Colts two weeks ago, Seattle was given a simple task of knocking off Tennessee at CenturyLink Field.
Seattle has not lost at home since December of 2011, so it's no surprise Russell Wilson and Co. handled business en route to a 20-13 victory.
Running back Marshawn Lynch was the hero of the day thanks to his 155 total yards and two touchdowns, proving once again the Seahawks can beat any team through a variety of avenues.
4. Green Bay Packers (3-2)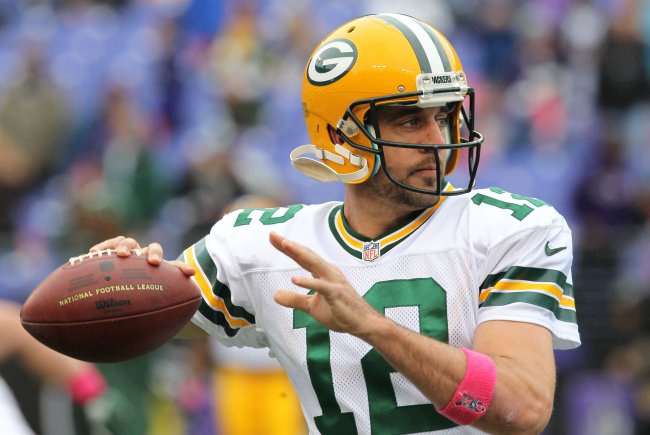 Mitch Stringer-USA TODAY Sports
The Green Bay Packers have bounced back in a big way with two consecutive wins after a stunning loss in Cincinnati courtesy of the Bengals defense being able to find the end zone.
Week 6 saw the Packers glide past the defending Super Bowl champion Baltimore Ravens while positing over 430 yards of total offense in a 19-17 road victory.
The spotlight goes both to a stingy Green Bay defense and rookie running back Eddie Lacy, who toted the rock 23 times for 120 yards against a solid Baltimore front seven.
Green Bay is clicking in every area right now, and that's a scary thought for the rest of the NFL.
5. Kansas City Chiefs (6-0)
Kansas City continues to impress.
This week Andy Reid and Co. were at it again with a 24-7 beatdown of the Oakland Raiders in a decent divisional matchup.
As good as the Chiefs look, it's important to keep perspective on the fact they have defeated just one team with a winning record at the time of the contest.
Regardless, the NFL's No. 6 overall defense proved once again on Sunday that points are in no way easy to come by.
6. Indianapolis Colts (4-1)
The Indianapolis Colts have an extra day off before a clash on Monday Night Football with the slumping San Diego Chargers.
It's not as if Indianapolis needs the time off. The Colts have now won three straight, including big wins over San Francisco and Seattle.
Andrew Luck and Co. are contenders, and the outcome on Monday won't change that.
7. New England Patriots (5-1)
The New England Patriots manage to jump back into the top 10 here after a win over New Orleans, but it was not of the convincing kind as it took a last-second touchdown from Tom Brady.
Speaking of Brady, he's backed by a quality defense but has thrown just one touchdown in the last eight quarters of football.
That should be resolved when Rob Gronkowski returns.
8. San Francisco 49ers (4-2)

Colin Kaepernick managed to finally pull himself out of his slump on Sunday against the Arizona Cardinals and rediscovered one of his best targets in tight end Vernon Davis.
Davis destroyed Arizona to the tune of eight receptions for 180 yards and two touchdowns. San Francisco also showed off its stunning balance in the win, as running back Frank Gore went for over 100 yards and the defense limited the Cardinals to just 20 points.
9. Miami Dolphins (3-2)
Sometimes a bye is so perfectly situated it seems like fate.
That's the case here for Miami. After Ryan Tannehill and Co. started the season off with three straight wins, the Dolphins have dropped their last two to contenders in New Orleans and Baltimore.
The bye couldn't come at a better time as the Dolphins must find a better way to protect Tannehill, who has been sacked an inordinate amount of times.
10. Chicago Bears (4-2)
The Chicago Bears scored a major victory over the New York Giants on Thursday Night Football, but that's not much to brag about considering the woeful state of that franchise at the moment.
Still, thanks to Marc Trestman's impressive offense and a sound defense, Chicago remains firmly in the postseason hunt. The Bears rank in the top half of the league in most offensive categories and have an opportunistic defense led by Tim Jennings.
The majority of teams in the league will have a tough time lining up against Chicago.
11. Cincinnati Bengals (4-2)
After a major win over New England two weeks ago, the Cincinnati Bengals kept the ball rolling against Buffalo.
It's concerning the Bengals got complacent in the second half with a 14-point lead and allowed the Bills to come back and force overtime with the inexperienced Thad Lewis under center, but hopefully the scare served as nothing more than an important lesson for the young team on the rise.
12. Detroit Lions (4-2)
After a humbling loss to the Green Bay Packers a week ago, the Detroit Lions were gifted with a bounce-back opportunity against the Cleveland Browns.
Matthew Stafford and Co. did just that behind his four touchdown passes. Detroit is back on track and has one of the NFL's best offenses, so expect the Lions to keep this rank in spite of a miserable defense provided all key players remain healthy.
13. Baltimore Ravens (3-3)
The mediocre ride that is the Baltimore Ravens' 2013 season continued on Sunday in a 19-17 loss despite 342 yards and two touchdowns from quarterback Joe Flacco.
Simply put, Flacco cannot do it on his own. Flacco's defense gave up 438 total yards, and star running back Ray Rice only notched 34 rushing yards while averaging 2.4 yards per carry.
Flacco has by no means been perfect this season, but he is not receiving much help.
14. Philadelphia Eagles (3-3)
No Michael Vick, no problem for Philadelphia.
Whether it speaks to how great Chip Kelly's offense truly is, or how good of a quarterback Nick Foles is, the Eagles managed to drop 31 points on a sound Tampa Bay defense.
Foles exploded for 296 yards and three touchdowns, announcing to the world that the Eagles can score against anyone with anyone under center.
15. Dallas Cowboys (3-3)
Dallas needed an emphatic win on Sunday Night Football against the Washington Redskins to bounce back after a 51-48 loss to Denver a week ago.
The Cowboys got just that in a 31-16 victory as Tony Romo and Co. were able to easily take advantage of the NFL's worst defense. Dallas managed just 213 total yards but scored more than enough to pull out the victory.
While the defense continues to be an issue, Dallas is in the driver's seat in the NFC East and can tune up small issues and actually play even better.
16. Buffalo Bills (2-4)
Despite the absence of starting quarterback E.J. Manuel, the Buffalo Bills gave the Cincinnati Bengals all they could handle on Sunday in an overtime thriller.
Thanks to a stout rushing attack led by C.J. Spiller and Fred Jackson, the Bills will have little issue staying in most games until Manuel returns.
As long as the Bills win a few games in his absence, Manuel's return will enable Buffalo to make some serious noise in the second half of the season.
17. New York Jets (3-3)
What a difference a week can make.
Geno Smith led New York to a major win over Atlanta on Monday Night Football thanks to his three touchdowns, but Smith came back out this Sunday on a short week and had a dud against Pittsburgh as he failed to score and tossed two interceptions.
While Rex Ryan's defense is playing at a high level, the Jets will go as far as the rookie can take them this season. As shown Sunday, the results are varied at best.
18. Cleveland Browns (3-3)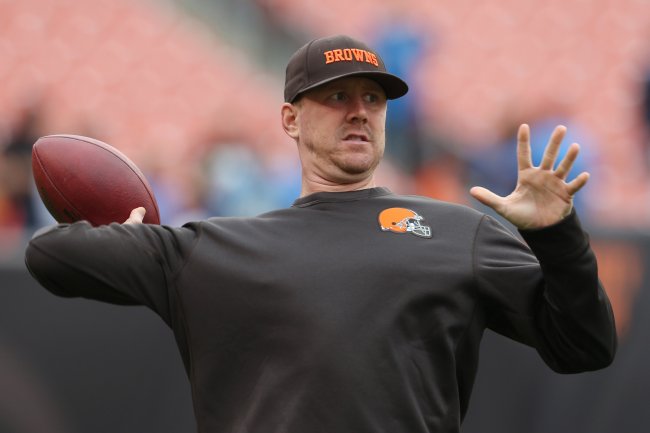 Ron Schwane-USA TODAY Sports
The joy ride that was a three-game winning streak and a brief visit to the top of the AFC North came to a screeching halt against Detroit on Sunday.
Cleveland was predictably bad on offense with Brandon Weeden under center as he threw a pair of touchdowns and interceptions in the 31-17 loss. Even worse, the Browns have no real running game to speak of, which is sort of what happens when the best player at the position is traded away.
The defense is good enough to keep Cleveland in most games, but the Browns are headed for a negative streak this time around.
19. Atlanta Falcons (1-4)
The Atlanta Falcons are in a free fall after losing three straight, so the bye here in Week 6 could not have come at a better time.
Offensively the Falcons are battered and cannot stay healthy, while defensively the unit cannot put pressure on opposing quarterbacks.
Major changes are needed in the team's time off.
20. St. Louis Rams (3-3)
Don't look now, but the St. Louis Rams have won two games in a row. Then again, it's hard to tell if either victory truly counts considering they came against Jacksonville and Houston.
Sam Bradford had a strange game Sunday to say the least. He threw three touchdowns but only had 117 yards on the day.
The good news is that rookie back Zac Stacy put up 79 yards on the ground, marking his second straight solid week as he appears to be the answer St. Louis has been seeking.
21. Tennessee Titans (3-3)
Tennessee has plenty of young talent but is in a full-blown free fall with two straight losses since losing starting quarterback Jake Locker.
Ryan Fitzpatrick was miserable once again on Sunday, throwing for just 171 yards and two interceptions in a 20-13 loss.
Even worse, star back Chris Johnson gained just 33 yards on 12 carries, good for a horrible 2.8 average.
Locker can't get healthy soon enough (who thought that would ever be a sentence?).
22. Houston Texans (2-4)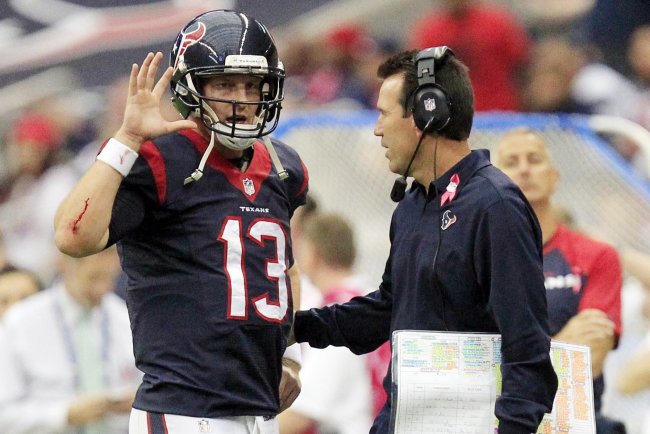 Thomas Campbell-USA TODAY Sports
The downward spiral for the Houston Texans continues. As bad as Houston has looked the past few weeks, the Texans appeared to enter a favorable matchup Sunday with the St. Louis Rams.
Apparently not.
Quarterback Matt Schaub was horrible once again before exiting with an injury per CBS Sports' Will Brinson.
Not wanting to break Schaub's streak of four games with interceptions returned for touchdowns, backup T.J. Yates promptly entered the game and pulled off the feat in the 38-13 rout.
Yikes.
23. Arizona Cardinals (3-3)
After an impressive win over Carolina two weeks ago, Arizona went to San Francisco and laid an egg against one of the NFL's better teams.
Carson Palmer and the offense managed 403 total yards against a great unit but failed to score enough in a 32-20 blowout.
Once again, the story was Carson Palmer turning the ball over (a pair of touchdowns and interceptions) and a lack of a quality running game.
Until those issues are corrected, the Cardinals are stuck in purgatory.
24. Oakland Raiders (2-4)
The feel-good story of the Oakland Raiders and quarterback Terrelle Pryor didn't last long.
Sure, Oakland beat San Diego last week under the national microscope behind Pryor's two touchdowns, but Pryor came back down to earth with three interceptions against an elite Kansas City defense.
While the Raiders are much, much better than expected this season, Pryor simply cannot do it all himself on one of the NFL's worst rosters.
25. San Diego Chargers (2-3)
The San Diego Chargers have a date with the surging Indianapolis Colts on Monday Night Football in Week 6.
San Diego has been inconsistent at best this year, as referenced by the fact the team has failed to put together a winning or losing streak through five games.
We'll learn a lot about Philip Rivers and Co. on Monday against a Colts team clearly firing on all cylinders before a return trip to the playoffs.
26. Carolina Panthers (2-3)
Something had to give in a matchup between Carolina and Minnesota on Sunday, and it turns out it was not anything on the Panthers' end.
Cam Newton was back to looking like his normal self with three touchdowns and over 270 total yards as the offense had no issues taking care of the NFL's No. 30-ranked defense.
That's all the Panthers can really ask for at this point with the team in desperate need of both offensive linemen and weapons.
27. Washington Redskins (1-4)
It's been known that the Washington Redskins would go as far as Robert Griffin III could take them in 2013 while rebounding from a serious knee operation.
That notion was in full effect on Sunday Night Football against Dallas as Griffin threw for 246 yards and an interception in Washington's 31-16 loss.
Some questions about Griffin's knee may have been answered with his 77 rushing yards, but it's too little, too late. The Redskins simply are not winning games that matter.
28. Pittsburgh Steelers (1-4)
Pittsburgh notched its first win of the year over a month into the season. That's hard to believe, but Ben Roethlisberger and Co. pulled it out over an up-and-down New York Jets squad, 19-6.
The key has always been to protect Roethlisberger, which the team did well as he was only sacked three times (yes, that's a win in Pittsburgh).
The Steelers turned things around Sunday, but it gets much more difficult next week against Baltimore.
29. Tampa Bay Buccaneers (0-5)
This may be shocking, but the circus Greg Schiano has created in Tampa Bay continues to lose games.
Against Philadelphia on Sunday, the defense that at one point had many thinking playoffs thanks to names like Darrelle Revis looked mediocre at best as the unit surrendered 31 points.
Even worse, the offense continues to struggle with rookie Mike Glennon under center. Running back Doug Martin continues to be missing in action.
30. Minnesota Vikings (1-4)
The good vibes coming out of Minnesota after a big win over Pittsburgh a week ago certainly didn't last long.
Matt Cassel was solid in that outing but not on Sunday as he threw for 241 yards, one touchdown and two interceptions.
Maybe it had something to do with the fact he knows he's losing his job in a week to Josh Freeman.
Just a thought.
31. New York Giants (0-6)
At this point, the obituary can officially be written on the New York Giants' 2013 campaign, and so can the tenure of Tom Coughlin in New York.
The Giants are just bad—plain and simple. Eli Manning can't help but turn the ball over, and the defense plays uninspired while failing to rush the quarterback.
Another three interceptions from Manning sunk the Giants on Sunday. Expect to hear that a few more times.
32. Jacksonville Jaguars (0-6)
Credit where it's due—the Jacksonville Jaguars did not simply show up against Denver and lay down like the college-esque spread suggested would happen.
No. Jacksonville put up a fight while proving there is some talent worth saving on the roster such as receivers Justin Blackmon and Cecil Shorts.
But no, the Jaguars are not winning a game anytime soon.
Follow B/R's Chris Roling on Twitter for more news and analysis @Chris_Roling
This article is
What is the duplicate article?
Why is this article offensive?
Where is this article plagiarized from?
Why is this article poorly edited?