ALCS Schedule 2013: When and Where to Watch Remainder of Red Sox vs. Tigers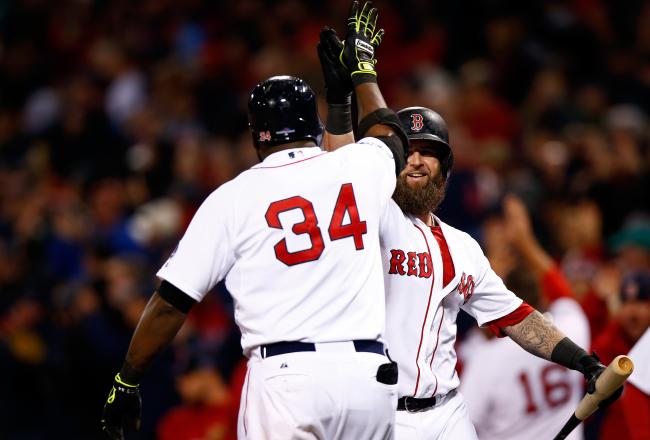 Jared Wickerham/Getty Images
Through the first 16 innings of the 2013 American League Championship Series, the Boston Red Sox looked dead in the water. Their vaunted offense was folding, and their most spectacular pitcher during the regular season had folded under the limelight like a piece of origami on Sunday night.
And then a 37-year-old slugger changed the entire course of the series—because, of course, he did. Just as Peyton Manning is stretching the bounds of what we thought possible for a 37-year-old in the NFL, David Ortiz continues to surprise Red Sox nation.
Ortiz's grand slam in the eighth inning completely rejuvenated a series that felt dead at Fenway Park midway through Sunday night. Jarrod Saltalamacchia's game-winning single an inning later finished the job, tying the best-of-seven series at 1-1 heading back to Comerica Park for the next three games.
In the course of two innings, the series went from likely ending in Detroit to possibly becoming a seven-game slog. That will obviously depend a great deal on which Boston team shows up for the rest of the series, however.
Justin Verlander goes for the Tigers when the series resumes on Tuesday, which is as good a reason as any for the Red Sox to try and keep this momentum going.
But until that happens, it's time to get excited all over again. The series begins anew with Game 3, meaning that it's time to check in on a major storyline going into Detroit along with where you can watch the remainder of these contests on your televisions, iPhones, flip phones, Five Star tablets, etc.
ALCS Schedule
| | | | | | |
| --- | --- | --- | --- | --- | --- |
| Game | Matchup | Date | Time | TV | Stream |
| Game 3 | Boston Red Sox @ Detroit Tigers | Tue, Oct. 15 | TBD | FOX | Postseason.TV |
| Game 4 | Boston Red Sox @ Detroit Tigers | Wed, Oct. 16 | TBD | FOX | Postseason.TV |
| Game 5* | Boston Red Sox @ Detroit Tigers | Thu, Oct. 17 | TBD | FOX | Postseason.TV |
| Game 6* | Detroit Tigers @ Boston Red Sox | Sat, Oct. 19 | TBD | FOX | Postseason.TV |
| Game 7* | Detroit Tigers @ Boston Red Sox | Sun, Oct. 20 | TBD | FOX | Postseason.TV |
*If Necessary
Game 3 Storylines to Watch
Red Sox: Which John Lackey Shows Up for Game 3?
Jared Wickerham/Getty Images
The answer to this question could define the series.
The Red Sox are quite obviously at a cavernous pitching disadvantage coming into Tuesday afternoon. Justin Verlander, in spite of his shrug-worthy regular season, has been Justin Verlander since the calendar turned over to October.
He went 15 innings scoreless against Oakland in the ALDS, including his eight-inning gem that helped push the Tigers to the ALCS. He's struck out more than two times as many batters (21) as he has allowed baserunners (8). While the Athletics are certainly a step down from the Red Sox, it's the difference between the highest-scoring team in baseball and the fourth-highest.
When Verlander is pitching the way he has this October, he's unstoppable. Boston might be able to get to him better than the Athletics, but we're talking about the difference between zero runs and maybe two—if we're being generous.
That shucks the onus onto Lackey's lap. Understandable skepticism abounds about whether he can actually pull it off.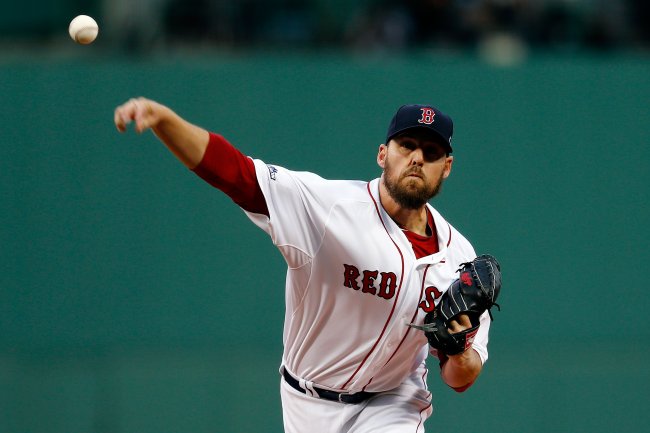 Jim Rogash/Getty Images
Lackey came back as an infinitely improved pitcher this season after his 2011 Tommy John surgery, but he's still not engendering faith among Red Sox faithful. And that is for good reason—at least considering the fact that this game will be at Comerica Park.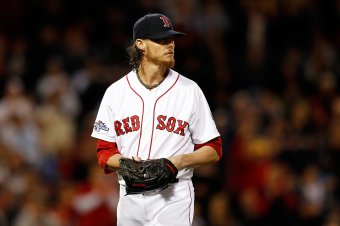 Jim Rogash/Getty Images
In 16 road starts this season, it's hard to call Lackey's performance anything less than dreadful. He compiled a 4-10 record with a 4.48 ERA (only semi-important), walked nearly an extra batter per nine innings juxtaposed against his home numbers (important), and he also gave up 1.65 home runs per nine innings (super, duper important).
If you didn't notice, none of those numbers were exactly in the "positive" column. Looking down the line, Lackey's home/road splits make it all the more curious that John Farrell switched up his rotation from the ALDS, pitching Buchholz in Game 2 at home instead of Lackey.
Lackey has some comfort at Comerica Park, and I understand the temptation to get Clay Buchholz on the mound early in the series. But Farrell is putting arguably his most shaky road pitcher up against one of the game's best hurlers—at a time where he's throwing like the game's best pitcher.
These paragraphs will look stupid if Lackey comes out and dominates in Game 3, or if Verlander "accidents" the bed, but the numbers make it feel like a super curious decision that could cost the Sox another game.
Tigers: Does Jim Leyland Ever Pitch Another Reliever?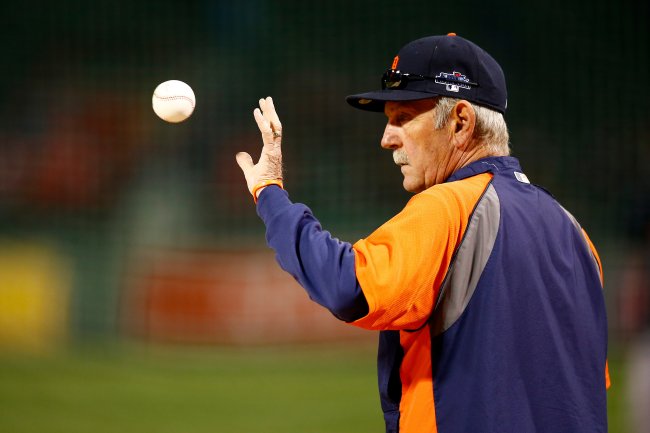 Jared Wickerham/Getty Images
I sure wouldn't blame him if he refused.
The Tigers manager stretched Game 2 starter Max Scherzer to 108 pitches and seven innings of masterful, two-hit work before ceding to his pen on Sunday night.
And then all hell broke loose.
The same unit that helped Anibal Sanchez toss a one-hitter in Game 1 allowed the floodgates to open in Game 2, giving up five runs in what amounted to an inning's worth of official work. These were equal-opportunity offenders, as well. Each of the five Tigers relievers who entered the game allowed a run, as if they wanted to spread the disappointment smoothly like a well-made jam.
If that scenario sounds horrifyingly similar, well, perhaps you watched one or two games in the Motor City this season. The Tigers ranked 24th in bullpen ERA during the regular season, though they did fare better metrically from a WAR and FIP standpoint, per FanGraphs.com.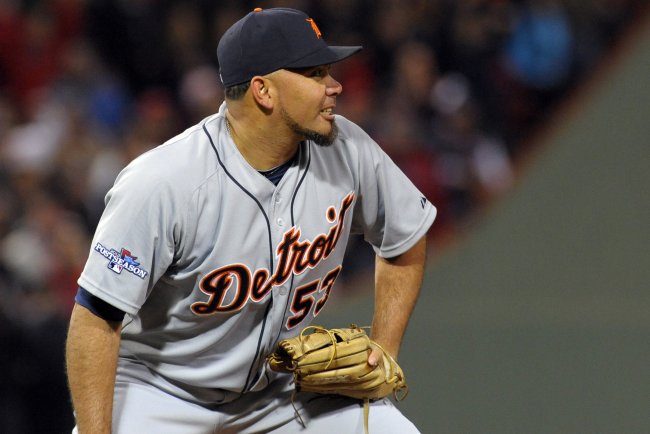 Bob DeChiara-USA TODAY Sports
But, at least in the case of FIP, Detroit pitchers always tend to throw better than its defense allows. The Tigers are one of the league's worst defensive teams, and that situation has only been exacerbated by having Cabrera playing the role of "statue" at third base and Jhonny Peralta playing outfield for the first time in his professional career.
This is the type of defense built to make already-shaky pitchers even shakier. Considering his stance on advanced metrics in regard to the Scherzer-wins fiasco, I'm going to go out on a limb and say that Leyland isn't looking much at WAR and FIP to judge his bullpen. He's going by what he sees on a nightly basis, which is a motley crew of half-decent pitchers who have each let him down at one point or another—whether that be in the regular season or in October.
To put it another way: Justin Verlander may throw 200 pitches on Tuesday. Leyland might sit back, a pack of Marlboro reds nestling against his back pocket, and watch on as Verlander goes all 1908 on everyone and keeps throwing in perpetuity.
After watching the bullpen implode in Game 2, I can't say that I'd blame him if he did. Back in the real world, though, Leyland will likely get to the point where he makes the pilgrimage out to the mound to take Verlander out.
The question he'll be asking himself is the same one Tigers fans will be asking at Comerica Park: "Who can I trust?"
Follow Tyler Conway on Twitter:
This article is
What is the duplicate article?
Why is this article offensive?
Where is this article plagiarized from?
Why is this article poorly edited?