The first BCS rankings for the 2013 season will be released on Sunday, Oct. 20, and there are bound to be some big surprises in the initial standings.
We saw some major shake-ups in the latest rankings after a number of upsets on Saturday. Stanford dropped from No. 5 to No. 13 after losing to Utah. Georgia dropped just as far, going from No. 7 to No. 15 with its team falling apart due to injuries.
Below are the full predictions for the Top 25 in the initial BCS rankings, followed by a look at which teams will have the most surprising positions in the standings.
Initial 2013 BCS Predictions

| | |
| --- | --- |
| Rank | Team |
| 1. | Alabama Crimson Tide |
| 2. | Oregon Ducks |
| 3. | Ohio State Buckeyes |
| 4. | Florida State Seminoles |
| 5. | Texas A&M Aggies |
| 6. | LSU Tigers |
| 7. | UCLA Bruins |
| 8. | Louisville Cardinals |
| 9. | Clemson Tigers |
| 10. | South Carolina Gamecocks |
| 11. | Miami (FL) Hurricanes |
| 12. | Baylor Bears |
| 13. | Stanford Cardinal |
| 14. | Texas Tech Red Raiders |
| 15. | Fresno State Bulldogs |
| 16. | Georgia Bulldogs |
| 17. | Virginia Tech Hokies |
| 18. | Missouri Tigers |
| 19. | Washington Huskies |
| 20. | Oklahoma Sooners |
| 21. | Florida Gators |
| 22. | Northern Illinois Huskies |
| 23. | Oklahoma State Cowboys |
| 24. | Wisconsin Badgers |
| 25. | Nebraska Cornhuskers |
Predictions by Tyler Brooke
Clemson Tigers (6-0, 4-0 ACC)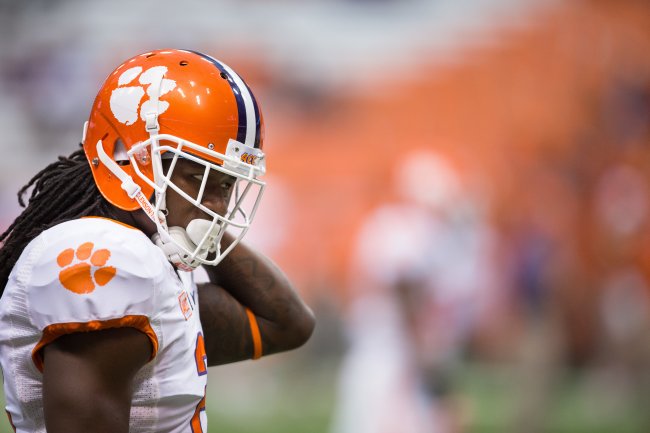 Brett Carlsen/Getty Images
The Clemson Tigers are currently No. 3 in the latest AP Poll, and they're looking like one of the most dominant teams in the nation.
So why will they drop to No. 9 in the first BCS poll?
For the first time since Week 1, the Tigers will be going against a very tough opponent in the Florida State Seminoles. Jameis Winston is doing an incredible job leading his team, completing 73.2 percent of his passes with 17 touchdowns and just two interceptions.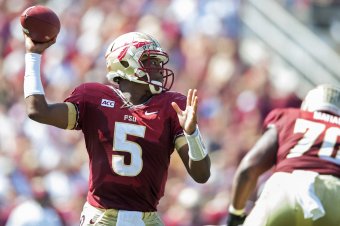 Jeff Gammons/Getty Images
The Tigers have their own offensive weapons in Tajh Boyd and Sammy Watkins. Boyd has put up almost 2,000 total yards with 20 total touchdowns, while Watkins has caught 36 passes for 582 yards and four scores.
As good as the Tigers have been on offense, they struggled to get things going last week in the 24-14 win over Boston College, a team that has allowed 26.3 points per game.
The Seminoles have been a much better defensive team than Boston College. They're holding teams to less than 280 total yards of offense and just 12 points per game.
It will be hard for the Tigers to win this one, and they will drop a bit in the rankings with a loss to the Seminoles next week.
Fresno State Bulldogs (5-0, 2-0 MWC)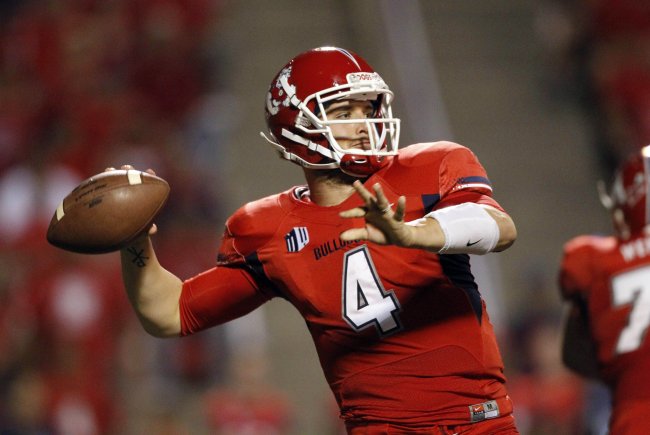 Cary Edmondson-USA TODAY Sports
It sounds crazy, but there is a team in the Mountain West Conference not named Boise State in the Top 25 rankings. That team is the Fresno State Bulldogs, and they're the real deal.
How many wins will Fresno State have in the regular season?
The offense for the Bulldogs is one of the best in the nation. It ranks fourth in the country with 374 passing yards per game, and fifth in scoring with 47.4 points per game.
The obvious reason for all of this success on offense has been Derek Carr. This year, he's thrown for 1,864 yards, 19 touchdowns and four interceptions. He's completed 70.7 percent, connecting on 183 of them, and that's good for the fourth most in the country.
The competition hasn't been strong, but Fresno State is still undefeated and beating teams by quite a bit. The Bulldogs have a very real shot at going undefeated this year, with zero remaining games against ranked teams.
As long as they keep winning and putting up points like they have been, the Bulldogs will continue to climb up the rankings.
Nebraska Cornhuskers (5-1, 2-0 Big Ten)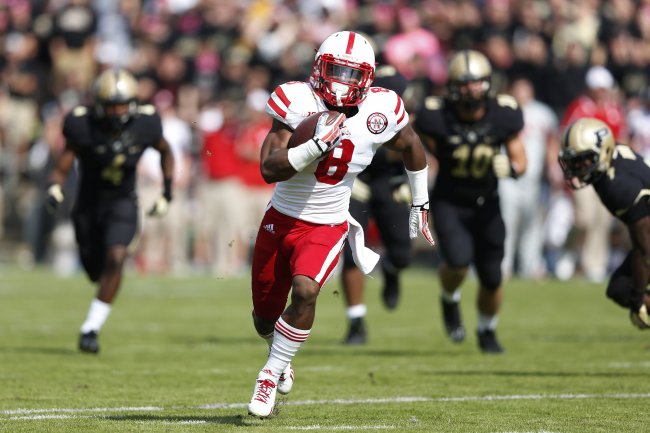 Joe Robbins/Getty Images
The AP Poll didn't have the Cornhuskers in the rankings, but it's time to start giving them some love again once the BCS rankings come out.
The one loss for Nebraska came against the UCLA Bruins, who are looking like one of the best teams in the country. In their wins, the Cornhuskers have won by an average of 28.4 points, most recently taking down the Purdue Boilermakers 44-7.
Even with Taylor Martinez out with an injury, the Cornhuskers have been able to win their last three games. As a team, Nebraska has passed for 14 touchdowns and four interceptions. On the ground, the team has run for 1,709 yards and 18 touchdowns, averaging 5.5 yards per carry.
Nebraska will play its next game against the Minnesota Golden Gophers on Oct. 26, so the Cornhuskers won't have to worry about losing before the next rankings. Meanwhile, No. 24 Auburn has a game against Texas A&M, which means that Nebraska will be able to make it into the rankings with a loss from the Tigers.
This is an underrated team, and the BCS rankings should at least get Nebraska into the rankings after next week's games.