Way-Too-Early Grades for New York Rangers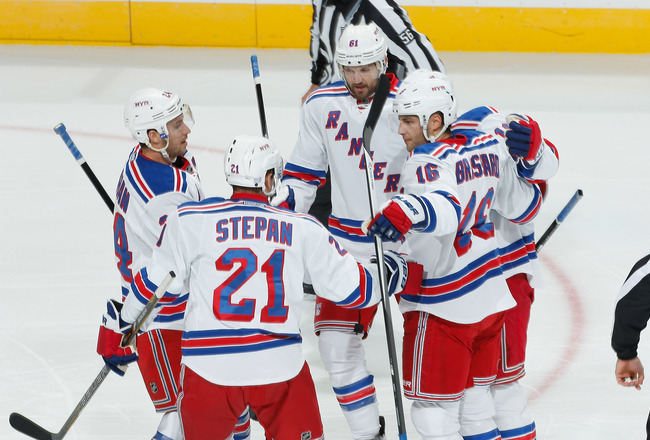 Don Smith/Getty Images
It's been a rough start to the season for the New York Rangers.
Despite a dominating win against the Los Angeles Kings, the Rangers are 1-4-0, including losses of 9-2 and 6-0.
What's happened? Who's responsible?
And are there are signs of hope?
We'll break down each unit and give some way-too-early grades for the start of the Rangers' season.
Offense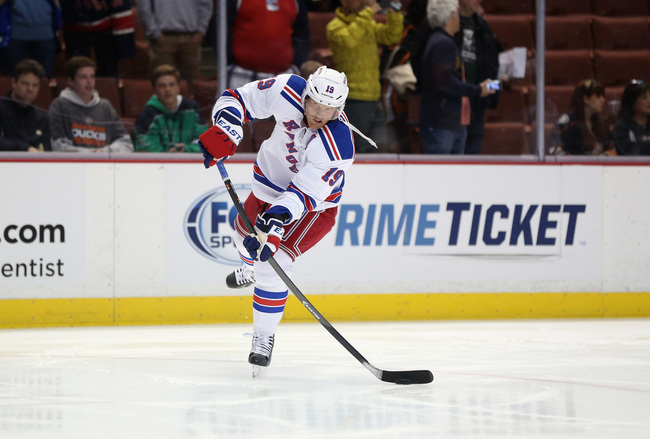 Jeff Gross/Getty Images
There are a number of encouraging signs here.
Brad Richards has been fantastic, with four goals and five points. Ryan Callahan and Derek Stepan seem to be getting their legs back, and the power play has converted on 23.5 percent of its chances. That's a huge difference compared to last year.
But the Rangers are still not scoring a lot of goals, and the loss of Rick Nash hurts. Part of the problem is that they can't get possession in their own zone. The transition game is pretty much nonexistent. They're not yet able to gain the zone, so they can't get sustained offensive pressure.
Richards is carrying the team, which is a welcome sign after last year.
But they need better play from the defense to help get the forwards going. Better puck management in their own zone will lead to better breakout opportunities.
It's certainly not a disaster, but it's not great. Nash needs to come back soon—he was dominant against the Los Angeles Kings.
Grade: C
Defense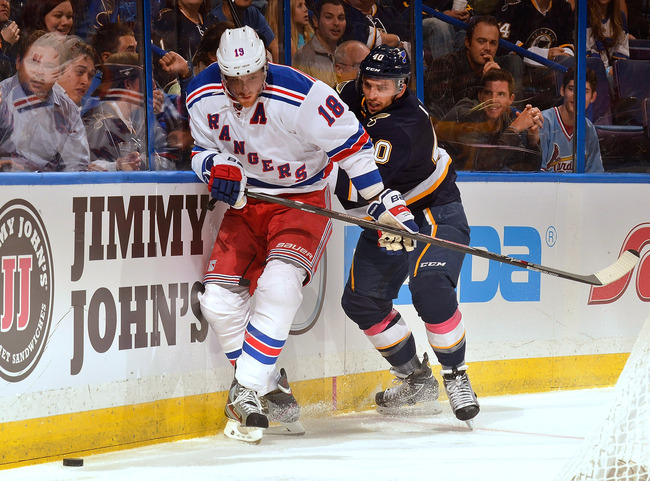 A.J. Phillips/Getty Images
Yikes.
This defensive unit has been abysmal. It has been out of position, committed numerous coverage lapses and given up 20 goals in its last three games.
A lot will be made about the transition to Alain Vigneault's system. But certain things never change. You still have to clear the puck, you still have to gain proper position, and you still have to battle for the puck in the corners.
The Rangers aren't doing any of that.
It's hard to know what's happening. Is it a weird anomaly? Or was John Tortorella's system masking a lack of talent?
I'd guess the former.
There is way too much talent here to be this bad. Ryan McDonagh is a stud, Dan Girardi is a grizzled veteran and Marc Staal looks to be in the best shape of his life.
But for now, it's just been a disaster. They can't even get possession. The next few days will require a lot of soul-searching.
Grade: F.
Goaltending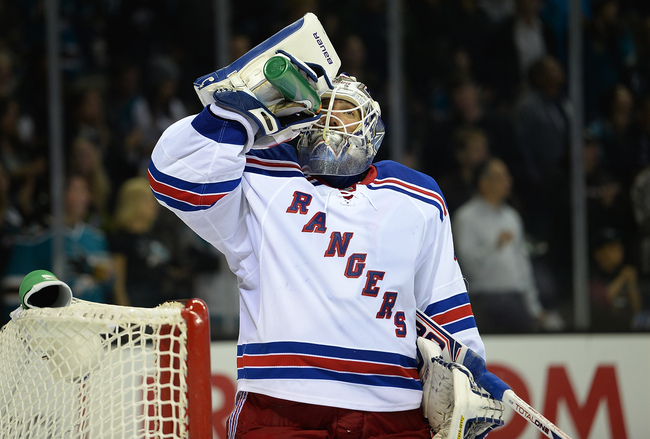 Thearon W. Henderson/Getty Images
After a few disastrous starts, Henrik Lundqvist looks back.
He was dominant in the third period against St. Louis and made remarkable save after remarkable save.
He'll get his game back. That's not a concern.
The big concern is Martin Biron. He's let up nine goals in only 35 minutes of play. That'a a goal nearly every four minutes. He's been beaten on stoppable shots, too.
I'm not worried about Lundqvist.
But with the Swedish star expected to carry a big load for his country in the Olympics, the Rangers need a capable backup. Right now, Biron is not capable.
Lundqvist's third-period performance inflates the grade a bit. Plus, his defense has left him out to dry a lot. Yet, Biron is a mess, and the Rangers need to find a way to straighten him out.
The overall grade is a C-. Lundqvist will get better—especially if the defense in front of him improves. But Biron? It's not looking good.
Overall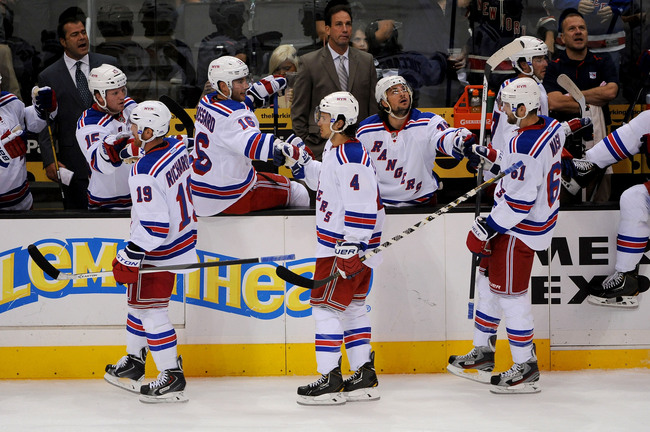 Noah Graham/Getty Images
It's hard to get a read on this team.
Is is the team that dominated the Los Angeles Kings?
Or is it the team that has given up 20 goals in the last three games?
The truth probably lies somewhere in the middle. The defense can't go on like this. Henrik Lundqvist was fantastic in the third period against the St. Louis Blues, and the game in St. Louis was better defensively than the score indicated.
Brad Richards has been terrific, and the power play has lots of life to it. The team does need Rick Nash back and healthy, and there are no signs that that's going to happen soon.
It's early in the season, and being on the road for a long time is never easy. It will help to have some home cooking.
But it's hard to imagine a worse start to a season. The effort hasn't always been there—and the results haven't either.
Not all is lost.
The win against the Kings was really impressive. That has to be the ceiling for this team. If they can reach that potential on a nightly basis, then watch out.
It's a work in progress. For now, they'll get an overall grade of D-. But I expect that grade to skyrocket in the next few weeks.
Keep Reading

New York Rangers: Like this team?