Packers vs. Ravens: Score, Grades and Analysis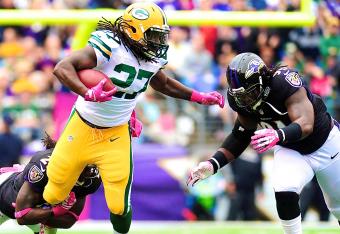 When does an NFL win feel like a loss? Well, when you happen lose your top two receivers in the process.
That was the case for the Green Bay Packers in Week 6 against the Baltimore Ravens on Sunday as they picked up a 19-17 victory.
The good news is that it's the Packers' first win in Baltimore since 1974, per SportsCenter.
Aaron Rodgers throws for 315 yards, TD as Packers win their first game in Baltimore since 1974. Green Bay wins 19-17.

— SportsCenter (@SportsCenter) October 13, 2013
The bad news is that they now have to worry about what could be major injuries to their passing game.
First, James Jones went down in the first quarter with a leg injury and missed the rest of the contest, as ESPN's John Clayton reported.
Packers have ruled out James Jones for the remainder of the game with a leg injury.

— John Clayton (@ClaytonESPN) October 13, 2013
Then came the injury to Randall Cobb in the second quarter. After a big gain, Cobb took a low shot from Matt Elam that was one of those hits that cause you to cringe a little bit. Cobb was immediately clutching his right knee on the turf.
While many Packers fans were wondering why there was no flag thrown, Fox Sports' Mike Pereira explained exactly why Elam's hit was legal. These hits to the knee are the unintended consequences of the NFL's push to stamp out the helmet-to-helmet contact and high tackles.
Regarding your tweets, any foul that you purposely commit to stop the clock will result in a 10 second runoff.

— Mike Pereira (@MikePereira) October 13, 2013
You're all correct: Cobb WAS defenseless. But he cannot be hit in the head or neck. There is no restriction for the knees.

— Mike Pereira (@MikePereira) October 13, 2013
The injury was bad enough that Cobb had to be carted back to the locker room, per the Baltimore Ravens' Twitter account.
Packers WR Randall Cobb was carted into the locker room after the hit from Elam near the end of the half.

— Baltimore Ravens (@Ravens) October 13, 2013
In order to try to lighten the mood, Green Bay did its best to get on the lowlight reel.
The Packers blocked a Sam Koch punt, which by itself is enough of a rarity in the league. In haste, a Packers player tried to recover the blocked punt and get more yards. However, he couldn't get a grip on the ball, and the Ravens recovered to get one of the most unlikely first downs you're ever going to see. Perhaps that's just how John Harbaugh had it drawn up.
Those were the major talking points from what was an otherwise drab first half. Two Mason Crosby field goals were the difference, as Green Bay carried a 6-0 lead into halftime.
The second field goal was a bit lucky, as Crosby had missed a 44-yarder with 20 seconds left in the second quarter. However, Joe Flacco fumbled on the Ravens' next drive, and Datone Jones returned it to the 13-yard line, giving Crosby another shot.
At least for the fans' sakes, the game came alive in the second half.
Crosby hit a 50-yard field goal to put the Packers up, 9-0.
Then the Ravens looked like they might be able to get back into the game. On their first play of the drive, Joe Flacco hit Marlon Brown for a 59-yard pass that got Baltimore down to the 6-yard line. However, the offense couldn't find the end zone, and the Ravens had to settle for a field goal.
Aaron Rodgers made it hurt a few plays later, when he hooked up with Jordy Nelson for a 64-yard touchdown pass to put the Packers ahead 16-3.
ESPN's Kevin Seifert thought it had been a while since Green Bay had utilized the play that had brought so much success in 2011.
Been a while since we've seen that play-action, rollout, deep TD to Jordy Nelson. Staple of 2011. #Packers

— Kevin Seifert (@SeifertESPN) October 13, 2013
The Ravens were able to answer back with a touchdown of their own. It was the best kind of response, as Baltimore slowly, methodically moved the ball downfield. There weren't any big plays, just short passes and runs by Ray Rice. It allowed the Ravens defense to get a bit of a break and recover.
The drive was capped off by an 11-yard touchdown pass to Jacoby Jones to get Baltimore to within six points, 16-10.
With another field goal, the Packers were able to go up two scores, which would come up huge later in the game.
Baltimore got a touchdown to pull to within two, 19-17, but only had two minutes to force a Green Bay punt, and then get close enough to attempt a game-winning field goal. It was a bridge too far.
CBS Sports' Jason La Canfora thinks Harbaugh will have to answer some big questions as to why he didn't let the first half play out at the end. That Packers' field goal ended up providing the critical difference at the end of the game.
John Harbaugh's postgame press conference could get a little dicey I presume if Ravens lose. Decision to throw w/12 secs left cost 3 points

— Jason La Canfora (@JasonLaCanfora) October 13, 2013
This is a big win for the Packers, their second in a row coming off their bye week. They continue to be hit with injuries, yet keep chugging along.
Key Player Grades
Aaron Rodgers, Green Bay Packers: A-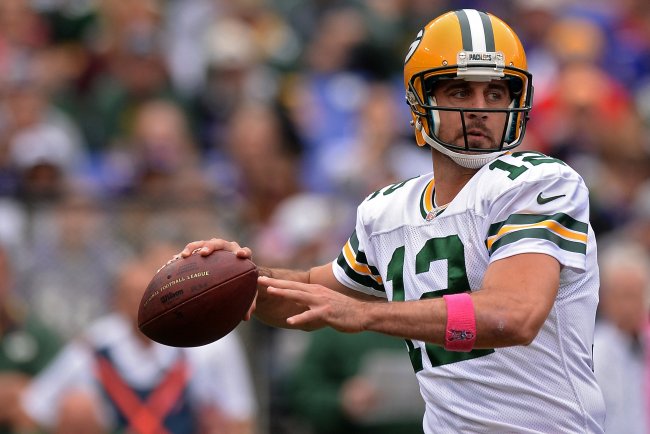 Patrick Smith/Getty Images
You have to give a lot of credit to Aaron Rodgers. His numbers weren't prolific, he missed a lot of throws and had an interception.
What has to be taken into context is the fact that the Packers were down to just two healthy receivers after the injuries to James Jones and Randall Cobb, via the Green Bay Press-Gazette's Mike Vandermause.
With Cobb getting carted off field late in first half, #Packers are down to 2 healthy WRs: Jordy Nelson and Jarrett Boykin.

— Mike Vandermause (@MikeVandermause) October 13, 2013
Jordy Nelson is a good receiver, but Jarrett Boykin had just five career receptions coming into the game. In the first half, Boykin demonstrated exactly why he's so far in the depth chart after he failed to make the most of his opportunities. Rodgers maintained his trust in Boykin and even hit him for a 43-yard pass in the third quarter.
Even with so many weapons out of the game, Rodgers still maintained a good enough Packers passing offense to keep the Ravens defense on its toes.
Eddie Lacy, Green Bay Packers: A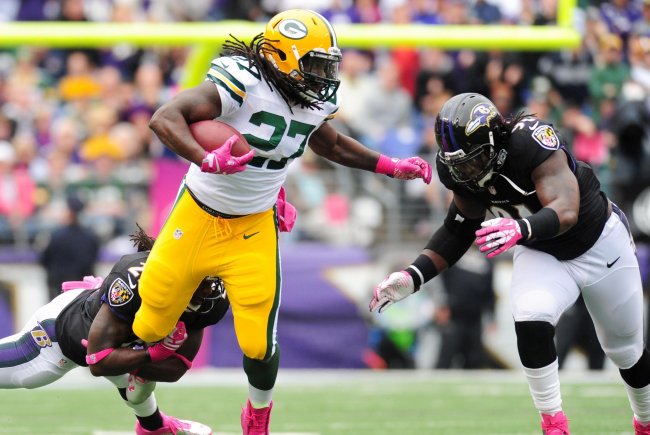 Evan Habeeb-USA TODAY Sports
When Jones and Cobb went down, Green Bay started relying more heavily on the running game, specifically Eddie Lacy. Lacy was more than up to the task. He recorded the first 100-yard rushing game of his career.
Lacy's ability to consistently churn out positive yards meant Baltimore had to respect the Green Bay running game. As a result, Rodgers wouldn't need to single-handedly pull his team through it without his two best receivers.
Joe Flacco, Baltimore Ravens: B+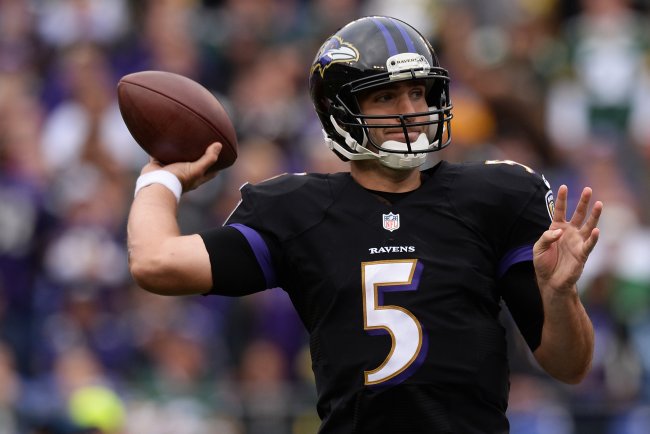 Patrick Smith/Getty Images
Joe Flacco did just about everything he could in the second half to get the Ravens back into the game and in a position to win. He finished with 372 yards passing and two touchdowns.
When he hit Tandon Doss for a 63-yard pass on 4th-and-21, you thought that maybe Baltimore could pull through. Then Flacco linked up with Dallas Clark for the final score of the game.
It was a very good performance, but not enough to earn the win.
What didn't help Flacco was the fact his offensive line surrendered five sacks. He was getting pressured often throughout the day.
John Harbaugh, Baltimore Ravens: C+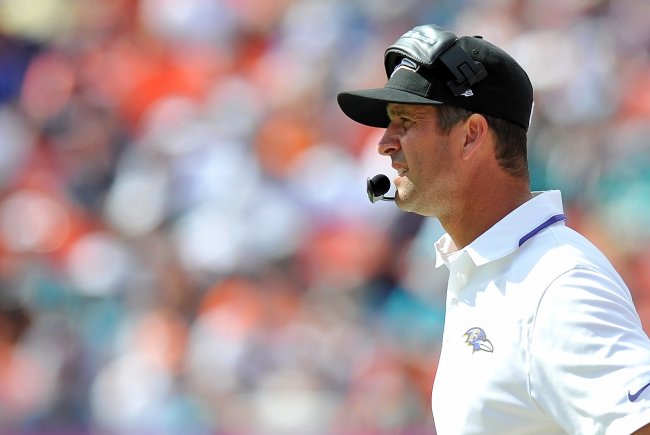 Steve Mitchell-USA TODAY Sports
That decision to pass close to the end of the half was the kind of thing that can swing wildly one way or the other. Either the Ravens get the ball upfield and into field-goal position, or something terrible happens—like a turnover.
It's unfair to say that that decision by John Harbaugh directly cost Baltimore the game. You have no idea what would have happened in the second half if the Packers were up just 3-0.
You can pretty much definitively say, however, that Green Bay wouldn't have had those three points going into the second half. In a game that's decided by two points, Harbaugh can expect plenty of second-guessing.
What's Next?
The Green Bay Packers go back home for what could be a tricky game against the Cleveland Browns. The Baltimore Ravens will look to get back over .500 when they take on the Pittsburgh Steelers away.
This article is
What is the duplicate article?
Why is this article offensive?
Where is this article plagiarized from?
Why is this article poorly edited?