Redskins vs. Cowboys: Live Grades and Analysis for Washington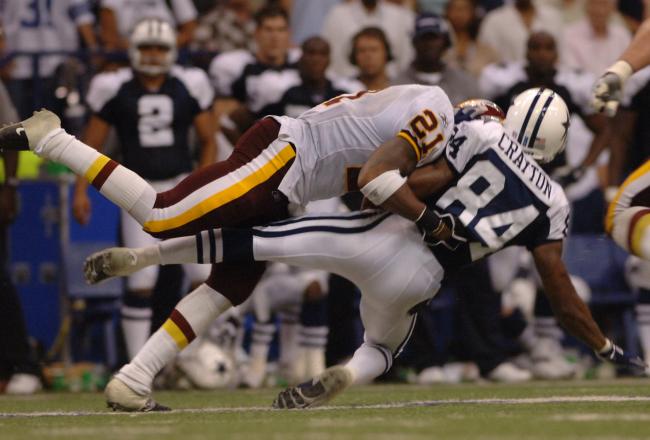 Al Messerschmidt/Getty Images
Despite keeping things close in the first half, the Redskins failed to execute in the final two quarters in Dallas and the Cowboys prevailed to drop Washington to 1-4 on the season.
Final
Redskins: 16
Cowboys: 31
Washington Redskins Grades

| | | |
| --- | --- | --- |
| Position Unit | 1st-Half Grade | Final Grade |
| Pass Offense | A | C+ |
| Run Offense | C+ | C+ |
| Run Defense | A | A |
| Pass Defense | B | B |
| Special Teams | D | D |
| Coaching | B- | D+ |
vs. Cowboys / Week 6
Final Analysis
Pass Offense: Yes, Robert Griffin III looked better in terms of mobility and confidence. But perhaps I was a little hasty at halftime to say he was completely back to form. Clearly, Griffin still has some work to do.
Passing accuracy continues to be an issue for Griffin, as well as consistently feeling pressure in the pocket. Although Griffin's line did him absolutely no favors, his fumble midway through the fourth quarter also had to do with failing to feel the rush and holding the ball too long.
It was nice to see rookie Jordan Reed worked into the game, as he continues to be one of the better playmakers on offense. Reed finished the game with four catches for 58 yards.
Run Offense: Aside from a 45-yard touchdown run by Alfred Morris in the second half, the Redskins' rushing attack wasn't a threat all night.
Surely, people will complain about Morris only receiving 16 carries and it contributing to the Redskins' imbalance on offense, but it was a result of the game and circumstance. Washington's offensive line couldn't do much and things didn't open up.
Luckily, Griffin posed a threat with his legs (finishing the game with 77 yards on nine carries) and helped to keep the defense honest. But only a couple of those carries were called runs. The others were improvised due to bad blocking up front, or failing to get the ball out quickly.
Run Defense: The Redskins didn't struggle against the run tonight. Both DeMarco Murray and Joseph Randle finished the game with rushing scores, but it wasn't a matter of the Redskins not being able to control the run.
Murray left the game in the first half with a knee injury, and that certainly made things a bit easier on Washington. But regardless of who was in the Cowboys backfield, the Redskins did a decent job at plugging holes, and their tackling (albeit not great) wasn't as horrific as we've seen it in the previous four weeks.
Pass Defense: Props to DeAngelo Hall for having one of his best games (in my opinion) since putting on a Redskins uniform. Not only did he effectively blanket and shut down a top receiver in Dez Bryant, but he also saved plays and gambled to make others.
As anticipated before the game, Tony Romo didn't torch the Redskins, and the defense certainly deserves credit for that. They showed pressure, they were tight in coverage and their tackling (again, far from great) was better than we have seen it in past weeks.
Special Teams: Awful. Atrocious. Just insert your negative adjective as you wish.
Penalties, terrible coverage, coaches getting in the way of referees and committing penalties. You name it, the Redskins made that mistake on special teams tonight.
People are quick to dismiss special teams and its importance. But if the Redskins don't fix things on that part of the ball, continue to give up terrible field position and commit mental mistakes, they won't win games.
Coaching: Jim Haslett brought good looks on defense following the Cowboys' first drive, which was good to see.
Kyle Shanahan was able to dig into his playbook more tonight, which was also nice.
Mike Shanahan, on the other hand, brings down the coaching grade by a hefty margin for 1) terrible clock management to end the first half, and 2) refusing to go into a no-huddle offense (something the Redskins are good at) when down two scores with under eight minutes to go in the game.
1st Half Analysis
Pass Offense: Is he back? Considering Robert Griffin III has looked the best we've seen him since the end of last season against New York, I think it's safe to say yes.
While the 10-of-18 for 134 yards is nice, it's Griffin's poise and mobility through one half that has Redskins fan optimistic. Although his speed isn't quite what it was last season, Griffin has shown the ability to extend plays, keep his eyes downfield and escape the pocket when he needs to.
On a 3rd-and-goal in the first quarter, Kyle Shanahan called a keeper that Griffin took up the middle, nearly going for a score. It was evidence that the quarterback has sturdy legs back underneath him.
Run Offense: Alfred Morris is back to running hard, as usual. But the offensive line hasn't held up its end of the bargain.
Tyler Polumbus has looked lost in space, Will Montgomery's poor block may have cost the Redskins a touchdown, and Kory Lichtensteiger has been pushed around on more than a couple plays. Thankfully, Griffin looks to have returned to form as a threatening runner, and the Cowboys defense needs to respect that.
With the way the offense looks through one half, it's not all that crazy to think Roy Helu Jr. and his skill set is better suited for the second half.
Run Defense: The Redskins have been strong against the run through one half, and they received a break when Cowboys starting running back DeMarco Murray left the game in the second quarter with a knee injury.
As we've seen in the Redskins' previous games, their game plan is seemingly set to stop the run. And they shouldn't have much trouble doing so.
Stopping Romo through the air, however, will remain a tough battle.
Pass Defense: As for the Dez Bryant Watch, all is well on the Redskins' front. Bryant has just four catches for 19 yards. But even coming into this game, it was guys like Jason Witten, Terrence Williams and Cole Beasley who presented more of a threat.
The Redskins have worked to get pressure on Romo, and so far it has paid off by way of some incomplete passes that would have normally gone for decent gains, as well as an interception on a tipped pass by Josh Wilson.
If the Redskins want to stay in this game, pressure on Romo is the only way.
Special Teams: Many were taking to the airwaves the past couple weeks with heavy criticism of the Redskins' special teams play and new coordinator Keith Burns.
That's likely to continue.
Late in the second quarter, Cowboys return man Dwayne Harris took a punt down the left sideline for a touchdown, and Burns drew a flag after coming in contact with a referee. Ugly, ugly, ugly.
The Redskins were also robbed on a play in which a punt touched a Cowboys player and Washington recovered. Referees claimed the Cowboys player was "blocked into" the ball, thus not making it a legal recovery by Washington. Completely ridiculous call.
Coaching: The Redskins defense looked shaky and caved on the Cowboys' opening drive, but defensive coordinator Jim Haslett wasn't the guy out there missing tackles. Since then, Haslett has brought some creative looks to create some pressure. Hopefully the defense improves with halftime adjustments.
Meanwhile, offensive coordinator Kyle Shanahan looks to have regained the use of a wide-open playbook now that Robert Griffin III has completely shaken out the cobwebs.
Head coach Mike Shanahan remains a concern as a clock manager. He was responsible for very questionable play-calling to end the half.
And because Keith Burns falls under the category of coaching, not getting out of the way of a referee in action is pretty inexcusable.
This article is
What is the duplicate article?
Why is this article offensive?
Where is this article plagiarized from?
Why is this article poorly edited?

Washington Redskins: Like this team?