Tim Tebow Won't Find NFL Job Until 2014 No Matter How Desperate Teams Get
Andrew Weber-USA TODAY Sports
Tim Tebow can't find a job in the NFL, regardless of the fact that there is at least one team in desperate need of a quarterback who can win games.
Since being released by the New England Patriots on Aug. 31, the only rumor we've heard about Tebow as it pertains to the NFL is that the Buffalo Bills weren't interested in bringing him on board, as noted by WGR550's Joe Buscaglia:
Per a league source, the #Bills have zero interest in acquiring Tim Tebow.

— Joe Buscaglia (@JoeBuscaglia) September 1, 2013
Of course, there was a coalition of Tebow-hungry fans in Jacksonville. They even put on a rally, urging their team to sign the local hero. The only problem was that more media members showed up to cover the event than Tebow fans, which kind of took the wind out of that particular sail.
Literally, "handfuls upon handfuls of people" showed up, as noted by Yahoo! Sports' Frank Schwab, and Lewis G. Turner III captured a compelling photo of the rabid crowd:
Tebow, why not? ... Don't troll me bro. pic.twitter.com/i5HVFx6UZn

— Lewis G. Turner II (@LewTurner) September 16, 2013
It was the most embarrassing, salient reminder to this point in his career that Tebow doesn't have a home in the NFL right now as a quarterback.
There isn't a more pathetic situation at the quarterback position than the one Jacksonville is dealing with.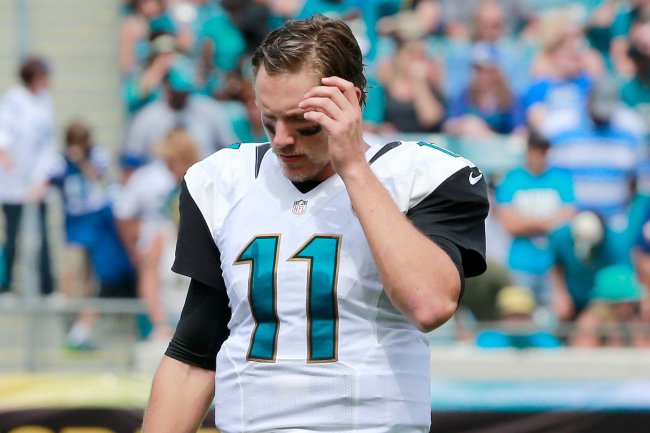 Sam Greenwood/Getty Images
In between injuries, Blaine Gabbert has shockingly been the team's best option, at least as far as head coach Gus Bradley is concerned. After looking at the tape of Week 5's loss to the St. Louis Rams, Bradley talked about his quarterback, as noted by Ryan O'Halloran of the Florida Times-Union:
Last week I said he made a lot of good reads and we had to make plays for him. This week, I feel strongly again about Blaine, but there were missed opportunities. He needs to make the passes he does in practice. That's the next step for him.
Remarkably, the Jaguars continue to believe there's a "next step" for Gabbert that doesn't involve catapulting him off the roster. For the season, he's completed just 48.8 percent of his passes for 481 yards with one touchdown and seven interceptions.
Even worse, the Jaguars haven't come close to winning a game this year, and nobody will be shocked if this team goes 0-16.
Tebow is clearly a better option than Gabbert right now. Sure, his offenses are ugly to watch, but at least he has a proven track record of winning games. But the Jaguars don't want to have anything to do with him.
His NFL stock is at an all-time low.
The teams that have quarterback troubles would seemingly rather let this current season end badly than take a chance with Tebow in the hopes of landing one of the top quarterbacks in the 2014 NFL draft.
Tebow's NFL career is ______ .
In fact, an argument could be made that a downtrodden team like the Jaguars is scared Tebow might win a few games, which could mean losing a chance at landing a player like Teddy Bridgewater with the No. 1 overall pick of the draft.
Regardless of the reasons, NFL teams have spurned Tebow for the time being.
He has drawn no reported interest since being released, and he won't be signing a contract with an NFL team this season. The best Tebow can hope for is that a team brings him on board next spring to see if he's improved enough as a pure passer to become a viable backup.
Follow me on Twitter @JesseReed78
This article is
What is the duplicate article?
Why is this article offensive?
Where is this article plagiarized from?
Why is this article poorly edited?