Timothy Bradley Next Fight: Has Undefeated Star Earned Shot at Floyd Mayweather?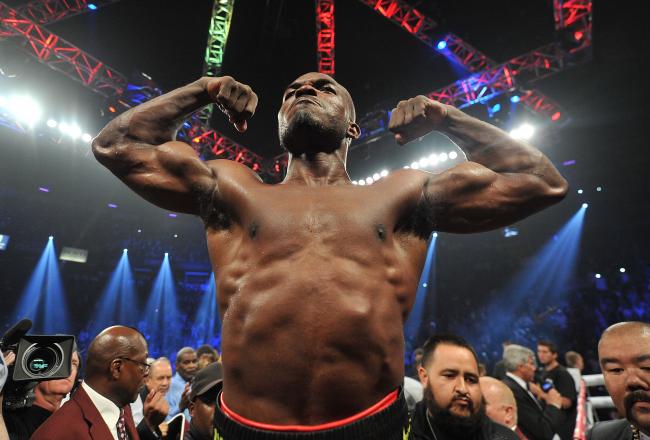 Jeff Bottari/Getty Images
Boxing doesn't work like other sports. If he hasn't already realized that yet, undefeated welterweight Timothy Bradley soon will.
In stick-and-ball sports, there's both rhyme and reason. Things are at the very least coherent, if not predictable.
The Boston Red Sox won't interrupt their series with the Detroit Tigers to play the Toledo Mud Hens.
The Miami Heat won't announce that they are refusing to travel to any games north of the Mason-Dixon Line because "LeBron doesn't like cold weather."
No one will decide to replace the St. Louis Cardinals with the New York Mets mid-series because it's better for business and television ratings.
For the most part, in other sports, winning is the name of the game. In the end, sports encompass meritocracy. It's a big part of their appeal. If you win often enough, and at the right times, you advance to the pinnacle of the sport. Even the old Oakland Raiders, despised by the NFL's power structure and commissioner Pete Rozelle, made it to the Super Bowl in the early '80s.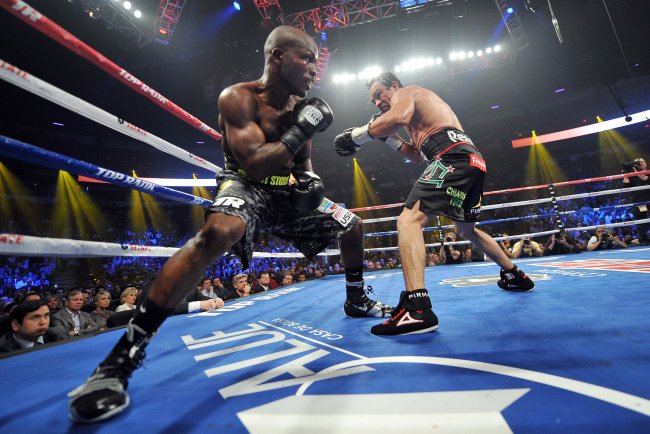 Jeff Bottari/Getty Images
Which brings us, ever so slowly, back to the point. Bradley, who out-boxed future Hall of Famer Juan Manuel Marquez over 12 rounds to establish himself as the most promising welterweight of his generation, should have one of the brightest futures in all of boxing.
"He couldn't touch me," Bradley said in the ring after the fight. "I gave him a boxing lesson."
Discussion about his next fight should be academic. He's beaten two of the very best welterweights in the world. All that remains, if he continues his upward trajectory, is Floyd Mayweather.
"Money" Mayweather is the best fighter in the world. Not just at 147 pounds. Period. He's arguably the best welterweight of all time—or at the very least, part of the conversation. And, coincidentally, he's in desperate need of competition.
Timothy Bradley's Greatest Hits

| | | | | |
| --- | --- | --- | --- | --- |
| Opponent | Date | Result | Method | |
| Joel Casamayor | 11/12/11 | W | TKO (8) | |
| Manny Pacquiao | 6/9/12 | W | Split Decision | |
| Juan Manuel Marquez | 10/12/13 | W | Split Decision | |
boxrec.com
In a perfect world, Bradley's emergence as a legitimate contender is manna from heaven. Just when he's exhausted his potential rivals, one appears as if by magic. Nothing else makes sense.
Of course, boxing being boxing, it's barely even part of the post-fight conversation.
Mayweather fights for Showtime and Golden Boy Promotions, while Bradley plies his trade for HBO and Bob Arum's Top Rank. In today's boxing landscape, unfortunately, it appears never the two shall meet.
Martin Rogers of Yahoo! Sports broke down some of the tensions of one of the most acrimonious relationships in the sport: Mayweather and Arum, his former promoter.
Mayweather split with Arum following several years of feuding. Arum was outraged when Mayweather spoke of being paid "slave wages," and the two fell out further when they clashed about how he should be promoted, whether he should fight on pay-per-view and his refusal to take on Antonio Margarito.
Pick Em: Bradley versus Mayweather
It's bigger than just Mayweather versus Arum. HBO and Showtime are also in the midst of a fierce battle for boxing supremacy on pay television. That means we won't be seeing Danny Garcia versus Mike Alvarado or Saul Alvarez vs. Julio Cesar Chavez Jr. in the near future. And we won't be treated to Mayweather vs. Bradley—no matter how loudly fans demand it or how clearly circumstances dictate it.
Right now, only one man in boxing is powerful enough to make this fight happen. His name is Floyd Mayweather. And he shows no inclination to throw Arum and HBO a bone. One thing we know for certain is Mayweather isn't afraid to leave the best fighter in his weight class dangling in the wind for years.
Floyd Mayweather won't fight Timothy Bradley because no one will make him. No one can.
It's why, until boxing can become a little more like traditional sports and a little less like pro wrestling, it will remain nothing more than a successful niche. The mainstream demands more than boxing is willing to give.
The future is in Floyd's hands. Here's hoping he does what's best for business—and the sport.
This article is
What is the duplicate article?
Why is this article offensive?
Where is this article plagiarized from?
Why is this article poorly edited?