Philadelphia Eagles vs. Tampa Bay Buccaneers: Live Score, Highlights & Analysis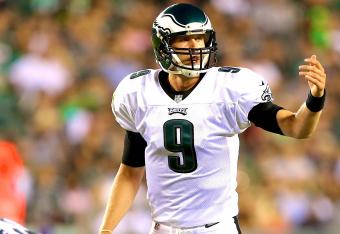 The Eagles are back to .500, and the Buccaneers remain winless in 2013, but the big story out of Tampa Bay in Week 6 was not the Birds' 31-20 victory—it was the performance of Nick Foles.
On in relief of four-time Pro Bowler Michael Vick (hamstring), Foles put together a masterful performance against a stingy Bucs defense that was allowing 17.5 points per game entering the contest. The second-year quarterback was 22-of-31 for 296 yards and three touchdowns, plus another score on the ground—a passer rating of 133.0. There is officially a controversy in Philadelphia.
Making his second NFL start, Mike Glennon did a nice job for Tampa Bay, as well. The third-round rookie had the Bucs leading into the third quarter and within one point in the fourth, but he did have a costly interception. Glennon hit on 25 of 42 passes for 273 yards and two TDs in the losing effort.
Still, this was clearly two teams trending in opposite directions. The Eagles move to 3-3 with back-to-back wins and will maintain control of first place in the NFC East heading into next week's matchup against Dallas. For the Bucs, it may still have to get a little worse before it gets better, but you can tell they aren't many pieces or healthy players away from competing again.
Scroll down for more analysis and highlights of all the action. Final score from Tampa: Eagles 31, Bucs 20.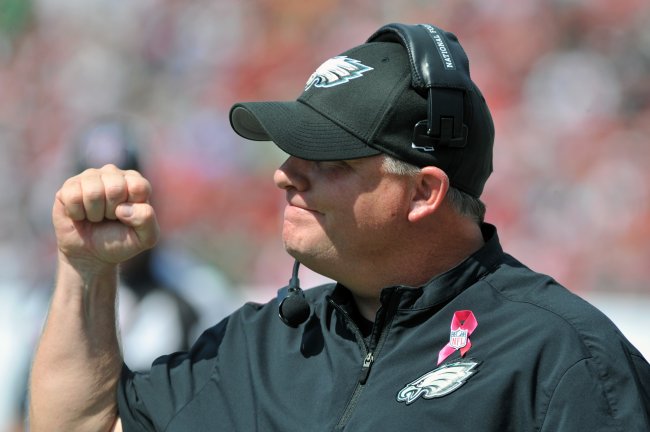 Al Messerschmidt/Getty Images
Final: Eagles 31, Buccaneers 20
Nick Foles added fuel to the fire that is Philadelphia's quarterback controversy with a four-touchdown, no-turnovers performance against a Tampa Bay defense that entered the game allowing 17.5 points per game. In this columnist's opinion, Foles should most certainly be the starting quarterback going forward, as the offense is more effective in the red zone and gets more receivers besides just DeSean Jackson involved.
As for Tampa Bay, staying winless certainly doesn't feel good, but it looks like they have something to build on with Mike Glennon. When he wasn't under pressure, which was a sizable portion of the time, Glennon showed he is capable of delivering the football with zip and accuracy. Lot of injuries in that locker room right now, otherwise they could've made this more of a game than they did.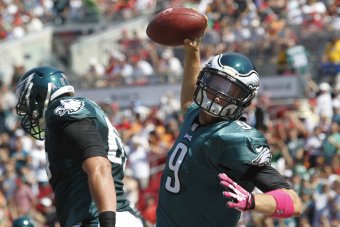 Kim Klement-USA TODAY Sports
31-20 Eagles, 2:00 fourth quarter
Presumptive final line for Nick Foles: 22-of-31 for 296 yards, three touchdowns and no interceptions. He also ran for a fourth TD. Riley Cooper went over 100 yards receiving, and DeSean Jackson scored twice. Great performance against a stingy Bucs D.
31-20 Eagles, 2:34 fourth quarter
Alex Henery hits the chip-shot field goal to make this a two-possession game. Bucs have a chance, but this would be the stuff of legends if Mike Glennon led a comeback now.
Risky play there. It worked. Some soiled undergarmets back in Philly.

— Jeff McLane (@Jeff_McLane) October 13, 2013
Eagles 28-20, 2:54 fourth quarter
The Eagles may have drawn the Bucs offsides on that fourth down, but I don't like Nick Foles snapping that ball. The offensive linemen need to pop out of their stance, can't snap the ball and just have the QB and LeSean McCoy get crushed in the backfield.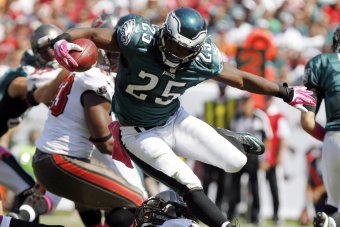 Kim Klement-USA TODAY Sports
28-20 Eagles, 5:30 fourth quarter
Eagles leaning on their finisher. With that last run, LeSean McCoy breaks 100 yards on the ground. He's over 150 yards from scrimmage for the day.
28-20 Eagles, 8:03 fourth quarter
The Eagles force a three-and-out now with their first sack of the afternoon and have a chance to put this game away. Bucs reeling like a punch-drunk fighter after that last flurry.
Foles now 22 of 31 for 296, 3 TD, 1 rushing TD, 0 INT, 133.3 QB rating.

— Jimmy Kempski (@JimmyKempski) October 13, 2013
Huge day.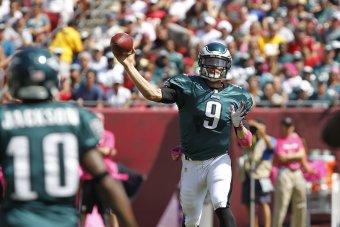 Kim Klement-USA TODAY Sports
28-20 Eagles, 9:32 fourth quarter
Quick-strike offense! Riley Cooper abuses rookie cornerback Jonathan Banks again for his second reception of 40 yards, followed immediately by a 36-yard strike by Foles to DeSean Jackson running through Tampa Bay's zone. Three plays, 80 yards, 1:16.
Vick's job could be in jeopardy if the Eagles hang on.
Another tight one for the Bucs in the fourth quarter. What else is new? Remember, Greg Schiano is 0-6 in games decided by 3 points or less

— Ira Kaufman (@IKaufmanTBO) October 13, 2013
Perhaps a good sign for Eagles fans.
Cary Williams is sitting on the bench alone. Looks to be stretching his right leg.

— Jeff McLane (@Jeff_McLane) October 13, 2013
Injury to monitor when Philly's defense goes back out. Something called Roc Carmichael picked up a pass interference penalty in place of Cary Williams late in that drive. Carmichael was then replaced on the outside by Boykin, but what about in nickel packages?
21-20 Eagles, 10:48 fourth quarter
After nearly eight minutes and marching all the way from their own 1-yard line, Tampa Bay's offense is finally thwarted with goal to go. A field goal puts the pressure back on Foles, because it's becoming apparent the Eagles pass rush can't consistently rattle Glennon.
Trent Cole, Connor Barwin and Brandon Graham not providing anywhere near enough pressure from the outside linebacker position. Big problem

— Jordan Raanan (@JordanRaanan) October 13, 2013
Mike Glennon is not looking like a rookie QB under pressure on this drive. He's marched them into Philadelphia territory from his own 1-yard line. Glennon now has completed 21 of 31 passes for 232 yards, with two touchdowns and an interception. Tampa really might have something in this kid, but the Eagles' D is not exactly the '85 Bears, either.
Eagles 21-17, end of third quarter
Tim Wright really having a good day for the Bucs' offense, catching seemingly everything thrown his way. The rookie tight end has six catches for 75 yards on seven targets, and just had a big first-down conversion to keep the current Bucs march alive.
Revis just limped off field. Trainer talking to him.

— Pat Yasinskas (@PatYazESPN) October 13, 2013
Potentially huge injury news on the Bucs sideline. Revis has been keeping DeSean Jackson in check today.
21-17 Eagles, 3:45 third quarter
Good luck, Mike Glennon. Donnie Jones' short punt takes a huge Eagles bounce, and the Bucs offense will be backed up to their own 1-yard line. Time for Philadelphia defensive coordinator Bill Davis to bring the heat on the rookie QB.
Foles is 19 of 27 for 212, 2 TD, 0 INT, 118.1 QB rating.

— Jimmy Kempski (@JimmyKempski) October 13, 2013
Obligatory Nick Foles update.
21-17 Eagles, 6:21 third quarter
Penalties are absolutely killing the Bucs today. Tampa Bay has been flagged six times for 57 yards, and basically just killed any chance the offense had of scoring on this last possession. The Eagles meanwhile have only drawn the officials' ire once, a five-yard procedure penalty.
Saying this all along. If you're going to play Cooper, gotta throw him ball 1-on-1 in cov., see if he can use size/strength to make grabs

— Jordan Raanan (@JordanRaanan) October 13, 2013
There is no denying Foles just seems to trust Cooper out there more than Vick does.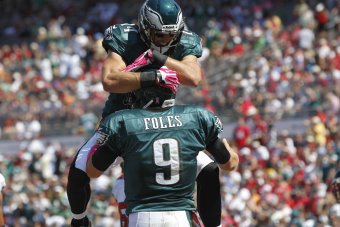 Kim Klement-USA TODAY Sports
21-17 Eagles, 11:41 third quarter
Riley Cooper sighting! The beleaguered wide receiver was probably having his best game of the season already before hauling in that 47-yard bomb from Nick Foles. Now he's the Eagles leading receiver for the day with 76 yards. That Glennon pick looks like a huge momentum swing now.
Seems like they're looking at Peters' right shoulder. #EaglesTalk

— Reuben Frank (@RoobCSN) October 13, 2013
Peters is heading back to the locker room...
17-14 Bucs, 13:04 third quarter
Left tackle Jason Peters shaken up after that last play. He walks off under his own power, but it goes without saying that it would be a big loss for Philly. Their season was basically over before it got started when he went down with an Achilles last year.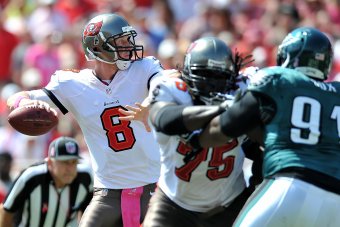 Steve Mitchell-USA TODAY Sports
17-14 Bucs, 13:39 third quarter
Well, I'm not sure the pass rush actually got to Mike Glennon, but he definitely rushed that throw. Bradley Fletcher comes up with his first interception of the season on a pass that looked as though it was intended for him, halting what was shaping up to be another good drive for the Bucs.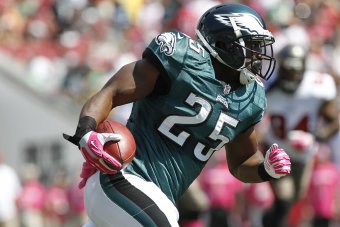 Kim Klement-USA TODAY Sports
17-14 Bucs, start of third quarter
The one thing the Eagles do have going for them is LeSean McCoy, who is over 100 all-purpose yards for the day. He's averaging 6.0 on the ground but only has nine carries. Maybe the answer is a little more balance in the offense?
In his bid to become starter, Nick Foles is being outplayed by Glennon through one half of football. Foles hasn't been bad, completing 16 of 24 passes for 151 yards and two touchdowns (one passing, one rushing), but his dink-and-dunk style is not keeping the offense moving. The second-year QB is averaging 6.3 yards per attempt, and he needs to be looking to go down the field with more frequency to improve that number.
Mike Glennon first half stats: 12 for 18, 107 yards, 2 TDs, 0 INTs. Also had 20 yards rushing. #PHIvsTB

— JennaLaineBucs (@JennaLaineBucs) October 13, 2013
The only way the Eagles are going to turn things around on defense is if they can make Glennon uncomfortable. He has way too much time to read the field, and believe me, he needs it. Unfortunately, they haven't looked capable of getting a great deal of pressure on the QB, even when they blitz. Very problematic situation for Philly.
This article is
What is the duplicate article?
Why is this article offensive?
Where is this article plagiarized from?
Why is this article poorly edited?