The ninth-ranked Texas A&M Aggies nearly saw their title hopes vanish in Oxford on Saturday night, but Johnny Manziel came through in the clutch to lead his team to a big victory over the Ole Miss Rebels, 41-38.
Sports Illustrated captured the Aggies' victory:
Tied late in the fourth, Johnny Manziel led a game-winning drive as Texas A&M edged Ole Miss by a field goal 41-38: http://t.co/ueZawMJDxn

— Sports Illustrated (@SInow) October 13, 2013
The Aggies wasted no time striking first, going eight plays and 78 yards on the opening drive, capped off by a seven-yard scoring rush by Ben Malena. Before Rebel fans made it in the stadium from The Grove, their team faced a 7-0 deficit.
Bo Wallace used the big play as an equalizer for Ole Miss, connecting with Vince Sanders for a 70-yard score late in the opening quarter to knot it up at seven apiece.
Then, things got serious. Manziel scrambled left and came up grabbing at his left knee on a non-contact play, looking to be in considerable pain with a potentially horrific knee injury.
The many reactions from ESPN's Edward Aschoff and Travis Haney—and in CBS' Gregg Doyel's case, overreactions—after the scary play are below:
Manziel is being helped off the field. No one touched him but his knee buckled. #TAMUvsMISS

— Edward Aschoff (@AschoffESPN) October 13, 2013
That was an ACL-looking grab by Manziel. I wanna be wrong.

— Gregg Doyel (@GreggDoyelCBS) October 13, 2013
If you haven't seen it, Manziel was on move to his left. He releases and immediately goes to the turf, grabbing his left knee. No contact.

— Travis Haney (@TravHaneyESPN) October 13, 2013
But the reigning Heisman winner wasted no time getting back on the field and allowing the entire college football world to exhale.
Then, instead of nursing his leg and playing inside the pocket, Manziel scampered around as if nothing was wrong—as if you could expect anything less from the flashy redshirt sophomore.
Here was Manziel just minutes after the injury, and, yeah, I think he's OK (he finished the first half with 64 rushing yards).
Per Bleacher Report's Adam Kramer, it can only be chalked up to one thing:
Manziel is made of expert trolling and steel. There is no other explanation.

— Adam Kramer (@KegsnEggs) October 13, 2013
Once the crazy showdown got back to football, Texas A&M secured a 14-7 lead off three straight Manziel completions that set up a 17-yard score by Trey Williams.
Williams' incredible scamper showed signs of Barry Sanders in his prime.
As if the first half wasn't odd enough, true freshman star Robert Nkemdiche pulled his hamstring on the drive per Aschoff:
Announced in the press box that Nkemdiche has a strained hamstring and is questionable to return to the game. He's alone at training table

— Edward Aschoff (@AschoffESPN) October 13, 2013
As the second quarter wore on, the Rebels trimmed their deficit with a 42-yard Andrew Ritter field goal, and that would be the final score of the opening half at 14-10. The Rebels certainly would've taken a four-point halftime deficit going into the contest.
After the halftime break, Texas A&M got right back at it offensively. Manziel led a nine-play, 63-yard drive that ended with his five-yard scoring scamper that put the Aggies up, 21-10, and seemed to be the beginning of "Johnny Football" putting the game in cruise control.
But not so fast. Wallace and the Rebs marched down the field in a marathon drive that lasted 14 plays and chewed up more than five minutes of clock.
The drive ended with a 16-yard touchdown to true freshman stud Laquon Treadwell that cut the deficit back down to four points, 21-17.
Without Nkemdiche in the fold, the Rebels were still able to stiffen up and force some Aggies stops. They also saved room for the big play, picking off Manziel in the end zone to keep it a one-score game—which Wallace gave right back a few plays later to set up an A&M field goal that made it 24-17 as Pro Football Talk noted:
Manziel giveth, and Bo Wallace giveth right back. What a nice young man.

— CollegeFootballTalk (@CFTalk) October 13, 2013
But as Wallace and the Rebels did earlier, they bounced back from the untimely pick to march down the field again. After eight plays, a fortunate offside call and a converted fourth down, backup Barry Brunetti tossed a beautiful nine-yard touchdown to Evan Engram to tie up the game.
Two plays later, Johnny Football turned into "Johnny Turnover," as Manziel coughed it up on a keeper at his own 35 and sent Vaught-Hemingway Stadium into a frenzy.
It had Will Brinson shaking his head:
Classic selfish fumble.

— Will Brinson (@WillBrinson) October 13, 2013
This time, Wallace didn't have to answer to adversity—he had to answer to momentum. And boy, did he.
One play after connecting with I'Tavius Mathers on a 21-yard scamper, Wallace found a wide open Treadwell in the back of the end zone that caught the pass that put the Rebels up 31-24 with a little over 10 minutes left in regulation.
There was no doubt it was getting real in Oxford when ESPN SportsCenter called for the "upset alert:"
UPSET ALERT: Johnny Manziel fumble leads to Ole Miss touchdown. Rebels lead No. 9 Aggies 31-24 in the 4th. #TAMUvsMISS

— SportsCenter (@SportsCenter) October 13, 2013
Manziel wasted no time getting his Aggies back into it on a nine-play drive that included a couple of clutch plays and ended with Williams making a nine-yard scamper that tied things up at 31.
Then, big-play Bo struck back again, this time 50 yards to Jaylen Walton to go up, 38-31, with a little more than six minutes left.
Six minutes? That was plenty for Manziel's crew to march down the field to tie it up on his six-yard scramble that made the score 38-38.
It was turning into a shootout, and Wallace was the next to answer. The only issue? Three incomplete passes.
The three-and-out had The Big Lead's Ty Duffy jumping to (correct) conclusions:
Ole Miss…may have just lost the game.

— Tyler Duffy (@tyduffy) October 13, 2013
That gave Manziel the football with 2:33 left, and that's all he needed. In two plays, the Aggies were in Ole Miss territory, and after a 13-yard scamper by Manziel, Kevin Sumlin was able to milk the clock and have Josh Lambo kick a 33-yarder as time expired to avoid the upset.
ESPN's Skip Bayless weighed in:
Knee braced, Manziel leads late game-winning drive. Another Heisman performance. 346 passing (31-39). 124 rushing, 2 spectacular TDs. Money.

— Skip Bayless (@RealSkipBayless) October 13, 2013
It wasn't pretty, and it wasn't seamless, but the Aggies went on the road against a very talented SEC foe and came out with a victory. It may not have been up to par for the No. 9 team in the country, but a win is a win.
Grades
Johnny Manziel, QB, Texas A&M: B+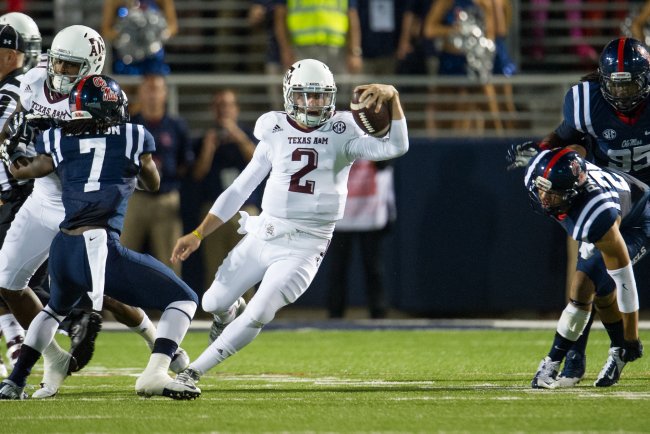 Michael Chang/Getty Images
Other than scaring the college football world half to death with his first-quarter injury, it was a productive day all around for Manziel. He finished with 346 yards on 31-of-39 passing—not to mention he led a couple of comeback drives and marched his team down the field to win it as time expired.
His red-zone interception proved costly at the time, but when he makes up for it like he did, you can't put too much blame on him for that play.
Bo Wallace, QB, Ole Miss: B+
Shanna Lockwood-USA TODAY Sports
Call him "Mr. Resilient." After every time his Rebels squad took a blow, Wallace would answer with a big-boy drive and, usually, a touchdown.
After throwing an untimely pick in Ole Miss territory that gave the Aggies points, Wallace led his Rebels on a couple of late scoring drives. Unfortunately for him, it turned into a shootout, and he just couldn't keep up in the end.
Trey Williams, RB, Texas A&M: A-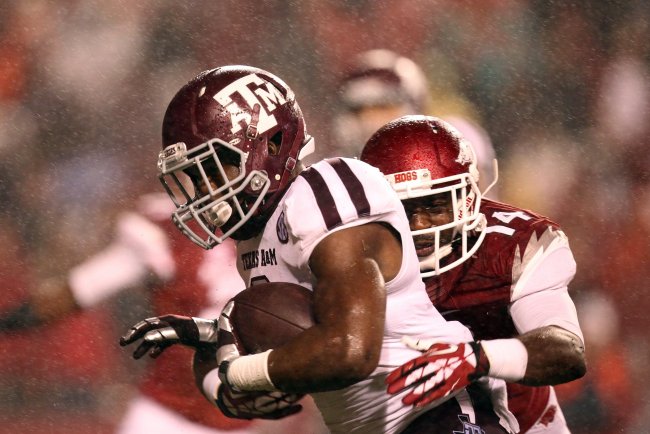 Nelson Chenault-USA TODAY Sports
After taking a backseat to Ben Malena all season, Trey Williams made himself known with a big game.
Williams only had seven carries, but turned them into 50 yards and two touchdowns. His second one came at a big moment when his team desperately needed a score to stay in it.
Laquon Treadwell, WR, Ole Miss: B+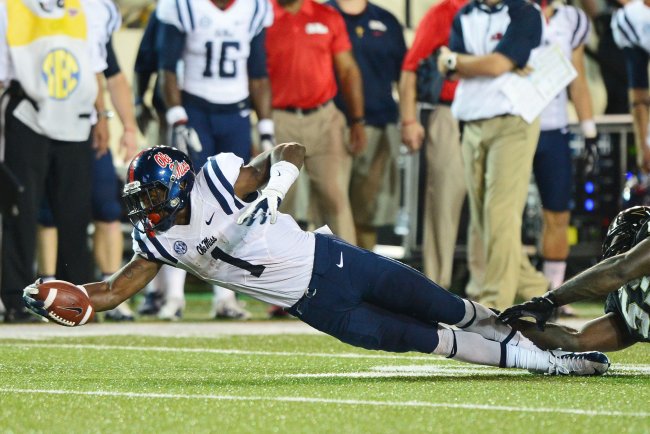 Don McPeak-USA TODAY Sports
Treadwell saved his best for last, emerging as a big-time target for Wallace and ending up with eight catches for 77 yards and two huge touchdowns.
He may be just a true freshman, but Treadwell is already a star in Oxford. And soon, he'll be one of the top wideouts in college football.