Timothy Bradley Jr. defended his WBO welterweight title with honor on Saturday at the Thomas & Mack Center in Las Vegas, going on to a convincing victory via split decision over the storied Juan Manuel Marquez.
The judges scored it 115-113 Marquez, 115-113 Bradley, 116-112 Bradley.
Here are the judges' official scorecards, via Fight Ghost:
PIC: Marquez-Bradley official scorecards: https://t.co/Atp8OHQYh1

— Fight_Ghost (@Fight_Ghost) October 13, 2013
Marquez looked like a different fighter than the one who knocked out Manny Pacquiao in December, while Bradley continued to build on his impressive resume.
The first round started as expected, as both Bradley and Marquez tried to get a feel for each other. Bradley was smart from the start, making sure to dart in and out so that Marquez couldn't land a big shot.
But it was Marquez who did land the first big shot of the night, connecting on a solid left hand. Bradley then moved in and, surprise, landed a headbutt.
Bradley controlled the first round overall, except for a few nice counterpunches by Marquez. Bradley was predictably more active, but Marquez was on point with his punches.
The WBO welterweight champion continued to look good in the second round, landing a nice body shot early before unleashing a barrage to close the round. He ended in emphatic fashion, ripping Marquez with a big right hand.
On the other hand, Douglass Fischer of RingTV.com warned that Bradley better not get too aggressive:
Bradley finished the round with a flourish, but he better not get too greedy. Bradley 2-0. #boxing @HBOboxing #BradleyMarquez

— Douglass Fischer (@dougiefischer) October 13, 2013
Bradley continued to work the body in the third round. He was starting to look a bit reckless on the attack, but his footwork and head movement were so tremendous that Marquez wasn't able to take advantage, either mistiming his punches or only managing glancing shots. Bradley's jab also looked good in the early going.
Through three rounds, it was close, but many had Bradley up by at least two rounds to one.
The Thomas & Mack Center tweeted:
Round 4 and the crowd is going WILD! #BradleyMarquez pic.twitter.com/IWUl0UboJi

— Thomas & Mack Center (@ThomasAndMack) October 13, 2013
The action was intense throughout. Michael Woods of TheSweetScience.com tweeted:
Two deliberate strategists here. Not FOY material, no. High grade violent chess match

— Michael Woods (@Woodsy1069) October 13, 2013
Marquez managed a nice counterpunch toward the end of the fourth round, but Bradley was still the better fighter overall. He was frustrating Marquez with his speed.
Bradley only looked stronger in the fifth round, showing great technique while landing jabs and body shots. He continued to dodge most of Marquez's efforts. Still, he allowed Marquez to land another big shot at the end of the round. You wondered if the tide would change quickly.
Marquez looked slow up until the sixth round, but later in the sixth he began to exchange blows with Bradley. Marquez looked better this time, taking the round on most scorecards. It started to appear as if Marquez was slowly getting back into the bout.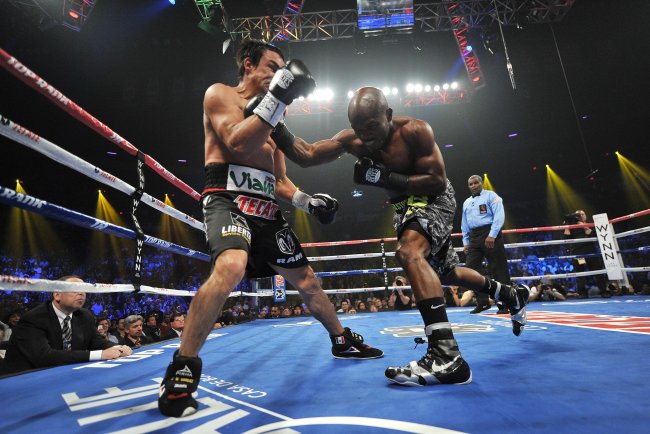 Jeff Bottari/Getty Images
Bradley's work rate was impressive down the stretch, and it gave the 40-year-old Marquez trouble. Marquez continued to fight like the warrior he's been throughout his career, though. He showed at the end of the ninth round that he still had plenty in him, landing with his left and right hands.
Who do you think won the fight on Saturday night?
Bradley and Marquez went at it in the 10th round, both landing significant blows. While that would have seemed to favor the more powerful Marquez, Bradley was surprisingly getting the best of the Mexican great. A big right hand by Bradley had the crowd roaring.
Marquez continued to look outclassed down the stretch, looking like the older fighter that he was. Bradley, in the meantime, looked mighty impressive.
Bradley closed like the champion that he is, leaving the legendary Marquez in his dust.
The 30-year-old American posted another signature win on Saturday in Las Vegas. It's time to give him his due.