No. 2 Oregon was too much for No. 16 Washington on Saturday afternoon in Seattle, but a much more important lesson than appreciating Oregon's performance can be taken away from the game.
The Pac-12 is for real.
We all like to heap praise on the SEC, and rightly so—the conference has won each of the last seven BCS Championship games, featured seven teams in the AP Top 25 poll heading into Week 7 and is a global phenomenon in terms of exposure and talent.
That said, it appears the West Coast has something to say about the SEC's current dominance in college football, and the Oregon-Washington clash was the latest example that the Pac-12 has its sights set on crashing the national title picture this year.
As noted by Bleacher Report's Twitter account, Oregon used a fourth-quarter explosion to turn a tight game with Washington into a blowout by the final whistle:
No. 2 Oregon beats No. 16 Washington 45-24 and the Ducks move to 6-0! Mariota had 447 yds of total offense and 4 TDs pic.twitter.com/59SpyHFRNk

— Bleacher Report (@BleacherReport) October 12, 2013
Heisman candidate Marcus Mariota led the way with 447 yards of total offense and four touchdowns and the Ducks got 100-yard receiving days from Josh Huff and Bralon Addison on the afternoon.
Mariota had a rushing score and Addison had one through the air in the fourth quarter as Oregon turned a one possession game into a 21-point win.
Keith Price had a modest afternoon, throwing for less than 200 yards to go along with a touchdown and an interception in the defeat. The hero for the Huskies was running back Bishop Sankey, who finished with 167 yards and two second-half touchdown runs that kept Washington in the game.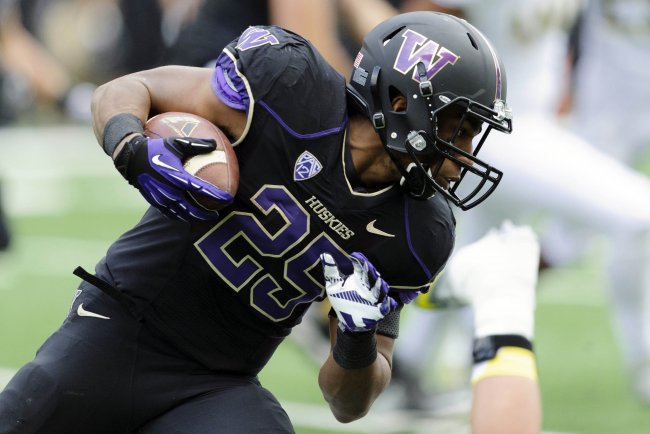 Steven Bisig-USA TODAY Sports
But in the end, Oregon's speed and relentless pressure with the ball were too much for Washington to overcome. Yahoo! Sports' Pat Forde noted as much on Twitter:
Mariota and Oregon just relentless. Never stop attacking, and never stop executing. Very impressive.

— Pat Forde (@YahooForde) October 12, 2013
With No. 3 Clemson struggling against Boston College, there's little doubt that the Ducks will retain their spot just below Alabama in the AP poll next week. The same might not be said for Washington, but the Huskies should stay in the Top 25.
A host of other Pac-12 teams will join them.
No. 5 Stanford and No. 11 UCLA are also in the mix in the conference, and although it would be foolish to say the depth of the Pac-12 as a whole can stand up to the SEC's, it's clear that the conference is making a strong case to boast the second-best assortment of football teams in the nation.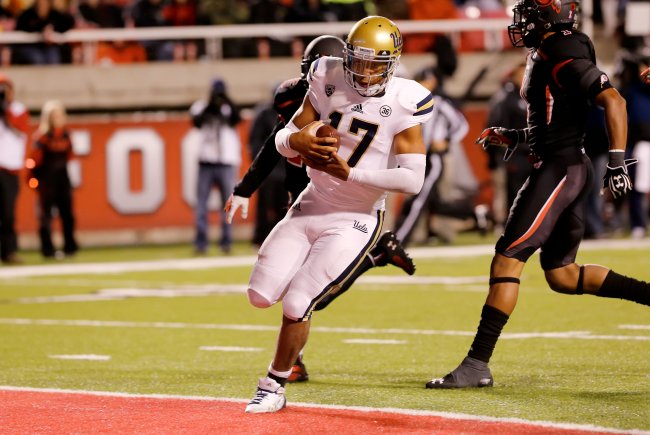 Chris Nicoll-USA TODAY Sports
Arizona State, Utah, USC and Oregon State have all had their moments during the first few weeks of the season, and only California entered Week 7 under .500 when play began. If that isn't a strong statement for the conference from a growth standpoint, I don't know what is.
In fact, the only real thing hindering the Pac-12 from being a media darling is its officials. ESPN's Kirk Herbstreit explains:
Hear those "terrific" PAC 12 officials are at it again today in a "fairly" important gm in Seattle. Shame. Real shame they can't fix this.

— Kirk Herbstreit (@KirkHerbstreit) October 12, 2013
The conference is still wide open, too.
Oregon, UCLA and Stanford will have all played each other in a three-week span later this year. Whomever emerges from that death trap at 2-0 will likely have an inside track on a bid for the national championship.
Washington might have lost close ballgames the last two weeks, but Steve Sarkisian deserves credit for having his Huskies in position to win games against top-five teams two weeks in a row. The Huskies are clearly going to be a dangerous team in any bowl game.
Which conference is the deepest behind the SEC?
Elsewhere, don't sleep on Arizona State, which just dropped out of the rankings, or Oregon State, which has ripped off four straight wins in the wake of an embarrassing loss to Eastern Washington in Week 1. The Beavers play Washington State on Saturday night, another team with plenty of big-play potential.
As far as conference supremacy goes, it's still the SEC at the top. But the Big Ten, Big 12, ACC and anyone else have been put on notice with games like Saturday's Washington-Oregon tilt in the rearview.
The Pac-12 is for real.
In the middle of conference play and ultimately bowl season, we'll find out just how real.
Follow B/R's Ethan Grant on Twitter.