Grading the 10 Most Expensive Premier League Summer Transfers So Far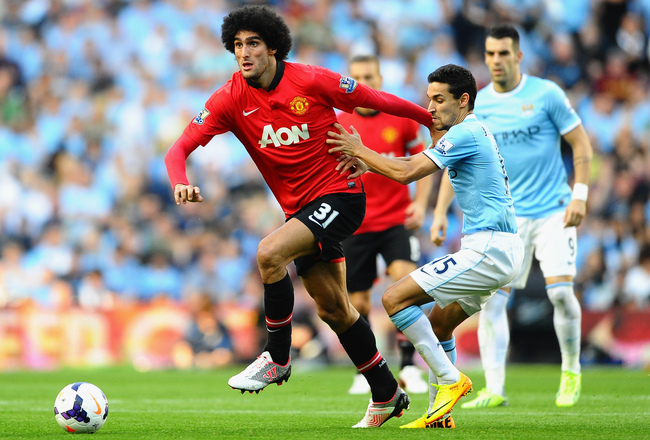 Laurence Griffiths/Getty Images
With World Cup Qualifying action stealing most of the headlines, many fans are suffering from club football withdrawal symptoms.
You've nothing to fear, though, as we've taken the lull in action as the perfect chance to assess each of the Premier League's 10 most expensive signings this summer.
How have Mesut Ozil, Alvaro Negredo and Co. been getting on? Read on to find out!
All transfer fees taken from transfermarkt.co.uk
Jesus Navas, Manchester City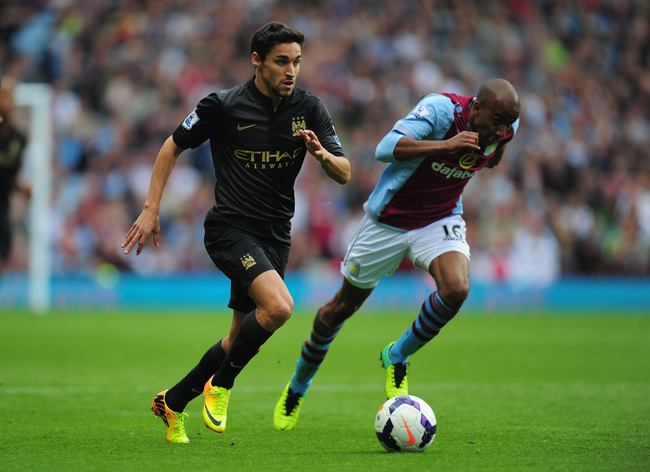 Stu Forster/Getty Images
Price: £17,600,000
Jesus Navas was a key addition to Manuel Pellegrini's Manchester City this summer, and as the only player in the side who can offer consistent width in the forward areas, he's almost irreplaceable.
City's new boss favours a nice, balanced approach and has allowed his side to interchange at will so far this season, but Navas represents a constant on the right flank, who stretches the pitch for others.
When he's not rinsing full-backs and sending in crosses, his mere presence stops teams funneling City into the narrower areas and putting up barricades outside the penalty area.
He's not the Citizens' most flamboyant player, nor does he grab the fans' attention to the extent David Silva and Yaya Toure do, but he's a key cog in a much-improved City outfit.
Grade: A
Andre Schurrle, Chelsea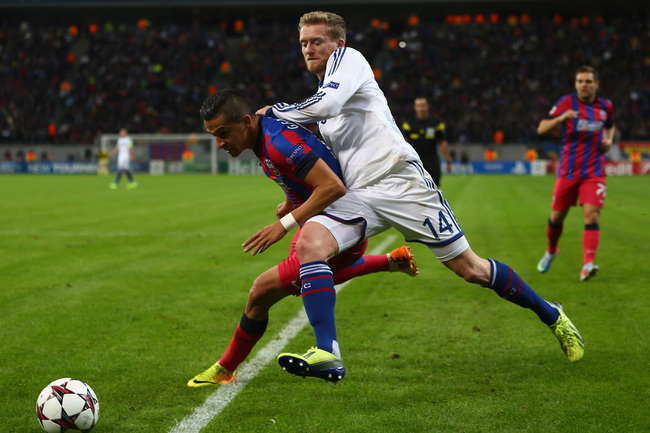 Michael Steele/Getty Images
Price: £19,360,000
Andre Schurrle's signature was secured very early in the summer window, giving him all the time in the world to acclimate to life in London.
His time at Bayer Leverkusen proved him to be a lightning-fast wide forward who excels on the counterattack and consistently finds the back of the net. At Chelsea, he hasn't shown an awful lot of that just yet, but he at least started to move through the gears during the Blues' demolition of Steaua Bucharest in the UEFA Champions League.
He needs more time to settle, but the system Jose Mourinho has adopted should be playing to his advantage already.
Grade: C+
Alvaro Negredo, Manchester City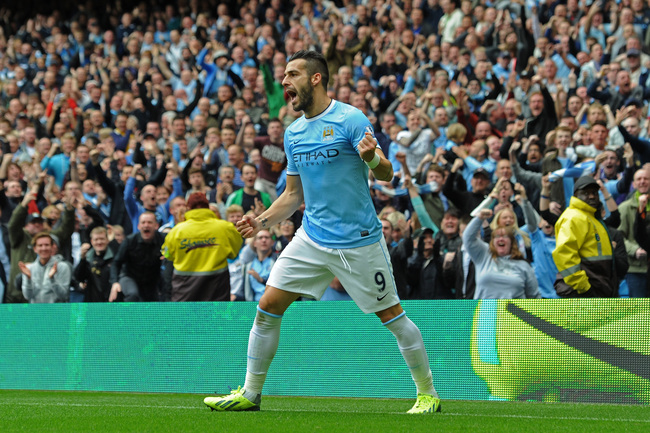 Shaun Botterill/Getty Images
Price: £22,000,000
Alvaro Negredo looks great so far, taking to the physical nature of the Premier League like a duck to water and bailing Manchester City out of some hairy situations.
Aerially he's excellent, throwing himself into challenges with brute force and committing to looking for the ball. Technically he's above average, too.
He's clearly a goalscorer by instinct—he has that X-factor about him in the box—and his work rate and dedication will ensure the £22 million is repaid with ease.
He's on the verge of claiming the No. 2 striker's spot on a permanent basis under Manuel Pellegrini, behind Sergio Aguero and ahead of Edin Dzeko.
Grade: B+
Stevan Jovetic, Manchester City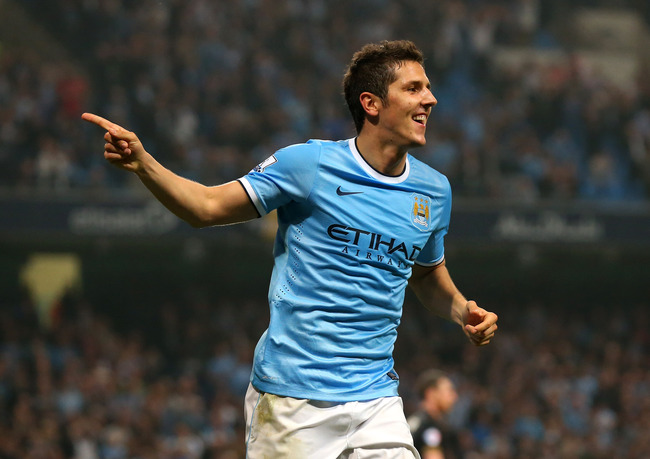 Alex Livesey/Getty Images
Price: £22,800,000
Stevan Jovetic has played a total of 79 minutes of Premier League football so far for Manchester City, so grading him is essentially impossible.
He's struggled with injuries since joining from Fiorentina, and while alarm bells will be ringing for some fans, it doesn't appear to be linked to his previous, season-ending ailments in Florence.
The Montenegrin is electric with the ball at his feet, possesses a great passing range, and strikes a thunderbolt when given a yard of space.
The Citizens will be pleased they have a £22 million asset to unleash at their leisure.
Grade: N/A
Roberto Soldado, Tottenham Hotspur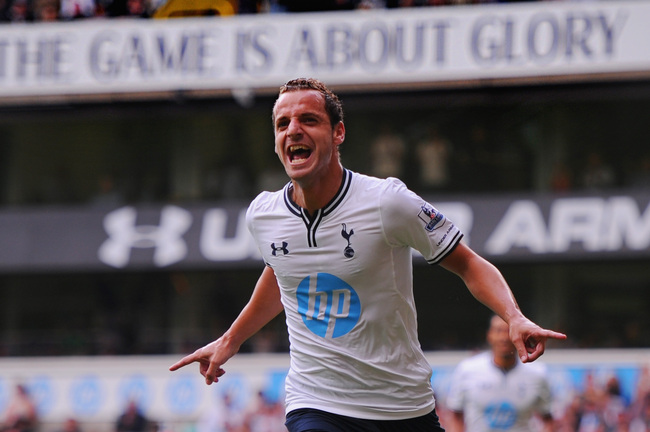 Michael Regan/Getty Images
Price: £26,400,000
After failing to land Christian Benteke, Andre Villas-Boas decided to spend around €30 million on Valencia's Roberto Soldado—a man with a proven goalscoring record in Spain's La Liga.
The decision was extremely popular in its infancy, but as the season has worn on, legitimate concerns have been raised. He hasn't scored a goal from open play—discounting strikes against Dinamo Tbilisi—and looks every bit the limited forward some feared.
He's not an aggressive, combative striker, and when he's frozen out of games, he struggles to force himself back into them.
Not blessed with incredible link-up skills, natural size or aerial prowess, Spurs need to rework their game around Soldado for the Spaniard to be a success.
Grade: D
Erik Lamela, Tottenham Hotspur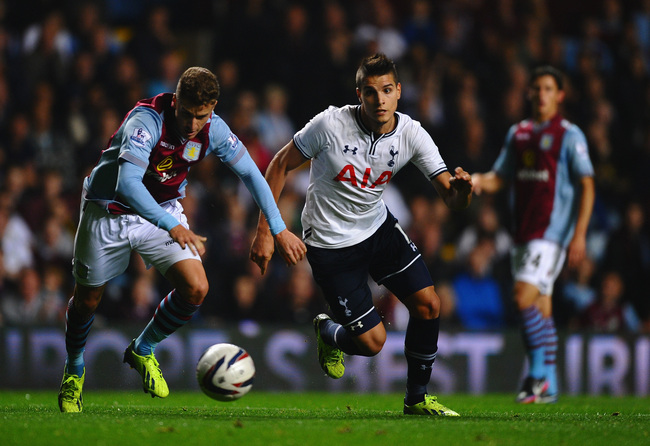 Laurence Griffiths/Getty Images
Price: £26,400,000
Erik Lamela was Tottenham Hotspur's last edition of the summer. The club waited until Gareth Bale was signed, sealed and essentially delivered before pushing through the acquisition of this Argentine delight.
Andre Villas-Boas is taking his time in introducing him to a far more physical league, and rightly so, as Lamela is a truly precocious talent who has one of the highest ceilings in world football.
If you're not sure what he can aspire to become, it's the Lionel Messi tier (or just below)—he's that good—and when he's acclimated to English football, Spurs will go up another notch.
Grade: N/A
Marouane Fellaini, Manchester United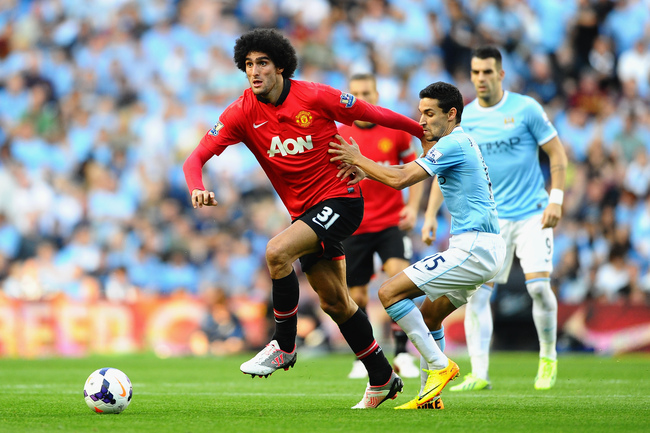 Laurence Griffiths/Getty Images
Price: £28,512,000
It's been a difficult start to life at Manchester United for Marouane Fellaini, switching clubs in the chaos of transfer deadline day for a fee far higher than what he had previously been available for.
He admitted to The Express that training was harder and faster, and news that he'll require time off due to a wrist problem will further hamper his attempts to settle.
His performances early on have been up and down; some have actually been fantastic. Against Bayer Leverkusen, he was tremendous, but in the league, he's looked a little off the pace.
Manchester United is no ordinary club, and it doesn't always click immediately. Fellaini is the right player for David Moyes. It's a good signing, and he will improve this side once he's in top gear.
Grade: C+
Willian, Chelsea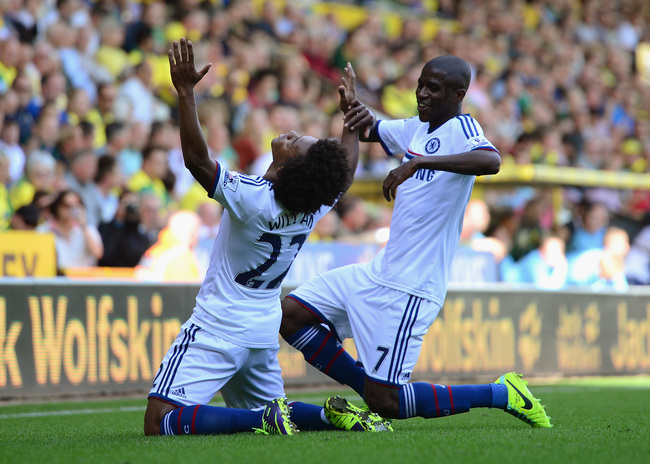 Jamie McDonald/Getty Images
Price: £31,240,000
The Willian signing was a curious one, as many believed Chelsea had simply decided to annoy Tottenham Hotspur by stealing their No. 1 transfer target.
Jose Mourinho took a relaxed approach while addressing the issue with the media, adopting a mantra akin to "you snooze you lose" and explaining that the Brazilian is a player he admires.
His golazo at Carrow Road secured a three-point haul in a precarious situation, but we haven't really seen him hit full throttle on account of the immense squad depth in the Blues' ranks.
He's a tough one to grade, as without opportunity, it's tough to gauge how he's settling.
Grade: C+
Fernandinho, Manchester City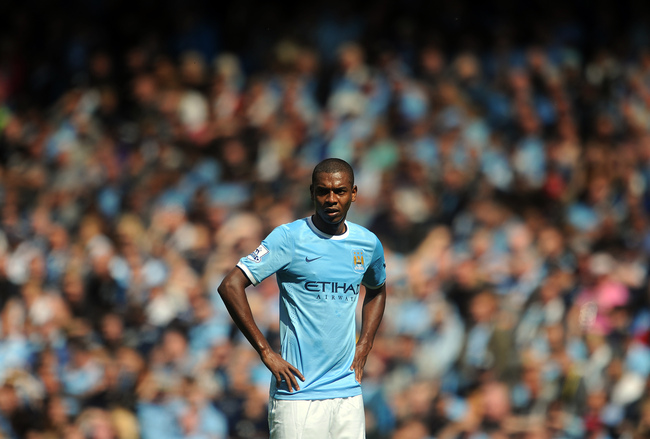 Chris Brunskill/Getty Images
Price: £35,200,000
Shakhtar Donetsk's most expensive export this summer was Fernandinho, a player who was desperate to move to the Premier League in order to force a late 2014 FIFA World Cup call-up.
The Citizens were a little perturbed by the price despite him being the perfect fit for their squad on paper, and The Manchester Evening News believe the Brazilian paid £4 million of his own costs to facilitate the deal.
Some doubts cropped up early on as to whether he really was the complement Yaya Toure needed, but so far he's shown himself to be reserved, efficient and understated.
Because of his fee, many are looking for him to make a similar impact to Yaya, but he was purchased with different intentions. He's not been outstanding, but he's largely done the job asked of him.
Grade: B
Mesut Ozil, Arsenal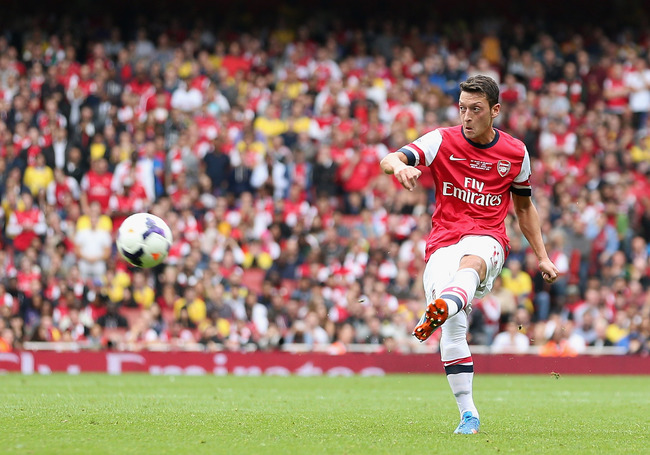 Ian Walton/Getty Images
Price: £44,000,000
The most expensive Premier League summer signing was Mesut Ozil, joining Arsenal from Real Madrid for £44 million in a spectacular deadline-day coup.
It's not just a transfer that has added significant quality to a flagging side, it's reinvigorated the current corps and excited the fanbase. After a largely disappointing start to the 2013-14 season, that was an absolute necessity.
The German has already recorded four assists as he carves out a starring role in Arsene Wenger's XI, and with plenty of attention on him, others have been able to shine too.
Ozil makes Arsenal a contender for three points in any match.
Grade: A
Keep Reading