No. 10 LSU handled the No. 17 Florida Gators with relative ease in Saturday's much-anticipated SEC showdown at Tiger Stadium, abusing the Gators defense en route to a 17-6 victory per ESPN:
#DeathValley days are hard too. #10 #LSU holds #17 #Florida to 239 total yards, gets 121yds rushing from Jeremy Hill as #Tigers win 17-6.

— ESPN CollegeFootball (@ESPNCFB) October 12, 2013
It was a defensive showdown in the utmost sense, as is expected from two traditional SEC powerhouses. LSU was the more physical team at the end of the day and ended up with 327 total yards of offense against a Florida defense that had allowed no more than 275 all season long.
Sophomore running back Jeremy Hill was the star of the game for LSU as he rumbled for 121 yards and allowed the Tigers to gain large chunks of yardage consistently throughout.
Hill had some help from an outstanding defense that held the Gators to just 240 total yards before the LSU student section was allowed to begin its celebration courtesy of WAFB's Jacques Doucet:
@LSUfball student section breaks out a mocking, Gator chomp chant. @wafb #lsuwin pic.twitter.com/7I1xvCQf0f

— Jacques Doucet (@JacquesDoucet) October 12, 2013
No. 17 Florida vs. No. 10 LSU

| | | | | | |
| --- | --- | --- | --- | --- | --- |
| | Q1 | Q2 | Q3 | Q4 | Final |
| Florida | 3 | 0 | 0 | 3 | 6 |
| LSU | 0 | 14 | 0 | 3 | 17 |
via ESPN
The game marked the 60th meeting between the two sides and needed little time to live up to the hype.
After stopping the Tigers on the first drive of the game, Florida quarterback Tyler Murphy took the Gators down the field 60 yards for the early lead courtesy of a 44-yard field goal, but the highlight of the drive was Murphy's ability to stay alive under pressure:
LSU was quick to respond to the score by moving down the field on a beautiful drive from quarterback Zach Mettenberger, which allowed back J.C. Copeland to slip into the endzone from one yard out:
Florida sputtered while looking for an answer on their next drive and gave LSU the ball back with a chance to take a commanding lead. That didn't end up happening, though, as Mettenberger fumbled a snap on what was otherwise a very productive drive and gave the ball back to Florida:
However, as many expected, the game became a defensive battle and Florida failed to capitalize on the turnover, giving the ball right back after Murphy was sacked for a loss of 11 yards.
LSU continued to successfully rush the ball against a great Florida front by racking up yards at a fast pace in the second quarter, as documented by Bleacher Report's Barrett Sallee:
Florida is giving up 65 rushing yards per game. LSU has 62 midway through the 2nd quarter.

— Barrett Sallee (@BarrettSallee) October 12, 2013
On the next drive, LSU moved effortlessly down the field as Florida dealt with injuries to starters like defensive lineman Damien Jacobs. Ultimately the drive resulted in touchdown run from backup quarterback Anthony Jennings:
At the end of the first half, LSU had amassed almost 200 yards of total offense while having its way with the Gators defense. The most Florida had given up in a game coming into the contest was 275. Suffice to say Florida was not accustomed to being shoved around with such ease.
Florida and LSU exchanged three-and-outs to start the second half, but Florida finally got the ball rolling consistently on its second drive.
In the end, even that drive was stifled by the stellar Tigers defense, which to that point had only allowed 156 total yards.
The Gators saw the ball once more in the third quarter after forcing an LSU punt and drove down the field with the help of penalties, but the Tigers defense once again held strong and forced Florida to settle for a field goal to reduce the deficit to eight points.
LSU then ate a large chunk of time off the clock behind more strong running from Hill before tacking on three more points to extend the lead. Florida took the ball back and had its most effective drive of the game, which was propelled by a great fake punt:
Unfortunately for the Gators, the late-game heroics came to an end thanks to a great defensive stand by the Tigers in which Murphy was sacked for a 12-yard loss on third down. As CBS Sports' Eye on College Football points out, that was essentially all she wrote for the Gators:
Penalty/sack forces Florida into 4th-and-27, and Murphy is sacked again. LSU takes over up 17-6, and that'll pretty much do it.

— Eye on College FBall (@EyeOnCFB) October 12, 2013
LSU was able to successfully run out the remaining three minutes behind power running from Hill before aligning in victory formation to secure the victory.
Key Player Grades
This one turned out to be a major defensive battle in the trenches, with little wiggle room for key offensive players to break free and make a major difference.
In other words, it was a classic SEC matchup.
Here are how some of the key players in the game performed.
Zach Mettenberger, LSU, QB: B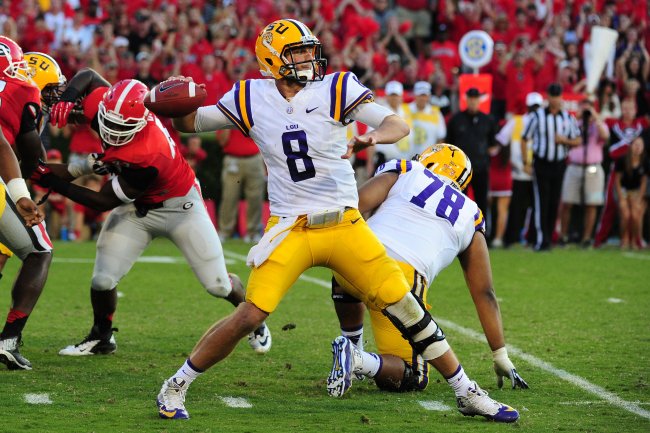 Scott Cunningham/Getty Images
While Mettenberger finished the game 9-of-17 for 152 yards and no scores or interceptions, he seemed erratic at times, and especially in the beginning of the game where the Tigers could have taken a huge lead.
Mettenberger did enough to win the game, but his inaccuracy and costly fumble in the first half were enough to keep him from the best possible grade here.
Tyler Murphy, Florida, QB: C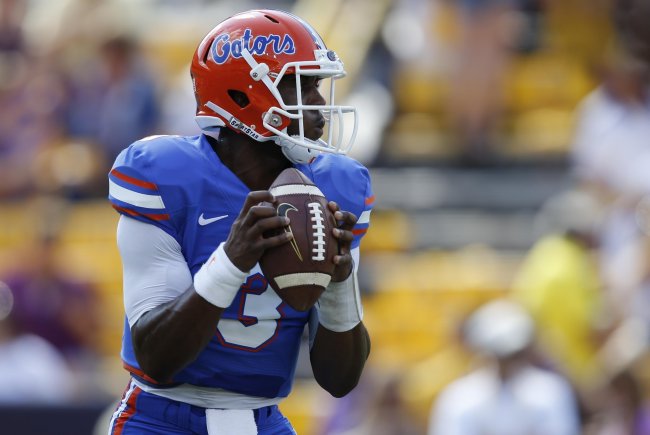 Derick E. Hingle-USA TODAY Sport
Murphy was ineffective against the stout LSU defense as he went 15-of-27 for 115 yards and no scores.
It's hard to blame Murphy entirely for the loss as his supporting cast did not step up, but Murphy's limitations against the Tigers are a major reason the Gators left LSU with a loss.
Jeremy Hill, LSU, RB: A+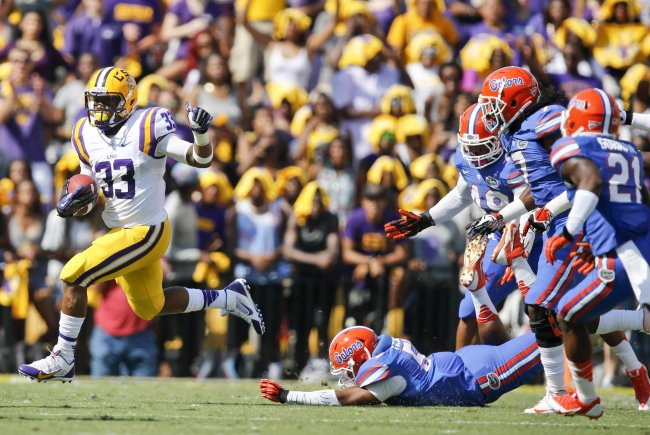 Derick E. Hingle-USA TODAY Sport
Against a Florida defense that entered the game stout against the run, LSU's star back Jeremy Hill had little trouble on his way to 121 yards and a solid 6.4 yards per carry average that allowed LSU to control the game.
Hill was robbed of two touchdowns in the first half on the goal line by fellow back J.C. Copeland and backup quarterback Anthony Jennings, but his impact overall was the most important of the day.
What's Next?
Florida now has two losses on the year and heads into a matchup with the Missouri Tigers, although it can serve as a major rebound game for the Gators with Missouri's starting quarterback James Franklin out for the season according to ESPN's Brett McMurphy.
LSU moved to 6-1 and will get ready for a date with Ole Miss next week. A huge win over Florida is great, but a date with the No. 1 Alabama Crimson Tide is just two games away.