Oregon vs. Washington: Live Score and Highlights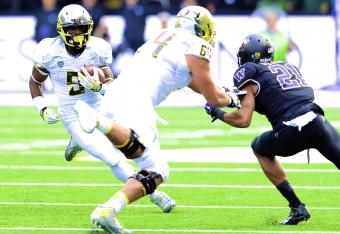 Oregon 45, Washington 24 ; FINAL
The contest between Oregon and Washington had plenty of fireworks. Ultimately, the Ducks were able to prevail on the road. Marcus Mariota proved why he should be considered as the front-runner in the Heisman Trophy race.
Full box score can be found at NCAA.com.
Bleacher Report thanks you for following the blog. Stay here for immediate updates, analysis and much more!
*Here's 10 Things We've Learned from the Oregon Win Against Washington
Oregon has officially won the decade. 10 straight W's over the Huskies.

— College GameDay (@CollegeGameDay) October 12, 2013
FINAL THOUGHTS:
Oregon is a machine
Against its toughest opponent to date, Oregon was...Oregon. It didn't deviate from its game plan in the slightest. The team speed on defense was extremely apparent, and Washington quarterback Keith Price was affected by it.
With tough games against UCLA and Stanford on the horizon, the Ducks look like a team on a mission to play for the national championship.
Washington is for real
Despite the loss, this team is loaded with talent and ability. Much like Oregon, the UW defense is very fast and physical. Justin Wilcox has done a great job with this group. Although the remaining schedule is difficult, it's not out of the realm of possibility for this team to win nine games.
The collection of skill position talent is something to note. Simply put, the future is extremely bright in Seattle.
Oregon has owned the series of late.
This tweet above truly says it all...
Bishop Sankey is a fabulous back
Sankey might be the most underappreciated back in the entire country. Against a very stout defense, Sankey rushed for 167 yards on 28 carries with two touchdowns.
His ability to churn forward and get extra yards makes him incredibly productive. He's also shown the ability to catch the ball out of the backfield and make positive things happen in open space.
Against a good defense, he proved how good he truly is.
Unheralded player of the game for Oregon: Byron Marshall
In place of De'Anthony Thomas, Marshall has proven to be a very good option. Today against the Huskies, Marshall carried the ball 19 times for 106 yards and two touchdowns.
While he won't bring the excitement or flash of Thomas, he's a very steady and physical runner. It's an aspect that Oregon teams haven't always had in the past.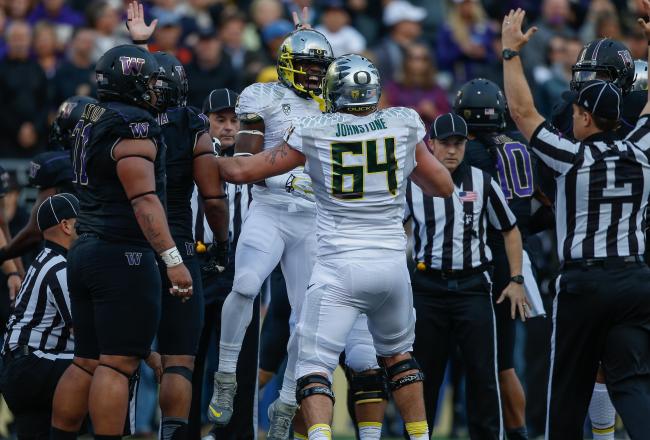 FINAL!
Oregon 45, Washington 24
The game has ended in Seattle, and the Ducks flew out of Husky Stadium with a win against their bitter rival.
Marcus Mariota finished 24-of-31 for 366 yards and three touchdowns. He also rushed for 88 yards and had a touchdown on the ground, as well. He ultimately proved to be too much for Justin Wilcox's defense to handle.
Stay tuned for instant analysis and commentary!
Jeff Lockie has now taken the place of Mariota for the Ducks under center.
In a very unlike-Oregon fashion, the Ducks are taking their time on the play clock and exclusively running the ball. With three minutes remaining, I'd say this game is squarely in the wings of the Ducks.
Oregon fans are chanting "10 more years."

— ESPN Pac-12 (@ESPN_Pac12blog) October 12, 2013
With a win today, Oregon will have beaten Washington in 10 straight years. Oregon fans are greedy and want 10 more...
Washington will punt the ball back to Oregon with about six minutes remaining. Fans are starting to file out of Husky Stadium.
This one is all Oregon right now.
TOUCHDOWN!
Oregon 45, Washington 24
Bralon Addison catches his second touchdown of the game, and the contest has been officially blown open.
Marcus Mariota has been wonderful today. He's now 24-of-31 for 366 yards and three touchdowns. He's also rushed for 88 yards and a touchdown.
Mariota has 25 touchdowns on the season...and ZERO turnovers.
The Huskies need to try and create a turnover in order to flip momentum.
The difficult thing is, Mariota escapes so effortlessly when pressure is brought. One runs the risk of getting completely burned if Mariota steps up in the pocket and takes off with his legs.
The Huskies have been victimized by penalties today. On multiple drives, the momentum has been stemmed as a result.
Multiple penalties on this last drive have forced Washington to punt. If Oregon scores here, the game could be over.
Ducks QB Marcus Mariota has 404 yards of total offense today (321 passing, 83 rushing).

— John Canzano (@JohnCanzanoBFT) October 12, 2013
Heisman front-runner?
It's imperative that Washington scores on this possession.
The Huskies virtually have to keep pace with the Ducks. A field goal won't do it; it essentially has to be a touchdown.
By the way, where has Kasen Williams been today? He only has two catches for 22 yards.
TOUCHDOWN!
Oregon 38, Washington 24
Mariota does it again.
The signal-caller from Hawaii sprints in from five yards out, and the Ducks yet again extend their lead by two touchdowns.
On another note, Jake Fisher hasn't had a great game. The Oregon offensive lineman has been penalized three times today.
Marcus Mariota will be needed in the fourth quarter for the first time this season and the fifth time in his career

— Jason Quick (@jwquick) October 12, 2013
Here's an ASTOUNDING statistic...
Husky Stadium urinals today. Poor Ducks. pic.twitter.com/YtGBArUysD

— Ramzy Nasrallah (@ramzy) October 12, 2013
As we head to the fourth, we have a ballgame!
Two rivals that absolutely hate one another, and it will decided in the last quarter.
By the way...every urinal in Husky Stadium today comes fully equipped with a rubber duck (Yes, I'm being serious).
TOUCHDOWN!
Oregon 31, Washington 24
It's that man Bishop Sankey again.
The talented tailback pounded his way home from 25 yards and the Dawgs are right in this game. For the contest, Sankey has 27 carries for 164 yards and two touchdowns.
He could be the most underrated back in the nation.
BIG-TIME throw by Price to Seferian-Jenkins down the field for 28 yards. The Huskiers are driving down the field, looking to cut the lead to one score.
Seferian-Jenkins is a huge mismatch, especially down the heart of the field. Price needs to target him with more frequency. He's too talented to be used as a virtual decoy.
FIELD GOAL!
Oregon 31, Washington 17
HUGE stop by the Washington defense on third down. Byron Marshall was corralled in the backfield by linebacker John Timu for a loss.
By forcing Oregon to kick a field goal, the Huskies keep it a two score game. Alejandro Maldonado was able to nail the 34-yard kick for the Ducks.
Mariota and the Ducks offense is picking up the pace. Oregon's having little difficulty driving the ball down the field. Mariota has tons of time to pick out a target downfield. Kudos to Oregon's offensive line for keeping him protected for the majority of the night.
Right now, the Ducks are in the red zone.
For those watching Washington, yes, that was a horsecollar. Pulled him down by being inside the back of the collar.

— Mike Pereira (@MikePereira) October 12, 2013
Referee guru Mike Pereira tells us what's up...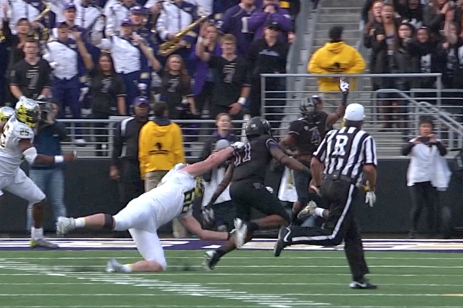 FIELD GOAL!
Oregon 28, Washington 17
WOW!
Oregon got away with one right there. On a 3rd-and-goal play, Keith Price scrambled to his right. He had one man to beat in order to score a touchdown.
Oregon defensive end Taylor Hart brought him down from behind in what looked like a horse collar penalty. It wasn't called, much to the dismay of Washington's crowd.
As a result, the Huskies settled for a 30-yard field goal by Travis Coons.
On second glance, the play gets reversed. It was deemed that Patterson did not possess the ball, and that it hit the ground before he secured it.
That's about the 2,497th review we've had in this game.
INTERCEPTION!
A pass squirts through Jaydon Mickens' hands, and Avery Patterson opportunistically pounces on the ball for the pick.
It's the third turnover of the game for the Huskies.
This article is
What is the duplicate article?
Why is this article offensive?
Where is this article plagiarized from?
Why is this article poorly edited?

Oregon Ducks Football: Like this team?