The Vanderbilt Commodores picked up the fourth win of their season by beating the No. 15 Georgia Bulldogs at home on Saturday, 31-27.
#15 Georgia falls to Vanderbilt 31-27. Jerron Seymour 19 carries, 75-yds, 2 TD #UGAvsVANDY pic.twitter.com/oQXQvsqsQt

— ESPN CollegeFootball (@ESPNCFB) October 19, 2013
It's a win that Nashville won't be forgetting anytime soon. The Commodores, who were just 3-3 on the season and winless in the SEC heading into the game, didn't take the final lead until Jerron Seymour scored on a 13-yard scamper with 2:53 left in the final frame.
The touchdown jaunt gave Vandy its fourth rushing touchdown of the game in an old-fashioned, hard-nosed effort from coach James Franklin's squad. Seymour finished the game with 75 yards and two touchdowns on 19 carries to lead the 'Dores in rushing. Austyn Carta-Samuels added 111 yards through the air on 12-of-20 passing.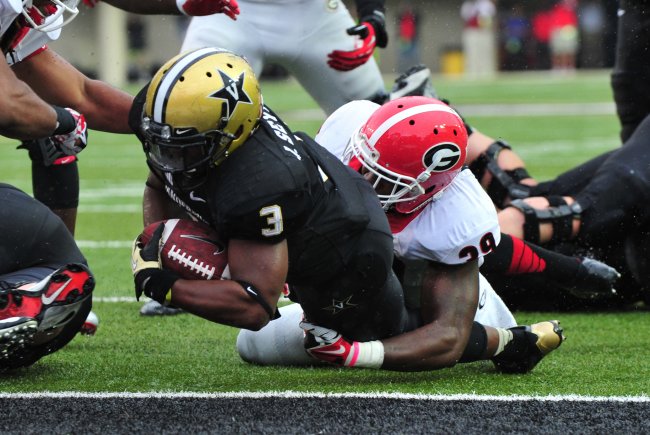 Don McPeak-USA TODAY Sports
Franklin should be especially proud of his defense, though.
Going against a potential Heisman candidate in Aaron Murray, Vandy gave up just 211 total yards—including 104 yards in the passing game and 3.1 yards per rush.
Georgia had plenty of opportunity to win the game. Taking advantage of two rushing touchdowns from Murray and a 39-yard pick-six courtesy of Shaq Wiggins, the Dawgs were able to claim a 24-14 lead at half time despite overall poor play.
Murray even passed Tim Tebow for the most total yards in SEC history, per ESPN Stats & Info.
Late in the first quarter, Aaron Murray passed Tim Tebow for most career yards of total offense (rushing + passing) in SEC history.

— ESPN Stats & Info (@ESPNStatsInfo) October 19, 2013
Coming out of half time, it appeared that the struggling Bulldogs were ready to put their foot on the gas and put the game away. A 23-yard field goal from Marshall Morgan gave UGA a 27-14 lead heading into the final quarter.
Unfortunately, Franklin's squad wasn't interested in laying down for Murray and Co. The defense continued to swarm to the ball and redshirt freshman quarterback Patton Robinette proved to be the spark the 'Dores needed on offense to complete the comeback.
The dual-threat quarterback's two-yard touchdown run with 10:38 left in the fourth quarter put Vandy within a touchdown of the lead at 27-21 and swung the momentum in favor of the home team.
A Georgia punt on the ensuing drive would set up the Commodores for a field goal drive before one of two fourth quarter fumbles would set up Vandy to take the final lead of the game.
For Georgia, this was another disappointing turn in a season that just wasn't meant to be for the Bulldogs. Without Keith Marshall and Todd Gurley, Murray was left with Brendan Douglas and J.J. Green in the backfield, and neither stood out as the offense struggled to get anything going.
The absence of Gurley and Marshall proved to be too much to overcome for the Bulldogs, who only amassed 114 yards on the ground as a team. For the offense to get back on track, the run game that made them so dangerous has to return to form.
Murray finished the game 16-of-28 for just 104 yards with an interception. Unfortunately for him, that interception came at the worst time possible. That's a performance that should effectively end any hope he had left of winning the Heisman Trophy.
With much debate over the enforcement of college football's new targeting rule, The Athens Banner-Herald's Mark Weiszer provides this quote from head coach Mark Richt:
#UGA coach Mark Richt: "I promised myself I wouldn't say anything horrendous about the officiating today so I'm not going to do that."

— Marc Weiszer (@marcweiszer) October 19, 2013
Georgia came into the season as an SEC powerhouse, but now finds itself skidding down the rankings. As ESPN Pac-12 indicates, Georgia is a tough team to read for voters:
Is Georgia ranked next week? Three losses but also quality wins (LSU, South Carolina).

— ESPN Pac-12 (@ESPN_Pac12blog) October 19, 2013
With each disappointing loss, it's becoming more difficult to remember the Bulldogs' signature wins early in the season. Georgia faces a ferocious Florida defense next week, and while the Gators fell victim to a loss against Missouri this week, it's safe to say the Bulldogs will have their hands full.