Green Bay Packers vs. Baltimore Ravens: Live Score, Highlights and Analysis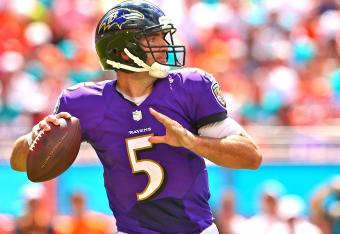 Final: Green Bay Packers 19, Baltimore Ravens 17
A poor first half was followed by an intriguing second half filled with scoring, huge plays and a miraculous almost-comeback.
Baltimore is 3-3, and Green Bay goes to 3-2 with the win.
Follow along here for updates, analysis and colorful commentary as the game unfolds.
Fourth quarter, 1:21
And that will do it folks. The Ravens fall to 3-3, and the Packers are 3-2 (they already had their bye).
Fourth quarter, 1:32
Assuming the Packers run and don't pick up the first down, they'll kick the field goal and the Ravens will have the ball with 50 seconds left and no timeouts.
Fourth quarter, 1:38
With that completion to Jermichael Finley, the Ravens will need another miracle to escape with a win.
Fourth quarter, 1:53
That's a gutsy call by Mike McCarthy, but they pick up six yards on the Rodgers bootleg run.
Ravens have two minutes and three timeouts. Defense has to stop them here to give Flacco and the offense a shot for the win.

— IHJJR (@iHateJJRedick) October 13, 2013
Fourth quarter, two-minute warning
Quite a remarkable turnaround, but it will be for nothing if the Ravens can't get the ball back. A Green Bay first down could end this one.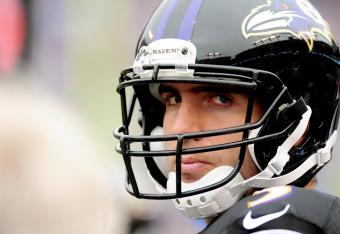 Fourth quarter, 2:04
I don't even believe what I just saw. That's why you pay Joe Flacco.
Crosby good from 31 yards to make this two-score game with 4:17 to play. Ravens trail 19-10. Drive took seven minutes, 35 seconds.

— Jeff Zrebiec (@jeffzrebiecsun) October 13, 2013
Fourth quarter, 4:17
Can the Ravens score quickly enough? The defending champs are on the ropes.
Winner RT @Ravens Photographer Phil Hoffman tore his achilles when Doss crashed into him on the sidelines. He's now in a boot back working.

— SportsNation (@SportsNation) October 13, 2013
Fourth quarter, 4:20
Remember that photographer that Tandon Doss crashed into?
Fourth quarter, 5:04
The clock is Baltimore's worst enemy. They are quickly running out of time to score twice, especially given how terrible their offense has looked.
Fourth quarter, 9:38
A field goal would probably kill the Ravens. That was a huge run by Eddie Lacy.
Fourth quarter, 11:46
It's not a coincidence that the Ravens offense stopped resembling a high school football team once they got some push in the ground game.
They need to figure out a way to run the ball for an entire game, but they'd settle for doing it for the rest of the game.
TOUCHDOWN JACOBY JONES!!

— Baltimore Ravens (@Ravens) October 13, 2013
Fourth quarter, 11:52
Welcome back Mr. Jones.
Fourth quarter, 12:24
You just knew the Ravens weren't going to be able to keep picking up rushing yards on first down.
A 13-point deficit feels like 30 with the way the #Ravens offense has played today. Only going to hold down the #Packers so long.

— Luke Jones (@BaltimoreLuke) October 13, 2013
Fourth quarter, 15:00
It's only a 13-point game, but the Ravens need TDs to get back in this one. That doesn't look like it's going to happen.
Nelson beats Lardarius Webb for a 64-yard TD. Packers will take 16-3 lead pending extra point.

— Jeff Zrebiec (@jeffzrebiecsun) October 13, 2013
Third quarter, 2:12
The Ravens give up another big play on miscommunication between corners and safeties.
Ravens have had two first and goal opportunities today and have only 3 points. Have to hope that doesn't come back to haunt them.

— Gerry Sandusky (@GerrySandusky) October 13, 2013
Third quarter, 4:34
Justin Tucker's field goal finally gets the Ravens on the board.
Ravens (and Navy) photog Phil Hoffmann gets hammered by Tandon Doss at corner of end zone. Hope he's OK.

— Bo Smolka (@bsmolka) October 13, 2013
Third quarter, 5:58
I know that they might not even feel it, but would it kill NFL players to check on the cameramen that they take out?
The Packers have 9 points, the Ravens have 9 punts

— trey wingo (@wingoz) October 13, 2013
Third quarter, 6:06
A nine-point lead looks insurmountable for this Ravens offense.
Third quarter, 7:47
Three missed tackles on that big play.
Ravens Penalties Today: 5 Ravens 1st Downs Today: 4

— NFL Stats (@NFL_Stats) October 13, 2013
Third quarter, 10:53
Baltimore keeps shooting itself in the foot. Something that we've seen a lot of this year.
JIMMY SMITH INTERCEPTION!!

— Baltimore Ravens (@Ravens) October 13, 2013
Third quarter, 11:27
A big play by Jimmy Smith to pick off Aaron Rodgers in the end zone. Can that jump start the woeful Ravens offense?
Third quarter, 12:54
A terrible start to the second half for Baltimore, as Green Bay starts with the ball on the Ravens 34-yard line.
Third quarter, 14:47
Something that I noticed watching the previous Packers games is that Tim Masthay does not get height on his kickoffs and they generally are returnable.
Jacoby Jones should have an opportunity to make a big play on a kickoff, but he didn't do it to start the half.
Perry stripped the QB, D. Jones returned it to the BAL 13. Crosby kicked a FG as time expired in the first half. 6-0, #Packers. #GBvsBAL

— Green Bay Packers (@packers) October 13, 2013
Second quarter, 0:02
After missing a 44-yard field goal, the Packers get a second chance immediately following the Joe Flacco fumble.
Hindsight is 20-20, but you have to question Coach Harbaugh's decision to not run the clock out there.
Especially considering that he second-guessed himself after the Flacco interception against the Dolphins last week.
Packers, who already lost WR James Jones for the game, now has Randall Cobb being helped off with a right knee injury

— The MMQB (@theMMQB) October 13, 2013
Second quarter, 0:25
That was an unfortunate tackle by the rookie Matt Elam. First James Jones and now Randall Cobb are out with injury.
This article is
What is the duplicate article?
Why is this article offensive?
Where is this article plagiarized from?
Why is this article poorly edited?