Oklahoma vs. Texas: Live Score and Highlights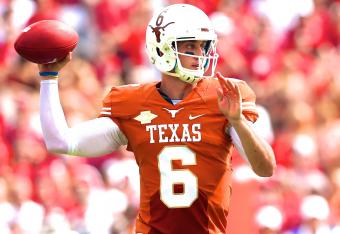 The Texas Longhorns have completed their upset of the No. 12 Oklahoma Sooners to win the Golden Hat.
The 'Horns were led by a stout defense and sophomore Johnathan Gray, who rushed for 123 yards in the win. Texas also got an 85-yard punt return score from sophomore Daje Johnson.
Here is what we learned from the Longhorns' win. I hope you all enjoyed the game and this fancy blog as well. Stay safe if you're on the road and keep each other's mommas out of the trash talk.
Johnathan Gray (123) & Malcolm Brown (120) both rushed for 100 yards today. The 1st time Texas has ever had multiple rushers vs Oklahoma

— ESPN Stats & Info (@ESPNStatsInfo) October 12, 2013
Key Stats from the Longhorns' Win
2x100: The Longhorns were led by two 100-yard rushers in Johnathan Gray and Malcolm Brown. Their play gave Texas an 11-minute edge in time of possession and allowed Case McCoy to hit some big play-action passes.
120: Quarterback Blake Bell had just 120 yards of total offense in the loss. He was averaging 313.7 yards in his previous three games.
558: Chris Whaley and Geneo Grissom each returned interceptions for a touchdown. Both are defensive linemen and combine to weigh 558 pounds.
9.04: Quarterback Case McCoy averaged a season-high 9.04 yards per attempt. He was averaging less than six yards an attempt through Texas' first five games.
Texas 36, Oklahoma 20—Final
The Longhorns pull off the upset behind two 100-yard rushers and the defense's best game of the season.
Normally they dump Gatorade on the winning coach's head. It appears they are going to dump a large golden Stetson on Mack's head. #OUvsTEX

— Chris Lucia (@bac573) October 12, 2013
He got the bath too.
How the Golden Hat was won.
Malcom Brown and Jackson Jeffcoat combine to sack Blake Bell on 4th-and-13. That should just about seal it for the Longhorns...unless a defensive lineman decides to go off again in these final five minutes.
Injury Update
Texas linebacker Dalton Santos is down on the field with what appears to be an arm injury. He was able to walk to the sideline, and the 'Horns really need him back on the field.
If the Sooners are going to come back, they'll want those two timeouts back.
Oklahoma 20, Texas 36, 10:07 Fourth Quarter
Geneo Grissom returns Case McCoy's first interception of the game for a touchdown. That's the second defensive lineman to score in this game.
Quandre Diggs gets shot out of a cannon for a third-down sack of Blake Bell. That's his second quarterback takedown in the last two games.
Still think Mike Davis should have been suspended for what he did last week, but this was a nice play.
Texas 36, Oklahoma 13—0:21, Third Quarter
Mike Davis' first catch of the game goes 38 yards for a touchdown. Case McCoy threw a great ball right over the senior receiver's shoulder for the score.
Injury Update
Senior Aaron Colvin is down for the Sooners. He walked off the field under his own power, but OU can't afford to lose him. He has a claim as the best defensive back in the Big 12.
Might be time to give Trevor Knight a shot. #OUvsTEX

— Jake Trotter (@Jake_Trotter) October 12, 2013
Blake Bell's second interception of the game makes this a real possibility. Problem is that Trevor Knight was benched because of similar passing efforts, so don't expect this to happen immediately.
Daje Johnson's punt return was Texas' first for a touchdown since 2002.
Texas 29, Oklahoma 13, 7:22 Third Quarter
Daje Johnson returns a punt 85 yards for a touchdown, Texas' first since fire was discovered. The extra point was blocked to keep the 'Horns from breaking into the 30s.
Injury Update
Texas safety Adrian Phillips has been helped off the field. Usually a scapegoat, the senior has played well today both in coverage and against the run. Josh Turner will take his place on the back end.

Eric Striker, who blew up McCoy in the first half, was everywhere on Texas' first drive. Longhorns punt and the Sooners will get decent field position.
Oklahoma 13, Texas 23—11:08, Third Quarter
The Sooners take the opening deep into Texas territory, but are forced to settle for a Michael Hunnicut field goal. Blake Bell's first carry of the game goes for four yards as he comes up short on third down.
Texas has gained 176 yards on third-down plays today. Converted 9 of 12 in the first half. #OUvsTEX

— Max Olson (@max_olson) October 12, 2013
This is how upsets happen.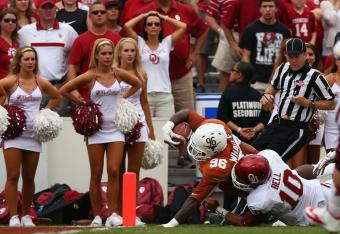 Key Stats from the First Half
5.3: The 'Horns are controlling the clock thanks to a running game that is averaging 5.3 yards/carry. Johnathan Gray leads the way with 83 yards on 15 totes, and Malcolm Brown is piling up 64 of his own.
0: Blake Bell has yet to carry the ball against a Texas team that has been manhandled by dual-threat quarterbacks all season. Contained in the pocket, the big junior has only 35 passing yards and an interception that was returned for a touchdown.
97: Roy Finch has 97 kick return yards, with 73 of them coming in the second quarter to set up the Sooners' first touchdown.
2: Texas quarterback Case McCoy has missed two wide-open receivers for deep touchdowns. If either one of those plays connects, this game is headed toward an ugly blowout.
Texas 23, Oklahoma 10—Halftime
Anthony Fera follows up his career-long 50-yard field goal with a 43-yarder to close the first half. The score was set up by big plays from Malcolm Brown and Jaxon Shipley.
Finch's kickoff return. Is this the turning point in the game?
Oklahoma 10, Texas 20—1:06, Second Quarter
Damien Williams brings the Sooners within 10 on a three-yard run. The score was set up by a 73-yard kickoff return by Roy Finch.
Texas 20, Oklahoma 3—3:22 2nd Quarter
Another impressive drive leads to a 50-yard field goal by Anthony Fera, the longest of his career. Yes, Texas is really up by 17.
This article is
What is the duplicate article?
Why is this article offensive?
Where is this article plagiarized from?
Why is this article poorly edited?