Pittsburgh Steelers vs. New York Jets: Live Score, Highlights and Analysis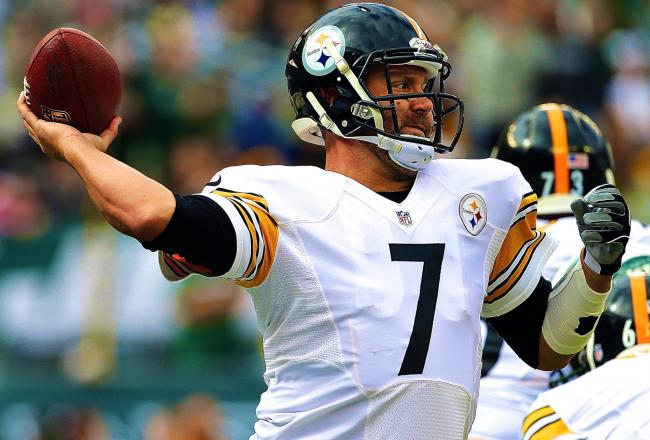 A low-scoring, defensive affair brings the Steelers their first win of the season. While they were aided by a few bad throws from Geno Smith, the Steelers defense played as well as they have this season, while Ben Roethlisberger and the offense were able to make enough play to get the comfortable win.
This is a big win for the previously-winless Steelers, essentially saving their season. For the Jets, this is a reality check that will remind everyone that they are still a young team and will have their share of inconsistencies this season.
Final
Jets 6, Steelers 19
Sorry, Jets fans, I'm laughing. MT @ESPNMichele: like to beat Jets? Tomlin: "Not like you won the lottery, obviously, but a good feeling."

— Erik Frenz (@ErikFrenz) October 13, 2013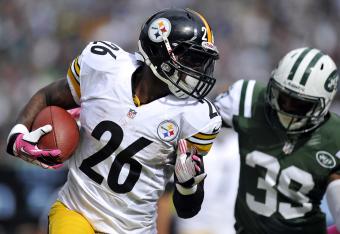 That will do it. Jets drop to 3-3, and the Steelers get their first win of the season to get to 1-4.
FINAL SCORE: Jets 6, Steelers 19
Thanks for following along!
2 minute warning
Steelers get the first down, and the Jets are out of timeouts. This one is all but over.
3:00 4th Qtr
INTERCEPTION!
Geno Smith is hit on his pass, causing a bad throw right to Lawrence Timmons. That should just about seal this game up, unless the Jets are somehow able to force a turnover.
3:00 4th Qtr
Jets are finally able to get a drive going, as a few completions and timely runs have the Jets at the 12-yard line.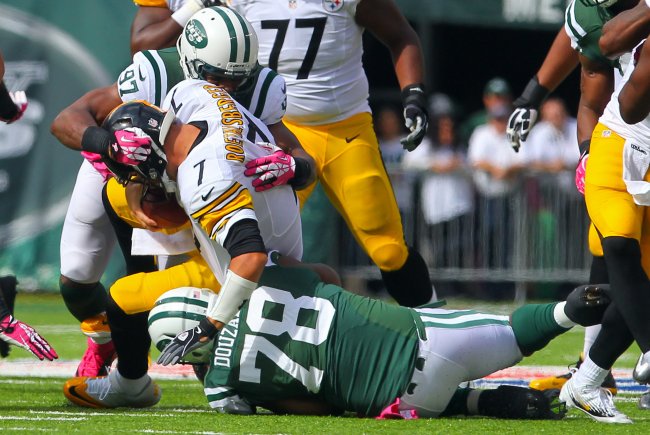 Ed Mulholland-USA TODAY Sports
5:31 4th Qtr
Muhammad Wilkerson is finally able to bring Ben Roethlisberger down to end the Steelers' drive. The defense has stiffened in the second half, but the offense simply has not been able to take advantage.
Near-interception kills another drive. Jets nearly out of chances.
That should have been picked. Jets opening up the gameplan, but it's not working right now.

— Seth Walder (@SethWalderNYDN) October 13, 2013
That's a great play by Allen - Miller has the 1st down if Allen doesn't hit him.

— Gonzalo Estradé (@PFF_Gonzalo) October 13, 2013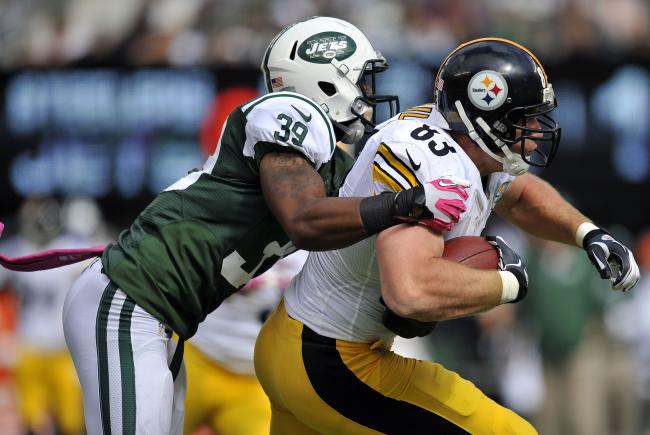 8:30 4th Qtr
The Jets defense is able to hold strong one more time, stopping a Heath Miller completion inches before the sticks. Jets need to get a touchdown here to stay in it—a three-and-out would be devastating.
10:21 4th Qtr
Jets forced to punt. They are running out of opportunities to come back—that may have been their last punt of the game.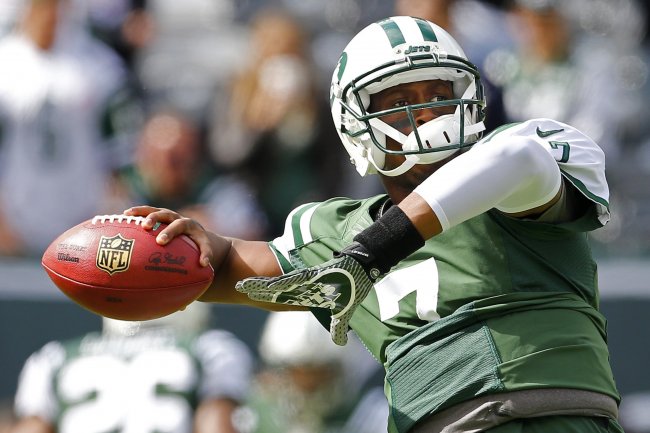 Rich Schultz/Getty Images
10:38 4th Qtr
Jets in a hurry-up mode to save some time, but Clyde Gates injuries his finger reaching for a ball. This might break up their rhythm.
12:40 4th Qtr
The Steelers try some trickery again with an Antonio Brown pass, but the Jets don't fall for it and get the big stop they desperately needed. The Steelers extend their lead to 13 with the field goal.
Steelers 19, Jets 6.
Looks like Le'Veon Bell got his ankle caught on that tackle. This would be a huge loss for the Steelers, who need their rookie to get healthy.
1st-and-goal for the Steelers.
Wow, Roethlisberger picks up the 1st down on that run. Lowered his head and got the extra yard. #nyj

— Brian Costello (@BrianCoz) October 13, 2013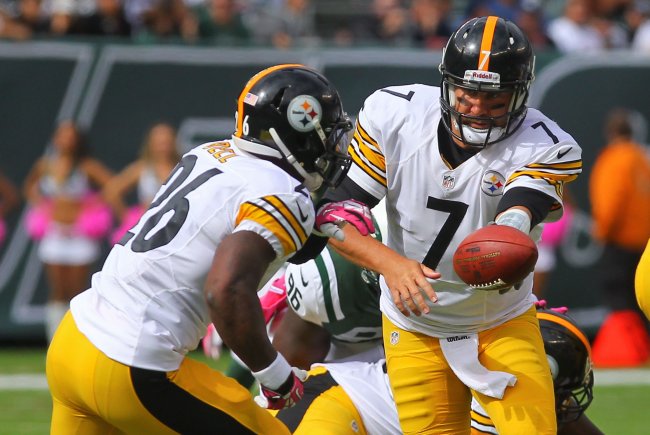 Ed Mulholland-USA TODAY Sports
End of 3rd Qtr
The Steelers are in prime position to take a big lead. The Jets desperately need a stop here to keep the score within two touchdowns.
Either way, it won't matter if the Jets can't find the end zone sooner or later.
Cromartie hit with a pass interference call. Rough day for Cro #nyj

— Brian Costello (@BrianCoz) October 13, 2013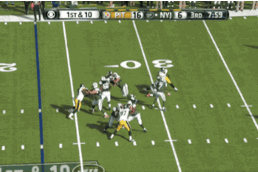 Here is the interception from earlier.
Jets first three possessions of the second half: 3-and-out, INT, 3-and-out. #nyj

— Manish Mehta (@MMehtaNYDN) October 13, 2013
Looks like Cromartie hurt his left hand on that last incompletion. Trainers checking him out. #nyj

— Manish Mehta (@MMehtaNYDN) October 13, 2013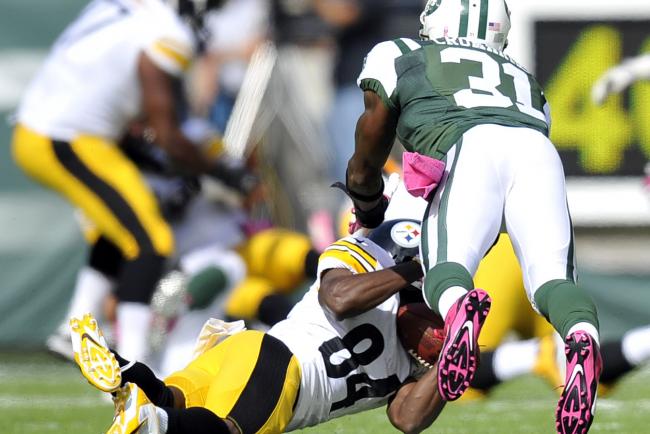 5:46 3rd Qtr
Jets defense is able to hold, as Cromartie does his job in coverage against Sanders. Jets are able to limit the damage of Geno's interception.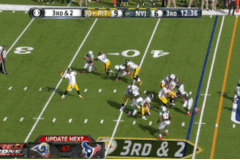 Here is the Sanders touchdown.
Kyle Wilson is doubtful to return with a head injury.

— Kimberley A. Martin (@KMart_LI) October 13, 2013
7:52 3rd Qtr
INTERCEPTION!
Ryan Clark intercepts Geno Smith on a deep pass to the end zone to end a promising drive. Poor decision to throw into triple coverage.
11:00 3rd Qtr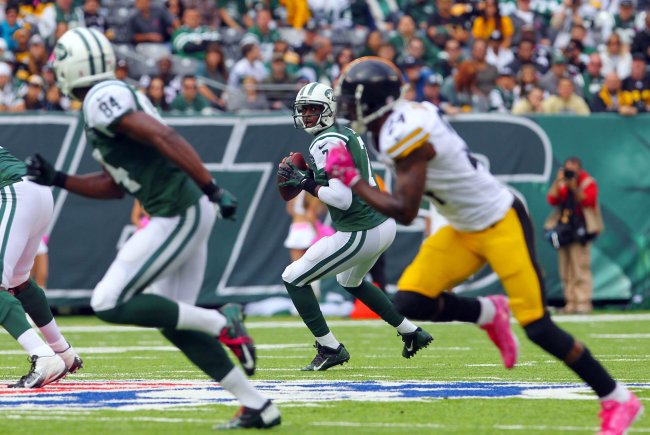 Ed Mulholland-USA TODAY Sports
The Jets are able to answer with a big play of their own, this time to Jeff Cumberland. Geno Smith appears to be settling down and finding his comfort zone.
This article is
What is the duplicate article?
Why is this article offensive?
Where is this article plagiarized from?
Why is this article poorly edited?