Baylor vs. Kansas State: Live Score and Highlights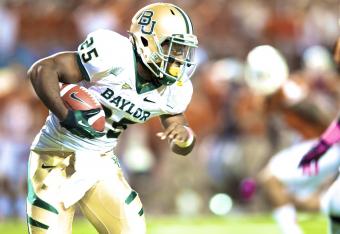 Final: Baylor - 35, Kansas State - 25
While Baylor's high-octane offense only appeared in spurts, those spurts quickly evened the odds when momentum resided in Kansas State's corner.
The Bears' much-maligned defense forced a turnover and answered the call at the most critical juncture of the game, which ultimately sealed the win in Saturday's teeter-totter affair.
Statistics provided by NCAA.com.
Follow Brett on Twitter: Follow @BrettGering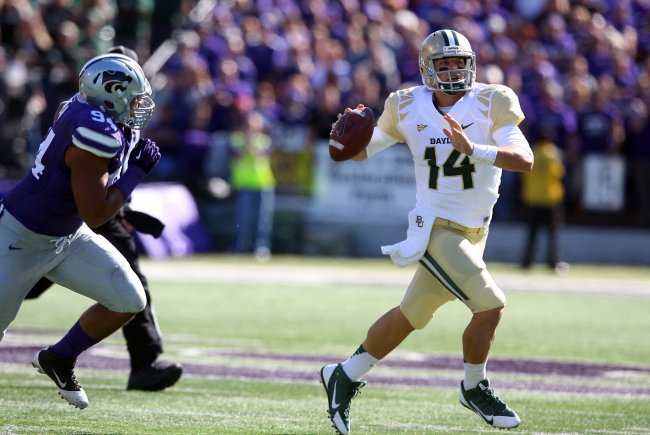 Scott Sewell-USA TODAY Sports
Baylor Bears
Baylor's vaunted offense fell from cloud nine and parachuted back down to reality. But a win is a win, and Saturday's back-and-forth brawl will prove to sprout more positives than negatives.
If the Bears hope to realize their lofty aspirations, they'll need to mask the voids in the defense. You could find Waldo inside of Arrowhead Stadium before spotting a pass rush courtesy of Baylor's front seven.
That being said, if there's an offense capable of bailing out its defensive cohorts on a weekly basis, it's Baylor's. Bryce Petty only completed 12 of 21 passes, but those 12 completions churned out an eye-opening 332 yards and three touchdowns.
And while Lache Seastrunk didn't register gaudy numbers, he left his impact on the game. The Wildcats were hellbent on restraining the revered rusher, which prompted their safeties to cheat up in the box and shadow Seastrunk's every move.
That, in turn, laid the foundation for a number of play-action highlights sponsored by Baylor's aerial assault.
The flawless 5-0 Bears will welcome the 1-4 Iowa State Cyclones next Saturday.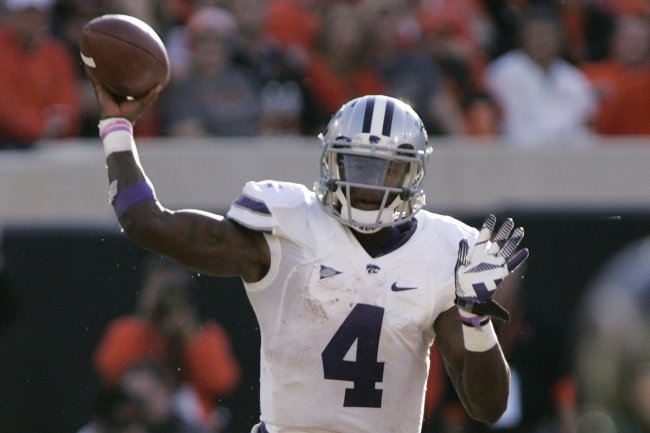 Brett Deering/Getty Images
Kansas State Wildcats
Moral victories are the football gods' way of luring you into a high-five, only to smack you in the face with the backs of their hands.
Nobody hangs their hat—or helmet—on them when leaving the gridiron. They're a myth.
However, for whatever it's worth, Bill Snyder's club made strides this afternoon.
Due to an absentminded interception in crunch time, Daniel Sams will probably double as the scapegoat for the lion's share of the blame for Saturday's loss. The costly turnover detoured Kansas State's comeback trail and hammered home the proverbial nail in the Wildcats' coffin.
Without the playmaking passer's contributions, the comeback trail would've ceased to exist, though. Sams repeatedly electrified the crowd and abused Baylor's defense, keeping the Wildcats within striking distance throughout the latter stages of the contest.
Ryan Mueller also spearheaded a stingy defensive effort. However, a handful of costly mental errors in the secondary ultimately paved the way for Kansas State's downfall.
The Wildcats find themselves in a period of transition. The present may look bleaker than fans had hoped, but the future is promising.
Kansas State (2-4) will host the West Virginia Mountaineers (3-3) next Saturday.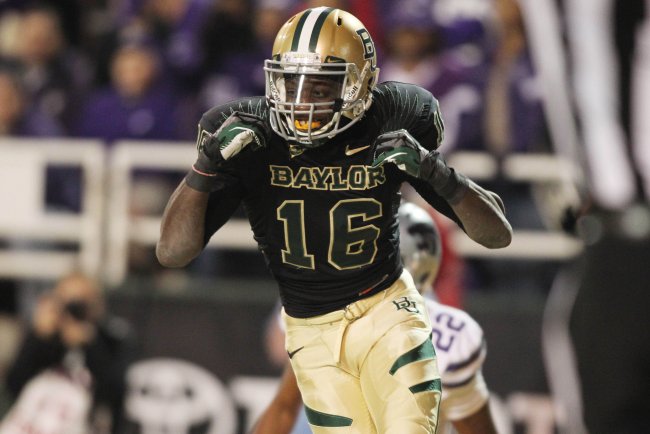 Tim Heitman-USA TODAY Sports
Final: Baylor - 35, Kansas State - 25
Hard-fought victory for resilient Baylor team, and a heartbreaking defeat for a game Kansas State squad.
Kent Horner/Getty Images
Touchdown!
4th Quarter: Baylor - 35, Kansas State - 25
Glasco Martin bulldozes his way through through the teeth of Kansas State's defense.
That's an INT. Would be held up on review. Two weeks in a row Daniel Sams throwing downfield in a tight spot late has meant disaster.

— David Ubben (@davidubben) October 12, 2013
The most careless turnover I've seen in recent memory.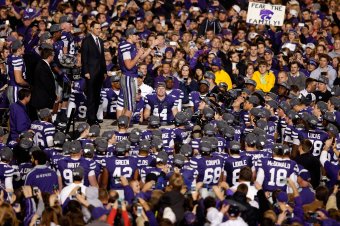 Jamie Squire/Getty Images
Bill Snyder Family Football Stadium is about one decibel away from blowing out my speakers.
Don't think I won't sue you, Snyder.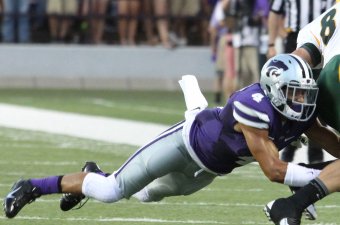 Scott Sewell-USA TODAY Sports
Huge stop by Dorrian Roberts. Almost over-pursued and bit the read-option bait.
Cantele misses 41-yard FG that would have tied the game. #KState behind 28-25 w/ 6:49 to play.

— Joshua Kinder (@Joshua_Kinder) October 12, 2013
Costly.
Individual defenders are trying to compensate for their teammates' shortcomings and losing gap discipline.
I haven't seen this many missed tackles since the last time I handed it off to Bo Jackson in Tecmo Bowl.
Baylor's defense is the antonym of "cohesion."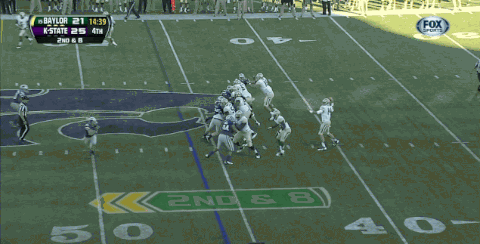 Reese's 54-yard dash to the end zone.
That's the second time K-State's secondary has been charred due to safeties cheating up in the box to stonewall Seastrunk.
Mind-boggling that the deep safety isn't...well...deep.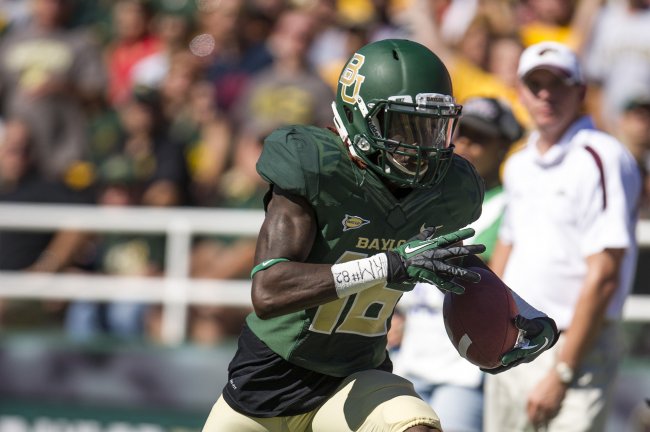 Jerome Miron-USA TODAY Sports
Touchdown!
4th Quarter: Baylor - 28, Kansas State - 25
Reese is the benefactor of another play-action heave.
Ryan Mueller's strip from the third quarter.
In related news: Bryce Petty just remembered that he's Bryce Petty. Throw the ball away and live to fight another down, good sir.
And don't look now, but #KState has taken the lead over Baylor 25-21. Nice to see a team hold Baylor under 60.

— Jim Grundy (@JimtheVoice) October 12, 2013
Touchdown!
3rd Quarter: Baylor - 21, Kansas State - 25
Baylor's front seven getting absolutely gutted by K-State's big uglies.
Kansas State offensive line just dominating Baylor's defense. Currently have 263 yards rushing in the game.

— Andy Splatz (@AndySplatz) October 12, 2013
And that's the truth, Truth.
Sams' lateral agility is impressive, especially for somebody who's 6'2".
Plants and shifts like a player with a much lower center of gravity.
Touchdown!
3rd Quarter: Baylor - 21, Kansas State - 19
Wildcats fans collectively breathe a sigh of relief as Sams returns and tacks on his second rushing touchdown.
Baylor limited the damage by thwarting the two-point conversion.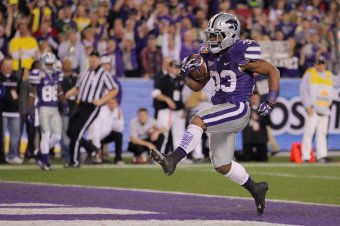 Doug Pensinger/Getty Images
With that carry, John Hubert now has more rushing yards (49) to his name than Heisman hopeful Lache Seastrunk (40).
#KStateFB gets to within 8 with a 32-yard FG by Jack Cantele. Baylor leads the Cats, 21-13, with 8:44 remaining in the third quarter.

— K-State Gameday (@kstate_gameday) October 12, 2013
Tale of two halves.
K-State has seemingly rectified its trend of first-half mental errors and passed the burden onto Baylor's shoulders.
#KStateFB gets to within 8 with a 32-yard FG by Jack Cantele. Baylor leads the Cats, 21-13, with 8:44 remaining in the third quarter.

— K-State Gameday (@kstate_gameday) October 12, 2013
Cantele thumps another one through.
Baylor's front four can't get within the same area code as Waters.
They look like groupies trying to touch Bieber.
Judging by his body language, it looked like Sams jogged into the locker room with a dislocated shoulder.
If so, K-State's uphill climb just got that much steeper.
Ronald Martinez/Getty Images
Watching Jake Waters run following Sams is like watching Betty White do the Electric Slide after a Katy Perry video.
Borderline depressing.
This article is
What is the duplicate article?
Why is this article offensive?
Where is this article plagiarized from?
Why is this article poorly edited?

Baylor Football: Like this team?