The Kansas City Chiefs and Oakland Raiders are both fighting for legitimacy this weekend at Arrowhead stadium. The 5-0 Chiefs need to keep winning to prove that an easy early schedule isn't the reason for their fast start, while the Raiders are trying to prove they are more than a surprise 2-3 team.
It's not quite a playoff environment, but it has the potential to feel that way because Chiefs fans will be attempting to break the Guinness world record for loudest crowd roar in an outdoor sports stadium. Rivalry games are usually the most fun when there is a lot at stake for both teams.
Will Pryor's performance on Sunday against the No. 1 defense in the NFL influence your opinion of him?
One player's performance this week could shape his future. If Raiders quarterback Terrelle Pryor shows well against the No. 1 defense in football, he'll be labeled the undoubted future of the franchise. Can Pryor succeed where others have failed and expose the Chiefs defense?
Despite Pryor's drastic improvement from last season to this season, he really hasn't made a huge leap from game to game, nor has he had a major setback in any game. It's been slow and steady progression since Week 1 for Pryor, which, in many ways, is better than a lot of ups and downs.
Pryor also hasn't played against an above-average defense since the season started, so a good performance is pretty much a requirement to validate his progression. To beat the No. 1 defense, Pryor is probably going to have to play the best game of his career.
Do This, Not That
A good blueprint for Pryor and the Raiders to follow is the one written by Chip Kelly and the Philadelphia Eagles a couple weeks ago in a 26-16 loss to the Chiefs. Michael Vick is a similar quarterback to Pryor in that he can escape the pocket and make big plays with his legs.
Vick was 13-of-30 against the Chiefs with one touchdown and two interceptions—a passing line that Pryor can't repeat if he wants to propel the Raiders to victory. However, Vick also had four rushes for 99 yards, and Tennessee Titans quarterback Ryan Fitzpatrick had six rushes for 50 yards and a touchdown in Week 5 against the Chiefs.
One of the keys to Kansas City's success this season has been the performance of the pass rush. The Chiefs lead the league in sacks with 21 and are second in sack percentage at 9.9 percent. The result of all that pressure has been the league's second-lowest average yards per attempt at 5.9, seven interceptions and just four touchdowns allowed through the air.
Chiefs D vs. Terrelle Pryor

| | | | | | |
| --- | --- | --- | --- | --- | --- |
| | Rush Yards (QB) | YPA | TD% | INT % | Sack % |
| Chiefs Defense | 180 | 5.9 | 2.1 | 3.7 | 9.9 |
| Terrelle Pryor | 229 | 8.1 | 3.8 | 1.9 | 9.6 |
pro-football-reference.com
Since the Raiders don't have the talent on the offensive line to slow down Justin Houston, Tamba Hali and Dontari Poe, the success of the offense may hinge on Pryor's ability to use his legs to take advantage of an aggressive defense.
One of the reasons the Chiefs have had some trouble defending running quarterbacks this season is that the pass-rushers are getting aggressively up the field. A couple big Pryor runs could change their approach and force them to contain.
If the Chiefs decide to start with, or are forced into a defense that focuses on containment, their only options for pressure are with blitzes or Poe up the middle. One of those approaches benefits the Chiefs and the other the Raiders.
Pryor has been great against the blitz this season, competing 22 of 26 passes for 289 yards and two touchdowns, according to Pro Football Focus (subscription required). Those numbers are scary good, which means the Chiefs will likely shy away from that approach.
On this scramble by Vick, you will notice that both Hali and Houston press the edge and the Eagles double-team Poe. This combination gave Vick throwing lanes, but it also gave him running lanes so he could use his feet to get positive yards.
Pryor is bigger, younger and probably faster than Vick, so what was a nice gain for him could be an even bigger play for the Raiders. If the Chiefs routinely give Pryor lanes, he needs to take advantage instead of trying to force the issue with the pass.
Here's another example of Vick escaping the pocket and getting big yards. On this play, Houston doesn't press the edge as much as Hali, who gets pushed past Vick. Realizing the entire left side was open, Vick takes off and gets a big gain before the Chiefs could recover.
The Chiefs need to use their edge speed to generate their pass rush, but a quarterback like Pryor could change all that. Offensive coordinator Greg Olson should call a few passing plays to try to set up a few early, big pass plays with an option to scramble for Pryor.
The other thing the Raiders can do to get Pryor going is use more read-option. You'll notice on this play that Vick reads the 3-4 defensive end, slips past him and picks up a big gain.
For a play like this to work for the Raiders, they are going to need their offensive line to both block Poe one-on-one and get to the linebacker. That's tough to do, and you may notice a borderline hold was not called on this run.
Vick turned the ball over against the Chiefs, which is something Pryor cannot do. One of Vick's biggest problems in that game was locking onto receivers and allowing the linebackers and safeties the time to jump the routes.
The best example of this came when Vick never looked off the inside linebacker, who stepped in front and tipped the pass in the air. It ended up being a score the other way, as Eric Berry intercepted it and took it the distance.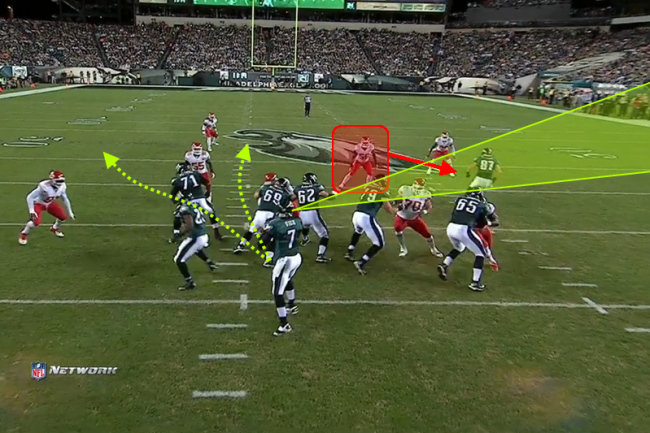 The good news for the Raiders is that Pryor is getting better about not locking on to targets. In fact, he has been great when throwing in 2.5 seconds or less, according to Pro Football Focus, completing 39 of 48 attempts.
Another thing the Raiders can do to combat the pass rush is move the pocket. Rolling out of the pocket gives Pryor a simplified half-field read and emphasizes his rushing ability, and that's just what the Raiders need against the Chiefs.
The danger when Pryor rolls out is that he'll throw across his body into traffic. Pryor has gotten away with several such throws this season, but it's a bad habit he needs to break or the interceptions will come. Those seem more likely to happen against a tough defense in Kansas City if he can't correct the issue.
Odds and Ends
Pryor has the kind of ability to keep the Raiders in any game, even on the road against the No. 1 defense in the NFL. If Pryor can slow down the pass rush with his own running ability, the Raiders have a very good shot of winning the game.
The Chiefs will have to design a pressure plan that doesn't include pressing the edges or blitzing, and they need to make sure Pryor scrambles in 2.5 seconds or less. That's actually a tough task if the Raiders can execute, even for the top-rated defense.
Don't expect a blowout unless turnovers come into play. AFC West division games always tend to be a little more interesting. Pryor versus the No. 1 defense should make for some must-see football on Sunday.
Unless otherwise noted, all statistics via pro-football-reference.com.