Studs and Duds from Week 7 in College Football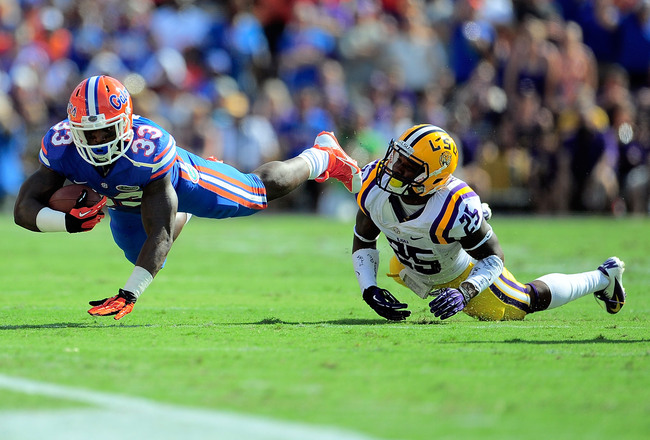 Stacy Revere/Getty Images
Week 7 of the college football season is officially in the books. It was filled with plenty of upsets, thrilling finishes and blowout victories.
From the four overtime thriller in Happy Valley, to the upset at Rice-Eccles Stadium to the Red River Rivalry, it was quite a weekend across the college football landscape.
There were plenty of studs, but the week also featured its fair share of duds.
Which performances stood out, and what about those that would like to soon be forgotten?
Here are the studs and duds from college football Week 7.
Stud: Louisville Cardinals Defense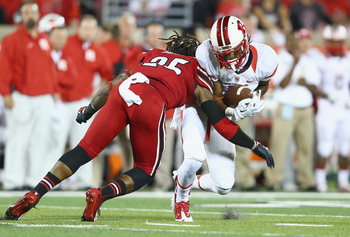 Andy Lyons/Getty Images
The Louisville defense has dominated all of its opponents this season. A Thursday night victory against Rutgers was no different.
Rutgers came into the game having scored at least 28 points in every game. That was not the case in a 24-10 loss to the Cardinals.
Louisville forced four Scarlet Knights turnovers and held them to 240 total yards with only 12 of those coming on the ground.
So far this season Louisville has only allowed 44 points in six games and has not given up more than 13 points in a contest.
While there is still a long way to go, it appears Louisville has an excellent shot to run the table. If it does it will be because of a very solid defense.
Dud: Arkansas Razorbacks Offense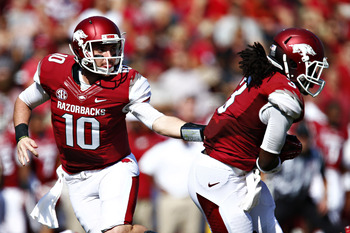 Wesley Hitt/Getty Images
A lot of credit has to be given to the South Carolina defense, but the Arkansas offense was awful during its 52-7 home loss against the Gamecocks.
The loss was the fourth straight for the Razorbacks, but the first game where the offense looked extremely helpless.
They finished the game with 248 total yards, but only had 30 through the air. Quarterback Brandon Allen finished the game 4-of-12 passing for 30 yards with an interception. The Razorbacks also lost two fumbles and finished the game with three total turnovers.
After an Arkansas touchdown by running back Alex Collins less than three minutes into the game, South Carolina put up 52 unanswered points for the blowout victory.
What seemed like a very promising season a few weeks ago has turned into a disaster for the Razorbacks. The offense continues to regress from week-to-week making a bowl game seem nearly impossible at this point.
Stud: Mack Brown and the Texas Longhorns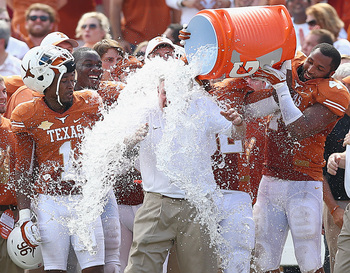 Tom Pennington/Getty Images
No coach is on the hot seat more than Mack Brown. He might have saved his job, at least for the time being with a dominating 36-20 victory over rival Texas in the Red River Rivalry.
Texas came into the game having struggled the past few weeks. The Longhorns were 3-2 overall and Brown might have been a loss away from losing his job for good.
Saturday was not the end of the road for Brown at Texas.
Defense and special teams led the way for the Longhorns. Oklahoma was held to 263 yards of total offense and also committed two turnovers. The Longhorns scored a multitude of ways, including a 31-yard interception return by Chris Waley and an 85-yard punt return by Daje Johnson.
The offense certainly had its moments, but the defense won this one for Texas and saved Mack Brown's job, at least for the time being.
Dud: Georgia Bulldogs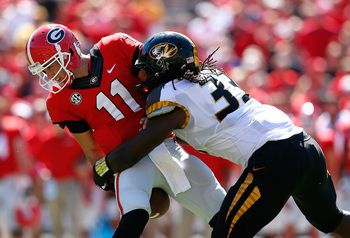 Kevin C. Cox/Getty Images
One of the biggest games of the week was a SEC showdown between Missouri and Georgia. In the end it was all Tigers, as Missouri pulled off the upset by a final score of 41-26.
Georgia has certainly been plagued by a bevy of injuries on offense, but the Bulldogs still allowed 41 points.
Missouri quarterback James Franklin completed 18-of-27 passes for 170 yards and a score before leaving the game with a separated shoulder.
The Tigers totaled 375 yards of total offense against Georgia.
This loss effectively ended any national title hopes for the Bulldogs and put a huge dent in any SEC title aspirations.
Stud: Missouri Tigers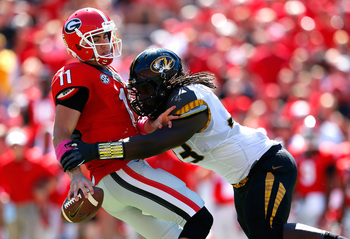 Kevin C. Cox/Getty Images
Some might have seen a Missouri win coming, but not many could have imagined Missouri dominating Georgia the way it did.
The main reason for that was a defense that forced four turnovers out of Georgia, including two interceptions by Aaron Murray.
Defensive end Michael Sam also picked up an Aaron Murray fumble and returned it 21 yards for a score before halftime to give the Tigers a 28-10 lead at intermission.
Even though Georgia was missing some of its playmakers on offense, the Missouri defense came to play and it showed in a dominating victory.
Dud: Northwestern Wildcats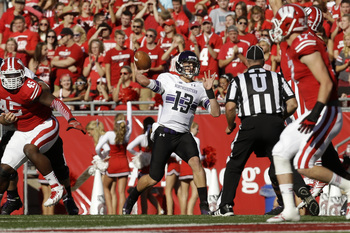 Mike McGinnis/Getty Images
Even after losing at home to Ohio State a week ago, Northwestern certainly gained some confidence after hanging with one of the top teams in the country.
That confidence might have quickly evaporated after a 35-6 loss at Wisconsin.
The Wildcats were held to 242 yards of offense with only 42 of those coming on the ground. Wisconsin on the other hand rushed for 286 yards.
Quarterback Trevor Sieman only completed 13-of-34 passes for 163 yards.
Simply put, this was a game Northwestern would soon like to forget.
Stud: Terry Baggett, RB, Army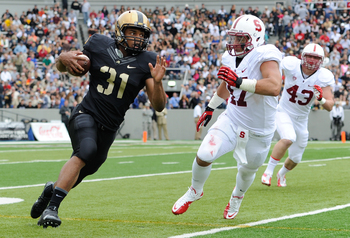 Ron Antonelli/Getty Images
Army only had a 2-4 record coming into its games against Eastern Michigan, but the Black Knights came to play on Saturday.
Led by running back Terry Baggett, Army came away with a 50-25 victory. Baggett rushed for 304 yards and four touchdowns on only 18 carries. That was good for an average of 16.9 yards a carry.
He broke the single-game Army rushing record in the huge victory. He had touchdown runs of 67 yards, 34 yards and 96 yards.
His 304 rushing yards accounted for over half of the 513 yards Army picked up on the ground.
Dud: Bob Stoops and the Oklahoma Sooners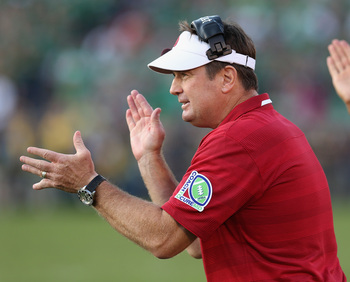 Jonathan Daniel/Getty Images
Not many people gave Texas a chance, coming into its showdown with Oklahoma, but the Sooners laid an egg and Texas dominated from start to finish.
Head coach Bob Stoops and his Sooners came out flat and could never recover, falling 36-20.
Quarterback Blake Bell did not get anything going, completing only 12-of-26 passes for 133 yards with two interceptions and the running game just could not get moving, finishing with only 130 yards on 33 carries.
Throw in two turnovers and it was not a good day at all offensively for Oklahoma.
Stoops had a chance to possibly put down his rival Mack Brown once and for all, but Brown came out on top in the end.
Not a good day for Stoops or the Sooners.
Stud: Melvin Gordon and James White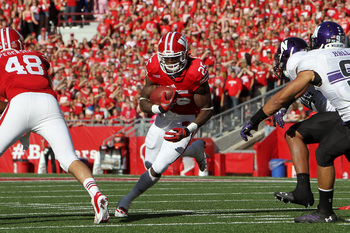 Mike McGinnis/Getty Images
Wisconsin loves to run the football. That was on full display in a dominating 35-6 victory over Northwestern, despite the fact that the Badgers passed the ball 28 times for 241 yards.
The victory came on the ground once again for Wisconsin. The team totaled 286 yards rushing. That was 45 more yards than the entire Northwestern offense put up. They averaged 5.6 yards a carry and were once again paced by the dynamic duo of Melvin Gordon and James White.
Gordon led the way with 172 yards and a touchdown on 22 carries. That was good for an average of 7.8 yards a carry. He broke the game open with a 71-yard touchdown scamper late in the first half.
White finished the day with 101 yards and a touchdown on 19 carries.
They proved once again that only way to beat Wisconsin is to slow down this duo.
Dud: Florida Gators Offense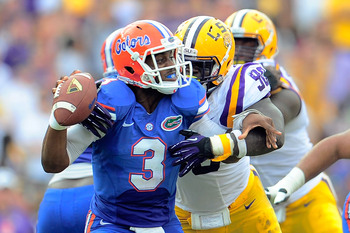 Stacy Revere/Getty Images
Not enough can be said about the way the Florida defense performs every week. The offense on the other hand is a completely different story.
That was the case once again in a 17-6 loss to LSU.
Florida only managed 240 total yards while averaging 2.8 yards on 40 rushing attempts. The passing game was not much better. Tyler Murphy completed only 15-of-27 passes for 115 yards. That average of 4.3 yards per attempt and a QBR of 20.0 leaves a lot to be desired.
Until this team figures it out on offense, it is not going to be able to beat the top-tier SEC squads.
Stud: LSU Defense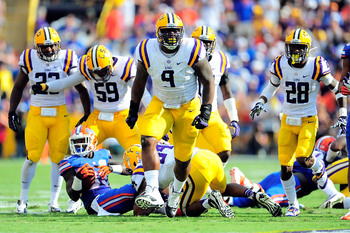 Stacy Revere/Getty Images
The Florida defense kept its team in the game, but the LSU defense won the game for the Tigers.
LSU held the Gators to 240 yards of total offense and almost completely shut down the rushing attack of the Gators.
Florida was also held to 6-of-17 on third down conversions.
The LSU offense could not move the ball enough to keep the defense off the field, but that did not seem to matter to a LSU defense that was on the field for over 34 minutes.
After struggling for much of the year, the LSU defense looked like the group from past seasons once again.
Dud: Lache Seastrunk, RB, Baylor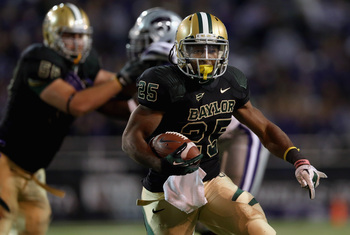 Ronald Martinez/Getty Images
Even though Baylor was a 10-point winner over Kansas State, the offense struggled compared to what it normally is accustomed to.
Running back Lache Seastrunk was still in the Heisman conversation before the season began, but that might not be the case anymore.
Seastrunk only rushed for 59 yards on 12 carries in the 35-25 win over the Wildcats. It was by far his worst game of the season.
This was the best team Baylor has played. Against a higher level of talent, he was not able to put together that big play he is so used to.
His longest run was 13 yards, by far his lowest of the season.
It would take some huge performances to get him back into the Heisman conversation.
Stud: Marcus Mariota, QB, Oregon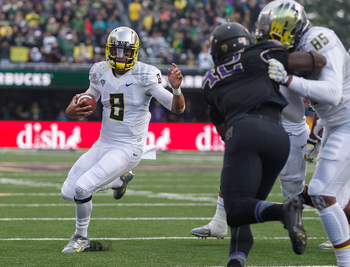 Otto Greule Jr/Getty Images
There are a handful of very talented sophomore quarterbacks across the country. One name near the top of the list is Marcus Mariota.
He might have had his best performance of the season in a dominating 45-24 victory at nationally ranked Washington.
Mariota finished the game 24-of-31 passing for 366 yards with three touchdowns and no interceptions. He also rushed for 88 yards and a touchdown on 13 carries.
When he gets a chance to play the full four quarters he puts up some of the best numbers in the country. That has gotten him near the top of the Heisman conversation.
His ability to make plays with his arm and his legs, makes him one of the most unique players in the nation.
There is no question he is the key to the offensive attack for the Ducks. He had no problem shouldering the extra load as star running back De'Anthony Thomas was out with an injury.
Dud: The Overtime Play-Calling in the Michigan-Penn State Game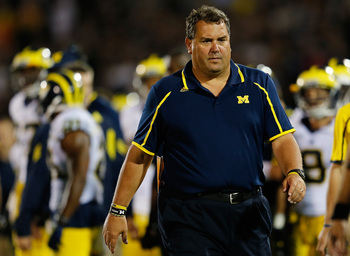 Jim Rogash/Getty Images
Michigan and Penn State played a four-overtime thriller, but it seemed like neither team wanted to win the game once overtime hit.
The play calling was conservative to say the least. It appeared both teams, Michigan in particular were playing not to lose the game.
Michigan got the ball twice and just needed a field goal. Conservative play calling led to missed field goals and ended up costing Michigan the game in the end.
Penn State was conservative, but not quite like the Wolverines were. Finally head coach Bill O'Brien decided it was time to end it and instead of kicking another field goal he went for it on 4th-and-1. That turned out to be the difference in the Penn State victory.
Playing not to lose ended up biting the Wolverines in the end.
Stud: Utah Utes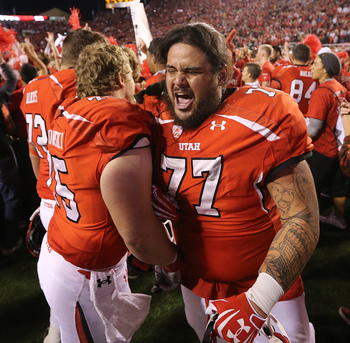 George Frey/Getty Images
Utah has proven to be a tough out so far this season and Stanford got a heavy dose of that during a 27-21 dramatic Utes victory.
The game was very evenly played statistically, but Utah forced one more turnover and did just enough to come out on top with the victory.
This was not a major upset, but was still one of the most surprising finishes of the entire weekend.
After close home losses to Oregon State and UCLA, the Utes finally pulled one out at home.
This could be a very dangerous team, but the schedule is so challenging that winning more than seven or eight games does not seem likely.
Dud: Stanford Cardinal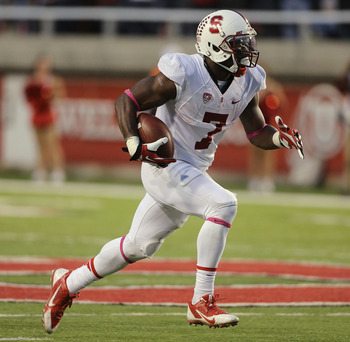 George Frey/Getty Images
The national title hopes Stanford had heading into its game against Utah vanished quickly during a 27-21 defeat.
One of the differences in the game was time of possession. Utah had the ball for nearly six minutes more than Stanford. That was one of the reasons the Utes came out on top.
The Stanford defense was expected to be one of the best in the country, but its talented front seven allowed 176 yards on 39 carries to Utah.
Running back Bubba Poole rushed for 111 yards on 22 carries to pace the way.
The defense needs to improve if this team wants to run the table and win the Pac-12.
Stud: Justin Hardy, WR, East Carolina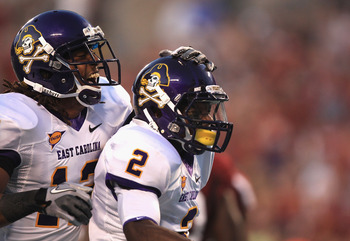 Streeter Lecka/Getty Images
Even though East Carolina fell 36-33 at Tulane in overtime, wide receiver Justin Hardy had a huge game for the Pirates.
Hardy caught 17 passes for 230 yards. He did not get to the end zone, but that offensive output kept East Carolina in the game.
The junior wide receiver has put together quite a season for East Carolina. He has already totaled 57 receptions for 639 yards and three touchdowns.
No question he is one of the most underrated wide receivers in the nation.
Dud: Kentucky Wildcats Offense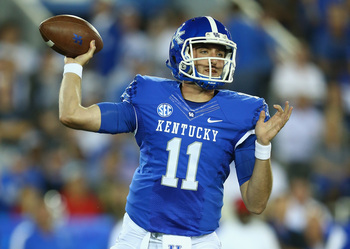 Andy Lyons/Getty Images
Losing quarterback Jalen Whitlow to injury certainly did not help, but it would not have made much of a difference as the Kentucky offense was dominated by a very talented Alabama defense.
The Wildcats only totaled 170 yards. The combination of Whitlow and fellow quarterback Maxwell Smith combined to finish 7-of-18 passing for 76 yards and a touchdown.
The running game was not much better. Kentucky finished with 94 yards on the ground on 34 attempts.
Third down conversions also left something to be desired. Kentucky finished 2-of-12 in those situations.
Alabama had way too much talent for Kentucky and it showed in the dominating victory.
Stud: Alabama Offense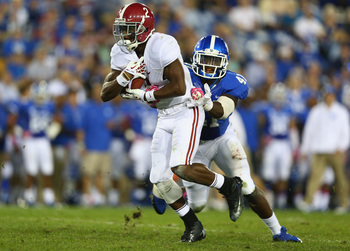 Andy Lyons/Getty Images
The Alabama offense put together quite a performance against the overmatched Kentucky Wildcats. The Crimson Tide totaled 668 yards of offense with 389 through the air and 299 on the ground.
Running backs T.J. Yeldon and Kenyan Drake combined for 230 yards and four touchdowns on 30 carries.
Quarterback A.J. McCarron finished 21-of-35 passing for 359 yards and a touchdown.
Alabama also dominated the time of possession. The Crimson Tide had the ball for nearly 36 minutes and converted 10-of-14 third down attempts.
Even though it was only against Kentucky, this was an excellent overall performance by the Alabama offense.
Dud: Vad Lee, QB, Georgia Tech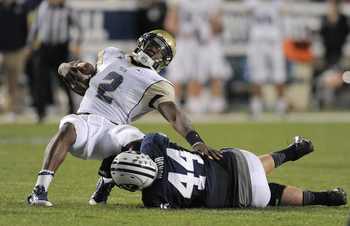 Gene Sweeney Jr./Getty Images
Georgia Tech has had struggles at the quarterback position. That was on full display during a 38-20 loss at BYU.
Starter Vad Lee finished the game 7-of-20 passing for 133 yards with an interception.
He did rush for 41 yards and a touchdown, but it took 21 carries.
The quarterback situation has become an issue for the Yellow Jackets. Lee is only completing 42.7 percent of his passes with seven touchdowns and five interceptions on the year.
With three straight losses, Georgia Tech is now on the bowl bubble. If the quarterback play does not improve, that just might be the case.
Stud: Johnny Manziel, QB, Texas A&M
Johnny Manziel made his Heisman case once again Saturday night. He struggled a little bit in the first half, but came up big after halftime.
Despite suffering a sprained knee, Manziel stayed in the game and led Texas A&M to a 41-38 victory on the final drive of the night.
Manziel finished the day 31-of-39 passing with 346 yards and an interception. Where he did a lot of his damage once again was on the ground. Manziel rushed for 124 yards and two scores on 19 carries. He seemed a little gimpy after the injury, but when the Aggies needed a big play he came up with it.
This guy is something special to watch and he showed that again at Ole Miss.
Dud: Utah State Minus Chuckie Keeton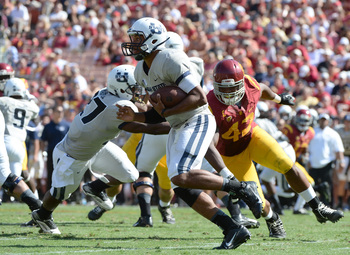 Harry How/Getty Images
Few players are more important to their team than Chuckie Keeton at Utah State.
Keeton is out for the season with a knee injury. That is not going to make it easy for the Aggies.
Two players tried to replace him against Boise State. While neither played awful, it is going to be hard to live up to the talent of Keeton.
The two quarterbacks combined to finish 16-of-31 passing for 221 yards with a touchdown and two interceptions.
Neither Craig Harrison nor Darrell Garretson has the talent that Keeton does.
Reaching a bowl game is not a given anymore for Utah State.
Stud: Ole Miss Two-Headed Quarterback Monster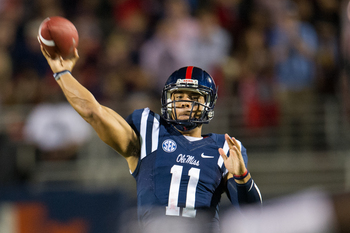 Michael Chang/Getty Images
Ole Miss fell 41-38 to Texas A&M, but one of the strengths for the Rebels was the play from the quarterback position.
Starter Bo Wallace received most of the snaps, but backup Barry Brunetti also performed very well.
Wallace finished the game 22-of-36 passing for 301 yards with three touchdowns and an interception.
What threw Texas A&M off balance was the insertion of Barry Brunetti. He was expected to run the football, but also showed he could throw the ball as well. Brunetti carried the ball five times for 24 yards, but did his damage through the air. He completed 3-of-4 passes for 28 yards and two touchdowns.
If Ole Miss continues to use both quarterbacks, that might be a huge advantage down the stretch as SEC play continues to heat up.
Dud: Pac-12 Bottom Feeders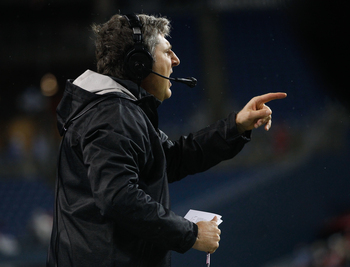 Otto Greule Jr/Getty Images
There is no doubt that the Pac-12 has some very talented teams, but there are also a few near the bottom of the league that are just getting dominated every week.
For those who stayed up late Saturday night, they got a heavy dose of those bottom feeders.
California fell victim at UCLA 37-10. The loss dropped the Golden Bears to 1-5 on the year.
Colorado was dominated 54-13 at the hands of Arizona State. The Sun Devils had 47 points before halftime and took their foot off the gas after that. The loss dropped the Buffaloes to 2-3 overall.
Washington State was the third team to get dominated. The Cougars were at home, but fell 52-24 to Oregon State, dropping them to 4-3.
Those three teams will likely be dominated all year long in conference play.
Stud: Sean Mannion, QB, Oregon State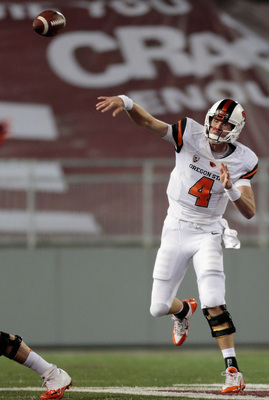 William Mancebo/Getty Images
Sean Mannion is quietly having one of the best seasons of any quarterback in college football.
He had another outstanding performance during a 52-24 win over Washington State.
Mannion finished the game 34-of-51 passing for 493 yards with three touchdowns and one interception. In six games so far this year he has already passed for 2,511 yards with 25 touchdowns and only three picks.
This guy has a chance to pass for over 5,000 yards if everything falls into place.
His accurate arm and pinpoint control make him one of the most complete quarterbacks in college football.
Dud: The Basement of the MAC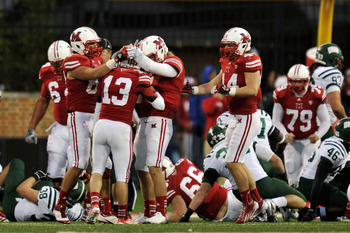 Jamie Sabau/Getty Images
The bottom dwellers from the Pac-12 are one thing, but the group from the MAC is at a whole new level of awful. That showed once again on Saturday.
Two of the worst teams in the country went head-to-head as Miami fell 17-10 at Massachusetts. Both teams came into the game 0-5, so somebody had to come away with a victory.
The 0-7 Western Michigan Broncos were dominated 33-0 by Buffalo and the 1-5 Eastern Michigan Eagles fell 50-25 against Army.
One bottom feeder who almost cam out with a victory was Akron. The 1-6 Zips lost 27-20 at Northern Illinois.
The bottom five teams in the conference are a combined 3-29.
Keep Reading