The start of the championship series round brought with it the first extra-innings game of the postseason, as the St. Louis Cardinals outlasted the Los Angeles Dodgers 3-2 in 13 innings on Friday night to take a 1-0 NLCS lead at Busch Stadium.
Carlos Beltran, as he tends to do in postseason games, was the hero. He drove in all three runs, including the game-winning RBI single in the 13th, and threw out Mark Ellis at home in the top of the 10th to keep the Cards alive.
Lance Lynn, who pitched two scoreless innings in relief, recorded the win.
Cardinals starter Joe Kelly displayed plenty of early-game jitters. He was forced to work out of a dangerous jam in the first, gave up another hit in the second and finally allowed two runs to cross the plate in the third.
After giving up a double to Carl Crawford and walking Hanley Ramirez and Adrian Gonzalez to load the bases, Kelly got Yasiel Puig to harmlessly ground out but subsequently gave up a two-out, two-run single to the red-hot Juan Uribe:
Kelly settled into a groove after that, though, retiring nine of the next 11 batters to finish with a final line of six innings, six hits, two walks, two earned runs and five strikeouts.
Perhaps even more importantly, he sparked an offensive rally in the bottom of the third to help the Cards get to Greinke.
The former Cy Young winner sat down the first eight batters of the game in easy fashion, but Kelly delivered a two-out single in the third, then Matt Carpenter walked and Beltran—as has become a custom of the postseason—delivered the big hit.
"Senor Octubre" crushed a 3-1 pitch from Greinke to deep center, and Andre Ethier was unable to lasso it in at the wall:
Greinke immediately settled back down and continued to roll, giving up just four hits, one walk and two earned runs over eight dynamite innings while striking out 10.
After the four-run third inning was split down the middle, the teams continued to match each other with six scoreless—and harmless—innings before the Dodgers appeared to finally break through in the 10th.
But after Ellis hit a single-turned-triple by some shoddy defending from Jon Jay in center field, Michael Young flew out to Beltran, who nailed Ellis at the plate with a cannon of a throw to help closer Trevor Rosenthal escape the inning unscathed:
The game carried on until Beltran—honestly, who else?—stepped to the plate against Kenley Jansen with two on in the 13th and ripped a single down the right-field line to win the game.
Nearly five hours and 400 total pitches later, the Cardinals have an early series lead.
See you again in about 14 hours.
Player Grades
Zack Greinke, Dodgers: A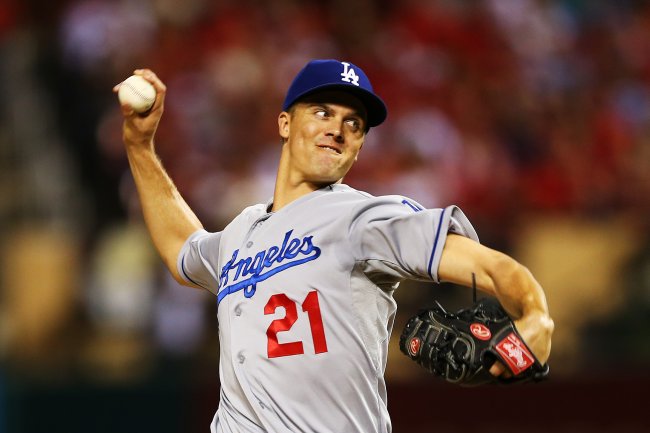 Elsa/Getty Images
Greinke hasn't given up more than two runs since July 25 (!), so this performance wasn't all that surprising. But that doesn't take away from its brilliance.
The veteran starter had his longest outing since August, and for the majority of the game he was pretty much unhittable—he changed speeds beautifully (including a nasty Eephus pitch), worked efficiently, fielded his position well and entered the Dodgers record books with a season-high 10 strikeouts:
Zack Greinke with a 10-K game ... only other time Dodgers had two pitchers with 10-K game in postseason - 1965: Koufax and Drysdale

— ESPN Stats & Info (@ESPNStatsInfo) October 12, 2013
Unfortunately, his worst mistake—you can't give up a hit to the opposing pitcher, especially with two outs—came back to bite him for two runs.
Joe Kelly, Cardinals: A-
Kelly wasn't as razor-sharp as Greinke by any means. It took him 95 pitches to get through six innings, and he had just one 1-2-3 frame.
Still, you have to give the 25-year-old massive credit for settling down after a very uneven start—many would have collapsed after the first three innings he had—and keeping the Cardinals close.
And starting the team's only real offensive rally through the first 12 innings? Well, that's just gravy on top of a very solid pitching performance.
Juan Uribe, Dodgers: B+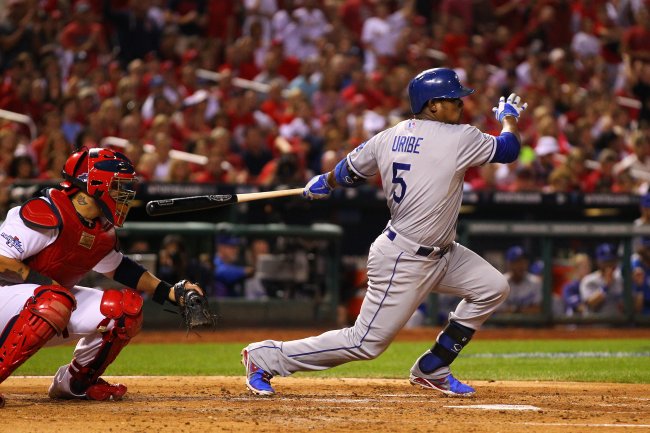 Dilip Vishwanat/Getty Images
Apparently the three days off did very little to cool down Uribe, who homered in Games 3 and 4 of the NLDS against the Atlanta Braves.
Uribe delivered a clutch, two-out, two-RBI single in the third inning, which, you know, is just customary at this point:
More on Uribe: third straight game with 2 hits, 2 RBI ... tied for longest such streak in postseason history with 5 others

— ESPN Stats & Info (@ESPNStatsInfo) October 12, 2013
An untimely, rally-killing double play in the eighth inning was rough, but it didn't take away from a night in which Uribe once again came through huge at the plate.
Carlos Beltran, Cardinals: A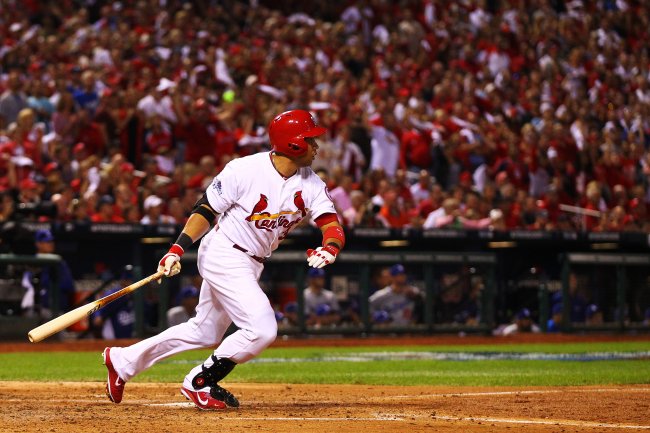 Dilip Vishwanat/Getty Images
Much like with Uribe, a new opponent wasn't enough to halt Beltran's momentum.
The veteran outfielder was the only player to really get a good swing on the near-untouchable Greinke with his clutch two-RBI double, and his pinpoint dart from right field to get Ellis at the plate in the 10th saved the game for the Cards.
Carlos Beltran's OF assist to home plate in the 10th was his first at the plate, after a catch, since Sept. 11, 2007.

— ESPN Stats & Info (@ESPNStatsInfo) October 12, 2013
The big hit was pretty much typical of postseason Beltran, but he brought out the vintage arm to save the Cards in extra innings, further highlighting his "clutch" factor.
It's difficult to quantify clutch, but Carlos Beltran is a career .283/.359/.496 hitter in regular season and .345/.449/.750 in postseason.

— Jeff Passan (@JeffPassan) October 12, 2013
Oh, yeah, and he had the walk-off hit, too. Ho-hum.
What's Next
Game 2 will be on Saturday at 4:07 p.m. ET. A couple of white-hot pitchers will meet in Clayton Kershaw and youngster Michael Wacha.