The good news for the United States is that they're already through to the World Cup and won the Hexagonal.
There weren't a ton of positive takeaways from the USMNT's showing Friday night after the Americans downed Jamaica, 2-0, in Kansas City.
Jurgen Klinsmann's celebration after the match symbolizes what was a workmanlike performance, via U.S. Soccer's official Vine account:
Since the Americans already have a place in Brazil, Klinsmann opted to make quite a few changes to his side. He played a lot of players who have a tough road ahead to make the squad.
Rather than benefiting from so many players hoping to make an impression, the United States instead looked disorganized, a squad made up of too many players who hadn't built the rapport that comes with playing together on the pitch. The first half was a wash for the U.S.
Roger Bennett of Men in Blazers thought this was as bad as the United States has looked since the infamous snow game back in March against Costa Rica:
The last time the US looked this disjointed they had 6 inches of snow to blame

— roger bennett (@rogbennett) October 11, 2013
ESPN's Doug McIntyre countered that even in the snow, the Americans probably looked better then than they did to start the match on Friday night:
Might've been sharper in Denver still. RT @rogbennett The last time the US looked this disjointed they had 6 inches of snow to blame

— Doug McIntyre (@DougMacESPN) October 11, 2013
The team lacked any fluidity, with Landon Donovan and Aron Johannsson in particular performing below their standards.
Donovan has been great since returning from his sabbatical, and as one of the veteran players on the pitch, he could have led the way for the U.S. However, following that rather poor first half, he was subbed in favor of Graham Zusi.
ESPNFC.com's Doug McIntyre brings Klinsmann's perspective on going to Zusi:
"It was a tough decision before the game to leave Graham out of the starting 11 but we felt like Bedoya the last couple of months has just really come along tremendously well and deserved [the nod]. I told Graham be ready at halftime, you're going to play in your home stadium, don't worry about it. He was part of changing a lot of the energy, creating more chances and that moment when he scored that goal is going to be a special memory for him."
Johannsson was a slightly different case. There was a substantial amount of excitement surrounding him when he initially chose to represent the United States rather than Iceland, for whom he'd played at the junior level. This is a player who's become a regular first-team contributor for AZ Alkmaar. He could become either a strike partner for Jozy Altidore or encourage the type of competition among teammates that will bring out the best in Altidore.
Soccer writer Ives Galarcep put Johannsson's performance into perspective:
Not best 45 from Johannsson, who did well to get into good spots, but looked 2 B pressing when chances came. This is experience he needs tho

— Ives Galarcep (@SoccerByIves) October 11, 2013
The United States have generally played with just one striker, and you could see that there was something missing with Altidore and Johannsson up top.
It's no coincidence that when the newest U.S. international was removed, the Americans were able to find their first goal of the match.
Zusi was the man of the moment in the 77th minute, and you couldn't have crafted it better, as the Sporting Kansas City midfielder scored in front of his home crowd.
The U.S. added another in the 81st minute, courtesy of Altidore. Edgar Castillo was the facilitator, as the left-back was there to pounce when Jamaica tried to clear the ball. Castillo then calmly looked up and found Altidore in front of goal to set up an easy finish.
That goal gets Altidore up to sixth on the U.S.' all-time goalscoring list, via ESPN's Paul Carr:
Jozy Altidore ties Bruce Murray for sixth on the #USMNT career scoring list with 21 goals.

— Paul Carr (@PCarrESPN) October 12, 2013
As a fan, you don't want to read too much into this match. Klinsmann experimented a lot with his side, and you are only going to see more of that going forward. With qualification already secured, he can afford to tinker with the team in order to see if new players are going to step up, or whether new formations will be the way to go.
Perhaps the biggest thing this game reinforced is the importance of Michael Bradley. The United States' midfield is demonstrably worse when he's not on the pitch. There isn't another American player who has the all-around skill set that he possesses.
No one player is more vital to the U.S. going into the World Cup, and you can't get a good feel for the team until he's back on the pitch.
Key Player Grades
Aron Johannsson, United States: C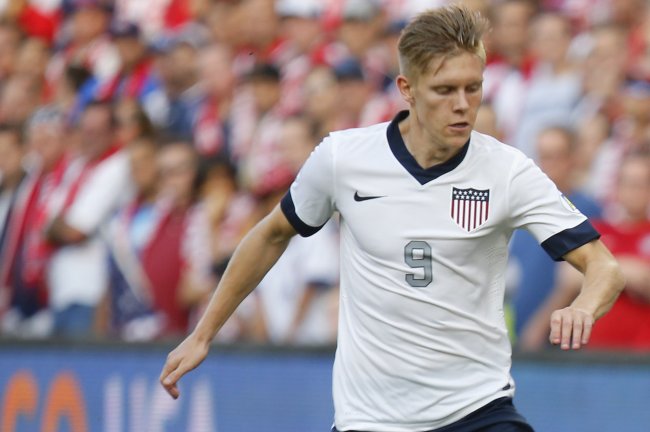 Kyle Rivas/Getty Images
There are probably plenty of fans who fall on both sides of the spectrum when it comes to Aron Johannsson. Some will look at the bigger picture and see that the 22-year-old striker was getting in the right positions, even if he wasn't very good on the ball. The critics will point to Johannsson's inability to make the most of his chances.
On the whole, this is still a player with a lot of upside. You'd have to expect that Johannsson is only going to improve the more time he spends with the national team. It's better that he's getting his introduction to the team this far in advance of the World Cup.
Graham Zusi, United States: B+
Greg Fiume/Getty Images
It's a tie between Graham Zusi and Edgar Castillo as to who was the best U.S. player in the second half.
Zusi opened the scoring with a strong, composed finish. In general, he was getting himself into good positions and linking up the attack well. The United States were a different team in the second half when he came on for Landon Donovan.
Although Zusi may not have earned an automatic starting spot, you saw that he'll definitely have a role going forward, whether it's making the occasional start or providing energy off the bench.
Edgar Castillo, United States: B+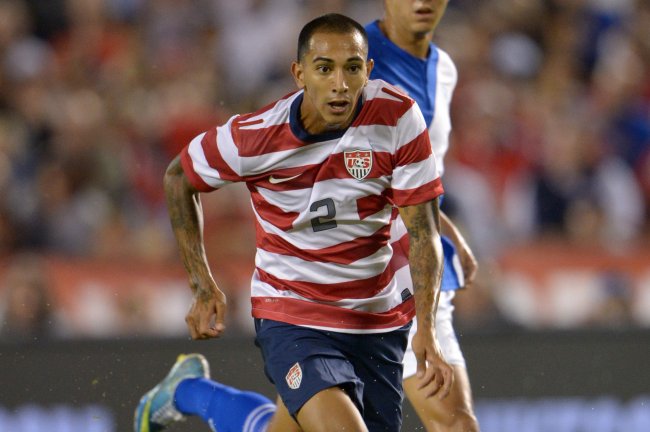 USA TODAY Sports
Castillo benefited from coming on later in the match. He used his speed down the flank to his advantage and was a much-needed injection of energy for the United States.
Klinsmann sent the 27-year-old out with the express purpose of bombing forward from the attack and providing width and service for the strikers. Castillo didn't have to worry too much about tracking back to stop the Jamaican attack, because there wasn't one to speak of.
He did a great job of setting up Altidore's goal and almost had one for himself later in the match.
Jamaica Player Grades

| | |
| --- | --- |
| Player | Grade |
| Duwayne Kerr | C- |
| Lloyd Doyley | C |
| Wes Morgan | C |
| Demar Phillips | C+ |
| Adrian Mariappa | C |
| Jobi McAnuff | C- |
| Je-Vaughn Watson | C+ |
| Rodolph Austin | C |
| Ryan Johnson (off '85) | C |
| Darren Mattocks (off '69) | C+ |
| Deshorn Brown | C |
| Substitutes | |
| Theo Robinson | C+ |
| Jermaine Anderson | INC |
| | |
Lineups via ESPN FC
USA Player Grades

| | |
| --- | --- |
| Player | Grade |
| Tim Howard | C+ |
| Matt Besler | B- |
| Brad Evans | C+ |
| DaMarcus Beasley (off '66) | C+ |
| Geoff Cameron | C+ |
| Mix Diskerud | B- |
| Landon Donovan (off '46) | C- |
| Alejandro Bedoya | B- |
| Jermaine Jones | C+ |
| Aron Johannsson (off '72) | C |
| Jozy Altidore | B |
| Substitutes | |
| Graham Zusi | B+ |
| Edgar Castillo | B+ |
| Sacha Kljestan | B- |
Lineups via ESPN FC
What's Next?
The United States travel to Panama for the final match of qualification on Oct. 15. Meanwhile, Jamaica have a home match with Honduras on Tuesday as well.