Will Clayton Kershaw's Struggles Against Cardinals' Offense Continue into NLCS?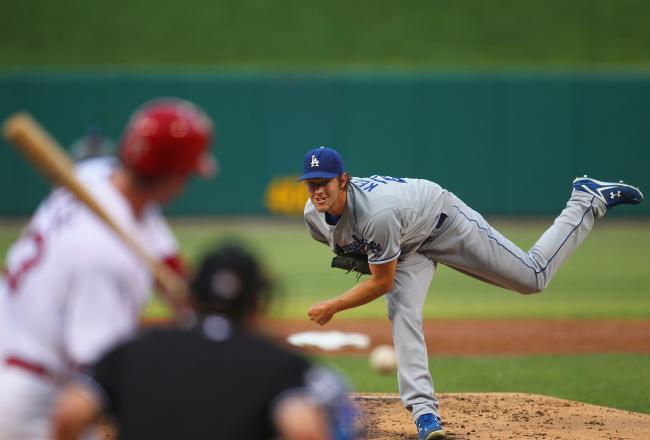 Dilip Vishwanat/Getty Images
Clayton Kershaw, coming off of a year in which he posted the lowest single-season ERA since Pedro Martinez in 2000, is the best pitcher on the planet right now. Aside from being a lock for the National League Cy Young, the 25-year-old lefty is a candidate to win the National League MVP when the voting is announced in November.

Personal accolades aside, Kershaw is in the midst of leading the Dodgers pitching staff into the NLCS. After closing out the Atlanta Braves in Game 4 of the NLDS, on three days rest, Kershaw will take the ball in Game 2 of the NLCS on Saturday evening in St. Louis.

When he does, he and the Dodgers will hope to overcome the one riddle Kershaw has not been able to solve in his brilliant career: the St. Louis Cardinals offense.
This summer, while limiting runs better than any starting pitcher in the sport, Kershaw allowed only one team to touch him up for an ERA over 3.60. As you can now guess, that team was the St. Louis Cardinals.
If the Dodgers are going to advance to the World Series, they'll need a dominant Kershaw to overcome his hiccups—both in the present day and past seasons—against the St. Louis Cardinals. While he may not totally shut St. Louis down the way we're accustomed to watching when Kershaw is on his game, a major absence in the Cardinals lineup could set the stage for a reversal of fortune for the Dodgers star.

First, though, here are the numbers and facts that Kershaw must face when taking the mound in Game 2:

During his illustrious career, Kershaw has a 3.75 ERA against the St. Louis Cardinals. While that's far from bad, it's well below the standards that the soon-to-be two-time Cy Young winner has established for himself. The following chart shows the five teams in which Kershaw has posted his worst ERA.
Kershaw's Toughest Opponents (2008-2013)

| | | | | |
| --- | --- | --- | --- | --- |
| Team | W-L | GS | IP | ERA |
| Phillies | 1-4 | 9 | 56 | 3.70 |
| Angels | 2-2 | 5 | 33.2 | 3.74 |
| Cardinals | 4-5 | 12 | 74.1 | 3.75 |
| White Sox | 0-1 | 2 | 10 | 5.40 |
| Indians | 0-0 | 1 | 5 | 7.20 |
Baseball-Reference
As you can see, three of those teams play in the American League, altering the narrative due to smaller sample size (less than five career starts against each opponent) and numbers (American League teams score at a higher rate, giving some causation for higher run totals allowed by Kershaw). The other, Philadelphia, hit like an American League team during Kershaw's early years in the league, and, despite playing in the National League, the great pitcher has only faced them in nine career starts.
When looking at the numbers against St. Louis, it's hard to find explanation. The sample size (12 starts) is more sufficient, and while the Cardinals offense is always good or very good, Kershaw hasn't had as much trouble with a team like the Rockies (3.60 career ERA) despite their offensive prowess and home games in Coors Field.

Of course, statistics can be misleading. In 2008, Kershaw's first year in the league, St. Louis featured the following players on its roster: Albert Pujols, Troy Glaus, Cesar Izturis, Ryan Ludwick, Rick Ankiel and Aaron Miles. Barring an unforeseen rule change or miracle, none of those hitters will be in the St. Louis lineup over the next week.

Therefore, let's take a look at how Kershaw has fared against active Cardinals, and how one name not listed will give the lefty a better chance to navigate through this NLCS.
Kershaw vs. Active St. Louis Cardinals

| | | | | |
| --- | --- | --- | --- | --- |
| Player | PA | HR | RBI | OPS |
| Matt Holliday | 43 | 1 | 2 | .889 |
| Carlos Beltran | 25 | 0 | 1 | .598 |
| Yadier Molina | 25 | 0 | 1 | .724 |
| David Freese | 18 | 0 | 2 | .544 |
| Matt Carpenter | 12 | 0 | 1 | .333 |
| Adam Wainwright | 10 | 0 | 2 | 1.000 |
| Jon Jay | 7 | 0 | 0 | .619 |
| Daniel Descalso | 6 | 0 | 0 | 1.167 |
| Pete Kozma | 5 | 0 | 3 | 2.200 |
Baseball-Reference
As you can see, Matt Holliday has done the most damage, but role players like Daniel Descalsco and Pete Kozma have combined to go 6-for-11 in a smattering of at-bats against Kershaw over the years.
Of course, there's the name not listed: Allen Craig.

Over the past four seasons, Craig and Kershaw have faced off 18 times. During those plate appearances, Craig has posted a .748 OPS with 1 HR and 5 RBI. Although those numbers aren't enormous for the Cardinals first baseman, they are stark when considering that the average right-handed hitter posted just a .532 OPS off Kershaw in 2013.
No Allen Craig on Cardinals' NLCS roster, as expected.

— Eye on Baseball (@EyeOnBaseball) October 11, 2013
Craig doesn't own Kershaw, but he's made an impact against. Of course, due to a lingering foot injury, he probably won't have the opportunity to hit against him in this NLCS.
The numbers don't lie: St. Louis has hit Kershaw as well, if not better, than any team in the sport since his dominant career began six years ago.

Yet, the best pitcher in the sport should be trusted in this NLCS. Kershaw is better than ever, and without the clutch hitting of Allen Craig, the Dodgers lefty should be able to navigate through St. Louis' lineup enough to give Los Angeles a real shot at reaching the World Series.

Comment below, follow me on Twitter or "like" my Facebook page to talk all things baseball.
This article is
What is the duplicate article?
Why is this article offensive?
Where is this article plagiarized from?
Why is this article poorly edited?

Los Angeles Dodgers: Like this team?