The 20 Sexiest Women in Sports Movies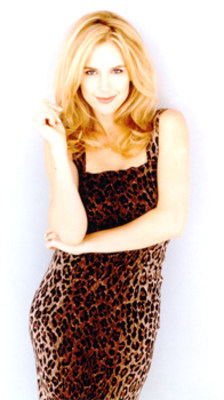 Every guy loves a sports movie, and Hollywood knows it. While the muscular, half-naked men representing the athletes grab the women's attention, there have been several women to grace the silver screen that alone would force men to buy the DVD—preferably on Blu-Ray.
In the mood for a sports flick, but not for the inspirational storyline that goes with it? Flip through the 20 sexiest women in sports movies, and get your Blockbuster card ready.
Honorable Mention: Kate Bosworth, Remember the Titans—Emma Hoyt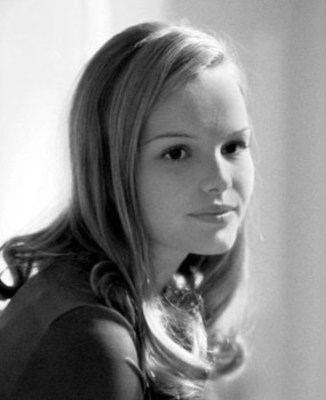 Playing the role as the snooty, uptight, clingy girlfriend of star linebacker Gerry Bertier, Bosworth still had a humble Southern charm that was attractive.
Obviously, her racial prejudices would be hard to deal with, but she did seem to be coming around in the state championship game. We'll give her a shot.
No. 20: Amy Adams, Talladega Nights—Susan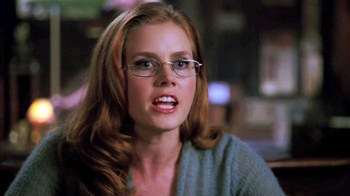 The classic nerd-to-beauty tale, Susan went from an unknown assistant to Ricky Bobby's new girlfriend. She climbed on the table, just like a Whitesnake video, and climbed right into our hearts. At least that's where I think she went...
No. 19: Jenny Robertson, Bull Durham—Millie
Known as the team's personal stress reliever, Millie was not too hard on the eyes. Two things keep her down on the list: She was a little too free-spirited, and she wound up getting married. To a preacher man. Go figure.
No. 18: Rene Russo, Tin Cup—Dr. Molly Griswold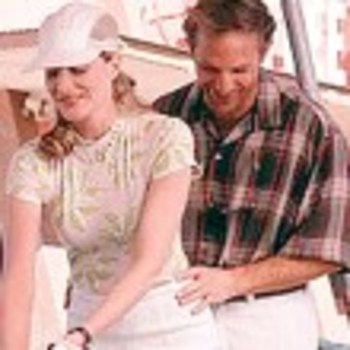 She was the high-class therapist, he was the low-class golf pro...blah, blah, blah. All we really care about is that we are insanely jealous Kevin Costner got to teach her how to use her hips.
No. 17: Cameron Diaz, Any Given Sunday—Christina Pagniacci
She took over her father's franchise with a stern hand, a hardening demeanor, and a pretty face. I'm sure there are plenty of men who would let her boss them around for a day/night.
No. 16: Geena Davis, A League of Their Own—Dottie Hinson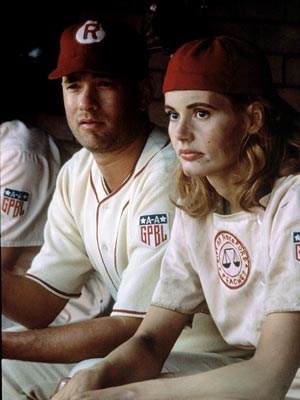 One of those few girls who look better covered in dirt than pampered up, Dottie Hinson stole the show on the Rockford Peaches with her great looks and equally great skill set.
No. 15: Cindy Morgan, Caddyshack—Lacey Underall
She got around the clubhouse, but that did not stop her from being every '80s boy's dream girl. Thanks to her, golf, pools, and Kenny Loggins songs will never be the same.
No. 14: Kirsten Dunst, Bring It On—Torrance Shipman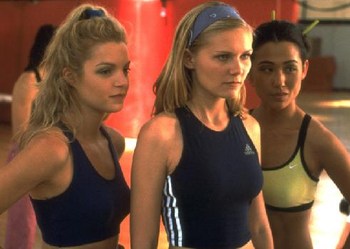 Am I pushing the envelope here by saying cheerleading is a sport? Maybe. But come on...head cheerleaders that look like Shipman should always get some recognition!
No. 13: Kathy Ireland, Necessary Roughness—Lucy Draper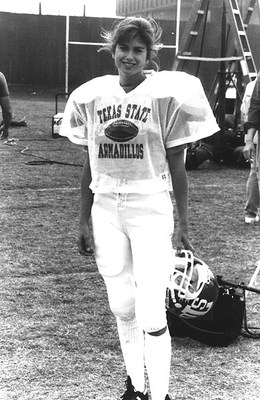 Is there anything sexier than a woman in a football uniform? Okay, maybe there are a lot of things. In her limited role, however, Ms. Draper rocked it.
No. 12: Jenna Fischer, Blades of Glory—Katie Van Waldenberg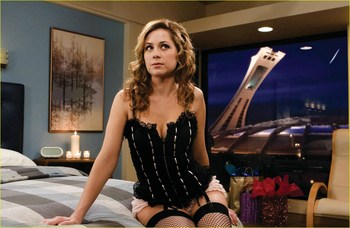 She was in love with a male figure skater, prompting men around the world to beg for a chance to show her a "real" man. She was put in charge of enticing a sex addict, and she could throw anyone off that wagon.
No. 11: Brooke Langton, The Replacements—Annabelle Farrell
She stayed true to the team, and you have to like that in a girl. Plus, she does not look too bad in a two-piece either.
No. 10: Susan Sarandon, Bull Durham—Annie Savoy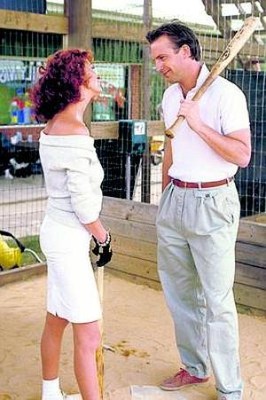 She knew her baseball, but she knew her men better. She turned Nuke into a major league pitcher, Crash into a little boy, and every woman watching with her husband jealous.
No. 9: Vanessa Angel, Kingpin—Claudia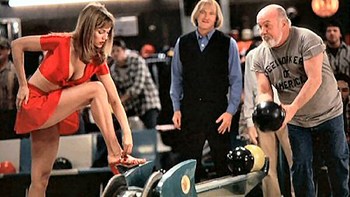 For such a family-oriented sport like bowling, it is a little surprising they let her into the alley. No complaints are to be heard, other than the fact that that darn hand-blower thing is too far away.
No. 8: Jessica Biel, Summer Catch—Tenley Parrish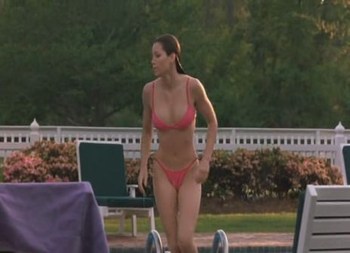 She's a rich girl who spends her summers in Cape Cod. However, it was scenes like this that made some men take a trip to Nantucket.
No. 7: Ali Larter, Varsity Blues—Darcy Sears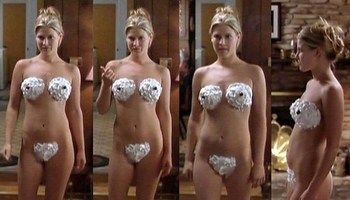 You knew this was coming. The classic whipped-cream scene is always sexy, but maybe a little too cliché? Or risqué?
Whatever it is, it is some good motivation before a high school football game.
No. 6: Halle Berry, The Program—Autumn Haley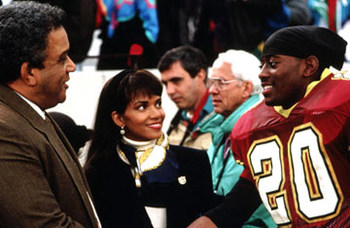 You have to start somewhere before you can be Catwoman or a Bond girl. As Haley, Halle Berry caught our attention as the next hottest thing. We all know what that evolved into.
No. 5: Kelly Preston, Jerry Maguire—Avery Bishop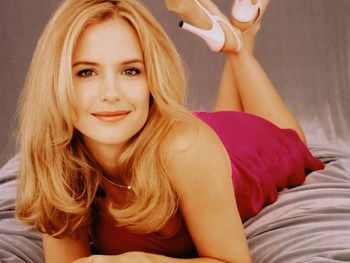 Although it's impossible to find a picture of her in the film, Preston played hard-nosed hottie Avery Bishop better than anyone else could have.
Although Jerry would break up with her and move on to the more sensible choice, Ms. Bishop ranks supreme.
No. 4: Keira Knightley, Bend It Like Beckham—Jules Paxton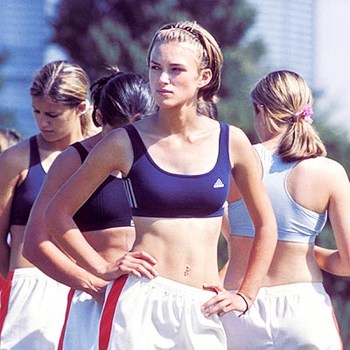 It's one of the girliest movies of all time, but if men had known she was in this film, they would have been more than happy to take their girlfriends out for the night. It's easy to see why she had to disrobe to a sports bra...she looks pretty hot.
No. 3: Leslie Bibb, Talladega Nights—Carley Bobby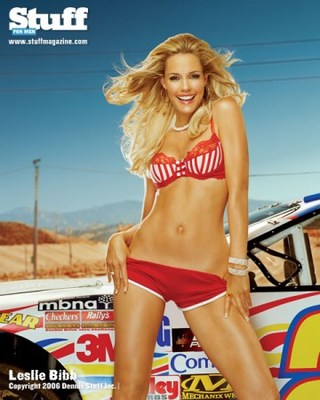 She was a gold-digging, superficial, mean woman. It's easy to put up with if you have the ability to stop listening and just stare...which all men have.
No. 2: Courtney Cox, The Longest Yard—Lena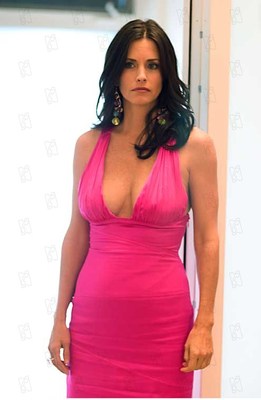 She had about three lines, was uncredited, and was not seen past the first five minutes of the movie. But oh, what a five minutes it was. Her fiery attitude and trophy wife body left very little to the imagination, and the things you can imagine are illegal in several states.
No. 1: Christine Taylor, Dodgeball—Kate Veatch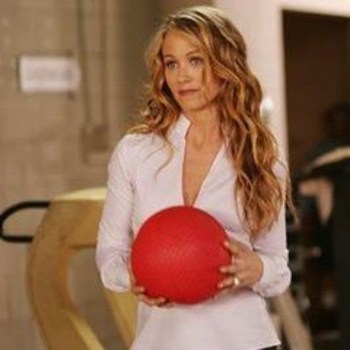 After firing rockets on ESPN 8, The Ocho, and constantly turning down White despite how many things he read...in a book, Kate went from hot to mega-hot by kissing a girl in celebration of her championship. I implore anyone to top that.
Keep Reading