France vs. Australia: Score, Grades and Post-Match Reaction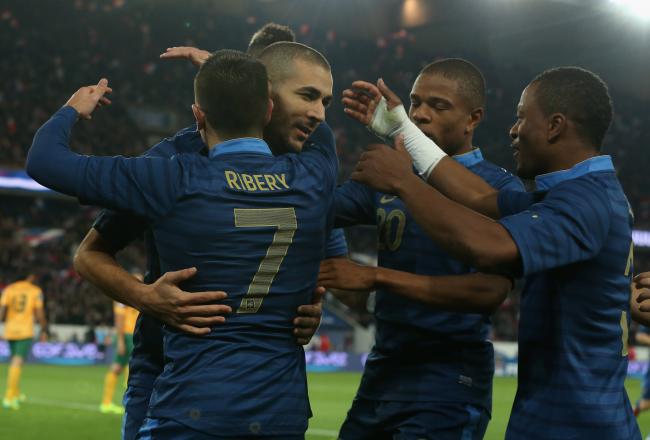 David Rogers/Getty Images
Blink and you might have missed the international friendly between Australia and France on Friday.
Most soccer fans' attention was diverted to the spate of World Cup qualifiers taking place across Europe. You could be forgiven for failing to notice the match, as it's not like the Socceroos bothered to show up anyway.
Les Bleus rampaged through Australia with ease, winning 6-0. MLSSoccer.com's Charles Boehm thought the Socceroos at least gave France a good training session.
Australia doing a pretty reasonable impersonation of training-ground cones on France's behalf. 6-0 Les Bleus in the dying minutes.

— Charles Boehm (@cboehm) October 11, 2013
Watching the performance, you couldn't figure out if France were that good or their opponents just that bad. This is as good as the French national team has looked since Didier Deschamps took over as coach.
France started the scoring following a penalty in the seventh minute. David Carney was judged to have handled the ball in the 18-yard box, and the referee pointed to the spot. Replays showed that as Loic Remy went to head the ball, Carney got his hand out of the way and actually avoided making contact with the ball.
Franck Ribery had no sympathy for Australia, as he hammered home the penalty to put France up, 1-0.
France would add another less than 10 minutes later. In the 16th minute, Ribery was, once again, at the fore, as he found Olivier Giroud in front of goal. Facing away from goal, the striker executed a fantastic chip that floated over Mitchell Langerak and into the back of the net. Australia was, arguably, out of the match just a quarter of the way through.
It was a great performance from Ribery. The Australian defenders simply had no answer for his winding runs down the left flank. Most of France's movements in the first half were coming down that side of the pitch, via OptaJean.
1 - France's attacking play in the first-half v Australia. Lefty. pic.twitter.com/G9Skh2y2tn

— OptaJean (@OptaJean) October 11, 2013
One of those bursts helped to set up the third goal of the match for France.
The Bayern Munich winger found Samir Nasri, who delivered a great ball across goal to Giroud. The beauty of the goal came in the buildup, as the play between the midfielders was something to admire.
KICKTV thought the Australian defenders were just lost in Giroud's good looks in the first half.
It's only a friendly, but France are winning 3-0. Giroud is overwhelming Australia with handsomeness.

— KICKTV (@KICKTV) October 11, 2013
Deschamps changed things up to start the second half, as Karim Benzema came on for Giroud. This was a great opportunity for the Real Madrid striker to strengthen his place with the national team. Between Giroud's form and his own struggles with France, Benzema came in with a chip on his shoulder.
He had a nice bit of catharsis when he finally ended his scoring slump, with a goal in the 51st minute to put France up, 6-0.
It was his first goal in 15 matches for the national team, via the Associated Press' Jerome Pugmire.
Benzema finally ended his 15-match goal drought for France, turning in a cross from Ribery. A relieved Benzema looked skywards after scoring

— Jerome Pugmire (@jeromepugmire) October 11, 2013
Newcastle supporters should be happy, as both Yohan Cabaye and Mathieu Debuchy were able to get on the scoresheet. Debuchy's goal, in particular, was a stunner. He hammered a nice volley from inside the 18-yard box with his weaker left foot.
Key Player Grades
Franck Ribery, France: A+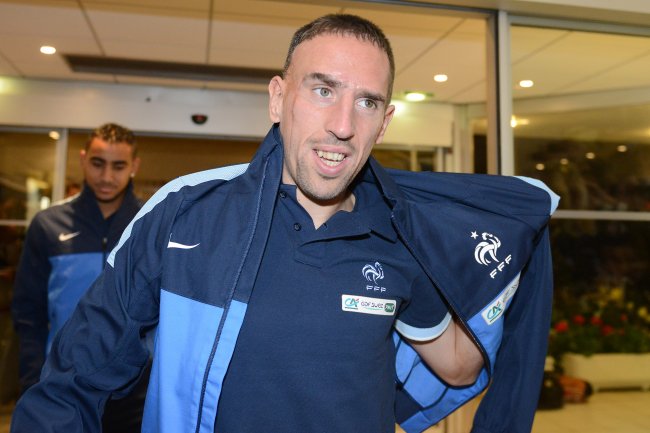 Antoine Antoniol/Getty Images
Franck Ribery was a colossus in this match. Every time he had the ball, he looked a threat to carve right through the defense. This was the kind of performance that encapsulates why Ribery is one of the best players in the world.
He used his speed and dribbling to set up for his teammates, particularly Giroud, very well.
It would have been interesting to see Ribery pick the ball up at his own end line and then see if he'd be able to go the full 90 yards without losing the ball.
Olivier Giroud, France: A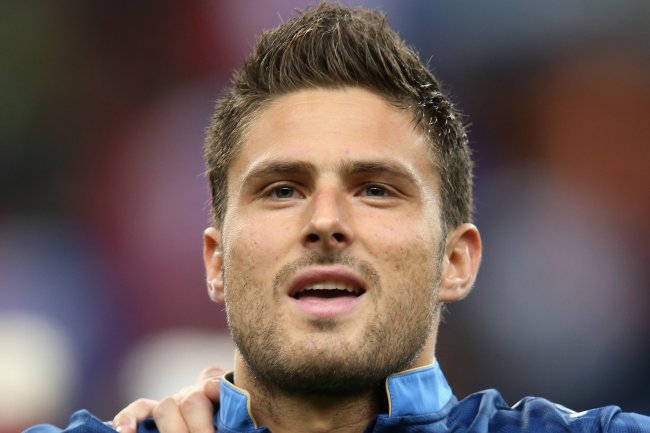 Julian Finney/Getty Images
With Benzema right on his heels, Giroud did a great job of stamping his place on the striker position for France. He played the exact kind of game Deschamps needed out of his centre-forward.
Giroud didn't stray too far from the 18-yard box; rather, he stayed close to goal and let his midfielders create the chances.
The Arsenal striker moved around extremely well, constantly losing his marker and getting enough space to score. He's on a great run of form at the moment.
France Player Grades

| | |
| --- | --- |
| Player | Grade |
| Hugo Lloris | C+ |
| Mathieu Debuchy | B+ |
| Patrice Evra (off '64) | B- |
| Raphael Varane | C+ |
| Eric Abidal (off '46) | C+ |
| Yohan Cabaye (off '83) | B+ |
| Franck Ribery (off '64) | A+ |
| Samir Nasri | B+ |
| Paul Pogba (off '63) | B- |
| Loic Remy | C+ |
| Olivier Giroud (off '46) | A |
| Substitutes | |
| Mamadou Sakho | B- |
| Karim Benzema | A- |
| Moussa Sissoko | INC |
| Mathieu Valbuena | B- |
| Blaise Matuidi | C+ |
| Gael Clichy | C+ |
Lineup via ESPN FC
Everybody, Australia: F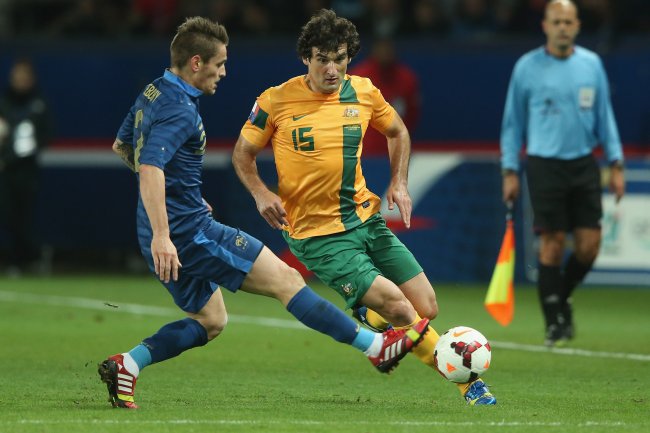 David Rogers/Getty Images
You don't want to single out just one Australia player, because they were all awful. It was shocking just how little the Socceroos were able to contribute to this match. Sure, it's a friendly, and France are the better team.
They didn't even have a shot in the first half, via OptaJean.
0 - Australia didn't have a single shot in the first-half against France. Mute.

— OptaJean (@OptaJean) October 11, 2013
Those don't excuse what was a hapless performance from Australia. They had a good opportunity to measure themselves up against a strong European side. Instead, they did nothing with the chance and chose to just go through the motions for 90 minutes.
What's Next?
France have already secured a playoff spot for qualification. Level on points with Spain, it's just a matter of whether they'll finish first or second in Group I. They welcome in Finland on Oct. 15 for their final match of the qualifying campaign.
Australia have already booked a place in the 2014 World Cup. They finished second in their qualifying group. The Socceroos will take on Canada in another friendly, on Oct. 15, at Craven Cottage.
This article is
What is the duplicate article?
Why is this article offensive?
Where is this article plagiarized from?
Why is this article poorly edited?