England vs. Montenegro: 6 Things We Learned from the Three Lions' 4-1 Win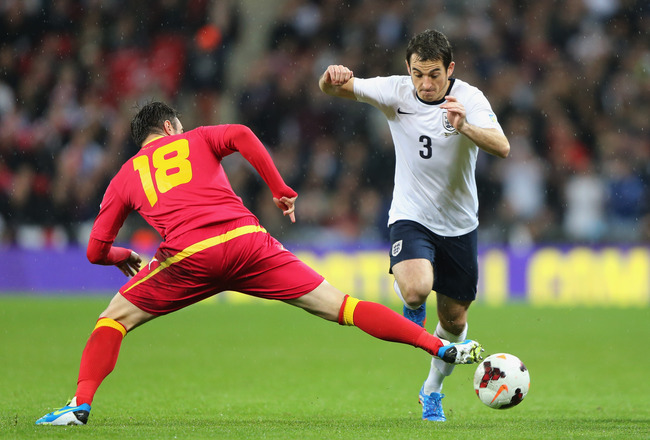 Every time England takes the pitch in World Cup qualifying, millions hold their collective breath.
Ian Walton/Getty Images
There was quite a bit of breathless run-up for what projected, per the touts, to be a pretty comfortable victory for England over Montenegro at Wembley Stadium in Group H World Cup qualifying play.
Ladbrokes had England as a 1-3 favorite, with a draw a 4-1 proposition and a Montenegro win a remote 9-1 prospect.
Of course, this being England and this being World Cup qualifying, some drama was always to be expected.
Like an emotionally fragile teenager, the typical England fan anticipates embarrassment and disappointment whenever England play—even when the most likely outcome is bound to be at best terrific and at worst a bit underwhelming.
Those who do not learn from history are bound to repeat it. So pay attention to the lessons England taught against Montenegro in a solid 4-1 victory, will you?
Roy Hodgson Is Willing to Risk Qualification on Joe Hart's Class over His Form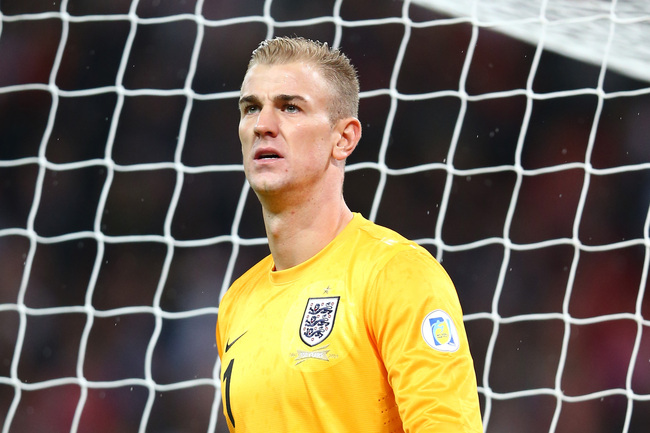 Hart was back in his customary spot for better or worse.
Michael Steele/Getty Images
Millions of bytes and thousands of gallons of printer's ink were spent on Joe Hart's status as England's No. 1 keeper entering play against Montenegro.
Hart's form as of late has been very dodgy. He was victimized at Aston Villa (leading to a Manchester City loss) and he was downright lousy against Bayern Munich in City's 3-1 Champions League loss at the Etihad.
Even in Manchester City's recent 3-1 victory over Everton, Hart looked shaky on the goal he conceded.
"I'm not blind, so I do realise this is not a good moment for Joe," said England manager Roy Hodgson according to Dominic Fifield of The Guardian.
"He's a proud man and a very good goalkeeper. I still believe in Joe Hart. I have faith in him and strongly believe he won't let England down, and he'll play well," Hodgson said in further defense of his decision to stay with Hart.
Hart made a fine save in the 55th minute and was a bit fortunate to hear a Montenegro strike clatter off his crossbar six minutes later.
Soon thereafter, Hart was not so fortunate, though, to be fair, he had little chance to stop Dejan Damjanovic's marker in the 71st minute.
Still, it was a quality win, and Hart remains England's No. 1 keeper.
At least through Tuesday.
Roy Hodgson Is Also Willing to Take a Calculated Gamble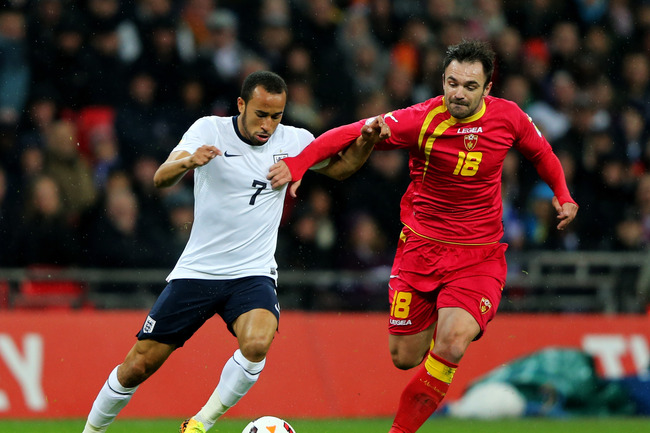 Townsend was a shock starter against Montenegro.
Ian Walton/Getty Images
England's XI against Montenegro had many of the names any casual football fan would recognize.
Wayne Rooney started. So did Frank Lampard, Steven Gerrard and Daniel Sturridge. Joe Hart was in goal. Leighton Baines and Phil Jagielka anchored the defense.
But casual observers doubtlessly asked: Who is Andros Townsend?
He is a new England starter at midfield, that's who. Over more established names like James Milner, Jack Wilshere and Ross Barkley no less. All three of them dressed; all three were passed over for Townsend.
The Tottenham Hotspur man made his international debut for England in a highly tense spot, and he was impactful throughout the match.
Townsend was so active and valuable that it was Lampard (not Townsend) who came off in the 65th minute as England began making substitutions with an eye toward salting away the match.
Good thing, too, because Townsend slashed a wonderful strike past Montenegro keeper Vukasin Poleksic in the 78th minute, effectively clinching the three points for England.
A huge debut, then, for Townsend. And good on Hodgson for having his show of faith rewarded.
England Will Have to Do It for Themselves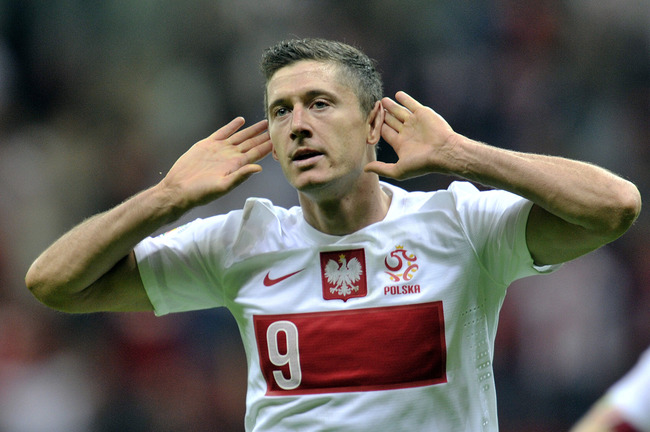 England's wishes for a Poland win over Ukraine fell on deaf ears.
Adam Nurkiewicz/Getty Images
One of the exciting aspects of World Cup qualifying is the ability to watch scoreboards to see what the other sides in your group are up to.
For England, eyes were locked onto the Ukraine-Poland match. Ukraine began the evening tied with Montenegro, with both teams one back of England's 16 points.
Poland started only three back of England, and so the Poles had plenty of motivation to earn a result at Ukraine.
It was not to be, though, as Andriy Yarmolenko's strike in the 64th minute held up, giving Ukraine three more crucial points.
To borrow from American football, you can't go around waiting for the other guy to fumble. If you want the ball, you need to take it from him.
Similarly, England was not given an easier path by a result from Poland that they probably should never have expected in the first place.
Much Possession and Many Shots but No Goals a Problem for England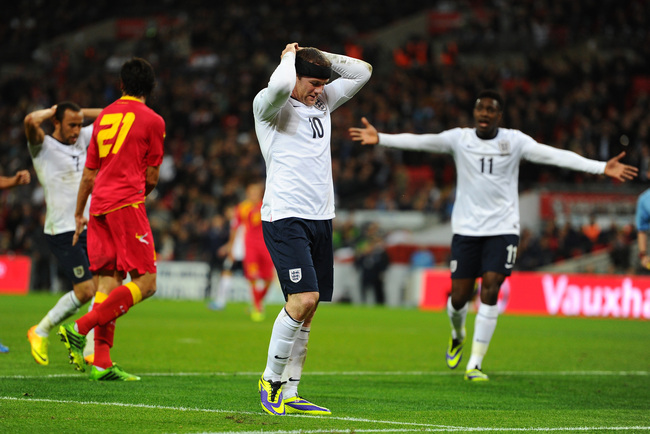 Rooney hit net in the first half, just not the inside.
Mike Hewitt/Getty Images
At the half, England had enjoyed 63 percent of the possession, taken 10 corner kicks and struck 16 shots (four on target) at Montenegro's goal.
Conversely, Montenegro had taken three shots from outside the penalty area, putting none of them on Joe Hart's goal.
So, of course, the score was 0-0 after 45 minutes.
Wayne Rooney was probably the England man with the best chance of the half, but his strike caught side netting instead of putting England on top.
With Montenegro looking so toothless, a lone goal would have released an enormous pressure valve in Wembley Stadium.
Indeed, England could have led by more than one after one half, given their relative domination of the ball and the play.
England's four second-half tallies more than sufficed, but considering that one of England's goals was turned in by Montenegro midfielder Branko Boskovic and another came on a very late penalty, it cannot be said that England's industry yielded a huge return.
Quality Is Still Quality No Matter How or When It Arrives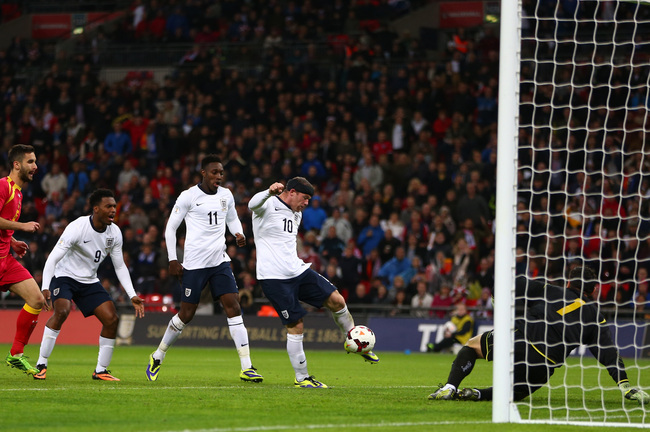 Premier League keepers will tell you how lethal Rooney is from there.
Michael Steele/Getty Images
Give credit where it is due.
After a lackluster first half shift, Manchester United's Wayne Rooney took all of three minutes to put his indelible mark on another England World Cup qualifying match.
Rooney's strike from the doorstep of the Montenegro goal predictably allowed all of England to breathe a massive sigh of relief.
He may have waited longer than anyone wanted to do it, but Rooney delivered (again) when his side were looking around to see who would go and do it.
Manchester City striker Stevan Jovetic is a fine player for Montenegro, but he does not possess the quality of Rooney. He is City's fourth choice at striker, after all.
And as noted earlier, Tottenham Hotspur's Andros Townsend put the match safely in England's win column with a strike of rare and special goodness in the 78th minute.
The difference between great players and merely good players was made plain in this match.
More Often Than Not Goliath Rends David to Scraps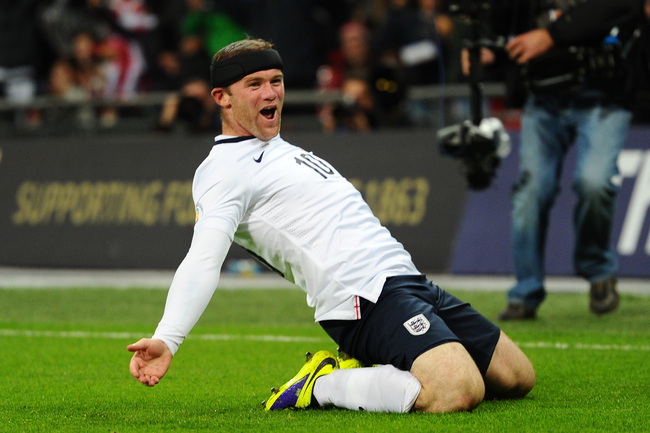 England will need another big performance from Rooney on Tuesday to punch their ticket to Brazil.
Mike Hewitt/Getty Images
Upsets are exciting because, frankly, they are pretty rare against the number of times that a heavy favorite takes apart an underdog.
Montenegro did all the plucky, brave and determined stuff that underdogs throughout history have done. But ultimately, England were too much for their lesser opposition in this victory over Montenegro.
Which, of course, leaves England's destiny in their own hands as they host Poland on Tuesday night in their last qualifying match in Group H. If England win, they clinch their World Cup place.
The good news for England is that Poland have little left to play for after their defeat at Ukraine.
The bad news is that Ukraine still have everything to play for as they travel to Group H doormat San Marino.
So it will be win-and-in for England on Tuesday. Anything but a win, though, will put England's World Cup aspirations on much thinner ice.
That should be worth a watch, don't you think?
Keep Reading

England (National Football): Like this team?