Jets Beat Patriots in Overtime 30-27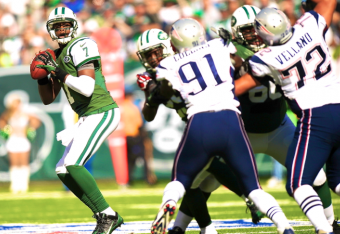 The New York Jets defeated the New England Patriots in overtime on Sunday, snapping a five-game losing streak.
Geno Smith led the Jets on an impressive opening drive that was capped off with a 12-yard touchdown toss to Jeremy Kerley.
The Patriots would answer on their first drive, as Rob Gronkowski had two catches for 42 yards. Brandon Bolden finished it, as the Pats offense looked impressive with their big tight end back in the lineup.
The Jets marched right back into New England territory and were poised to take the lead until Logan Ryan picked off Smith and took it back 81 yards for the 14-7 lead.
After a Jets' field goal, the Pats got a boost from a 38-yard punt return from Julian Edelman and put up another touchdown from Stevan Ridley, a 17-yard run he bounced outside.
The Jets' Antonio Allen picked off Brady on the Pats first possession to start the second half, cutting the lead to 21-17 just like that.
Two drives later, Geno Smith converted a big third down with his arm and another one with his legs, before taking it in himself to give the Jets the lead. The Jets came out to play to start the second half and New England couldn't seem to stop the momentum on either side of the ball.
Tom Brady led a two-minute drive to set up the game-tying field goal and send the game into overtime.
The Jets forced a Patriots' punt on the first possession of overtime and drove the ball down the field. Nick Folk missed a long field goal attempt, but a penalty on Patriots rookie Chris Jones gave the Jets 15 yards and another first down.
Folk hit a 42-yarder to give the Jets a three-point win.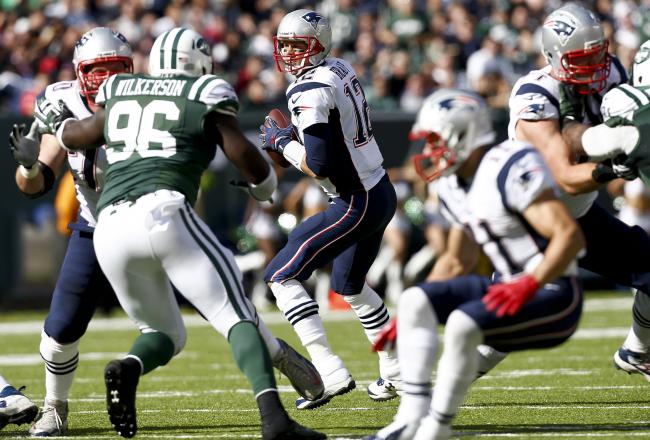 Great win for the Jets. They put together a great second half and wasted no time coming back from their halftime hole of 11 points.
Rob Gronkowski's return gave the Pats a spark early, but it was too inconsistent. The bottom-line stat? The Pats were 1-for-12 on third down. That explains it all.
Geno Smith took a big step today, and his performance is one to build off of. The Patriots will be better down the road, but they lost to the better team today.
It's good! Jets win 30-27.
Here comes Folk to attempt the game-winner.
Jets now on the Pats 23 and should get another short field-goal chance to win it.
Folk misses it, but a penalty on Chris Jones gives the Jets a first down and likely the game.
Pats hold them on third down and here comes a long field-goal attempt. 56 yards...
Another first down for the Jets, and they are at New England's 40. Pats are struggling to stop the run.
Overtime
Jets have picked up two first downs and are at midfield. They're knocking on the door.
Brady starts off with a good pass to Gronk that goes for a first down, but the Pats stall and are punting.
Geno Smith coming out with the Jets offense from their own 20.
Gronkowski played 47 of 74 snaps, including penalties, in regulation.

— Jeff Howe (@jeffphowe) October 20, 2013
Patriots win the toss and take the ball. Brady and the offense were just finding a rhythm.
End of regulation
And we're going to overtime! The Pats and Jets had an overtime game last season as well, with the Pats taking the win on a Rob Ninkovich sack and forced fumble of Mark Sanchez.
Fourth quarter, :19 remaining
Gostkowski nails a field goal and we're tied. Impressive drive by the Pats.
Fourth quarter, ;25 remaining
Third-and-10 coming up for the Pats. Would be a long field goal.
Fourth quarter, 1:05 remaining
Brady finds Gronk for the big gain they needed and the Pats are now across midfield.
Fourth quarter, 1:21 remaining
Patriots picking up some yards but not moving fast enough. They'll have to hit a big one soon or this one is over.
Fourth quarter, 2:10 remaining
Two incompletions and the Jets have to punt. The Pats defense has given Tom Brady once last chance. Pats are pinned inside their own 10.
Fourth quarter, 4:00 remaining
Pats sending pressure but it's not getting home. Jets aren't getting much success on the ground, it's going to be on Geno Smith that this game is won or lost.
Rob Gronkowski snap tracker: With 6:25 remaining in the fourth quarter, he has played 38 of 64 snaps (including penalties).

— Mike Reiss (@MikeReiss) October 20, 2013
Fourth quarter, 6:32 remaining
Patriots can't get another 3rd down and they're pnting. Great consistency from the Jets defense. They are playing a great game and if not for a pick six might be winning the game,
Fourth quarter, 7:00 remaining
Gronk gets the first third down conversion of the day for the Pats, they're now 1-for-9.
Fourth quarter, 8:21 remaining
Good stand by the Patriots defense, and the Jets are punting. Now we'll see if Tom Brady has any late-game magic left after last week.
Pats take over at their own 20.
Fourth quarter, 9:45 remaining
Jets making some mistakes on this drive. They need to put New England away here. A three-point lead is not enough. It's almost crunch time.
Fourth quarter, 9:59 remaining
Offensive pass interference takes away a long Stephen Hill touchdown. The Pats are hanging by a thread right now. They can't give up a touchdown on this drive.
Fourth Quarter, 11:07 remaining
Bad penalty by Chandler Jones kickstarts a Jets drive and they're approaching midfield. Patriots defense has given up 301 yards.
This article is
What is the duplicate article?
Why is this article offensive?
Where is this article plagiarized from?
Why is this article poorly edited?