Buying or Selling Hot Starts to the 2013-14 NHL Season
Ed Szczepanski-USA TODAY Sports
As the NHL winds into the second weekend of its 2013-14 season, there has been plenty of action to keep tongues wagging.
We've seen great scoring, great goaltending and some unlikely teams making a lot of early noise.
Here's a look at some of the players and squads that are off to the hottest starts so far. Can they keep the magic happening, or will their play decline as the season wears on?
St. Louis Blues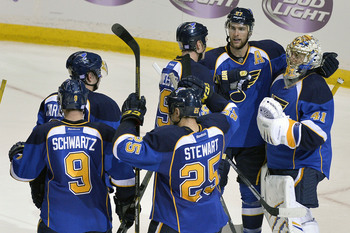 Jasen Vinlove-USA TODAY Sports
VERDICT: BUY
Just two years ago, the St. Louis Blues challenged for the Presidents' Trophy until the last game of the 2011-12 season. A less-successful lockout season—in which they still finished sixth overall—and a couple of early playoff exits mean that the Blues don't get mentioned often during discussions of the NHL's elite.
They should. The Blues are a tough, balanced team with great goaltending and good talent at all positions.
St. Louis has played just three games so far, but it's not unreasonable to read good things into their 7-0 drubbing of the Florida Panthers and, even more so, the 3-2 home win over hated rivals Chicago. After the Blackhawks' record-breaking start last season, handing the Stanley Cup champions their first loss of the new campaign had to feel very good.
Expect the Blues to challenge the 'Hawks for the Central Division title all year. This team is ready to step up to the next level.
Colorado Avalanche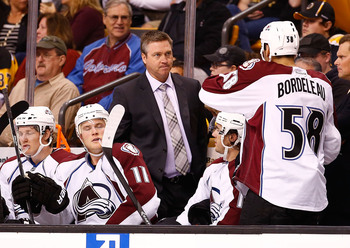 Jared Wickerham/Getty Images
VERDICT: HOLD
Out of all the new NHL coaches this season, not many thought that Patrick Roy would be the best of the bunch in the early going.
Roy's Colorado Avalanche—who finished 29th last year and have missed the playoffs for the last three seasons—are tied for the league lead after four games, with a perfect record.
The Avs are enjoying balanced scoring from their lineup, 2013 No. 1 pick Nathan MacKinnon has contributed with four assists while receiving moderate ice time and new acquisition Cory Sarich is already a defensive force with a plus-six.
Colorado has shone brightest so far in net.
Semyon Varlamov has given up three goals in three games, while J.S. Giguere bested him with a shutout in his lone appearance on Thursday. The goalies haven't been especially sheltered. Varlamov has seen 91 shots, more than 30 a game, while Giguere stopped 39.
The competition hasn't been weak, either. Both Toronto and Boston are off to strong starts of their own and took their first losses of the year against Colorado.
Roy's hiring and Joe Sakic's bigger role with the Avalanche were intended to help vault the team back to the glory days when the two starred for the team on the ice. So far, Roy has done an unbelievable job of inspiring his players to perform to their potential. It's still too early to tell just how much of a threat the team will be over an 82-game season.
Calgary Flames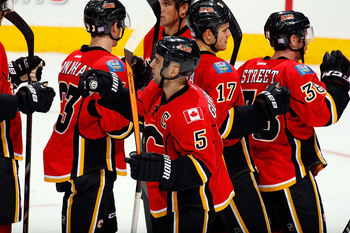 Gerry Thomas/Getty Images
VERDICT: SELL
Openly rebuilding and picked by many to finish near the bottom of the NHL this year, the Calgary Flames have shown themselves to be just as resilient as the residents who restored the Saddledome and the rest of the city after a devastating flood this summer.
Through four games, the Flames have yet to lose in regulation. They're 3-0-2 with wins against Columbus, Montreal and New Jersey.
Still, there are signs that the good times won't last in Calgary. So far, goaltending has been just so-so: Joey MacDonald has played four of the five games and recorded an average of 2.98, while Karri Ramo is 3.69. Blown leads have also been an issue. The Flames were up 3-0 over Washington and 3-1 over Vancouver, but ended up losing both those games after regulation time expired.
Rookie Sean Monahan has dazzled in the early going and leads the team with four goals and six points. He turns 19 on Saturday. He has been their best offensive player and has earned a right to stay with the big club, but it's hard to know if he can sustain his pace over a grinding 82-game schedule.
On the blue line, Dennis Wideman is carrying a huge load. He's currently second in the NHL with average ice time of 27:46 per game. If he falters or gets injured, that opens up a big hole in the defense.
Calgary fans should be thrilled with the start and grateful for the eight points that are already on the board. The Flames may not turn out to be as bad as projected, but they won't be this good all year.
Alex Galchenyuk: Montreal Canadiens
Perry Nelson-USA TODAY Sports
VERDICT: BUY
After Friday night's action, two names stood out in the five-way tie atop the NHL scoring race. Along with veterans Alex Ovechkin, Jiri Hudler and Michael Grabner, 19-year-olds Tomas Hertl of the San Jose Sharks and Alex Galchenyuk of the Montreal Canadiens are part of the group with seven points so far.
Galchenyuk made the Canadiens' roster in his draft year and gave a solid performance. The big center played all 48 games, put up 27 points and was a solid plus-14. This year, he and fellow sophomore Brendan Gallagher have had success paired with both Lars Eller and Tomas Plekanec. In four games, Galchenyuk has seven points, including his first goal of the year in Edmonton on Thursday night.
In theory, Galchenyuk and Gallagher make up Montreal's third line, but with their fast start, Michel Therrien has been able to deploy his forward lines quite evenly so far. If the kids stay hot, expect them to be rewarded with even more quality ice time.
Tomas Hertl: San Jose Sharks
Ed Szczepanski-USA TODAY Sports
VERDICT: HOLD
Tomas Hertl is the NHL's most buzzed-about player of the new season. There's good reason for the hype, but also a need for some caution.
He might not have another four-goal game anytime soon and he probably won't use his puck-through-the-legs move for awhile, but the kid's a real talent. There's a reason why Todd McLellan put him on the first line with Joe Thornton and Brent Burns to start the season.
Hertl has hands—we've all seen that now. He also has a big body that he's not afraid to use in the corners and a confident willingness to go to the net.
He may also have a bit of a target on his back. As a rookie, Hertl hasn't earned the time and space that's granted to respected veterans on the ice. The massive scrutiny surrounding his highlight-reel goal with the game already out of reach will not help him either, with some people suggesting that he has disrespected the game.
More importantly, Hertl left himself vulnerable in the Sharks' game against Vancouver on Thursday night, skating through the neutral zone with his head down when he was blindsided by Alex Edler. Hertl escaped without injury in this situation, but Edler was suspended for the hit. Next time, the damage might be worse.
Hertl brings a blast of excitement to the game. Here's hoping he stays healthy and we see a full season from him.
Marc-Andre Fleury: Pittsburgh Penguins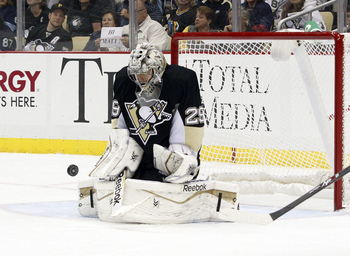 Charles LeClaire-USA TODAY Sport
VERDICT: HOLD
After last year's shaky playoff performance, who could have expected that Marc-Andre Fleury would start the season red-hot for the Pittsburgh Penguins?
Through three games, the goaltender is fourth in the NHL with a 1.00 goals-against average and boasts a .963 save percentage. Maybe smaller pads were just what he needed?
Known for scoring their way out of trouble in the past, the Penguins have buckled down on defense in front of Fleury this year. The goaltender is getting better protection and is delivering the big save when needed. So far, Pittsburgh is perfect at 3-0-0 with Fleury minding the store, allowing just three goals.
With backup Tomas Vokoun on the shelf for six months, Fleury will be expected to carry much of the load for the Penguins this season. Current backup Jeff Zatkoff started the Penguins' fourth game against Florida and delivered a stinker, allowing six goals in the team's first loss. It looks like Fleury will need to do a lot of the heavy lifting himself this season.
He has been streaky in the past, but so far he's off to a good start. Can he sustain it?
Mason Raymond: Toronto Maple Leafs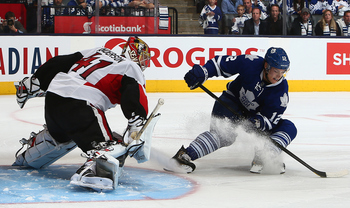 Abelimages/Getty Images
VERDICT: SELL
Toronto Maple Leafs fans were giddy about the acquisition of Mason Raymond as the new season got underway.
Arriving at training camp with a professional tryout contract, Raymond dazzled in the exhibition season. David Clarkson's suspension also worked in Raymond's favor—he slotted into the lineup as an inexpensive forward on the cap-crunched team while Clarkson was out of the lineup.
Raymond scored the winning goal in the Leafs' first game of the regular season, then lit it up against Ottawa as a nation watched on Hockey Night in Canada. A goal, an assist and the shootout spin-o-rama game-winner made for an eventful night for MayRay.
But that was last Saturday. Since then, he's gone cold—pointless in the loss to Colorado and the win over Nashville.
Playing for a contract, Raymond had every incentive to give his very best in preseason, then reward Dave Nonis' faith in him. But Raymond's a streaky player who leaves fans frustrated. He's skilled, but reluctant to go consistently to the dirty areas and give himself the best chance to score.
Leafs fans know in principle that Raymond is an inexpensive third-liner who isn't expected to lead the team in scoring, but he has already done enough to whet their appetite. As the season wears on, expect Raymond to regress towards his usual numbers, somewhere in the range of less than half a point per game.
Keep Reading