Dodgers vs. Cardinals: Game-by-Game NLCS Predictions for Los Angeles Matchups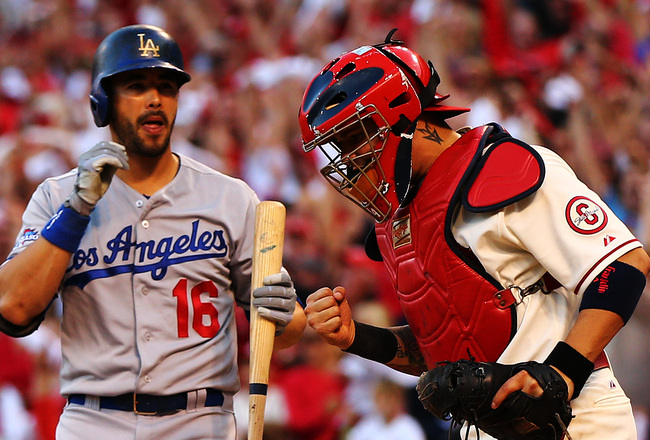 Elsa/Getty Images
The St. Louis Cardinals have bolted to a 2-0 series lead in the 2013 NLCS, but now the backdrop shifts to Dodger Stadium, as the Los Angeles Dodgers hope to rally in Games 3-5.
Using probable matchups, the latest injury updates and good ol' gut feelings, we predict who will prevail on the west coast.
The purpose of this article is to enlighten, not to mislead. That's why we refrained from over-analyzing a potential Game 5.
The availability of several impact players has been changing on a daily basis. Also, because each game is interconnected, there's no way of knowing which relief pitchers could see action should a Wednesday afternoon battle become necessary. So please excuse the vagueness of the final few slides.
Use e-mail, social media or the comments section below to express your satisfaction or outrage with the following thoughts.
*Stats provided by Baseball-Reference.com and FanGraphs unless otherwise noted.
Game 3: Michael Young Gets a Night off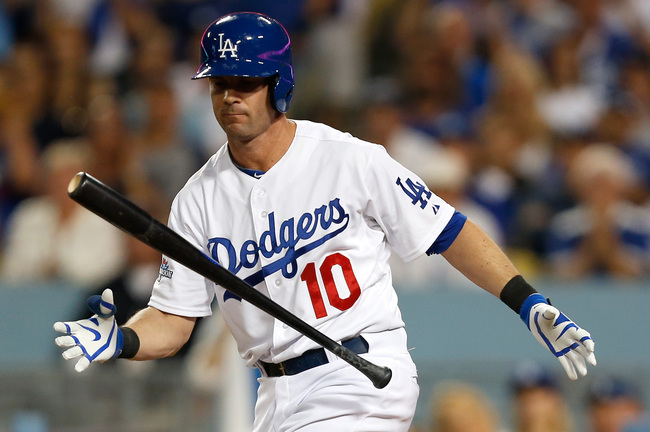 Victor Decolongon/Getty Images
Los Angeles Dodgers skipper Don Mattingly is apparently a big fan of tiny sample sizes.
That's largely why Michael Young slipped onto the playoff roster. He batted .314 in 21 games following a late-August trade to L.A.
Unfortunately for the veteran utility man, that managerial philosophy goes both ways.
Young has participated in five postseason games, negatively affecting the team on all but one occasion in terms of Win Probability Added (WPA). His performance in the NLCS opener was truly brutal (via Paul Boyé). He's been failing at the plate in high-leverage situations, particularly with runners in scoring position.
The only way Mattingly inserts the soon-to-be 37-year-old into Game 3 is if it becomes completely non-competitive. Keep in mind that—counting the regular season—seven of nine matchups between the Dodgers and St. Louis Cardinals this year have been decided by four runs or fewer.
Game 3: Adam Wainwright Surrenders at Least One Home Run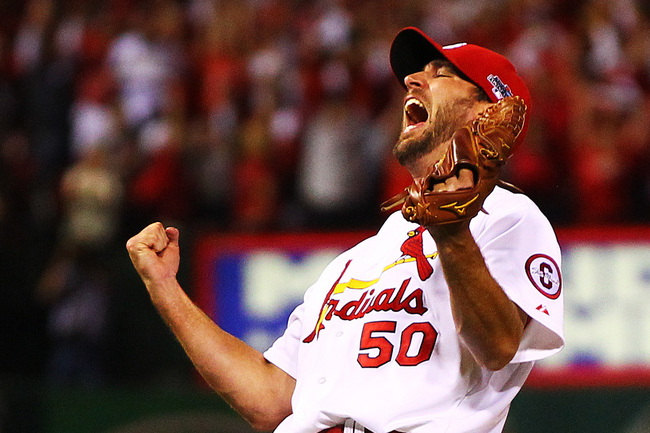 In Game 3, those will be screams of frustration.
Dilip Vishwanat/Getty Images
Adam Wainwright has posted one of the lowest home run rates in the majors since returning from Tommy John surgery in 2012 (min. 300 IP). Only 0.61 long balls per nine innings allowed in that span, which is less than one every other start.
However, expect somebody in the Los Angeles Dodgers lineup to take him deep.
Wainwright was among the MLB league leaders in first-pitch strikes this season, and the Dodgers get feisty early in the count.
Of course, the additional challenges include actually connecting with those pitches and keeping them in play. They had plenty of success in doing so earlier this postseason against two other high-volume, first-pitch strike guys, Kris Medlen and Julio Teheran.
Thanks to an outstanding curveball, Wainwright is likely to provide the St. Louis Cardinals with a quality start, but it certainly won't be a flawless performance.
Game 3: Hyun-jin Ryu Dominates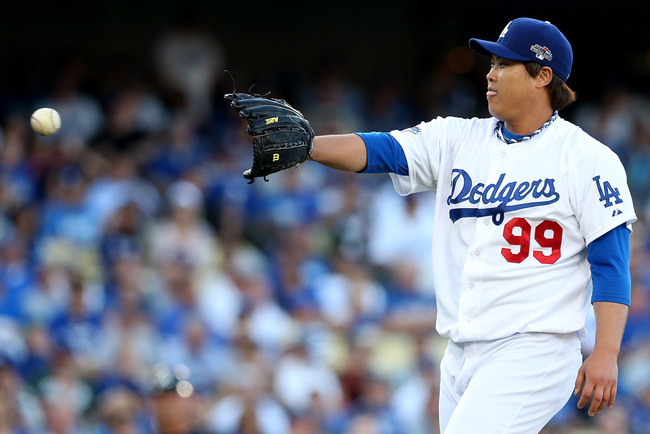 Stephen Dunn/Getty Images
Despite the disappointing results in Games 1 and 2 of the NLCS, Los Angeles Dodgers pitchers have been excellent. They've limited the St. Louis Cardinals to only four runs and a .134 batting average.
Don't expect Hyun-jin Ryu to fair much differently.
The Red Birds were an elite contact-hitting team during the regular season because they collectively laid off pitches outside the strike zone, thus working their way into favorable counts. Like Zack Greinke and Clayton Kershaw before him, Ryu won't allow that to happen. The Korean rookie has issued only eight walks in his past 66 innings pitched.
Left-handedness also serves as an advantage. It forces Carlos "Señor Octubre" Beltran to turn around to the right side, where he struggled in 2013 (.252/.281/.448 in 171 PA).
Ryu's changeup actually makes him more effective when at a platoon disadvantage. He can use that pitch to neutralize Yadier Molina, who has been the second-most productive hitter for St. Louis in the playoffs.
Ryu limited the Cardinals to one unearned run in seven innings on Aug. 8. It wouldn't be surprising if he performed similarly on Monday.
Game 3: St. Louis Cardinals Defense Allows Extra Scoring Opportunities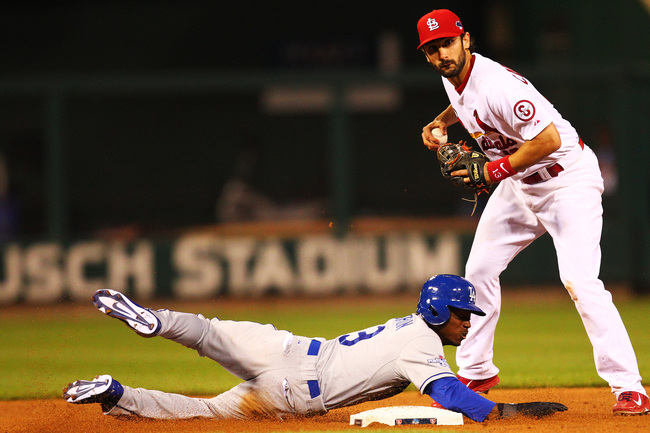 Dilip Vishwanat/Getty Images
The St. Louis Cardinals only employ one legitimately great fielder, and he frankly isn't going to make a huge impact in Game 3.
Yadier Molina is the best there is at intimidating opposing base-stealers and guiding young pitchers through pressured situations. Working with Adam Wainwright against a station-to-station Los Angeles Dodgers offense suggests that he'll be simply going along for the ride.
On the other hand, Molina's teammates will quietly make life more difficult.
St. Louis' starters at the corner infield and outfield spots all provide sub-par range. Even up-the-middle players like Matt Carpenter, Pete Kozma and Jon Jay don't contribute much besides reliable hands.
Their miscues can be back-breaking.
Just re-visit Game 3 of the NLDS. Kozma's ill-advised throw and Freese's lack of athleticism allowed the Pittsburgh Pirates to push across two runs in the first inning (courtesy of MLB.com). That turned out to be the difference in a 5-3 defeat.
The beginning of the NLCS would lead you to believe otherwise, but the Los Angeles Dodgers typically put a lot of balls in play. Count on them testing the Cardinals defense on Monday night.
Game 3: Los Angeles Dodgers Win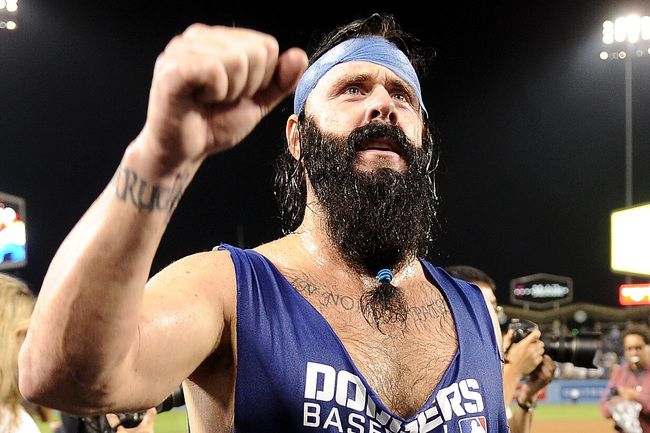 The Dodgers will win a game for the first time in a full week.
Harry How/Getty Images
To borrow a line from Mike Petriello of Mike Scioscia's Tragic Illness, "if the Cards can win a Joe Kelly/Greinke game, well, the Dodgers can certainly win a Wainwright/Ryu game."
An off-day between Games 2 and 3 definitely benefits the NL West champions. It gives Andre Ethier (ankle) and Hanley Ramirez (ribs) extra time to get healthier after both those big bats sat out due to injury.
The late-inning combination of Brian Wilson (one earned run in 22 appearances this year) and Kenley Jansen can get the Los Angeles Dodgers back into this series if Hyun-jin Ryu excels as we're predicting he will.
Final Score: Cardinals 2, Dodgers 4
Game 4: Shelby Miller Bails Lance Lynn out of Early Trouble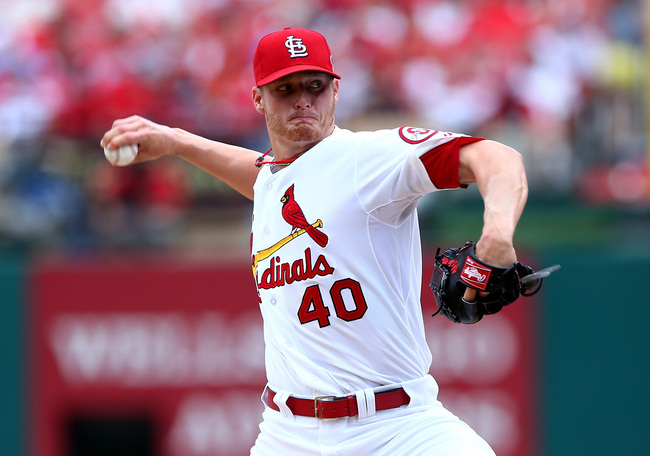 Miller was excluded from the postseason rotation, but don't forget about him.
Elsa/Getty Images
Shelby Miller is chomping at the bit to exact revenge on the Los Angeles Dodgers after they derailed his impressive rookie campaign.
The right-hander failed to record an out against them on Aug. 7 because leadoff man Carl Crawford hit a line drive off his pitching elbow. Miller returned to the St. Louis Cardinals rotation a week later, but his precise command never did. After allowing eight home runs and 22 walks over his final 52 innings, the club demoted him to the bullpen for this postseason run.
Manager Mike Matheny tells MLB.com that Miller was denied the starting assignment for Game 4 due to his inexperience and September mediocrity.
With that said, there doesn't appear to be anything physically wrong with him. On the contrary, we should expect his stuff to be particularly crisp considering his light workload in recent weeks (only 14 pitches thrown since Sept. 26).
Matheny also oversaw the Cardinals in 2012 when they blew a 3-1 lead in the NLCS. Flashbacks to that painful collapse—and specifically, to how Lance Lynn faltered under the bright lights—could convince him to call upon Miller at the first sign of trouble.
Game 4: Yasiel Puig Emerges from NLCS Slumber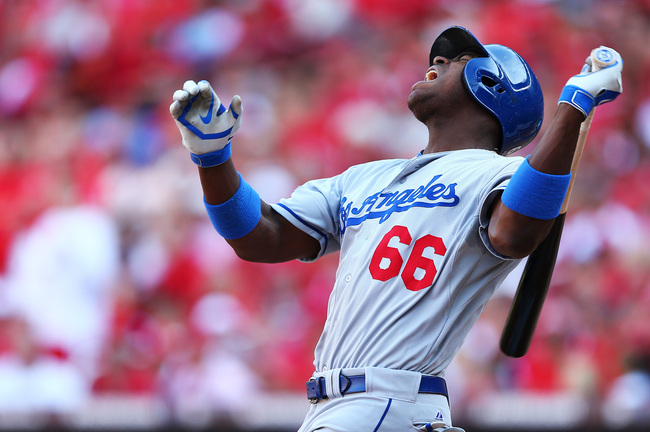 Puig's rough patches during the season never lasted long. This one won't either.
Elsa/Getty Images
Prisoners of the moment say that Yasiel Puig has been "figured out" and that the St. Louis Cardinals pitching staff is unstoppable right now.
Neither of those extremes is completely accurate.
Let's remember that in the previous round of these playoffs, the Cuban phenom batted .471/.500/.529 and scored five runs. Don't jump off the bandwagon just because he followed an 0-for-6 performance with a golden sombrero here in the NLCS. The latter came against Michael Wacha and Trevor Rosenthal, whose talents aren't representative of the entire Cardinals pitching staff.
A Lance Lynn/Shelby Miller tandem would be a dream come true for Puig.
The 22-year-old pulverized fastballs in 2013, and guess which young right-handers led all qualified National League starters in fastball usage? Yup, Lynn (73.2 percent) and Miller (71.3 percent) ranked first and second, respectively.
Expect Puig's potent bat to impact Game 4.
Game 4: Slump Continues for Ricky Nolasco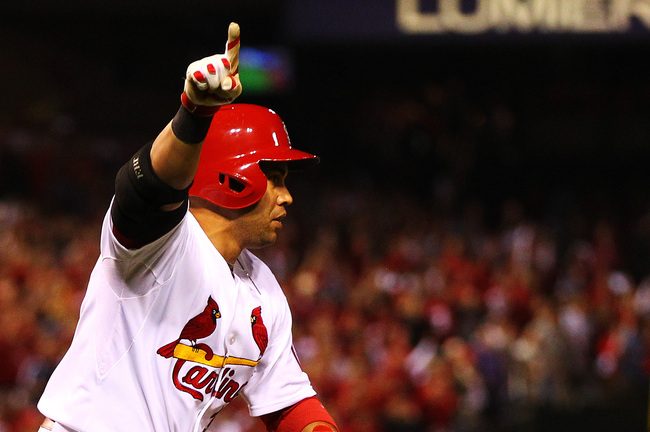 Carlos Beltran has owned Nolasco through the years.
Dilip Vishwanat/Getty Images
In 2012, Anibal Sanchez showed us how much a player's value could soar when he excels during the months prior to free agency. His effectiveness in September and October was rewarded with an $80 million contract.
Ricky Nolasco—his former teammate—is at the other end of spectrum; the right-hander's rapid fade will undoubtedly hinder his earning potential this winter.
Several of Nolasco's starts at Dodger Stadium have been fantastic, but the latest one was among the worst of his major league career (1.1 IP, 7 H, 5 ER, 0 K). Moreover, returning to the mound after two-and-a-half weeks of idleness—last appearance was Sept. 29—should hurt his ability to locate.
As if all that wasn't discouraging enough, MLB.com shows us that the St. Louis Cardinals ripped apart right-handed pitching. They finished with an NL-best .280 batting average, .755 OPS and 597 runs against Nolasco's breed in 2013. Through 80 combined plate appearances versus the Southern California native, Carlos Beltran and Matt Holliday have an astronomical .384/.438/.575 batting line.
Much like Lance Lynn, assume that Nolasco will be kept on a short leash.
Game 4: Don Mattingly Makes Moronic Managerial Error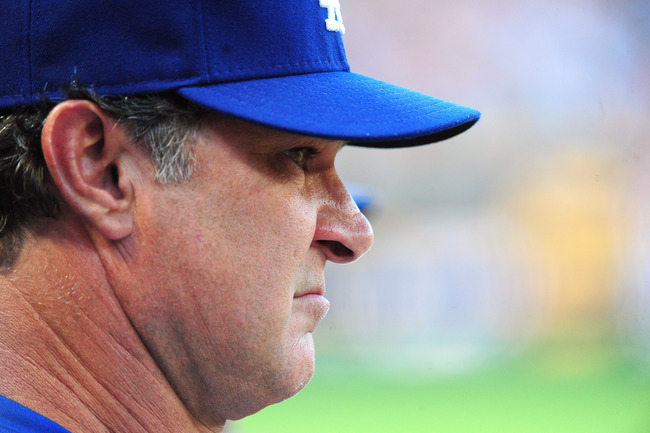 Scott Cunningham/Getty Images
Don Mattingly has a solid grasp on the behind-the-scene aspects of managing. He deserves credit for molding a cellar-dweller into a World Series contender in two months' time.
With that said, there's a reason why the Los Angeles Dodgers haven't committed to Mattingly beyond 2013—he doesn't make optimal decisions from the dugout.
Bleacher Report's Zach Rymer critiqued his moves in greater detail. Let's just say he's someone who would confuse a small deficit for a low-leverage situation, and bring in Carlos Marmol or Edinson Volquez to relieve Ricky Nolasco midway through Game 4. (Why are either of them on the Dodgers roster in the first place?!)
Not to insult the baseball intelligence of a former MLB All-Star, but Mattingly still has plenty to learn about the timing and motives that justify player substitutions.
Game 4: St. Louis Cardinals Win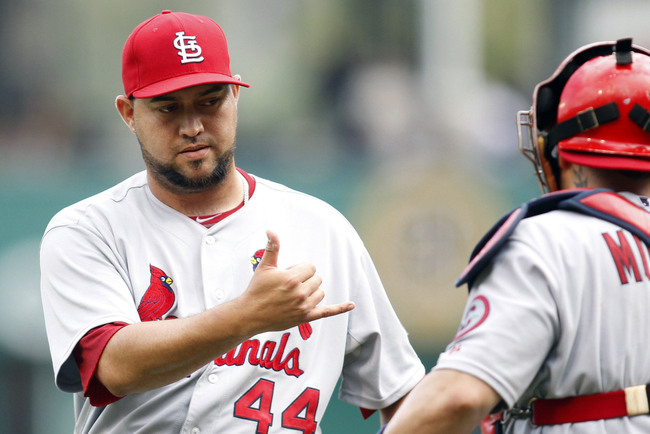 Once the Cards pile on enough runs, Edward Mujica might see his first action of the NLCS.
Charles LeClaire-USA TODAY Sport
So far in this NLCS, Carlos Beltran has been the only St. Louis Cardinals player to record a hit with runners in scoring position. If that doesn't change in Game 3, it certainly will on Tuesday against the soft underbelly of the Los Angeles Dodgers pitching staff.
With better tactical decisions from Mattingly, this would be another close contest.
Regardless, the result puts L.A. on the brink of elimination.
Final Score: Cardinals 10, Dodgers 5
Game 5: Joe Kelly Comes Back to Earth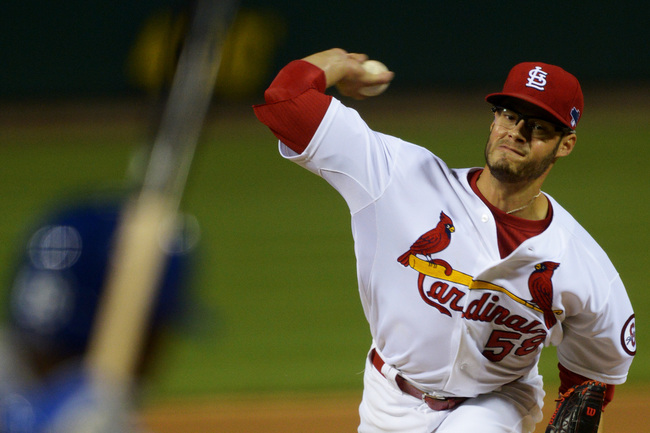 Pool/Getty Images
This is why we're making fewer predictions about the mid-week matchups—there's much less information available about them. The St. Louis Cardinals, for example, haven't even announced who would start a potential Game 5.
However, assuming that Mike Matheny doesn't interfere with the order of his rotation, it'll be right-hander Joe Kelly.
That would be a big risk; the right-hander is longer overdue for a regression. Just look at the disparity between his rankings in results-based statistics (like earned run average and strand rate) versus more meaningful, fielder-independent ones:
Joe Kelly

| 2013 Stats | MLB Rank (min. 100 IP) |
| --- | --- |
| 2.69 ERA | 9th out of 145 |
| 82.4% LOB | 3rd out of 145 |
| 4.01 FIP | t-84th out of 145 |
| 5.73 K/9 | 127th out of 145 |
| 0.4 fWAR | 127th out of 145 |
"While Kelly's ERA would tell us he's one of the Cardinals terrific young arms," explains Dave Cameron of FanGraphs, "he's pitched more like a back-end innings eater than any kind of future ace."
The 25-year-old escaped several jams in the NLCS opener via strikeout, but that was very uncharacteristic. Barring defensive brilliance from an unathletic St. Louis defense, the Los Angeles Dodgers should have more success against him on Wednesday afternoon.
Game 5: Zack Greinke Feeds off Home Crowd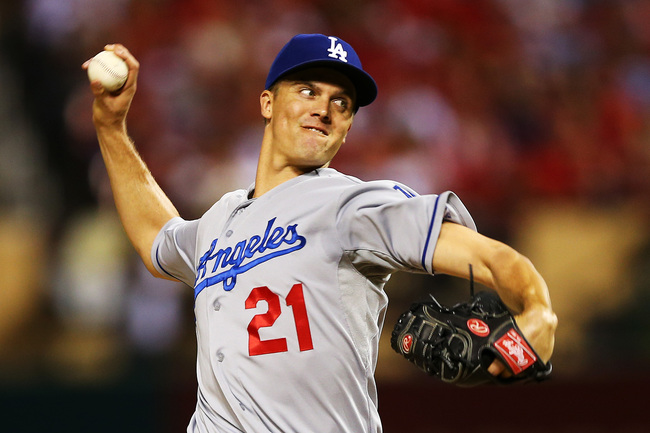 Elsa/Getty Images
With their backs against the wall, the Los Angeles Dodgers will have the option of dialing Clayton Kershaw's number and using him on short rest like they did during the NLDS. Although he's arguably the best pitcher on the planet, recent history suggests that Zack Greinke gives the team a comparably strong chance to stay alive.
Only Vin Scully is as dominant at Dodger Stadium as Greinke. The rich right-hander posted a 2.11 ERA and 0.91 WHIP in 14 starts there during the regular season.
However, this trend runs deeper than you might've thought.
Pitching at home has been huge for Greinke's confidence dating back to 2011. During stints with the Milwaukee Brewers and Los Angeles Angels, he similarly peaked in familiar surroundings. His 27-4 home record in that span attests to the benefits of performing locally, as does his 5.26 strikeout-to-walk ratio (fourth-best among pitchers with 150-plus home innings from 2011-2013).
Greinke was great in road playoff outings against the Atlanta Braves and St. Louis Cardinals, allowing only nine total baserunners in 14 innings (0.64 WHIP) while striking out 13.
If he can thrive like that in hostile settings, imagine what's possible when 56,000 fans are dousing him with encouragement.
Game 5: Los Angeles Dodgers Win, Extend the Series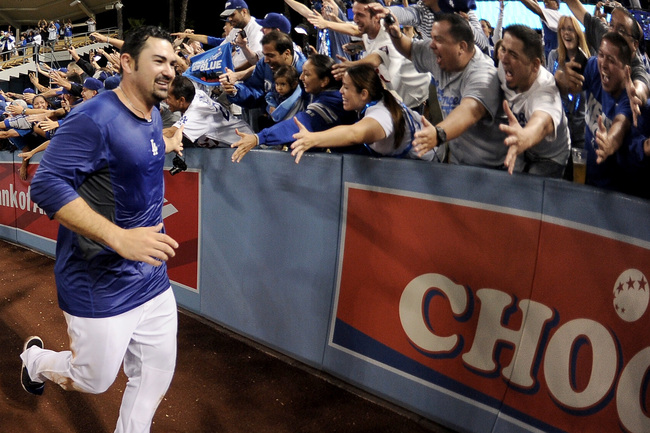 We're predicting that the Dodgers will head back to St. Louis with some momentum.
Harry How/Getty Images
Despite that build-up, don't bet on Zack Greinke tossing a perfect game. Just rest assured that he'll pitch competently, much more so than St. Louis Cardinals counterpart Joe Kelly.
Ultimately, the Los Angeles Dodgers will finish the homestand with a pulse. Considering how miserable their outlook was through Games 1 and 2, that's an accomplishment in itself.
Final Score: Cardinals 4, Dodgers 6
Ely is a national MLB Featured Columnist for Bleacher Report and a sportscaster for 90.5 WVUM in Miami. He's hoping to deepen relationships with his fantastic online audience (that means you) via Twitter.
Keep Reading