FIFA 14: Best Fail Video Compilations to Hit the Web Since Launch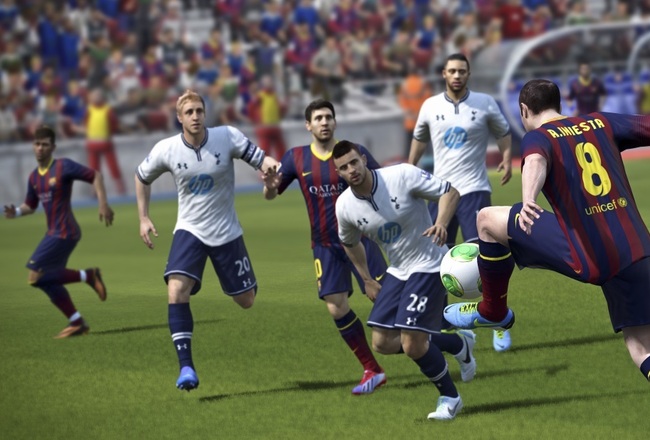 FIFA 14 is a time-consuming, rewarding and occasionally frustrating experience.
It also has the potential to be extremely funny.
Unfortunate glitches and tidbits have littered the web since launch, but a handful of compilations highlight all there is to see in the world of FIFA 14-based fails.
Not wanting to spoil what lies ahead, be prepared to witness the world's biggest footballing stars like you've never seen them before.
P.S. If you see Xavi, run!
The Barcelona Special
YouTube User: TrollinForLaughs
FIFA 14 must have programmed La Liga's top stars with odd facial problems. If you've never seen the gurning face of Xavi or Gareth Bale's stretchy noggin, this slideshow is about to change all of that.
Similarly, players appear to have rather sticky hands in Spain. Somebody needs to remind Jordi Alba he is not an NBA star and, despite his newly acquired glove, must launch the ball with his foot.
Undoubtedly the highlight of this video comes when Zlatan Ibrahimovic clashes with his former Barcelona teammate Carles Puyol. Despite suffering a torrid time during his brief stint at the Camp Nou, it seems Puyol was willing to do anything for the Swede to fit in.
To top it all off, a hilarious stretch for the ball rounds off a clip that must be seen to be appreciated.
Making Peter Enckelman Proud
YouTube User: EdgezGaming
It's that man again!
Zlatan just can't get enough. In this clip, he once again succumbs to the lure of his opposition by falling to the ground to receive some much-needed affection.
Victor Valdes can also be seen completing his best Peter Enckelman impression, as he lets the ball slip under his boot and into the gaping net.
Goalkeeping and defensive errors follow the Spaniard's lead, providing a number of teams with a route to goal that is not only simple, but embarrassing too.
Twister!
YouTube User: LetsFIFA11
Rumours suggest any person who viewed the first video in this list will continue to see Xavi's contorting face in all clips thereafter.
One of this video's highlights is the impenetrable wall a linesman puts up when Paris Saint-Germain's Maxwell is trying to restart play. Perhaps he should take a leaf out of Ibrahimovic's book and soften the official up with a sensitive touch.
Whatever the Brazilian left-back did, it appears to have taken effect in the section following his mishap. The fourth official's board appears to be used as a ball, although it must be said, not a particularly useful one.
To complete proceedings, an array of crunching tackles suggest many of the game's sprites are made of steel. Sergio Aguero receives a wallop, Tim Cahill is stamped on and, appearing once again, Valdes hits the deck.
Pay attention for the team that plays a 0-10-0 formation, a celebration that can only be described as the "Ghostly Tornado" and "AH! That stretchy face" again.
Keep Reading