NFL Power Rankings: Rest-of-Season Outlook for Each Team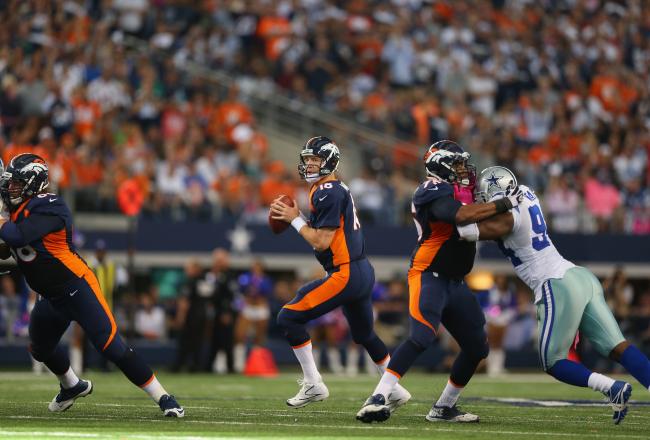 Ronald Martinez/Getty Images
We're past the quarter-pole mark of the NFL season, and we're starting to get a clear picture of what each team is all about.
These power rankings will give an outlook for the rest of the season for each team. Which teams are on the rise? Which teams will continue to struggle?
Read on to find out.
1. Denver Broncos (5-0)
Yes, Peyton Manning is amazing. But there has to be at least some anxiety about the defense. The Broncos have the worst pass defense in football and give up an average of 27.8 points per game. Manning and the offense are bound to have an off day. If they do, I don't think the defense can make up for it.
This team is built on the success of Manning. As we saw in the playoffs last season, a bad game by Manning is the difference between a win and a loss. Denver needs the defense to hold its own.
2. Indianapolis Colts (4-1)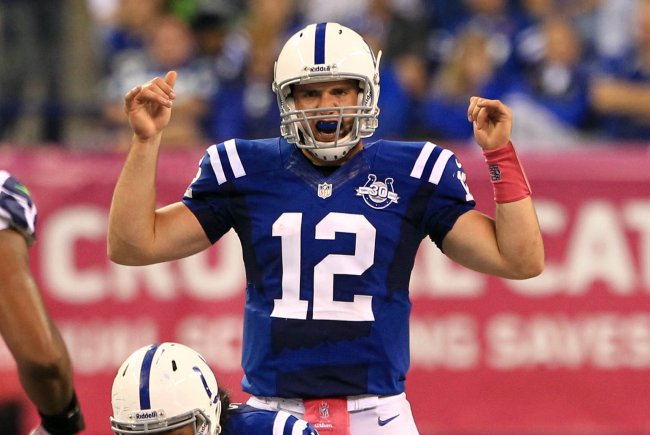 Pat Lovell-USA TODAY Sports
They have two signature wins over the Seattle Seahawks and San Francisco 49ers. Andrew Luck has been fantastic, and they'll only get better as Trent Richardson gets more comfortable in the offense.
I think they are a legitimate threat to the Denver Broncos in the AFC. Their matchup in a few weeks should be fantastic. There are good vibes coming out of Indianapolis, and I think the Colts are going to continue to get better each week.
3. Kansas City Chiefs (5-0)
A good rushing attack and a good defense go a long way. Jamaal Charles has been good, and Alex Smith actually has 161 rushing yards. The defense is allowing only 11.6 points per game. The best part is that they don't need Alex Smith to do much. Justin Houston, Dontari Poe and Tamba Hali are wreaking havoc on opposing quarterbacks. Andy Reid is doing a masterful job.
4. New Orleans Saints (5-0)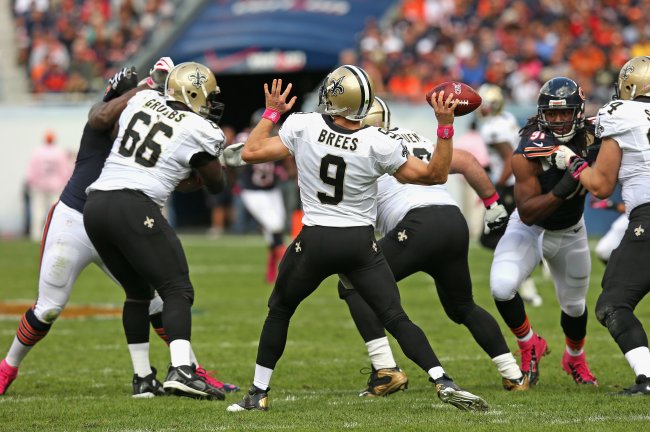 Jonathan Daniel/Getty Images
The offense is electric, as per usual. I keep waiting for the defense to revert to its old ways, but it has been continually strong. It's giving up an average of just 14.6 points per game. Combine that with the offense? That's a recipe for success.
5. Seattle Seahawks (4-1)
Tough loss against Indianapolis, but I don't think there's too much to worry about. The beatdown over San Francisco shows what kind of team this is. Seattle has a dominant defense with an outstanding running game. One loss doesn't change that.
6. Cincinnati Bengals (3-2)
It's tough to get a read on the Bengals. They have signature wins against the New England Patriots and Green Bay Packers, but have a bad loss against the Cleveland Browns. Which team are they? Hard to say, but holding Tom Brady to just 197 yards is impressive. Andy Dalton isn't doing the team any favors with his play, but they'll make the playoffs based on the strength of their defense.
7. New England Patriots (4-1)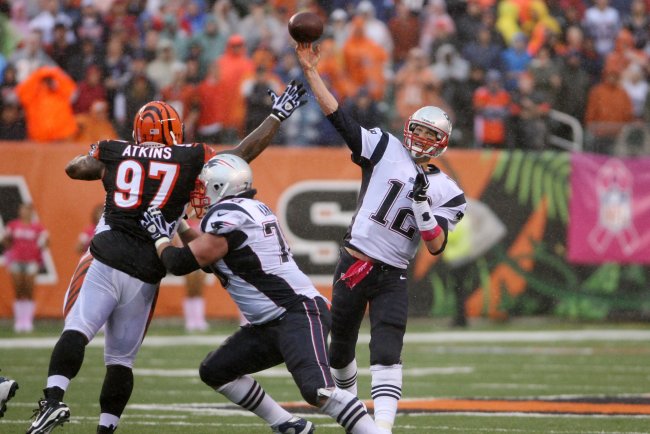 Mark Zerof-USA TODAY Sports
Tom Brady obviously needs Rob Gronkowski to return. There is no real menacing offensive threat that defenses have to worry about. There's only so much Brady can do. The fact that they're 4-1 while playing with mostly rookie receivers is a testament to Brady's greatness.
When Gronk comes back—and at this point, maybe we should ask if Gronk comes back—then the Pats will take off. But they need to tread water until then.
8. San Francisco 49ers (3-2)
They need to keep relying on the run game, because Colin Kaepernick is struggling. The Niners have the 31st-ranked pass offense in the league. It's great that Frank Gore is running the ball so well, but they need Kaepernick to pick up his game. If he doesn't, there's no guarantee they make the playoffs.
They still have to face the Seahawks again, as well as the Saints in New Orleans. Those are tough matchups without a valid passing game.
9. Baltimore Ravens (3-2)
Ray Rice needs to be better. He's averaging just 2.9 yards per carry. Last season, he averaged 4.4 yards per game. I don't think they can make the playoffs with such a bad running game. There are not enough weapons on offense to compensate for it. The play of Rice is really concerning.
10. Chicago Bears (4-2)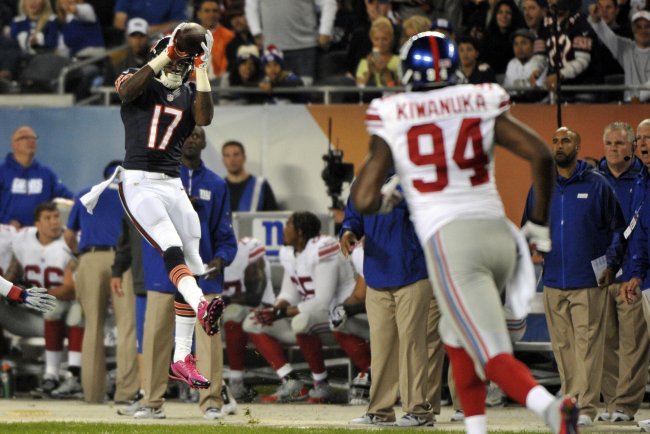 Rob Grabowski-USA TODAY Sports
It was good to get back on track against the pitiful New York Giants. The defense continues to force turnovers, but the most promising development is the emergence of Alshon Jeffery. Jeffery and Brandon Marshall have combined for 921 yards this year, and it gives Jay Cutler more options.
Between Jeffrey and Marshall, as well as Martellus Bennett and Matt Forte, the Bears could finish this year with one of the best offenses in football.
11. Detroit Lions (3-2)
The Lions are pleasantly surprising. Their defense, while nowhere near great, has held together, and the addition of Reggie Bush has diversified the offense.
Above all, however, they need a healthy and dominant Calvin Johnson. Megatron has been mortal this season, averaging just 78 yards per game. Last season, he averaged nearly 123 yards per game. If Megatron can become Megatron again, watch out.
12. Green Bay Packers (2-2)
The offense is its usual self, but it's hard to quantify the loss of Charles Woodson. The pass defense is not good, and it seems like the leadership and experience of Woodson is missed. Green Bay has given up 68 points in its two losses, but just 29 points in its two wins. The Packers will continue to score points, but the secondary needs to improve if they're going to get out of a tough NFC North.
13. Dallas Cowboys (2-3)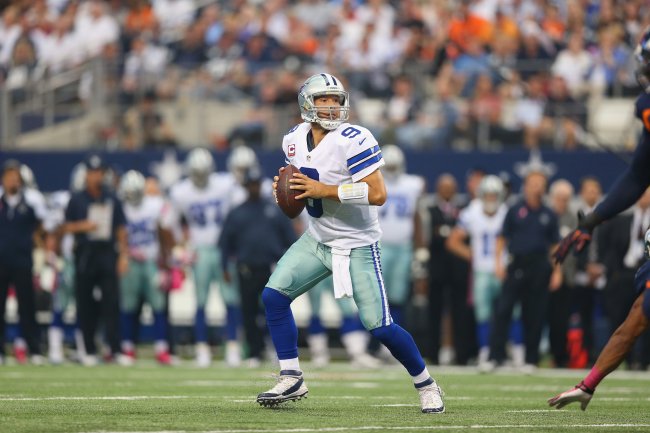 Ronald Martinez/Getty Images
So the defense got shredded by the Broncos, but which defense hasn't gotten shredded by the Broncos? Tony Romo's play is encouraging, and they have the inside track of winning the weakened NFC East.
Obviously, the defense is a concern. It gives up an astonishing 326 yards per game through the air. Going toe-to-toe with the Broncos was a sign that the Cowboys can compete. No playoff team wants to face Dallas' elite offense.
14. Miami Dolphins (3-2)
Maybe the 3-0 start was a mirage. They've lost two straight since then. The win against Indianapolis shows that they can compete against the best, but that was just one game, and they've since lost to the New Orleans Saints and Baltimore Ravens.
There's promise here, but I think an improvement in the running game would go a long way. They rush for just 69 yards per game, which is 28th in the league. If that can improve, it would take a lot of pressure off Ryan Tannehill. Is Lamar Miller the answer? The talent is certainly there, but I think the team would be wise to let him just run with the job, instead of giving some of his carries to Daniel Thomas.
15. New York Jets (3-2)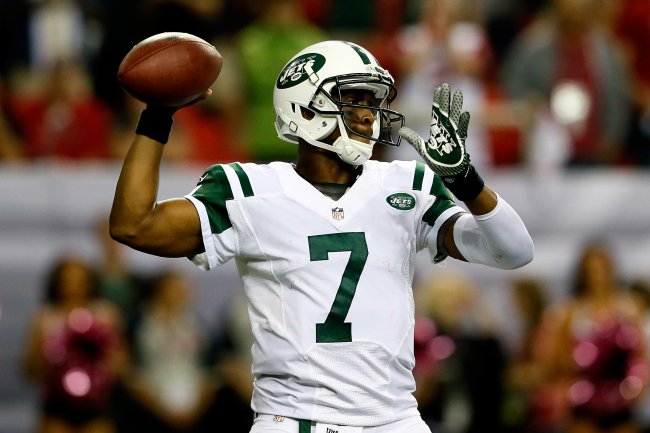 Kevin C. Cox/Getty Images
Rex Ryan made a brilliant decision to go back to his roots. When the Jets reached back-to-back AFC Championship games, they did it on the strength of their running game and defense. Ryan is following the same formula this year.
The defense is terrific, giving up only 222 yards in the air and 76 yards on the ground. Their running game is ranked 11th in the league, and Geno Smith showed moxie against the Atlanta Falcons. If Smith can limit the turnovers, like he did against Atlanta, then there is no reason why the Jets can't make the playoffs.
16. Tennessee Titans (3-2)
The Jake Locker injury was brutal. He was finally starting to live up to his enormous potential. Ryan Fitzpatrick is, to be blunt, a downgrade. The loss of Locker probably makes it impossible for them to make the playoffs. But not all is lost. The defense is much improved, and Locker looks like a future star. This season may be a wash, but next season could be really interesting.
17. Cleveland Browns (3-2)
The loss of Brian Hoyer hurts, and it will be interesting to see how Brandon Weeden plays going forward. Whatever happens, this season has been a step in the right direction. Three straight wins after trading Trent Richardson is impressive.
Unlike some of the teams below them on this list, their defense is really stout. The Browns are ranked seventh in pass defense and eighth in run defense. That's going to keep them competitive. If they can obtain a legitimate quarterback and a decent running back, they could even be a playoff team next year.
18. Arizona Cardinals (3-2)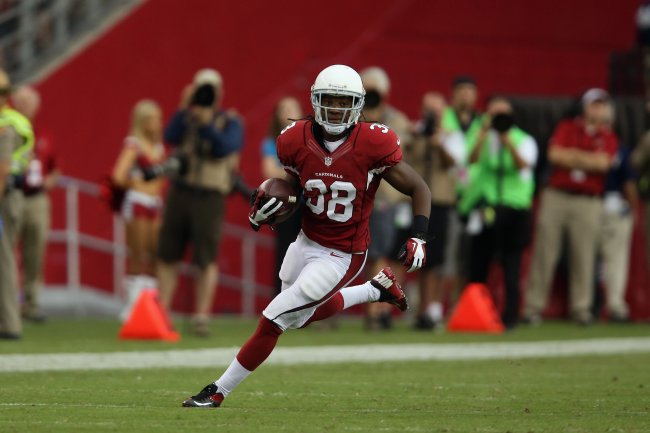 Jeff Gross/Getty Images
The Cardinals are pretty mediocre. Their offense is decent. They can stop the run pretty well, but their secondary gets torched. Larry Fitzgerald is suddenly a shell of himself. I don't think they are a .500 team, but they're close. Andre Ellington is encouraging at running back. But there's not much else to like here. They'll slog through the season in relative obscurity.
19. Houston Texans (2-3)
Oh, boy. That's all I can say about Matt Schaub. I don't know what's happened to him, but he's clearly experiencing a case of the yips. He's set to start this weekend, but I'm not sure how much longer he can last. They still have a good running game, and they still have a good defense. Is T.J. Yates a better option? I'm not sure. Either Schaub improves, or the team goes 6-10.
20. San Diego Chargers (2-3)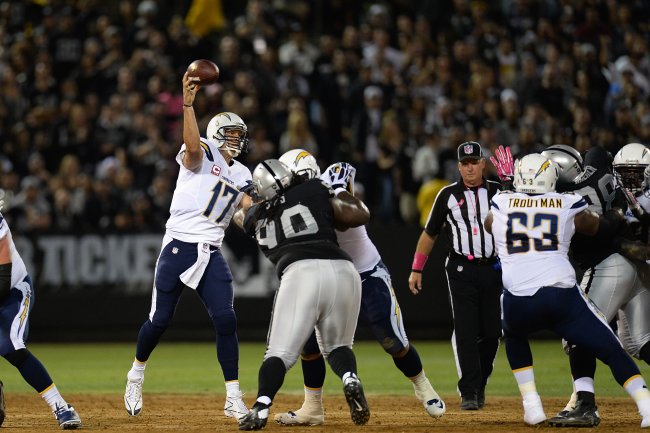 Thearon W. Henderson/Getty Images
Philip Rivers is having a terrific year, erasing any doubts that came from last season. He's thrown for 1,610 yards, 13 touchdowns and only five interceptions. He is not the problem. The problem is the defense. It has given up 30 or more points three times and hasn't held a team under 20 points. San Diego needs a better pass rush and more consistent secondary play if it wants to take the next step.
21. Oakland Raiders (2-3)
I think Terrelle Pryor is the real deal. He needs more experience and more weapons, but there's potential there. He can steal a few games on his own. The defense is improving and only gives up 96.6 yards per game on the ground. There's hope here. They're going to win six or seven games this year.
22. Philadelphia Eagles (2-3)
The Eagles have a chance of winning the division. The running game is electric. If they are going to make the playoffs, however, the defense needs to shape up. Giving up 326 yards in the passing game is simply not good enough.
23. St. Louis Rams (2-3)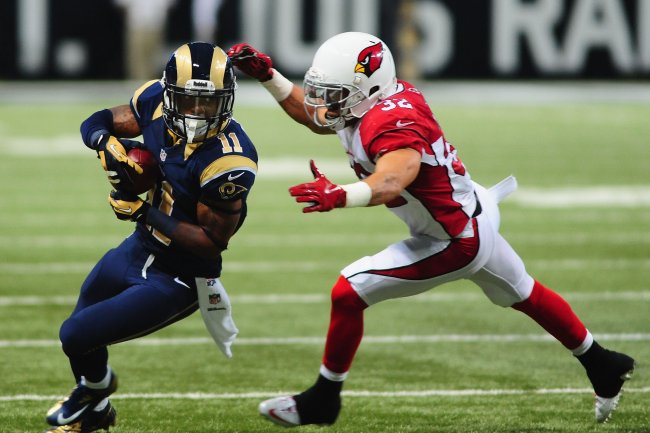 Michael Thomas/Getty Images
The defense is awful, and Sam Bradford is nothing more than a pedestrian quarterback. Plus, the run game averages just 66 yards per game. This is a mediocre team, at best. It would help if Tavon Austin got going. There's not too much to like on this team, though. It's going to be a rough time going forward.
24. Carolina Panthers (1-3)
I'm higher on the Panthers than most. They have the seventh-ranked rushing attack, averaging 137 yards on the ground. Their defense is pretty stout, giving up just 209.3 yards in the air and 92.3 yards on the ground.
As it has been for some time, the Panthers need a weapon across from Steve Smith. That has to be their priority this offseason. Cam Newton has yet to make his teammates better. There's hope on this team, and it could finish 7-9. Until the Panthers get more, and better, receivers, however, they won't go too far.
25. Buffalo Bills (2-3)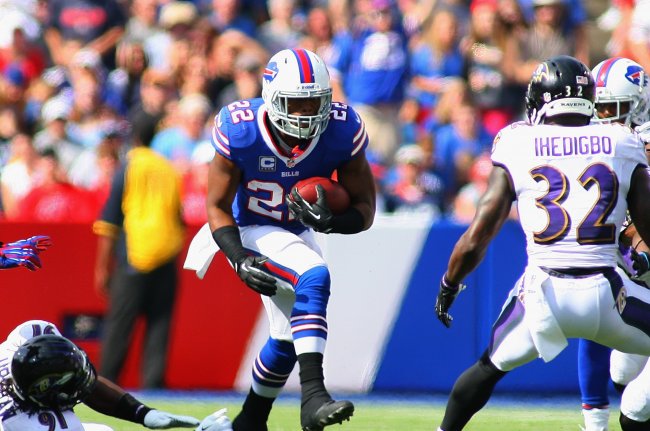 Rick Stewart/Getty Images
EJ Manuel is not benefiting from all the time missed due to injury. It's a shame, because he's shown signs of being a solid quarterback. The biggest storyline is the resurgence of Fred Jackson, who has rushed for 309 yards and four touchdowns.
Like most of the teams on the bottom of this list, it's the defense that holds Buffalo back. It is ranked 18th in pass defense and 22nd in rush defense. For all the talk of the offensive revolution in the NFL, teams still need to play defense. The Bills can't, and they're going to struggle because of it.
26. Washington Redskins (1-3)
A good win against Oakland, but the defense is still incredibly porous. It gives up 298.3 passing yards per game and 142.3 yards per game on the ground. Even though RG3 is improving with each week, it doesn't really matter. Alfred Morris can't regain his rookie magic, and there are no real receiving threats outside of Pierre Garcon. RG3 is capable of carrying a team, but he can only do so much. The defense is in desperate need of improvement.
27. Minnesota Vikings (1-3)
Does the signing of Josh Freeman help get them to the playoffs? Probably not. Not when the Bears, Lions and Packers are ahead of them in the NFC North.
But does the signing of Josh Freeman make them a better team? If he can regain his 2010 form, when he threw for 25 touchdowns and just six interceptions, then yes. But that was in 2010. He's been getting progressively worse. Perhaps a fresh start is needed, but this is still a quarterback who has only had one good season. Derek Anderson had one good season. That doesn't mean he's a good quarterback.
We're in a wait-and-see mode. Freeman will eventually take over as the starter, but unless he can prove otherwise, it doesn't seem like he'll make that much of a difference.
28. Atlanta Falcons (1-4)
The loss of Julio Jones is the cherry on top of this awful season. Injuries have absolutely killed this team, and you have to wonder where they would be if they were fully healthy. The biggest concern, to me, is that the secondary has not improved.
Despite drafting Desmond Trufant and Robert Alford in the first two rounds of the draft, the Falcons still give up 274.8 yards per game in the air, which is 24th in the league. It's too soon to call them busts, but to invest so highly in the secondary and see it not pan out is troubling.
29. Pittsburgh Steelers (0-4)
The offensive line is pitiful, and Ben Roethlisberger is taking a beating. The defense has really struggled and has been hurt badly by the retirement of Casey Hampton. It's a main reason why the Steelers have the 25th-ranked run defense. A healthy Le'Veon Bell should help Big Ben out, but this is mainly a defensive problem.
30. Tampa Bay Buccaneers (0-4)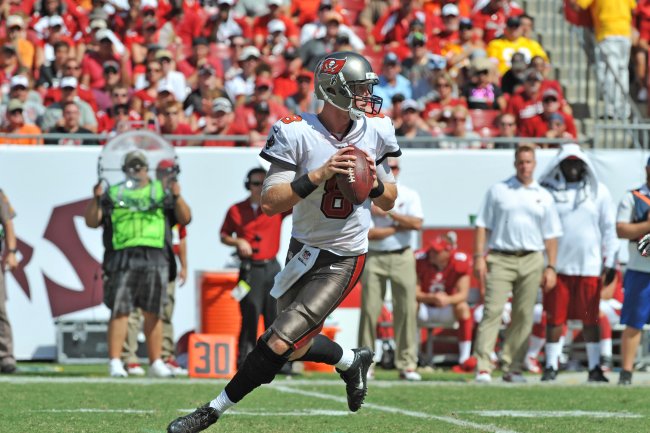 Al Messerschmidt/Getty Images
Mike Glennon is not ready to be a full-time NFL quarterback. He has a pretty pedestrian 55.8 percent completion percentage, and his completions only average 4.49 yards. He has a long way to go. At least the defense is good. It gives up an average of 17.5 points per game.
If Glennon can fulfill his considerable potential, then the Bucs have a nice foundation. A solid defense, plus Doug Martin, is a good way to start. Now that the Josh Freeman saga is behind them, things could be on the upswing. This is not their year. Next year, however, they could surprise some people.
31. New York Giants (0-6)
Eli Manning is trying to do too much. He has 15 picks, including three Thursday night against the Bears. He's forcing passes and making bad decisions. No, it doesn't help that his offensive line has been riddled with injuries, but it falls on Eli to make up for that. While he's getting all of the attention, it's the defense that's pitiful. The unit gives up 35 points per game. Even if Eli Manning weren't struggling, it wouldn't matter. The defense couldn't stop a sloth. It might be time to start "Drowning for Clowney."
32. Jacksonville Jaguars (0-5)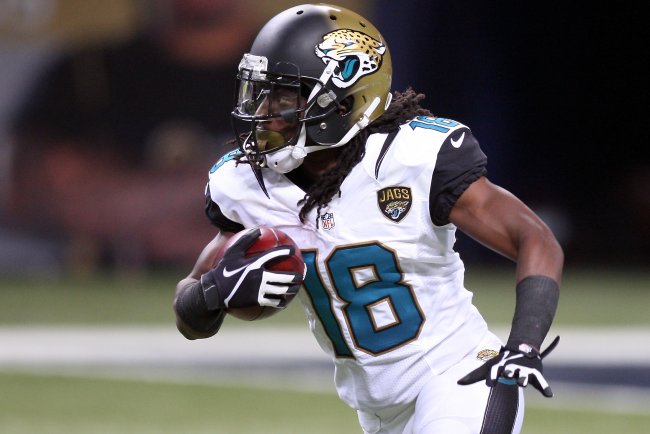 Scott Kane-USA TODAY Sports
Maybe the fact that the entire NFL world thinks they will be absolutely shredded by the Denver Broncos will give them some extra motivation. But they can't hang with the Broncos, and they can't hang with most of the league.
There is simply not a lot of talent on this roster. The injury to Luke Joeckel is absolutely jarring. Time to let players like Ace Sanders and Denard Robinson lead the way. They will be in competition with the Giants for the No. 1 overall pick.
This article is
What is the duplicate article?
Why is this article offensive?
Where is this article plagiarized from?
Why is this article poorly edited?