In a year where multiple college football teams are likely to finish the season undefeated, the BCS rankings are as important as ever.
This is the last season with a single BCS Championship Game before going to a playoff format. Until the change happens, earning one of those top two spots is all that matters. This season, going undefeated might not be good enough.
Heading into Week 7, there are eight different conferences with at least one team without a loss. This means that not only do squads have to win, but they have to impress the voters and computers as well.
Which team should be No. 1 in the country?
There is certain to be plenty of controversy throughout the season, but that will not start until the first BCS rankings are officially released. Here is a guide to that first announcement so you know exactly when to be outraged when your team is too low.
Event Info
Date: Sunday, Oct. 20
Time: 8:30 p.m. ET
Watch: ESPN
Stream: ESPN3
Expected Top Teams
No. 1 Alabama
Not only is Alabama No. 1 in the coaches poll, but it wouldn't be a surprise if the two-time defending national champion was No. 1 in the Harris poll when it is first released.
While the computers have no problem separating the current season from the past, human voters always tend to have the same mindset: "You remain the best until someone beats you."
The Crimson Tide certainly have not been perfect on the field this year, despite their undefeated record. However, there is elite talent at every position, and they are competing against the toughest division in the sport this season.
If Alabama makes it out of the SEC West and the eventual conference title game unscathed, there is no doubt that it will be one of the teams playing for the national championship, regardless of what anyone else accomplishes.
Meanwhile, upcoming games against Kentucky and Arkansas should ensure that the Tide are still undefeated when the rankings are released.
No. 2 Stanford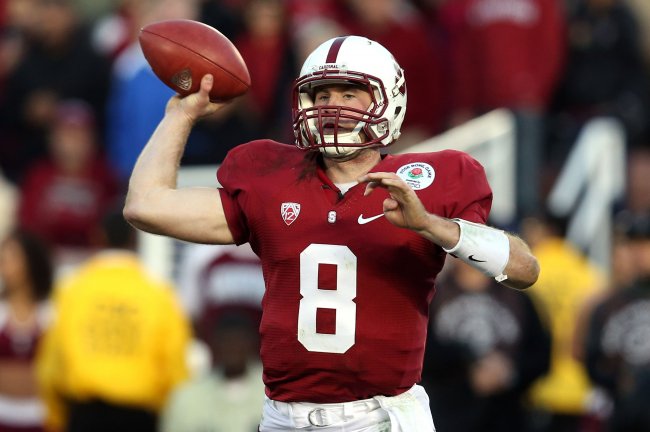 Stephen Dunn/Getty Images
While the SEC might still be the best conference in the nation from top to bottom, fans should not count out the Pac-12 this season. The deep league is going to turn a lot of heads and provide a big boost in the BCS standings.
Stanford has already defeated two quality teams in Washington and Arizona State, and it still has Oregon and UCLA on the upcoming schedule. Additionally, the squad has only faced two non-conference opponents, with a third coming at the end of the year in a matchup against Notre Dame.
This solid schedule has already helped the Cardinal in a few of the computer polls. They are ranked No. 1 in both the Colley and Billingsley ratings.
However, this is not just about looking good for the computers. Stanford has one of the better defenses in the country, along with a quality offense led by Kevin Hogan, who always seems to make the big plays at quarterback when needed.
With a home game against Oregon on Nov. 7, this team has as good of a chance as anyone of knocking off the Ducks. If it does, there could certainly be a place for the Cardinal in the title game.
No. 3 Clemson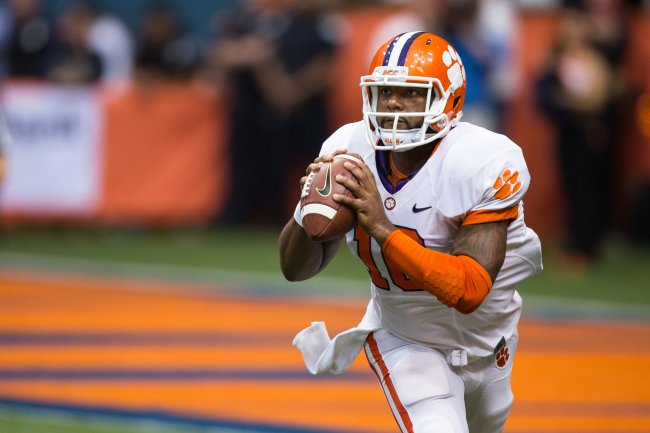 Brett Carlsen/Getty Images
This spot will certainly be up for debate by Oct. 20. Oregon might be blowing teams out this season, but the Pac-12 squad has not faced anyone to this point.
A road win over Washington will certainly help, although it still would not compare to the Clemson's schedule.
The Tigers started the season with an impressive win over Georgia, which currently stands as one of the best wins of 2013 for any team in the country. They also have a chance to make a mark with both voters and computer rankings on Oct. 19 when they face Florida State.
If Clemson is able to win this ACC battle, it is hard to rule the school out as being one of the top three teams in the nation.
When you compare undefeated schools, the only question that separates them is "who did you beat?" The Tigers will have two huge wins on their resume, and that will go a long way with these rankings.
Projected BCS Standings

| | | |
| --- | --- | --- |
| Rank | Team | Week 7 Coaches Poll |
| 1 | Alabama | 1 |
| 2 | Stanford | 5 |
| 3 | Clemson | 4 |
| 4 | Oregon | 2 |
| 5 | Ohio State | 3 |
| 6 | Florida State | 6 |
| 7 | Georgia | 7 |
| 8 | Oklahoma | 10 |
| 9 | UCLA | 13 |
| 10 | Louisville | 8 |
Coaches poll via USA Today
Follow Rob Goldberg on Twitter for the latest breaking news and analysis.