Winners and Losers from Week 1 of LA Lakers Preseason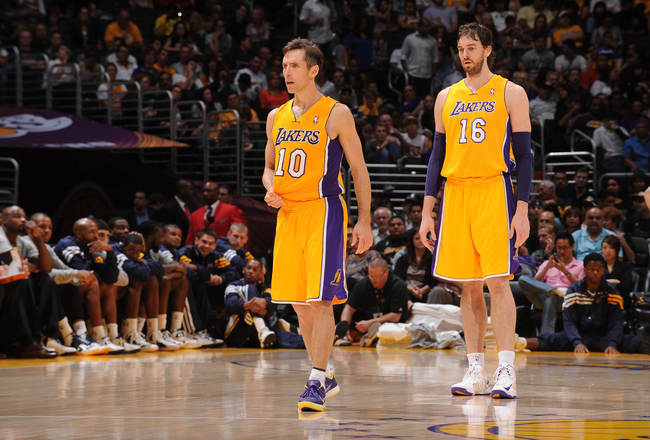 Steve Nash and Pau Gasol have been on opposite ends of the spectrum this preseason.
Juan Ocampo/Getty Images
It's been a really positive start to the preseason for the Los Angeles Lakers.
Sure, they're just 2-2, but the results of games don't matter when the fourth quarter is played by guys who won't even make the team.
Rather, the preseason is a time to identify which players look good—and which players don't—on an individual level.
That goes double for a Lakers team with so many new faces. Most of them have performed up to snuff this far, but there are a few who have struggled.
Let's look at L.A.'s three biggest winners and losers of the preseason.
Winner No. 1: Pau Gasol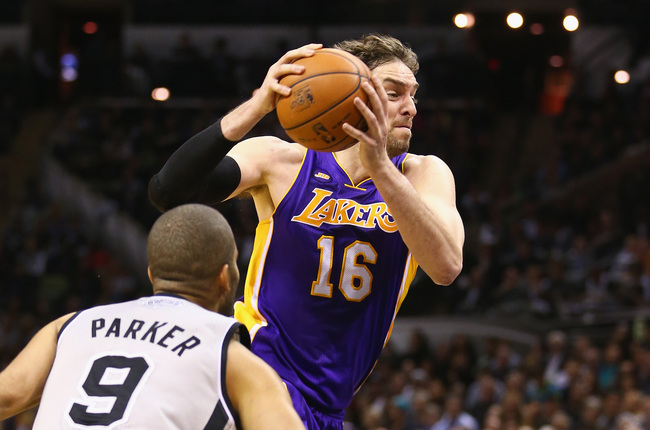 Ronald Martinez/Getty Images
I'm expecting a monster bounce-back campaign from Pau Gasol this year, and the preseason has only further confirmed that notion.
Gasol looks confident on the court once again with his role in Mike D'Antoni's system finally secure. He's getting more post-up chances down on the block as well as opportunities to facilitate from the elbows.
His jump shot has been on and he's flashed a wide array of post moves that have produced easy scoring opportunities.
Gasol's passing has also been on point thus far and his continued involvement in the offense will be crucial to L.A.'s success this season.
In three preseason games, Gasol is averaging 13 points, six rebounds and three assists in just 23 minutes a night. Prorate that to the 36 minutes per game he should see in the regular season and you end up with a vintage Gasol line of 20.7-8.8-4.7.
Winner No. 2: Xavier Henry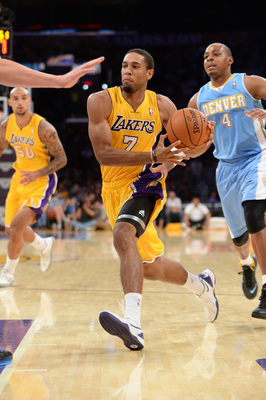 Noah Graham/Getty Images
Los Angeles Lakers fans are going crazy over Xavier Henry right now.
It's just the preseason, so temper your expectations, but he's undeniably been a revelation.
The former lottery pick has been an offensive spark plug in the preseason so far, debuting with a monster 29-point performance.
He's an absolute terror going to the hole, especially out of the pick-and-roll, looking like a beard-less James Harden with his Eurostep moves and sweeping left-hand finishes.
His free-throw rate is Harden-esque as well, something that has always been a strength of his. Henry was in the top three among perimeter players in free-throw rate last season—ahead of guys like Kevin Durant and now teammate Kobe Bryant.
So far in the preseason, he's averaging an otherworldly 11.4 freebies per 36 minutes. That includes the latest game where he played just 10 minutes and didn't get to the line at all.
His current free-throw rate would blow away Harden's league-leading mark for perimeter players from last season. If he can keep it up during the season, L.A. will have a legitimate pick-and-roll weapon coming off the bench.
Winner No. 3: Nick Young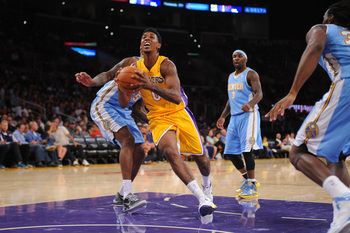 Noah Graham/Getty Images
Everyone knows that Nick Young can flat-out fill it up. The key for him is whether he can do so responsibly.
So far in the preseason, he's shown he can do that.
Aside from the second exhibition contest, Young hasn't forced too many of the indulgent, inefficient step-back 20-foot jumpers he's notorious for.
He's smartly attacked when he's sensed an advantage and gotten into the paint a healthy amount.
Though he hasn't shot the ball particularly well—just 38 percent from the field and 29 percent from three—he has mostly stayed within the structure of the offense and earned more frequent trips to the foul line.
If Young plays the same way in the regular season, he will shoot the Lakers into more games than he will shoot them out of.
That's really all you can ask from Swaggy P.
Loser No. 1: Steve Nash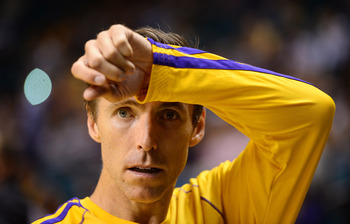 Ethan Miller/Getty Images
Steve Nash has scored just four points in his first three preseason games.
His vision is still intact, as evidenced by this sweet dish to Chris Kaman, but his normally deadly shot has been off so far.
The numbers in and of themselves aren't that worrisome. After all, this is Steve Nash we're talking about.
Los Angeles' main concern regarding their aging point guard is his health—and that's why you have to rank him among the losers.
Nash left L.A.'s latest exhibition in the first half with a sore ankle. It's not thought to be serious, but neither was the leg injury Nash sustained at the beginning of last season, which kept him out nearly two months.
Any injury at all has to cause apprehension for the oldest player in the NBA.
Loser No. 2: Wes Johnson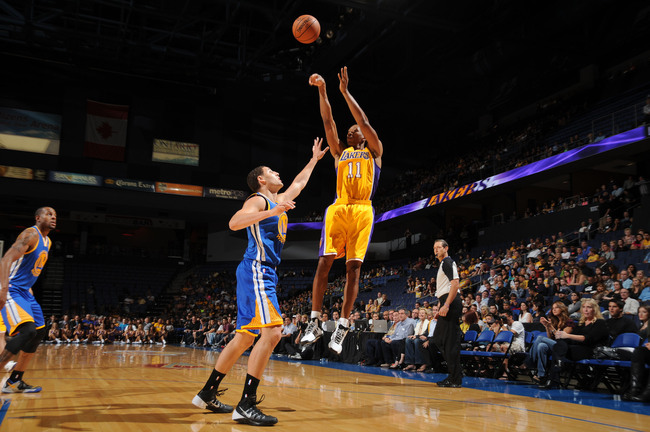 Noah Graham/Getty Images
The Lakers had high hopes for Wes Johnson. Thus far, he has not delivered.
It's only been two exhibition games, but the former No. 4 overall pick looks as dreadful as he always has.
Johnson still can't shoot the ball from the outside, clanking his way to a 20 percent field-goal percentage and missing all three of his triples, and he racked up more fouls than points in his brief time on the court.
Mike D'Antoni experimented with Johnson at power forward in the first preseason contest. It was an unmitigated disaster, as David Lee absolutely abused him on the defensive end.
Worse still, Johnson's outside shot has so little respect that it doesn't even pull big men out to guard him on the perimeter.
To top it off, Johnson left his second exhibition game with an injured foot. It's as yet unclear when he will return to action.
Loser No. 3: Marcus Landry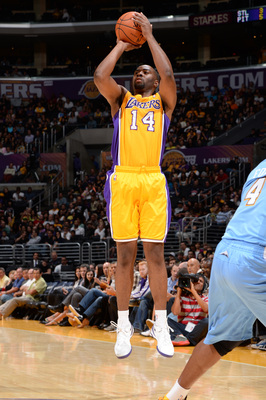 Andrew D. Bernstein/Getty Images
Marcus Landry came into training camp as one of L.A.'s more intriguing prospects.
He's a three-point gunner who has had a lot of success in the D-League as a catch-and-shoot specialist.
Unfortunately for Landry, his only skill has failed him thus far in the preseason.
Landry is shooting below 30 percent from the field and has only connected on five of his 21 treys—the vast majority of which have been completely wide open.
His confidence is clearly shot, as his misses have gotten progressively worse, including several airballs in one game.
Landry has nothing else to fall back on, so if he doesn't warm up his shot in a hurry, he won't be around much longer.
Keep Reading

Los Angeles Lakers: Like this team?