Velasquez vs. Dos Santos III and MMA's Greatest Heavyweight Rivalries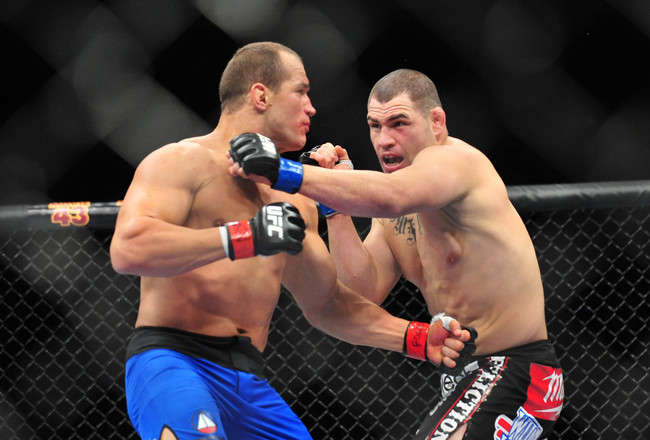 III
Gary A. Vasquez-USA TODAY Sports
The importance of a sporting event can be gauged on the pressure of the moment. Is there a championship on the line? Will a record be broken? Will an improbable underdog defeat a monstrous dynasty?
These questions can turn an average sporting event into a can't-miss moment.
And with a week away from the third installment of Cain Velasquez vs. Junior Dos Santos, one cannot help but wonder where this rivalry stacks up in the MMA heavyweight firmament.
10. Antonio Silva vs. Alistair Overeem
Many rivalries are built through countless confrontations in public and in the Octagon.
The fight between Antonio Silva and Alistair Overeem was not one of those rivalries.
The pre-fight hype hinged on Overeem's lack of respect for Silva's talent. The Dutchman claimed "Bigfoot" would be a stepping stone on his way to the UFC heavyweight title.
And if these words were meant to get into Silva's head, Overeem succeeded. The Brazilian was visibly aggravated, shouting words at the former Strikeforce champion at the press conference and weigh-in.
However, when the Octagon door was locked, neither fighter spoke. Instead, both launched into a stand-up battle, resulting in an ending that most will not forget: Silva knocking out Overeem at UFC 156.
9. Randy Couture vs. Tim Sylvia
Similar to No. 10 on this countdown, then UFC heavyweight champion Tim Sylvia and Randy Couture only needed one meeting to solidify their place in MMA history.
In 2007, Sylvia was on a three-fight win streak (including two defenses of the UFC heavyweight title) with no interesting challengers on the horizon. His last defense against Jeff Monson had many MMA journalists and fans beginning to question who could stop the immovable giant.
As it turns out, Randy Couture, who had not fought in two years, declared not only that he saw flaws in Sylvia's fighting style, but that he wanted to fight him for the belt. And being an MMA legend, the UFC obliged him.
The announcement, which was made on the Spike TV magazine show Inside the UFC, shocked the MMA world and, more notably, Sylvia.
Within days, Sylvia began to berate Couture through the media for his age, lack of recent fights and attempt to regain the title. Couture silenced the big heavyweight with a unanimous-decision win at UFC 68, reclaiming the strap in the process.
8. Josh Barnett vs. Pedro Rizzo
When Pedro Rizzo faced Josh Barnett at UFC 30, the MMA community knew they were witnessing two young heavyweight prospects. But what viewers could not have known is that both would become legends of the sport.
This rivalry does not hinge on trash talk or public confrontations. Instead, both men brought a hard-nosed fighting style and warrior spirit to the cage.
While Rizzo got the better of Barnett at UFC 30, Barnett got his revenge seven years later at Affliction: Banned in 2008.
7. Randy Couture vs. Pedro Rizzo
The first time Randy Couture and Pedro Rizzo fought, "The Natural" won a close unanimous decision for the UFC Heavyweight Championship at UFC 31. While the MMA community was split on the winner, all knew they had just witnessed one of the best fights of the year.
The fight was so close and entertaining that the UFC offered Rizzo an immediate rematch. However, like most rematches, it went nothing like the first. Couture won decisively by third-round TKO at UFC 34.
6. Fedor Emelianenko vs. Mirko Filipovic
Many rivalries in MMA are defined by the amount of contentious trash talk or tension during a promo. But, in truth, for fighters with true talent, few words need to be spoken.
In this case, the fans did all the talking necessary for the fight. Before even stepping into the ring, the fight between Fedor Emelianenko and Mirko Filipovic was being billed as a faceoff between the two greatest heavyweights of all time. And despite their affinity for hyperbole, the MMA community was right.
Both fighters had been travelling on separate but equal paths through the Pride heavyweight division. It was not difficult to see their paths colliding, and if the clamoring fans had their way, it would happen. Luckily for them, Pride signed the fight for Pride Final Conflict 2005.
At the end of three rounds, no one was disappointed. Emelianenko won the decision in 2005's Fight of the Year.
5. Cain Velasquez vs. Junior Dos Santos
On October 19, the MMA community will witness the highly anticipated third fight between Cain Velasquez and Junior dos Santos.
Their rivalry is unlike most in MMA history; there is very little, if any, trash talk between them, and they seem to have an open and honest respect for each other.
The first bout between occurred on the biggest televised-platform in MMA history at UFC on Fox 1. Dos Santos knocked out Velasquez in just over a minute in the first round to take the UFC heavyweight title.
The rematch, at UFC 155, offered a completely different outcome. For five rounds, Velasquez pummeled Dos Santos, stunning the Brazilian with punches and taking him down at will.
With both fighters' youth and evolution in the sport, no one can be certain if UFC 166 will be their final meeting. But either way, MMA fans understand how lucky they are to even witness such a fight in the first place.
4. Tim Sylvia vs. Andrei Arlovski
MMA is one of the rare sports where the gap between competitors is normally reached within a few years. However, once in a while, a rivalry is so heated—so personal and real—no amount of fights or time will heal the wounds.
Tim Sylvia vs. Andrei Arlovski is one of those rivalries.
Their history could span a novel. Between trash talk, public confrontations and personal relationships, Arlovski and Sylvia were engaged in as genuine a feud as the UFC has ever experienced.
They fought four times. Sylvia won twice. Arlovski once. And the final bout was ruled a no-contest. Yet to this day, they continue to call each other out.
Due to UFC rights, the above clip is of their fourth bout in ONE FC: Pride of a Nation. However, one can see that the animosity has not waned at all.
3. Fedor Emelianenko vs. Antonio Rodrigo Nogueira
Few fighters in MMA history are embedded in fighting lore as much as Fedor Emelianenko and Antonio Rodrigo Nogueira are.
With their skills and fanbase, the fighters met multiple times for heavyweight supremacy. Unfortunately for "Big Nog," his legend would have to be cemented without a win over Emelianenko.
Their first bout occurred at Pride 25, where Emelianenko took the title from Big Nog via unanimous decision. Two years later in 2004, they fought twice: a no-contest and a decision win for Emelianenko.
2. Antonio Rodrigo Nogueira vs. Frank Mir
A match between Antonio Rodrigo Nogueira and Frank Mir was billed as the two greatest heavyweight jiu-jitsu practitioners of all time.
However, the first bout at UFC 92 mainly involved a stand-up battle, which Mir decisively won. The decision, though, was not without controversy.
Two days after the fight, UFC president Dana White revealed Big Nog was recovering from a staph infection. The announcement prompted the MMA community to speculate on the legitimacy of Mir's win. Additionally, the announcement sparked trash talk between the two fighters, which ranged from age to skill.
The two met again at UFC 140, which culminated in a finish that journalists and fans will talk about for decades. Mir submitted Big Nog with a kimura in the first round, earning Submission of the Night honors.
1. Brock Lesnar vs. Frank Mir
Many in the MMA community proclaim Brock Lesnar's career was a farce. However, one cannot help but admit how impactful his short UFC career was on MMA.
And Lesnar garnering more viewers than ever during his rivalry with Frank Mir.
After all, Mir welcomed Lesnar into the Octagon at UFC 81 with a kneebar submission and would not stop talking about it. Mir's calm yet snarky demeanor sent Lesnar into a rage.
For almost a year, both fighters voiced their opinions and clamored at the opportunity for a rematch.
The stage for their rematch was UFC 100, the biggest MMA pay-per-view to date.
The fight harnessed all emotion from the build-up to the closing bell. There was violence, blood and even post-fight screaming.
It was clear that the fighters loathed each other, and the MMA community has never been a bigger fan of a heavyweight clash, or so the pay-per-view numbers suggest.
Keep Reading