Mike Freeman's NFL Grades: Pre-Week 7 Edition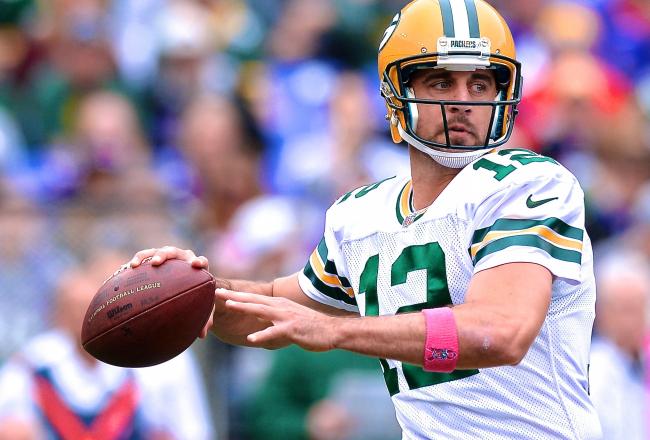 This week's grades are unique and go where they have never gone before. Hopefully, where they will never go again.
The Houston Texans are terrible. They're not Jaguars terrible—that is an entirely new class of wretched. No, they're not that bad. But they are pretty awful. Matt Schaub has been a big reason why the team is 2-4. You can't spell "pick-six" without Matt Schaub.
So boo them. Mock them. Ignore them. Put little brown paper bags over your head with sad faces on them. That is a fan's right. But what happened on Sunday was inexcusable. It doesn't matter how bad Schaub plays; you don't cheer when a player gets injured. You can hear some of the Texans fans cheering Schaub getting hurt in this video from the Big Lead around the 13-second mark. It certainly wasn't all fans. But it was enough. It was an incredibly crappy thing to do.
Linebacker Brian Cushing called the fans' reaction "barbaric," according to Will Grubb of Houston's SportsRadio 610.
This comes after a fan reportedly confronted Schaub just days earlier at his home. The only thing missing from this loserpalooza is some jackass calling Schaub at his home and hanging up.
So we begin grades with the Texans: "F" for the team and "F" for the fans that booed Schaub.
Now, on to the rest of the non-booing injured players grades.
| | | |
| --- | --- | --- |
| Team | Grade | Analysis |
| 49ers | B+ | Tight end Vernon Davis had a career-high 180 yards receiving. He added two touchdowns. When Davis plays like that, the 49ers offense is hard to stop. |
| Bears | B+ | They lose grade points because it was against the 0-6 Giants, but this was a total team win. Getting receiver Brandon Marshall back to a starring role is important, but catering to him too much can be problematic. The offense needs to spread the ball around—but Marshall is so good and so dangerous, he's like a strong addiction. |
| Bengals | B | The big story here is Andy Dalton. He looked...good. It was only the Bills, but that was needed. He threw for over 300 yards and three scores. The offense used a more balanced attack. That's how Dalton has to be used. He can't win games by himself. |
| Bills | C | It was a close game and backup thrower Thad Lewis played well, but the defense gave up 284 yards in the first half. |
| Broncos | B | These are the high standards the Broncos are setting: They "only" beat the Jaguars by 16 points. The Jaguars deserve credit for frustrating Peyton Manning and not getting destroyed by 40. |
| Browns | D | They were outscored 24-0 in the second half. Quarterback Brandon Weeden's shovel pass that was picked off was one of the worst plays you will see all season. The Browns' slide back to being the Browns has begun. |
| Buccaneers | F- | I used to think Greg Schiano would survive this season and get fired the millisecond it's over. But no longer. I'm hearing management may want to cut the cord sooner rather than later, and why not? The team is 0-5 and has lost 10 of its past 11. Yuccaneers. |
| Cardinals | C | Again, Arizona's defense was outstanding. Quarterback Carson Palmer is the problem. He remains inconsistent. Until that changes, the Cardinals are a mystery. |
| Chargers | B | The defense played well, keeping Andrew Luck in check. And the offensive line mostly protected quarterback Philip Rivers. |
| Chiefs | A | They sacked Terrelle Pryor 10 times. The Chiefs just keep chugging along. Not overly great. Not star-studded. Just smart. Just good. |
| Colts | C | The issue is lack of offensive firepower. Luck can't do it all. Not enough players around him are helping. |
| Cowboys | A | Just a good, solid win over Washington. I think the victory seals the Cowboys as winners of the NFC East. That's how bad the division is...I'm saying that of a 3-3 team in Week 7. |
| Dolphins | | Bye |
| Eagles | B+ | Quarterback Nick Foles threw for three scores and ran for a fourth. Nice effort. It was against the Buccaneers, however, and they are not a real NFL team. So no "A." |
| Falcons | | Bye |
| Giants | D- | "A" for effort. Or rather, "D" for effort. Er, "D-" for effort. The Giants really tried hard, and it's sad that's what it's come down to for the Giants—praising their effort. Eli Manning looks like a different person. Like Blaine Gabbert has suddenly taken over his body. |
| Jaguars | A+++ | They lost, but after a week of being mocked, told they would lose by a cabillion to the Broncos and then mocked some more, the Jaguars played their little spotted tails off. This was the very definition of a moral victory. Good for them. |
| Jets | D | Just when you want to trust the Jets. You want to believe them. Embrace them. Root for them. A stinker. |
| Lions | B+ | Finding a way to win with Calvin Johnson still obviously hurting, even against a bad team, is big. |
| Packers | A+ | The high grade is for one main thing: Aaron Rodgers. He was missing two of his top three receivers for much of the game and still threw a 64-yard touchdown in the third quarter and completed a 52-yard pass in the fourth. |
| Panthers | A | Cam Newton threw for three TDs and ran for a fourth. When he plays like that, it is reminiscent of what he once was and what he can do. |
| Patriots | A+++ | Tom Brady gets another comeback win. He does it so many times, we sometimes fail to appreciate how difficult it is and how amazing a quarterback he remains despite now having Manny, Moe and Tito playing receiver. I could make an argument that Brady is the MVP so far. In fact, I will do just that later this week. |
| Raiders | F | This is how bad it was for Oakland: They had a 3rd-and-48 against Kansas City. A freaking 3rd-and-48. |
| Rams | A | I've been critical of quarterback Sam Bradford recently for being error-prone and overrated, but this was a good day for him. Bradford threw three touchdown passes against a decent defense. |
| Ravens | D- | The big concern for the Ravens is Ray Rice. He hasn't been horrible, but he hasn't been great—and for the Ravens to win, he needs to be great. Against the Packers last week, he had just 49 total yards on 17 touches. |
| Redskins | C- | The team hasn't quit. That's the good news. Robert Griffin III is starting to look like, well, Robert Griffin III. That's also good news. The bad news is their defense still stinks out loud. |
| Saints | B | Sean Payton's arrogance in the final minutes against the Pats hurt the Saints. Not every team can do it, of course, but New England took away tight end Jimmy Graham, who didn't have a single catch. The offense looked extremely mortal. |
| Seahawks | B- | One of the best signs a team is headed deep into the playoffs is when they can play like absolute garbage and still win. The Seahawks did just that. |
| Steelers | B | The Steelers won by...hold on. Whaaaaat? The Steelers won! No further analysis. Just let that marinate. They freaking won. |
| Texans | F | Question: Who would lose in a game between the Texans and Jaguars? Answer: our eyes. |
| Titans | C+ | They gave the sloppy Seahawks all they could handle, but Ryan Fitzpatrick at quarterback...um, no. |
| Vikings | C | Adrian Peterson, and the team, get high marks for handling an impossible situation well. Josh Freeman will likely get the start at quarterback in the Vikings' next game. Thankfully for them. The Christian Ponder/Matt Cassel era has to end. |
This article is
What is the duplicate article?
Why is this article offensive?
Where is this article plagiarized from?
Why is this article poorly edited?