We're starting to get close to the critical midway point in the season for many NFL teams.
Although the year is just five games old, it can be very difficult to overcome a bad start this deep into the season. If you start 1-5 or 2-4, you might as well rip up those playoff tickets, because there's little chance you'll be qualifying for the postseason.
For the teams at the top, they'll want to make sure they're keeping pace with everybody else around them in order to shore up home-field advantage in the postseason. Considering the best teams will probably lose two or three games, you don't want to expend one of those losses in Week 6.
Here's a look at the schedule and predictions for Sunday.
NFL Picks—Sunday, Oct. 13

| | | | |
| --- | --- | --- | --- |
| Home Team | Away Team | TV | Pick |
| 1 p.m. ET | | | |
| Buffalo Bills | Cincinnati Bengals | CBS | Bills |
| Cleveland Browns | Detroit Lions | FOX | Lions |
| Kansas City Chiefs | Oakland Raiders | CBS | Chiefs |
| Minnesota Vikings | Carolina Panthers | FOX | Panthers |
| New York Jets | Pittsburgh Steelers | CBS | Jets |
| Tampa Bay Buccaneers | Philadelphia Eagles | FOX | Eagles |
| Baltimore Ravens | Green Bay Packers | FOX | Packers |
| Houston Texans | St. Louis Rams | FOX | Rams |
| 4:05 p.m. ET | | | |
| Denver Broncos | Jacksonville Jaguars | CBS | Broncos |
| Seattle Seahawks | Tennessee Titans | CBS | Seahawks |
| 4:25 p.m. ET | | | |
| San Francisco 49ers | Arizona Cardinals | FOX | 49ers |
| New England Patriots | New Orleans Saints | FOX | Patriots |
| 8:30 p.m. ET | | | |
| Dallas Cowboys | Washington Redskins | NBC | Cowboys |
Schedule via ESPN.com
The season could well hinge on the results of these three games.
Oakland Raiders at Kansas City Chiefs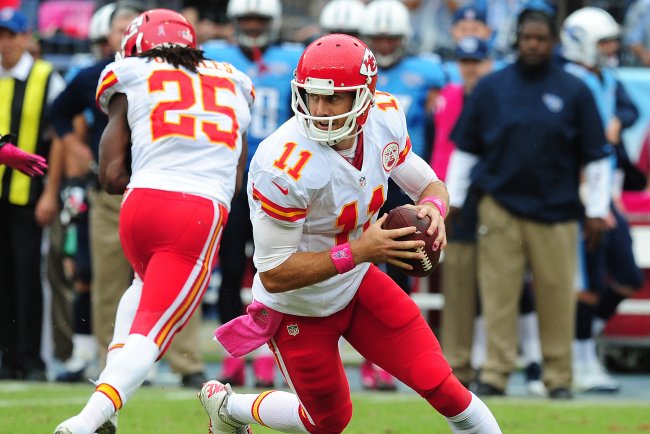 Scott Cunningham/Getty Images
Who would've thought before the season that the Kansas City Chiefs vs. Oakland Raiders in Week 6 would be a watchable game?
The Raiders' extremely small playoff window could close on Sunday. If they fall to 2-4, and the Chiefs move to 6-0, there's almost no way Oakland can find a way. However, just having this discussion illustrates how far the Raiders have come this year.
The Chiefs will be wanting to keep pace with the Broncos. As great as Denver has been, Kansas City has the same record and will be there to jump ahead in the standings when the Broncos slip.
This game is a nice contrast of quarterbacks.
Alex Smith is the prototypical game manager. Don't be expecting him to nail a ton of downfield throws. But more often than not, he makes the right decision. Smith is the perfect guy for a balanced Chiefs offense that doesn't need somebody to throw for 300 yards every game.
Terrelle Pryor is more the controlled frenzy. With his running ability, opposing defenses haven't figured out a way to really stop Pryor and the Raiders offense. The signal-caller has also made some nice strides in the passing game.
While Pryor offers more explosion and potential for a huge game, go with the safe pick. The Chiefs defense is one of the best in the league. Oakland has struggled on that side of the ball. Smith should be able to move the ball up and down the field, while his defense will do enough to limit Pryor.
Chiefs 20, Raiders 9
New Orleans Saints at New England Patriots
There isn't a more intriguing game than this one.
The New Orleans Saints are rolling right now and looking great on both sides of the ball. The New England Patriots are coming off their first loss of the season, but were able to welcome Danny Amendola back into the offense.
This is a great test for both teams. For the Saints, it would be their biggest win of the season and possibly have them overtake the Denver Broncos as the best team in the league. For New England, this is a chance to reaffirm that it's still an elite team.
With the Patriots, you still get the feeling their best football is ahead. They just need to get Rob Gronkowski back to give Tom Brady enough weapons in the air attack.
New England has a knack for winning games like this. With his back is against the wall, Brady does just enough to push his team over the top, and the defense bends but doesn't break.
This is going to be a quarterback duel, with Brady finding the holes in what has been an otherwise great Saints secondary.
Patriots 28, Saints 24
Washington Redskins at Dallas Cowboys
It's quite an indictment of the NFC East that if the 1-4 Washington Redskins win on Sunday, they could be first in the division.
At least you should count on a lot of offense in this game. Washington is dead last in yards allowed per game and 27th in Football Outsiders' defense efficiency. Meanwhile, the Dallas Cowboys are 28th and 23rd, respectively.
Last week, the Cowboys looked like they might have turned the corner, only to have Tony Romo throw a pick that set up the Denver Broncos' winning score. The Redskins are coming off a bye week, which probably came at a bad time after they won in Week 4.
Here's the biggest question in this game: Which defense is going to be the most awful? While this one shouldn't reach Cowboys vs. Broncos levels of scoring, it will be up there.
With the game in Dallas, the Cowboys get the edge. Romo has been playing really well this year, and he should be able to avoid too many costly mistakes. The defense should also be extremely motivated to respond strongly after being humbled so much last week.
Cowboys 34, Redskins 24