San Diego State vs. Air Force: Live Score, Highlights and Analysis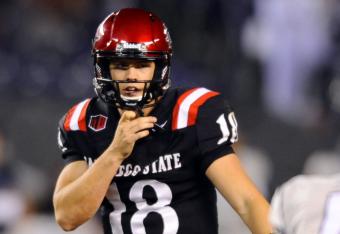 Quinn Kaehler has re-energized the Aztecs offense.
Christopher Hanewinckel-USA TODA
Final: San Diego State 27, Air Force 20
The Aztecs left it a little late, but they fought back to leave with the victory. San Diego State has won its third straight game after starting the year 0-3 and is undefeated in the Mountain West Conference.
It was a sloppy game, but the fourth quarter had numerous big plays and it was an exciting finish.
Fourth quarter, 0:53
There's just not much Romine could do there. There needs to be a better play called to anticipate that all-out blitz.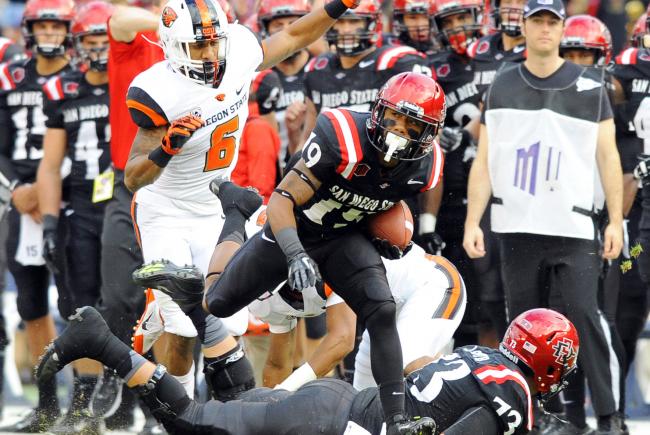 Fourth quarter, 1:39
You can't let that man get all the way into the end zone! Poor tackling, and it most probably cost the Falcons the game.
Pumphrey with another impressive run. He's been phenomenal tonight.
Fourth quarter, 2:14
That's not the first time Muema has gone out in a short yardage situation. I don't really know why. I love Pumphrey, but Muema is a bigger back capable of breaking tackles.
Fourth quarter, 4:14
After their coach has shown no confidence in the kicking game (and rightfully so), when do they feel confident enough to kick a field goal if it comes to fourth down?
Fourth quarter, 6:58
This Falcons defense looks tired. They don't have the same zip as they did in the third quarter. This doesn't look good for Air Force.
That was pass interference on San Diego State, not called. I would love to have that penalty be(come) reviewable, college football.

— Matt Zemek (@MattZemek_CFN) October 11, 2013
Fourth quarter, 7:18
How that wasn't a penalty is beyond me. I guess the receiver initiated the contact, but Berhe was holding his arm.
Fourth quarter, 8:39
Two failed PATs in one game? No wonder that ball boy was yawning. That's a big play by the Falcons special teams, as it keep their lead.
Fourth quarter, 9:09
That juke was ridiculous. Gimme more Pumphrey!
Fourth quarter, 9:44
Anybody see that ball boy? He looked either exceptionally tired or very bored. That was a gigantic yawn.
Fourth quarter, 11:24
Penalties are starting to get the better of Air Force. They can't keep doing it toward the end of this game. They need to get some points to solidify their lead.
San Diego State just marched down the field for a touchdown. 20-13 AFA w/ 11:25 remaining. This is far from over.

— Brent Briggeman (@BrentBriggeman) October 11, 2013
Fourth quarter, 11:25
There's Pumphrey again, scoring the receiving touchdown. Can the Falcons hold on?
Fourth quarter, 11:33
I thought that could have been called a penalty. The right tackle got beaten and just tackled the defender.
San Diego State continues to not do any favors for Ohio State's SOS. Down 20-6 to Air Force early in the fourth quarter.

— Michael Citro (@11W_Michael) October 11, 2013
Fourth quarter, 12:39
There's still time for the Aztecs to come back, but a SDSU loss doesn't just hurt them.
Air Force has been impressive, but do not understand much about San Diego State's strategy.

— david ramsey (@davidramz) October 11, 2013
Fourth quarter, 13:14
That may have looked a little silly, but that's a smart decision by the Air Force coach. I've been far more impressed with him than Long tonight.
Either San Diego State really doesn't trust their kicker or... I don't know what.

— Yesh Ginsburg (@yesh222) October 11, 2013
Third quarter, 1:00
Another fourth-down attempt instead of going for a 42-yard field goal. That's not a gimme by any means (not in college at least), but 4th-and-13 is asking a lot of your offense.
Third quarter, 2:47
There's that explosiveness from Pomphrey that I was talking about.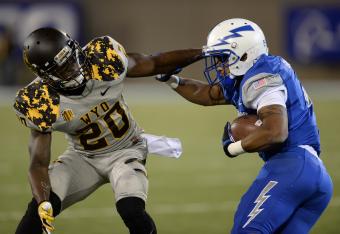 Third quarter, 3:53
The benefit of rarely throwing the ball is the element of surprise. 71-yard bomb to Sam Gagliano! This is a precarious situation for the Aztecs.
Time is running out and their offense has struggled in this second half.
Third quarter, 5:19
Quinn Kaehler has zero seconds to throw the football. It's amazing that he even got that pass off. No more play action for the Aztecs.
Third quarter, 6:31
That was a big penalty, but this Falcons defense is flying all over the field.
It might be Air Force's night. Their kick bounces in, SD State's kick bounces out.

— Scott Strasemeier (@ScottStras) October 11, 2013
Third quarter, 9:23
Will Conant showing an impressive leg connecting on that 52-yarder. It took a friendly bounce off the upright. Sometimes the ball just bounces your way.
Third quarter, 11:34
That's where you go for it on fourth down. Take notes Mr. Long.
Third quarter, 13:53
It's got to be frustrating to be an Air Force receiver. Despite the school name, the football team doesn't go airborne very often.
Halftime
In a surprising turn of events, Air Force leads by four after a 48-yard field goal as the clock ran out. They get the ball to start the second half too. Are the Aztecs in trouble?
Second quarter, 0:39
Lacoste looked really explosive on that run and he gets them close to field goal range. They only have one timeout though, so a sack would be devastating.
This article is
What is the duplicate article?
Why is this article offensive?
Where is this article plagiarized from?
Why is this article poorly edited?