Rutgers vs. Louisville: Live Score and Highlights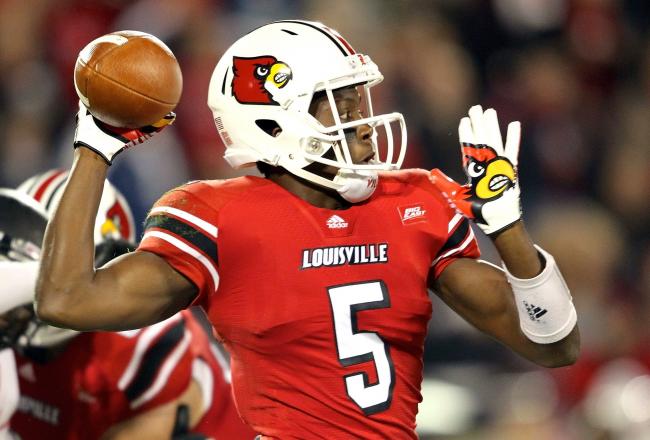 Louisville: 24
Rutgers: 10
Final
Louisville didn't put on the show most were hoping for but it was enough for the Cardinals to improve to 6-0 on the season. Teddy Bridgewater threw for 310 yards and two touchdowns, while the Louisville defense held Rutgers to just 240 yards of offense. It was a team win for the Cardinals, but many were expecting to see a blowout on national television that would have gained the attention of voters.
Instead, it was a sloppy win that wasn't decided until late in the fourth quarter. Rutgers couldn't get the offense going thanks to Gray Nova's constant struggles and the lack of a running game that managed just 12 yards on the ground.
Rutgers drops to 4-2 on the season and will play Houston in two weeks, while Louisville will put its undefeated record on the line against UCF next week.
Bridgewater's Heisman campaign takes a major hit.
Louisville's offense failed to score for 36:48 of game time between mid-2Q and final TD w/ 2:32 left.

— Chip Patterson (@Chip_Patterson) October 11, 2013
Ouch!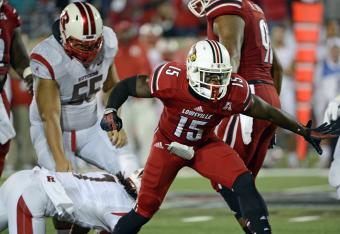 FINAL THOUGHTS
While a win is just that, this was Louisville's chance to shine and it didn't happen. The offense wasn't as explosive as we thought it was going to be, there was poor execution on special teams and even Teddy Bridgewater struggled at times. Yes, the Cardinals are 6-0, but they likely blew their chance at a possible national championship bid and Bridgewater is likely out of the Heisman race.
Rutgers is one of the better opponents on Louisville's schedule, so this was a chance for the Cards to force college football to take notice. The good news is they're pretty much guaranteed a BCS bowl, it just won't be the one for a crystal football.
As for the Scarlet Knights, what in the world happened to their offense? Give credit to Louisville's defense, but a unit that averaged 40 points per contest couldn't move the ball the length of a coffee table. Quarterback Gary Nova makes too many costly mistakes, and the offensive line allowed eight sacks and didn't open up any running lanes.
Overall, praise Louisville for the win but don't expect to hear any talk about a national championship berth for the remainder of the year.
Louisville: started 6-0 or better in consecutive seasons for first time in school history

— ESPN Stats & Info (@ESPNStatsInfo) October 11, 2013
Congrats, Louisville!
Charlie Strong is 4-0 against Rutgers.

— Jonathan Lintner (@JonathanLintner) October 11, 2013
They haven't been some of his most pretty victories, but wins all count the same, right?
Louisville: 24
Rutgers: 10
Final
It wasn't pretty, but it's a win.
The Cardinals will take it.
Rutgers come up short on fourth and 14, which will allow Louisville to lineup in victory formation.
Nova has now been sacked eight times.
Eight!
Rutgers still looking to score a late touchdown, which will only make folks in Vegas happy.
Rutgers is doing what it can to finish this game with pride, as it inches into the red zone. Unfortunately, it's a little too late.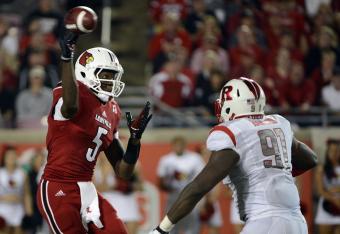 Louisville: 24
Rutgers: 10
That will do it folks.
Bridgewater throws a six-yard touchdown pass to Eli Rogers to put the Cardinals up by two scores. With less than three minutes renaming, the Scarlet Knights don't have enough offensive firepower to bring them back.
The NFL scouts have left the building.

— rickbozich (@rickbozich) October 11, 2013
Not sure that's good or bad.
Louisville is in field goal range, but with the way John Wallace has performed tonight, that doesn't mean much.
Nova is winning this game for Louisville, not Rutgers.

— Josh Liskiewitz (@JoshLiskiewitz) October 11, 2013
Unfortunately.
Hey, look at that.
Nova throws his 17th interception of this game to put even more pressure on the Rutugers defense. Oh, well. It was fun while it lasted.
Louisville's Last 5 Drives: INT, FG Miss, Fumble, Fumble, FG Miss

— Chip Patterson (@Chip_Patterson) October 11, 2013
This is why Rutgers still has a chance.
Even if Louisville holds on against Rutgers, can't picture them possibly playing for NC with this as their best win.

— LostLettermen.com (@LostLettermen) October 11, 2013
Nope.
Do you hear that?
That's the Rutgers heartbeat. Yup, the Scarlet Knights still have a chance thanks to a 45-yard field goal miss by John Wallace.
This will likely be the last chance for the underdog to tie it up, as there are only five minutes left in the game.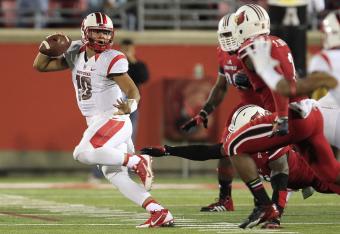 Nova gives the ball back by forcing the ball on second and long. The pass was intercepted by Calvin Pryor.
Yikes.
That may have been Rutgers only chance of winning this game.
Oh, this is about to get good.
Teddy Bridgewater is sacked and he fumbles the football. Rutgers will have a chance to tie this game!
Louisville is screwing around tonight. No room to screw around with this schedule.

— Dan Wolken (@DanWolken) October 11, 2013
Do you want a crystal football or not?
According to ESPN's Samantha Ponder, Louisville wide receiver Kai De La Cruz will miss the remainder of the game with a right leg injury.
Figured Teddy Bridgewater would shred this Rutgers D. #Fresno's Derek Carr threw for 456 and 5 TDs on it in the opener.

— Bruce Feldman (@BFeldmanCBS) October 11, 2013
The good news is that is still 14 minutes left, right?
Louisville: 17
Rutgers: 10
And we've got ourselves a ball game!
Kyle Federico drills a 36-yard field goal.
Your move, Louisville.
Honk if you've sacked Gary Nova tonight.

— Adam Kramer (@KegsnEggs) October 11, 2013
Everybody should be honking.
This article is
What is the duplicate article?
Why is this article offensive?
Where is this article plagiarized from?
Why is this article poorly edited?