Winners and Losers from Week 1 of Toronto Raptors' Preseason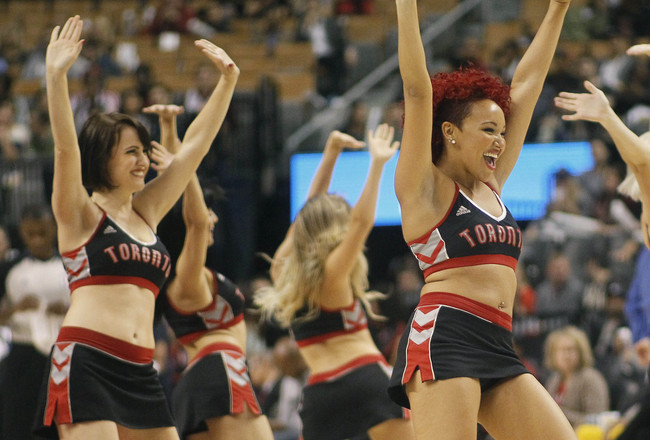 John E. Sokolowski-USA TODAY Spo
After splitting two games during Week 1 of the preseason against the Boston Celtics and Minnesota Timberwolves, the Toronto Raptors are slowly getting an idea of who can contribute in their rotation and to what extent.
Despite turning the ball over 26 times, Toronto still managed to hold off a surging Celtics team, 97-89, on Monday night. Unfortunately, the Raptors couldn't carry that momentum over to Wednesday, losing in convincing fashion to the Timberwolves, 101-89.
No Toronto starter has seen the court for more than 27 minutes in any game thus far, as head coach Dwane Casey has given a majority of the playing time to his second unit in order to see what he's working with down the bench.
Some players stepped up early and showed immediate progress from their offseason workouts and training camp, while others have stumbled out of the gate, failing to get back into game mode, at least for the time being.
Here is a look at the winners and losers for the Raptors to start the preseason.
Winner: Tyler Hansbrough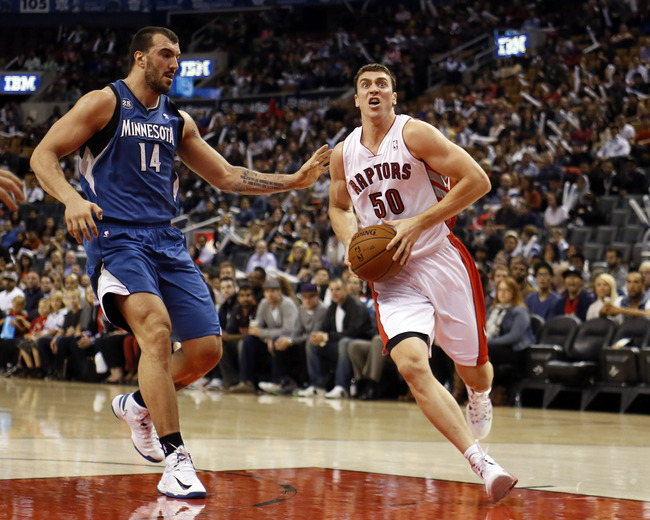 John E. Sokolowski-USA TODAY Spo
Is it too early to be calling Tyler "Psycho-T" Hansbrough the next big fan favorite in Toronto? Well, it probably is, but that doesn't mean I can't swoon over what I've seen thus far.
His energy and relentlessness on the glass have been extremely refreshing to watch. It's almost as if he is a notch above everyone else on the intensity scale. Hansbrough has looked like a man who is ready to compete.
He even managed to get himself to the charity stripe 14 times, nailing 12 free throws. Considering how physical he gets under the basket, it's not out of the realm of possibility to think that Hansbrough will improve upon his career average of 3.8 free-throw attempts in a larger role with Toronto.
It's that kind of effort that head coach Dwane Casey loves. It's also the kind of hustle that can instantly win over a fanbase. The Raptors needed an enforcer who could bang down low, do the dirty work in the paint and not be afraid to mix it up with larger defenders. Hansbrough is proving he can handle that right from the get-go.
Oct. 7 vs. Boston Celtics: 21 minutes, 17 points, 5-of-8 from the field, 7-of-8 from the free-throw line, nine rebounds (six offensive), one block, two turnovers
Oct. 9 vs. Minnesota Timberwolves: 21 minutes, nine points, 2-of-6 from the field, 5-of-6 from the free-throw line, seven rebounds, one steal
Loser: Landry Fields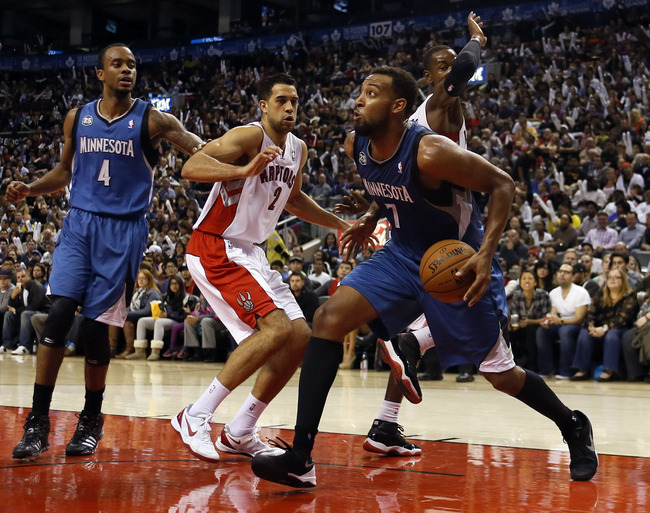 John E. Sokolowski-USA TODAY Spo
I suppose I should cut Landry Fields some slack. He's still in the process of getting his elbow and hand motions back to where he'd like them to be after his injury.
His shot will also come back over time, but until he's 100 percent healthy, there are going to be some kinks in his shooting stroke that will frustrate to no end.
Fields had a decent outing against Boston, but at home against the Timberwolves, he struggled getting the ball in the basket, hitting just one of six shot attempts.
Fields can still contribute in other aspects of the game if his shot isn't falling. He was able to be a facilitator in transition, helping push the tempo on offense for the Raptors. In fact, he's one of only two Raptors, with Kyle Lowry being the other, to have at least five rebounds and five assists through two games.
His shooting percentage will, hopefully, go up as the season advances. It was just a rough week for Fields in that regard.
Oct. 7 vs. Boston Celtics: 20 minutes, six points, 2-of-3 from the field, two rebounds, two assists, two turnovers
Oct. 9 vs. Minnesota Timberwolves: 26 minutes, two points, 1-of-6 from the field, five rebounds, three assists, two turnovers
Winner: Kyle Lowry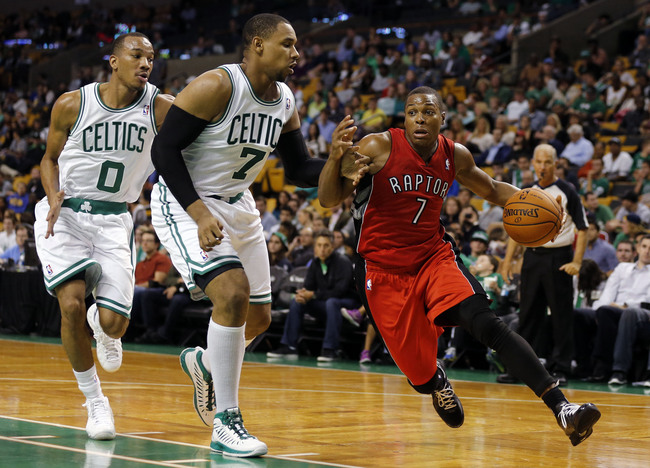 David Butler II-USA TODAY Sports
The big takeaway from the Raptors' first two games regarding Kyle Lowry is how good of a shape he appears to be in.
It was apparent at the Raptors' media day and during training camp that Lowry had been working on his physique, but after watching him play in a game situation, you get a better understanding and appreciation for the changes that he's made.
His end-to-end speed on the court was noticeably faster. He also had an extra pep in his step when driving the lane and kicking the ball out to teammates. He was also more active on defense, making better decisions, as far as when to go for the steal and when to simply stay in front of his man.
Lowry didn't see much of the court in the first two games, as more focus was put on the backups and their ability to run the offense, so his numbers weren't staggering by any means. He's going to have to cut down on his turnovers, but so far, there's a lot to like.
Oct. 7 vs. Boston Celtics: 23 minutes, seven points, 2-of-4 from the field, five rebounds, five assists, three turnovers
Oct. 9 vs. Minnesota Timberwolves: 20 minutes, eight points, 4-of-5 from the field, four assists, two turnovers
Loser: D.J. Augustin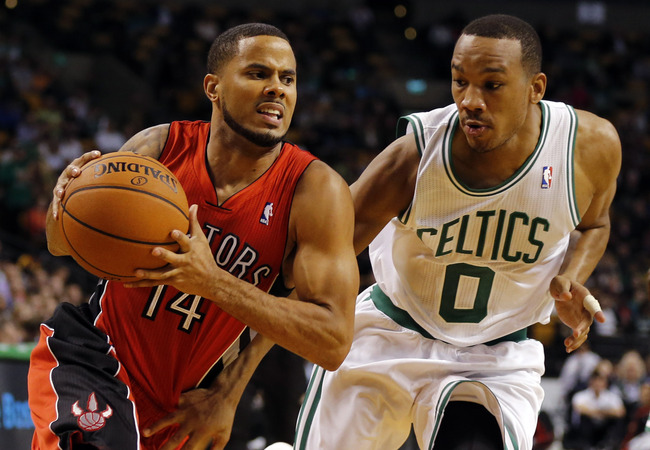 David Butler II-USA TODAY Sports
It's not time to panic, but maybe the drop-off from Kyle Lowry to his backup point guards is a little more than initially thought.
Augustin couldn't buy a bucket against Boston, missing all five of his shots, including having two of his attempts getting blocked at the rim. He failed to give the Raptors coaching staff any peace of mind in running the offense, as he continually struggled to create opportunities for his teammates.
He was also a huge liability on defense, getting beat on numerous occasions by quicker guards off the dribble.
Even more disheartening is Dwight Buycks, the current third-string point guard on the depth chart, who failed to make much of an impact as well. If this poor play continues, Lowry is going to be counted on to deliver even more.
Here's hoping that Lowry can stay healthy.
Oct. 7 vs. Boston Celtics: 18 minutes, four points, 0-of-5 from the field, one rebound, three assists, one turnover
Oct. 9 vs. Minnesota Timberwolves: 12 minutes, three points, 1-of-2 from three-point range, three assists, one turnover
Winner: DeMar DeRozan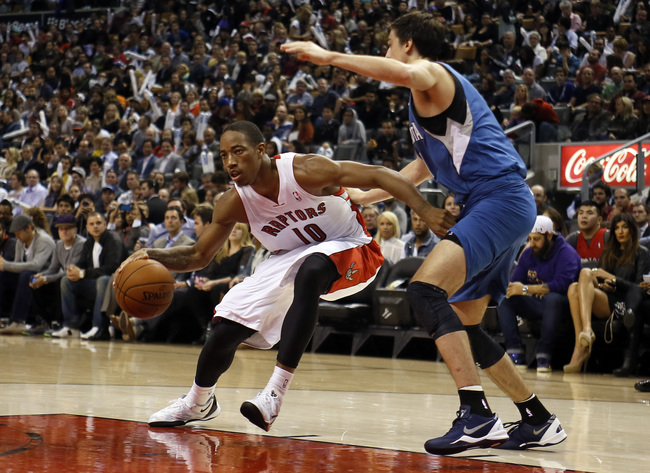 John E. Sokolowski-USA TODAY Spo
Nothing makes me smile more than watching DeMar DeRozan play with his back to the basket against smaller defenders rather than always settling for jump shots.
Whether it was against Avery Bradley on Monday night or Kevin Martin on Wednesday night, DeRozan constantly exploited the fact that he had a size advantage at the 2-guard, allowing for easier scoring opportunities around the rim. He exhibited quick spin-moves, running hooks and up-and-unders, as defenses failed to give him problems.
His 30 points on 19 shots and 63.2 shooting percentage from the field are obviously not sustainable numbers, but with a smarter shot selection and a continued willingness to play closer to the basket, who knows what kind of improvement DeRozan can have in 2013-14.
Now, if only his three-point shot would come along. At least he was wise enough to not hoist up any long-range bombs against the Timberwolves after missing all three of his attempts in Boston.
Oct. 7 vs. Boston Celtics: 24 minutes, 13 points, 6-of-12 from the field, two rebounds, one assist, one steal, three turnovers
Oct. 9 vs. Minnesota Timberwolves: 23 minutes, 17 points, 6-of-7 from the field, one rebound, two assists, one steal, three turnovers
Loser: Terrence Ross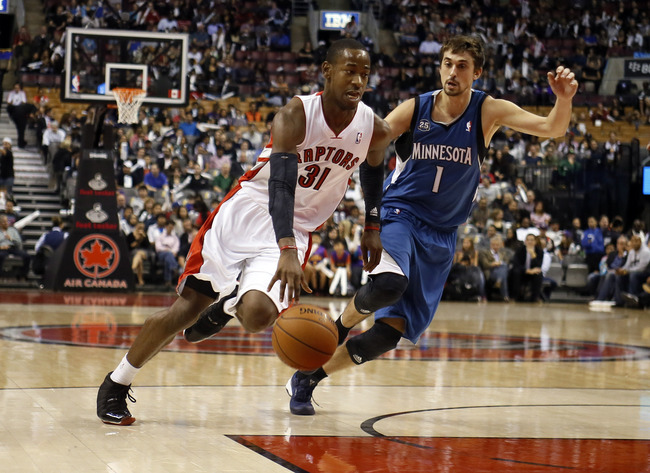 John E. Sokolowski-USA TODAY Spo
It was a tale of two games this past week for Terrence Ross.
On one hand, Ross looked like a player who was ready to turn the corner with his performance in Boston. He was dunking in transition, playing tight perimeter defense and driving to the basket with confidence.
However, whatever good karma he earned for himself came crashing down when the Raptors returned home to the Air Canada Centre.
Ross was absolutely dreadful against the Timberwolves on Wednesday night. His shots were flying all over the place, he air-balled one of this three attempts from behind the arc and had another clank off the side of the backboard.
Therein lies the problem with the young NBA sophomore. He can't be counted on to string together solid games.
Unfortunately, even a noteworthy performance against the Celtics couldn't keep Ross out of the loser's column on this occasion. The stink from Wednesday night still resonates with him.
Oct. 7 vs. Boston Celtics: 25 minutes, 12 points, 6-of-10 from the field, four rebounds, one assist, four steals, one turnover
Oct. 9 vs. Minnesota Timberwolves: 19 minutes, seven points, 3-of-10 from the field, one rebound, three turnovers
Follow Chris Walder on Twitter @WalderSports
Keep Reading

Toronto Raptors: Like this team?