NFL Week 6 Picks and Predictions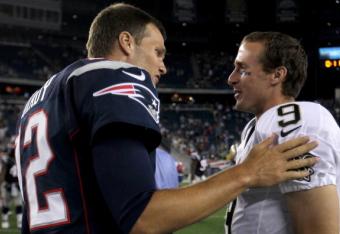 Who will win the quarterback duel between Tom Brady and Drew Brees?
Jim Rogash/Getty Images
The sixth week of the NFL season doesn't feature a ton of great, marquee matchups besides New Orleans vs. New England. However, this week's slate of games does feature its fair share of intriguing spreads.

The humongous 27.5-point spread that Denver is laying against Jacksonville is obviously the one that jumps off the card. However, there are much more interesting lines that bettors should take a look at.

So which teams are worth backing this week?

Here's a look at predictions and picks for every Week 6 game.
Note: All lines courtesy of Covers.com


The Five Best Bets of Week 6
Houston Texans (-7.5)
Houston has been one of the most disappointing teams in the league this season, and QB Matt Schaub has been one of the most frustrating players to watch.
The Texans have not lived up to their hype so far, and they're a team that most people have probably given up on, especially after last week's disastrous 34-3 defeat in San Francisco. However, this week's matchup at home against the Rams, a team that was actually outgained in yardage by the Jaguars last week, seems to be a perfect bounce-back spot for Gary Kubiak's struggling squad.
Matt Schaub should be able to finally find his rhythm and comfort zone against a St. Louis secondary that is allowing 8.3 yards per pass attempt. On the flip side, Sam Bradford will likely struggle mightily—just as he did against San Francisco—against an underrated Texans defense that currently ranks first in the league in total defense.
If Schaub can take better care of the football, and if the Texans defense can continually harass Bradford, Houston should win this game by double digits.
New Orleans Saints (+2.5)
I'm not a big fan of betting on teams who have to play back-to-back road games, especially dome teams playing outdoors two weeks in a row. But there hasn't been a team that I've been more impressed by so far this season than New Orleans.
The Saints offense looks like the vintage explosive offense we saw before Sean Payton's suspension, ranking in the top 10 in the league in both scoring offense and total offense. But it's been New Orleans' new-look 3-4 defense that has been the biggest surprise. After a historically bad season last year, Rob Ryan has injected new life into the unit.
The Saints' suddenly strong defense will be the difference in this game.
New England's offense has just not looked in-sync and it's not shown much consistency so far this season. It seems like Tom Brady just has not clicked with his young, inexperienced receiving targets. Though Brady may get tight end Rob Gronkowski back, he likely won't be able to do enough against New Orleans defense to keep up with Drew Brees and the Saints' powerful passing attack.
Seattle Seahawks (-13.5)
Seattle may be a bit spotty and inconsistent on the road, but no team in the NFL benefits quite as much from its home-field advantage as much as the Seahawks do when they play in front of the 12th Man.
After a tough loss at Indianapolis last week, Seattle will be looking to take out its frustrations on a Tennessee team that is coming off a hard-fought, physical loss to Kansas City last week.
The Seahawks defense should be able to shut down a Ryan Fitzpatrick-led Titans attack. It wouldn't be surprising at all to see Fitzpatrick, who tossed two interceptions against the Chiefs last week, cough the ball up even more this Sunday.
If Russell Wilson and the offense start hitting on all cylinders early, this game could get out of hand very quickly.
Cincinnati Bengals (-7)
After picking up a huge home win over the Patriots last week, this would seem to be a situation that would call for a letdown performance from the Bengals, just like we saw after they beat Green Bay and then turned in a no-show performance against the Browns on the road the following week.
Still, I have a hard time believing that Cincinnati won't be able to shut down a Bills offense led by QB Thad Lewis, a former undrafted free agent whose only career start came last year in a 24-10 loss to the Steelers.
Even if the Cincinnati offense looks sluggish early, ultimately, the Bengals should be able to pull away late and win this game rather comfortably.
Arizona Cardinals (+11)
This line seems like it's a bit of an overreaction to the 49ers' last two blowout wins. While it's clear that the doom and gloom that was surrounding San Francisco following its loss to Indianapolis was overblown, this is a team that still has some noticeable vulnerabilities.
While the 49ers do have a definitive overall talent advantage over the Cardinals, Arizona is actually a team that matches up pretty well with the defending NFC champs.
Arizona's secondary, led by star CB Patrick Peterson, should be able to contain Colin Kaepernick and keep him from making big, explosive plays in the passing game, while the Cardinals front-seven, led by LB Daryl Washington, who looked outstanding last week in his first game back from suspension, should be able to hold the 49ers ground game in check.
This game seems to be shaping up to be a low-scoring defensive battle. While the Cardinals may not be able to pull off a big upset like the Colts did, they should be able to keep the deficit within single digits.

Picks and Predictions For Every Week 6 Game
New York Giants at Chicago Bears
Spread: Chicago (-7.5)
Total: 47.5
Picks: Giants (+7.5), UNDER
Prediction: Chicago 24, New York 20
Green Bay Packers at Baltimore Ravens
Spread: Green Bay (-3)
Total: 48
Picks: Packers (-3), OVER
Prediction: Green Bay 35, Baltimore 31
Philadelphia Eagles at Tampa Bay Buccaneers
Spread: Philadelphia (-1.5)
Total: 46
Picks: Bucs (+1.5), UNDER
Prediction: Tampa Bay 21, Philadelphia 17

Carolina Panthers at Minnesota Vikings
Spread: Minnesota (-2.5)
Total: 44
Picks: Vikings (-2.5), OVER
Prediction: Minnesota 27, Carolina 21
Pittsburgh Steelers at New York Jets
Spread: New York (-2.5)
Total: 41
Picks: Steelers (+2.5), UNDER
Prediction: Pittsburgh 21, New York 17
Oakland Raiders at Kansas City Chiefs
Spread: Kansas City (-9.5)
Total: 40.5
Picks: Chiefs (-9.5), UNDER
Prediction: Kansas City 24, Oakland 14
St. Louis Rams at Houston Texans
Spread: Houston (-7.5)
Total: 43
Picks: Texans (-7.5), OVER
Prediction: Houston 42, St. Louis 24
Cincinnati Bengals at Buffalo Bills
Spread: Cincinnati (-7)
Total: 42
Picks: Bengals (-7), UNDER
Prediction: Cincinnati 27, Buffalo 13
Detroit Lions at Cleveland Browns
Spread: Detroit (-3)
Total: 45.5
Picks: Lions (-3), OVER
Prediction: Detroit 31, Cleveland 24
Tennessee Titans at Seattle Seahawks
Spread: Seattle (-13.5)
Total: 40.5
Picks: Seahawks (-13.5), OVER
Prediction: Seattle 35, Tennessee 17
Jacksonville Jaguars at Denver Broncos
Spread: Denver (-27.5)
Total: 53
Picks: Broncos (-27.5), OVER
Prediction: Denver 45, Jacksonville 14
New Orleans Saints at New England Patriots
Spread: New England (-2.5)
Total: 50
Picks: Saints (+2.5), OVER
Prediction: New Orleans 31, New England 27
Arizona Cardinals at San Francisco 49ers
Spread: San Francisco (-11)
Total: 41
Picks: Cardinals (+11), UNDER
Prediction: San Francisco 23, Arizona 16
Washington Redskins at Dallas Cowboys
Spread: Cowboys (-5.5)
Total: 52.5
Picks: Cowboys (-5.5), OVER
Prediction: Dallas 35, Washington 24
Indianapolis Colts at San Diego Chargers
Spread: Indianapolis (-1.5)
Total: 50
Picks: Chargers (+1.5), OVER
Prediction: San Diego 33, Indianapolis 27
This article is
What is the duplicate article?
Why is this article offensive?
Where is this article plagiarized from?
Why is this article poorly edited?