Examining the Limits of Violence in PG-Era Hell in a Cell Match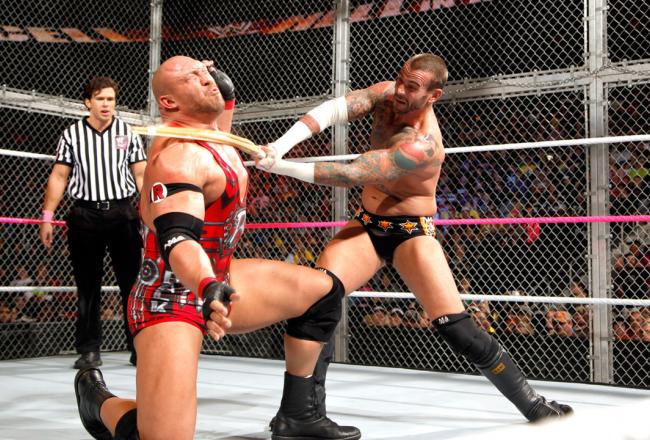 Photo: WWE

The hellishness is scaled back for Hell in a Cell matches in the PG Era, but there is still some WWE-style brutality to be had.
Satan's Structure hasn't lived up to its nickname since WWE switched to a PG rating for their programming in 2008. What was once a showcase of blood and barbed wire is now tamer, safer and more fender bender than car crash.
Just how violent can these matches be with a PG rating?
Comparing the 11 Hell in a Cell matches since WWE's shift to PG to the previous battles inside the enclosed steel cage reveals just how far today's warriors can go to entertain us and what is taken from their toolbox. While Daniel Bryan and Randy Orton's clash inside the cell will undoubtedly produce a number of surprises, there are a number of things we can bet on not seeing.
Violence Now Archaic
A key difference before and after the change to PG is the weapons that Superstars wield.
When Cactus Jack (Mick Foley) fought for his career against Triple H in a Hell in a Cell at No Mercy 2000, the two titans stood atop the cage. Foley's reputation was a man willing to use just about every weapon in wrestling lore.
He brought his trademark barbed wire-wrapped 2x4 to battle that night and set it on fire. Triple H soon took it from him and whipped the barbs against his flesh.
There is no chance that Bryan or Orton follow Foley's lead here.
Triple H used the weapon again in 2002 against Chris Jericho, but it's remained far away from more recent Hell in a Cell matches.
The most famous Hell in a Cell moment came courtesy of the Undertaker and Foley going to war and Jim Ross screaming into his headset. At King of the Ring 1998, Undertaker hurled Foley from the top of the cage.
He crashed into the announce table below.
That followed Shawn Michaels falling from the side of the cage in the first-ever edition of the match. Spots like that have not been a part of the PG Era. The risk of injury or worse is just too high.
In addition, newer Hell in a Cell matches won't be soaked in blood the way they were in the past.
Triple H vs. Shawn Michaels in 2004, Batista vs. Triple H in 2005 and Brock Lesnar's win over The Undertaker in 2002 all ended with a crimson mat.
The lack of blood has been one of the most obvious differences of the move to a PG rating. There have been exceptions, but for the most part WWE matches in the last five years have not showcased bleeding.
That is true even for the Hell in a Cell which is billed as the most dangerous and brutal match the company has to offer. Wrestlers today have to use other means of violence to tell their stories instead.
The Carnage That Is Still Possible
Using the cage itself as a weapon is still an option in a PG WWE.
Edge famously speared Undertaker through it at SummerSlam 2008.
Comparing that moment to Foley's fall through the roof of the cell is a formula for disappointment, but it was still an exciting moment. Bryan, Orton and others battling in these matches can be creative in how they force the action to spill out of the structure and how they utilize the cell itself.
Mark Henry and Randy Orton just smashed each other into it in 2011.
This is a trademark of traditional steel cage matches so it's nothing that's especially reserved for Hell in a Cell bouts. Still, it's one of the tools still available and done right, can add a sense of danger to a match.
The cage rattling with a wrestler writhing is still a powerful image even if we've seen it countless times.
CM Punk and Ryback also proved that climbing to the top of the cage is still an option. Just don't except anyone to fly off it like Foley once did. In their 2012 Hell in a Cell match, Ryback and Punk met high above the ring, and Ryback delivered Shell Shocked to his opponent.
As for weapons, steel chairs and ring steps replace barbed-wire bats and thumbtacks.
Like with other types of matches, Superstars have tossed their foes into the steel steps. Orton made his RKO even more powerful in 2010 by doing it atop a set of steps.
This may not have the breathtaking power of seeing barbed wire tug on someone's skin, but this is what Orton and Bryan have to work with when they meet.
They can also mimic Ryback and kick a chair into their opponent's face or bend steel against a man's spine as Triple H did at WrestleMania XXVIII.
His Hell in a Cell match against Undertaker felt more brutal than it actually was thanks to great storytelling. The impact of Triple H's chair shots was violent, but the number of times he delivered them, Undertaker's pained reaction and Michaels begging his friend to stop all amped up the violence.
Triple H introduced his trusty sledgehammer into that match, but that's a weapon specific to him.
The blows with it are always so protected and theatrical that the PG rating doesn't affect it. That goes for hitting folks with pipes as well apparently.
Alberto Del Rio introduced that very weapon in 2011 against Punk and Cena.
So it's clear that Superstars can still whack each other across the jaw with weapons, but they just can't be jagged or on fire.
Chair shots are aimed at the back rather than the head. The ring steps become a bigger part of the violence puzzle as options beyond it are limiting.
Superstars have to be creative to make current Hell in a Cell matches shock and surprise us. The tools they have in the PG Era are far less barbaric than the ones previous eras offered.
If Bryan and Orton are to paint a macabre masterwork, it will be without the color of blood, created with a subdued palette instead.
This article is
What is the duplicate article?
Why is this article offensive?
Where is this article plagiarized from?
Why is this article poorly edited?